Today I am sharing with you how you can transform any old dresser into an Anthropologie look alike.
Now the fun thing is when I made this dresser (actually it's more like an armoire), I didn't even know that you could buy a very similar one for a small fortune at Anthropologie. How can that ever be, you ask?
Because up until this May I've never been to an Anthropologie shop. Yep, you read that right. I live in Germany and we don't have them here around. But of course I've had inspiration strike me at one day or other before I started transforming my little cabby into this beaut and I am absolutely going to share with you how and where. In just a minute.
Related: Must-Have Supplies for Stenciling Success
I know that I am a chatty person and that's not for everybody. I totally understand! 😉 If you're not interested in my little inside stories simply scroll further down for the tutorial part.
Markus and I have been on a three week holiday in the US this May. We've toured the South, visited my best friend Yvonne & her hubby in Atlanta, GA and three awesome blogging friends while on the road: Shirley, Yami, and Lyne. Pay them a visit and say hi from me.
Travelling is so important to me!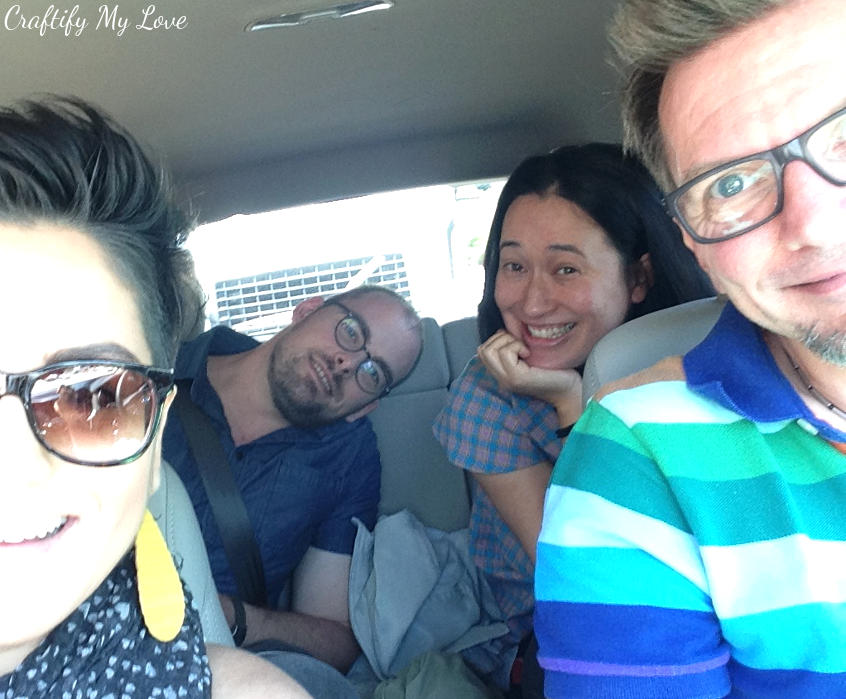 During this trip, I've found so much inspiration for new projects:
This post contains affiliate links. That means if you make a purchase through these links, I may receive a small commission at no extra cost to you! You can click here to read my full disclosure.
Tour de Crafts & DIY Challenges
Usually, I share a different project with each challenge I participate in. But this one, THIS ONE is such a great fit for all these upcoming challenges this week that I SIMPLY HAVE TO share my darling baby blue stenciled cabinet in all three of them!
1. Pinterest Challenge Blog Hop
This awesome challenge is hosted by Erlene from My Pinterventures. The purpose of this Pinterest Challenge is to motivate all the participants of this hop (and you too) to not just pin, but to make it happen! To join next month's #pinterestchallenge, click here to sign-up ⇒ September Pinterest Challenge.
Look what I have accomplished so far:
I decided I need to have a cabinet like this when I stumbled over this great Pin on Pinterest. But you might have already guessed that, right? In fact, I even do have two cabinets in my home with that awesome pattern. And, they are like NIGHT and DAY! It's amazing what you can do with just one stencil! Want to know what I mean by that? See the other one here.
Being that my initial inspiration for that project was from Pinterest (actually, it was one of my early pins in my Woodwork DIY's Board) YEARS ago, it's a MUST I share this with you awesome readers & participants of this challenge first.
2. Look For Less
Because of this fun new challenge by my friend Yami (remember? I paid her a visit in ATL) you get to watch a video tutorial on how to flip a cabinet this awesome way.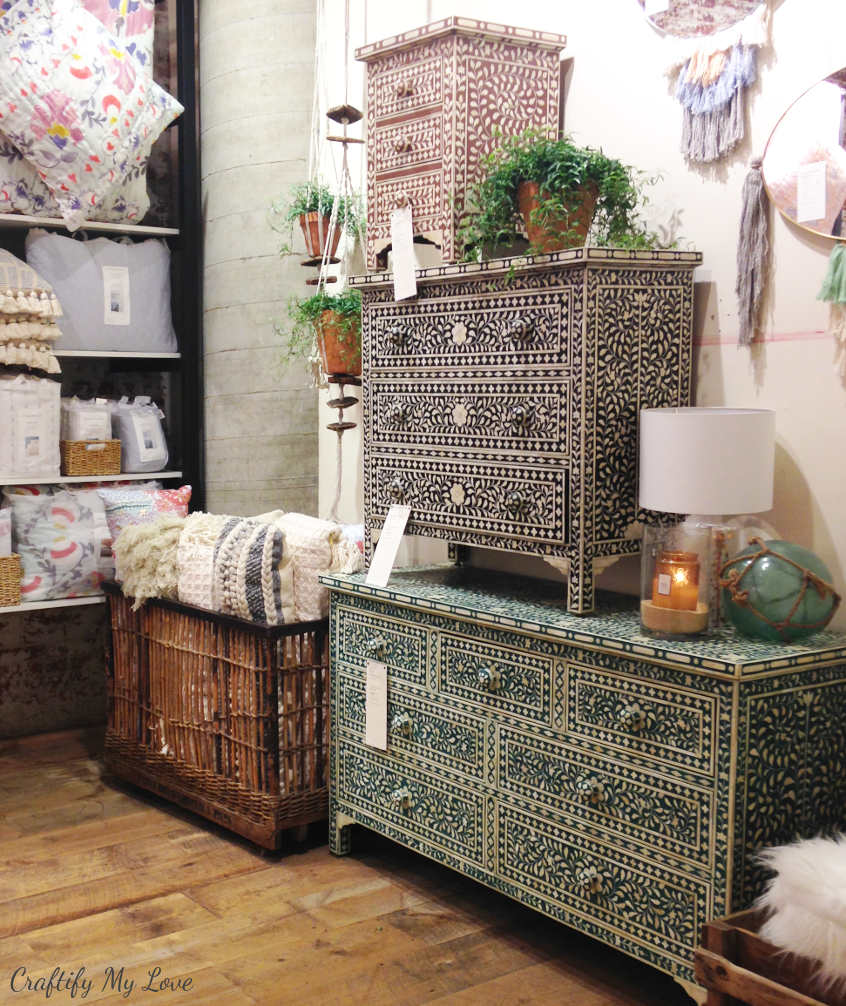 Voilà: Entry No. 2!
Basically, the challenge is about creating something for little money that you saw for big bucks at one of those fancy home decor or interior design shops.
Video-Tutorial: DIY Anthropologie Look Stenciled Furniture
3. Thrift Store Upcycle
I got this hidden treasure of a cabinet from my friend Yvonne's mother in law. I know, I know! Now you're wondering how the heck did I get this cabinet home from Atlanta, GA, right?
I am pretty good with bringing home travel souvenirs (mostly craft supplies, ask Markus lol), but even I am not that good, lol. Yvonne's hubby is from Germany. They both used to be my neighbors and that is how we met and got besties. And her in-laws only live a couple of streets away. Easy peasy!
So, what is qualifying this project for a thrift store challenge, you ask? Easy! Not everyone has a best friend, who's husbands family lives next door and gifts you with amazing outdated furniture, right? But everyone does have a thrift store in their neighborhood where there can be found those awesome pieces at any time. Now, there you have it!
You'll find other creative thrift store projects at the very bottom of this post. Please make sure to check them out, too!
Phewwww…now that was easily the longest intro ever!
As always I'll keep the tutorial part super efficient for you with lots of photos and little blah blah.
DIY An Anthropology Dresser Knock-off in 5 Simple Steps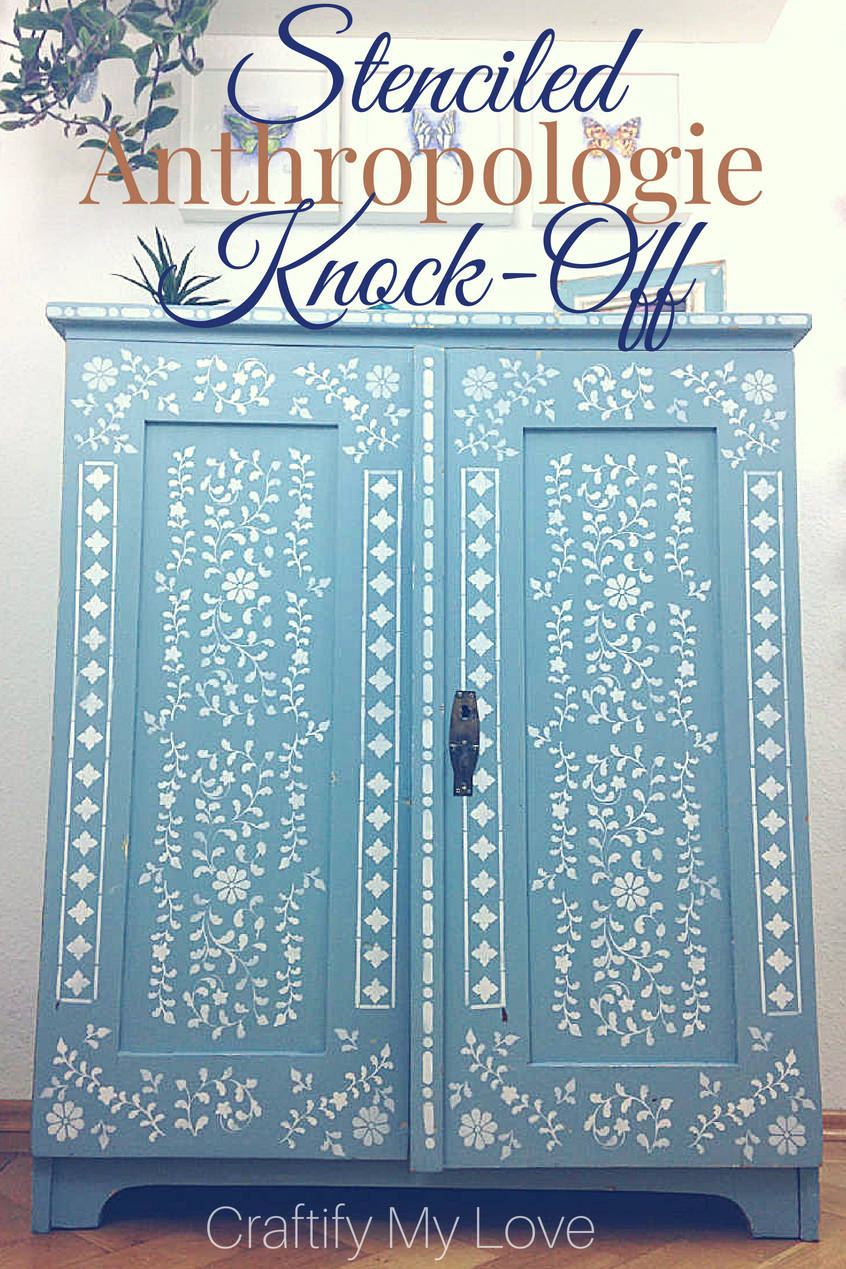 BEFORE- Find A Second Hand Piece Of Furniture
If you are aiming for a 100 % Anthropology look, you will have to find a dresser that has a very similar shape. I didn't. I used this armoir instead and think, my furniture flip turned out great anyways.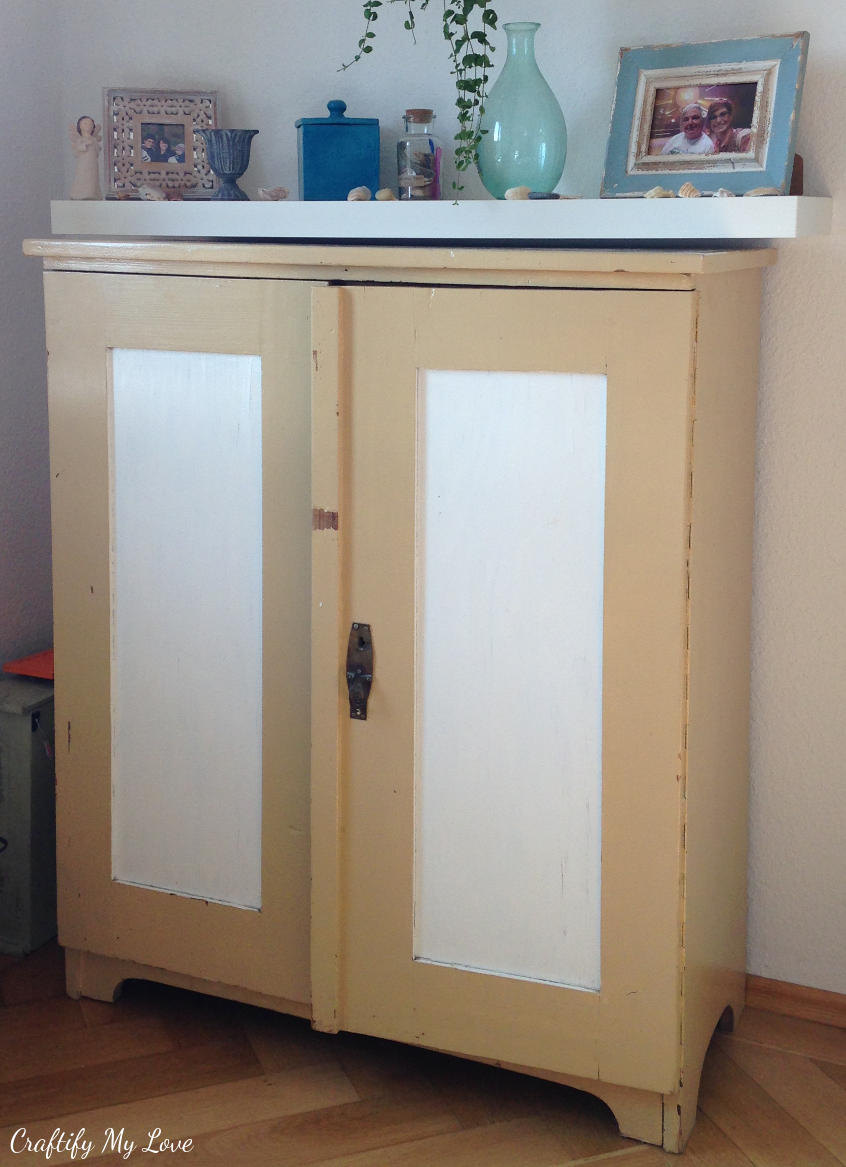 Where to get a piece of furniture for a furniture flip?
You already have a piece at home you want to transform.
Score a high potential thrift store find.
You get lucky and drive by a roadside find.
Friends, families, or neighbors gift you with it.
Read up on all the creative ways to get a hold of craft supplies for low or no money in my FREE Guide. Heads up: It's a thank you for subscribing to my newsletter.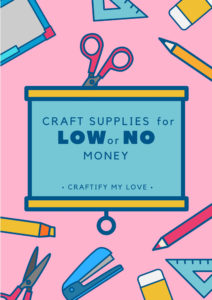 1. Necessary Preparations For Your Furniture Upcycling Project
Get All Your Supplies Ready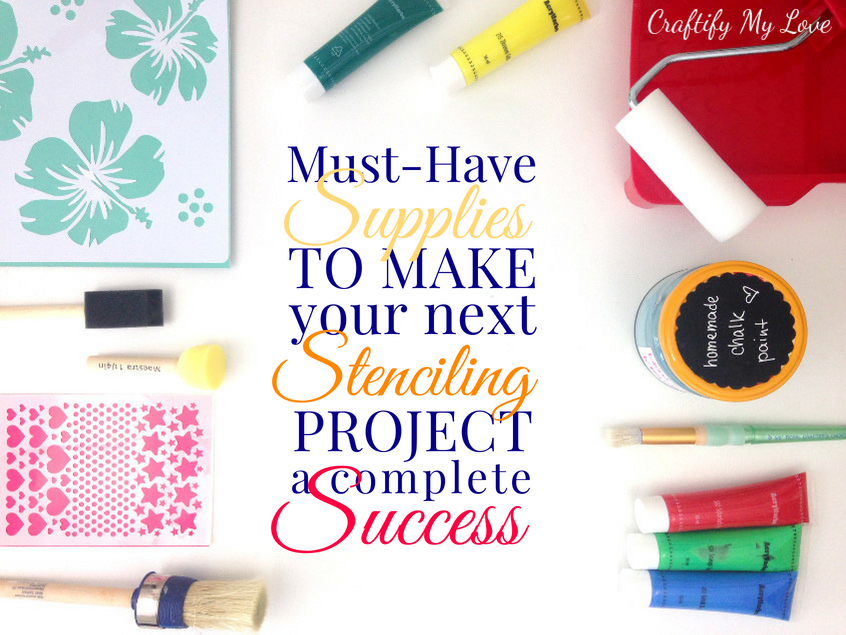 Paint for Cabinet (I used my homemade DIY chalk paint in a blueish grey)
Paint for stenciling (I used a stained varnish in white, for the insides, too)
Brushes (1 each for the paint, wax, and stenciling)
Stencil (I used the Indian Inlay Stencil from Cutting Edge Stencils)
Painters tape
Sander (optional)
Sanding Paper (optional)
Painters tray or paper plate
Kitchen towels
Wet wipes
Cardboard, drop cloth, or something similar
Hand drill (optional)
New hardware (optional)
Related:
Which supplies are really necessary to make your stenciling project a complete success?!
Frugal Tip:
Cutting Edge Design offers a Stenciling Tools Essentials Kit that is quite handy. Also, they have a promotion going on that will provide you with a FREE Surprise Stencil with any purchase of $ 4.95 value and more. And if you're not set on the pattern, I'd recommend you browse their Sale section for a great steal!
Clean, Sand, And Remove Hardware
If your rescued piece of furniture was hidden in some attic or a shed for centuries you might need to wipe it down first.
My cabinet has a rustic old latch that is actually not working anymore. I kept it out of time pressure and nostalgic reasons (at least that's what I am telling myself *add eye-roll here*).
I did this project back in January during my super busy 4-week Craft Room Challenge.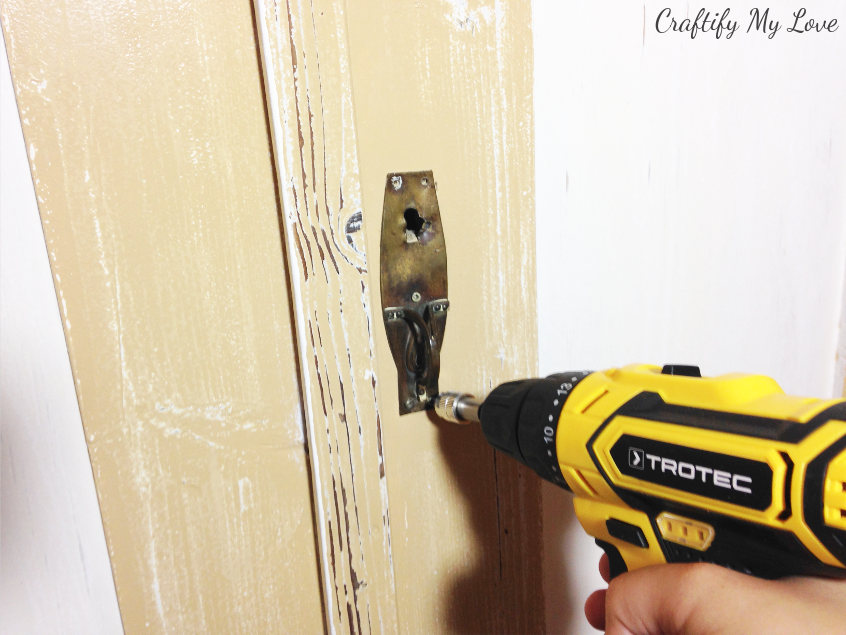 Using a hand drill you'll detach all the hardware. An alternative would be to cover all the hardware with frog tape.
If you want to reuse it, store it + the matching screws in a ziplock bag, or
decide to add some new hardware. In this case, you might need to cover up the old holes. I've achieved some pretty good results with wood filler. Apply it according to the package's directions. Let dry and sand it smooth, so it won't be visible after you've painted over.
Prepare the surfaces by lightly sanding them down. A fine grit sanding paper will do. You don't need to get rid of the old paint entirely, it's enough to roughen up the surface. This way the new coat of paint will stick to the furniture better.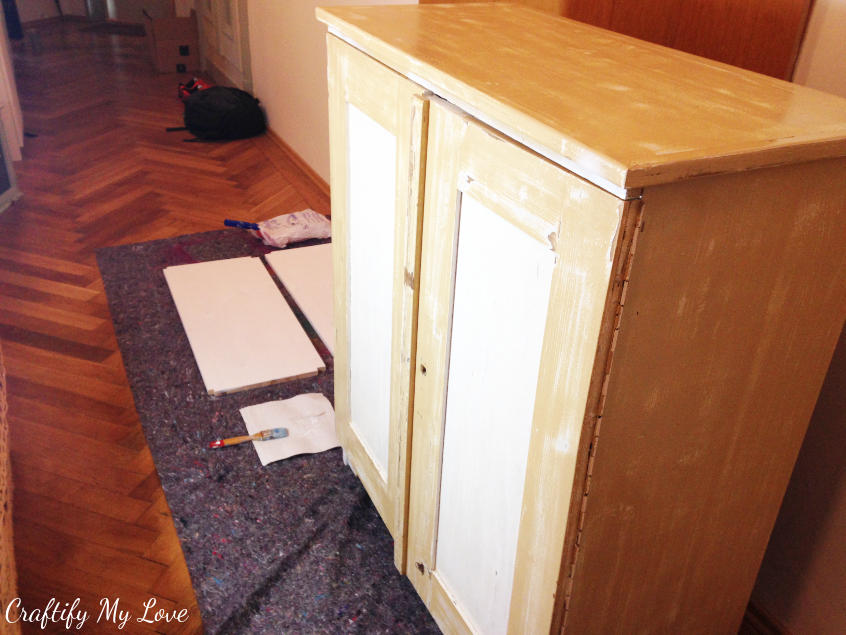 But look closely! If you notice the old paint being somewhat loose in some areas, it's best to remove all of it in that part by sanding a little longer.
You don't want your freshly painted and redone work to chip after the slightest bump. Mainly this will happen on its own while sanding – notice the dark brown wood parts on the right door of my cabinet? The old paint splintered right off.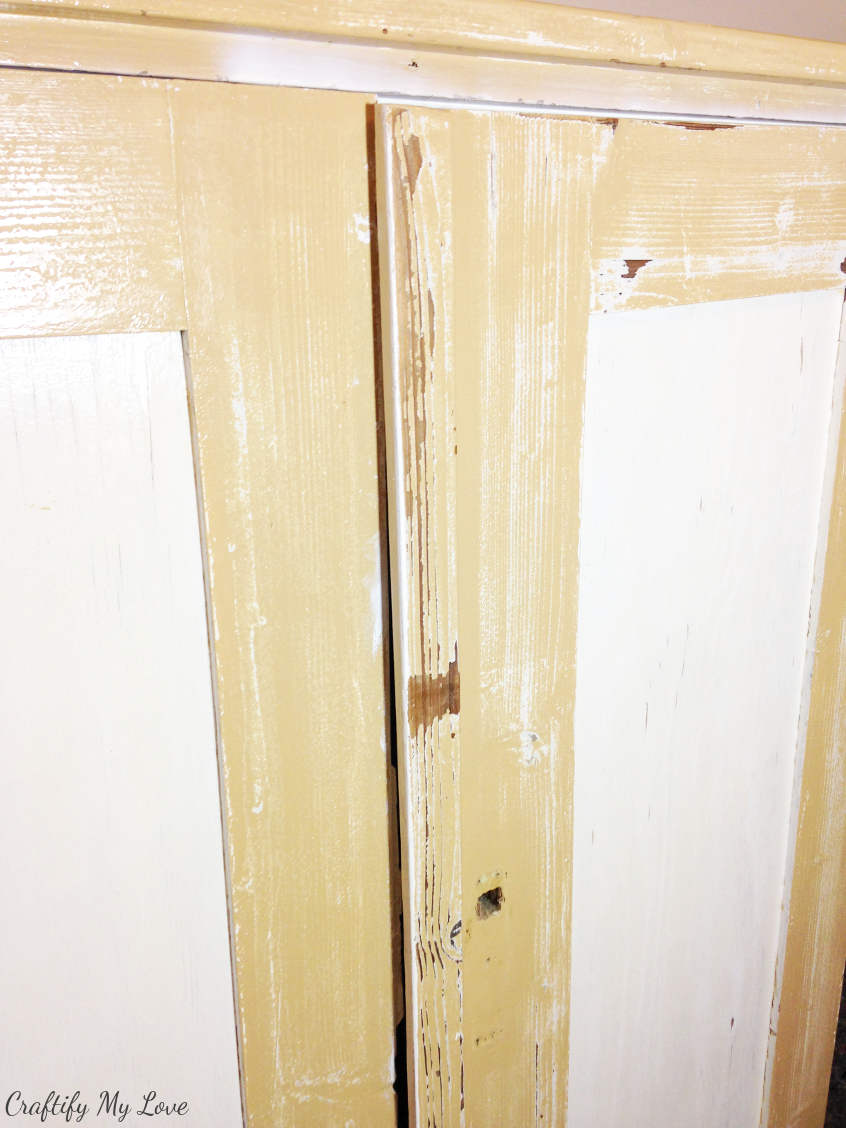 Use a wet cloth and get rid of all the sanding dust.
2. Give Your Anthropologie Inspired Furniture A Fresh Coat Of Paint
Decide if you want to paint the insides, too. I did for this cabinet. But that was a first and I usually don't bother. It's basically up to you.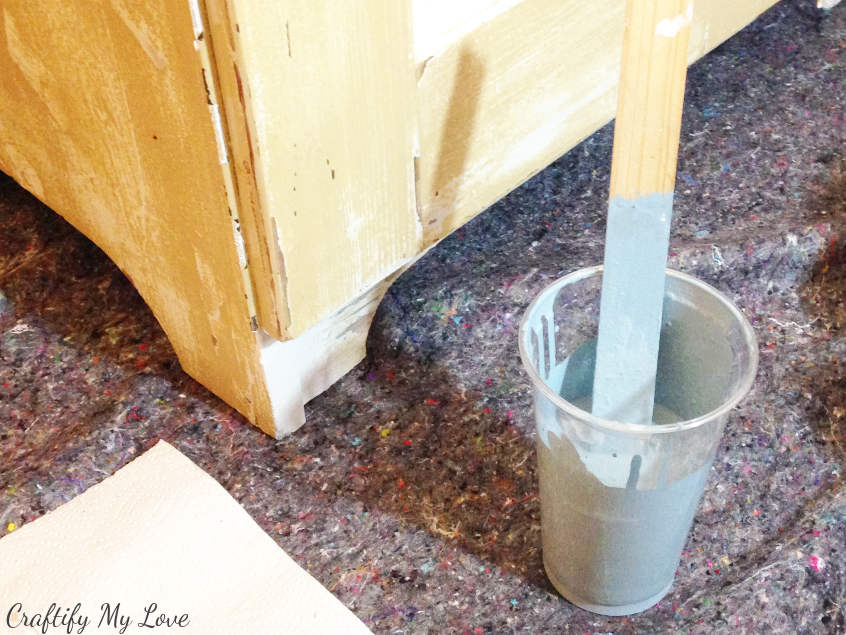 For the outside parts, I mixed a greyish-blue chalk paint myself. Another first. Why? Because I wanted to know if I can do it. And I had a very special color tone in mind.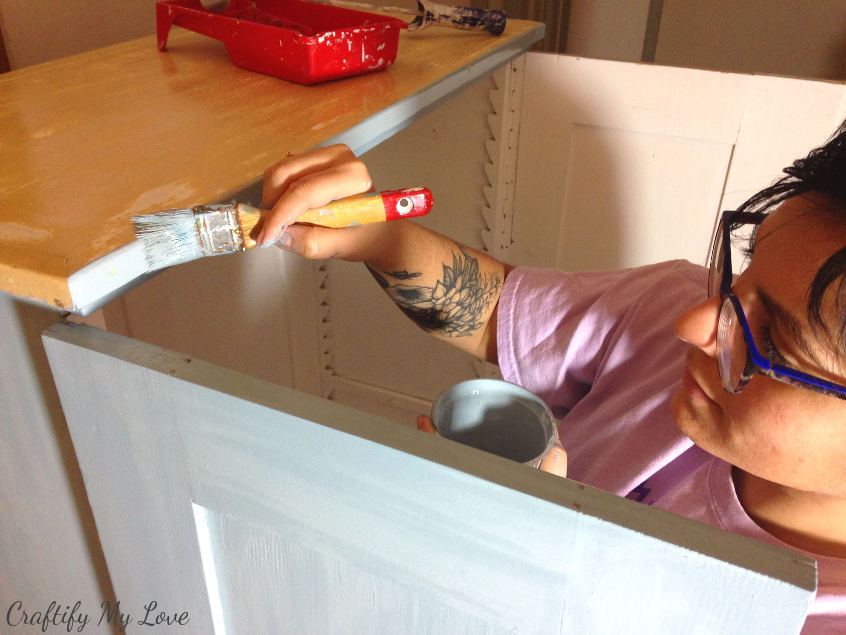 Turns out I did a great job, as I only needed one coat of paint for full coverage results!
You'll find the recipe for my DIY chalk paint here. In this video tutorial I will show you how to mix your paint using primary colours and a colour wheel.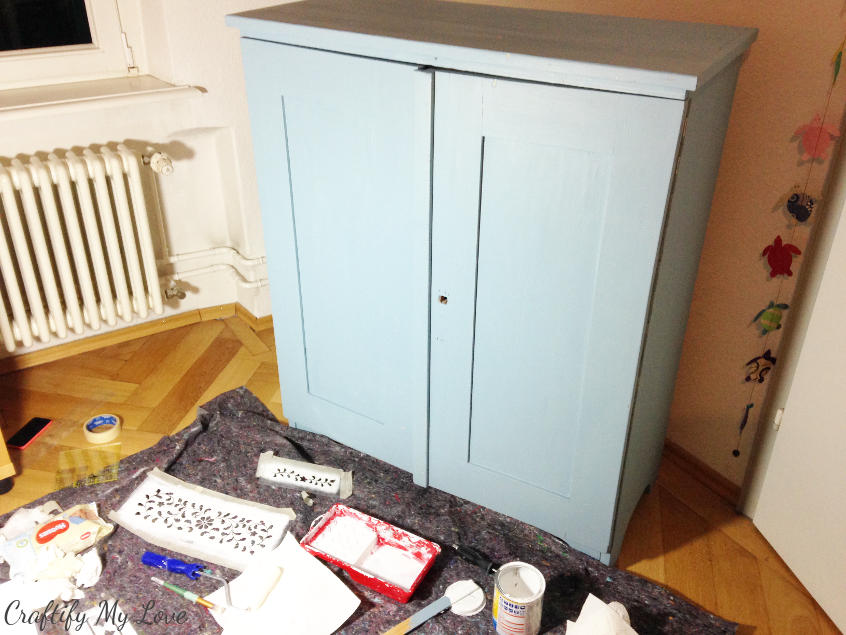 Mix your paint (it is way cheaper than buying a special brand one and stores well in a jar, but do give it a good stir before applying) or use any store-bought paint you'll like.
Don't forget to protect your floors, grab your brush and start painting.
Let dry. I did so overnight.
3. DIY A Faux Bone Inlay Using Stencils
I used the Indian Inlay by Cutting Edge Stencil.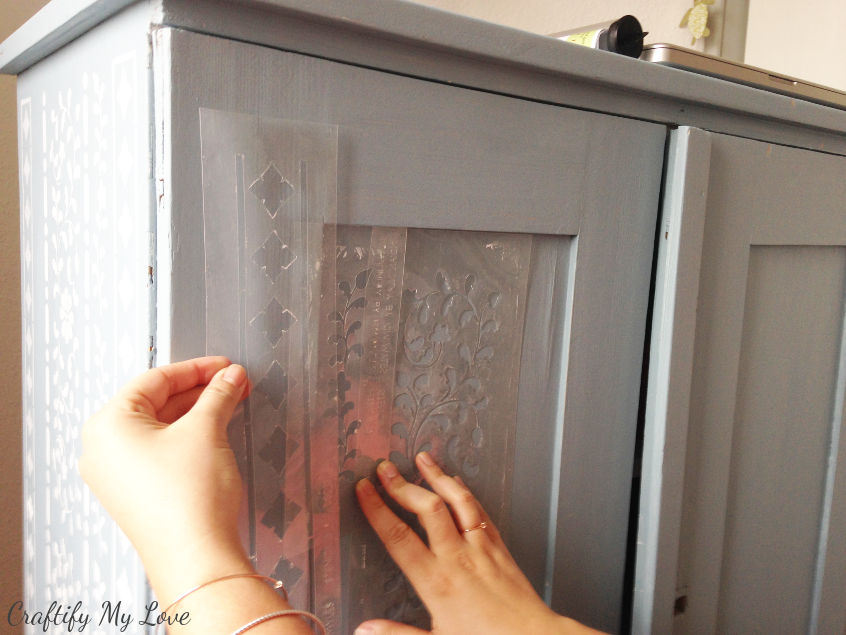 Start picturing the pattern you want to create with your stencils at hand. But don't stress! It's ok if you have a basic idea and the rest will follow while you are working on it.
Quick Guide to Stencilling:
Use a stencil brush for small areas and a dense foam roller for bigger stencils.
Use as little paint as possible. Yes, I am serious about that!!
Use painters tape to hold the stencil in place.
Don't freak if you have bleeding! That is when you used to much paint and the paint crawls under the stencil. Have wet wipes at hand and clean up the mess. Repeat the process with even less paint.
Work from the outside to the inside.
Fill in empty spaces.
Clean your stencil regularly. Dried paint will chip away, stick to your foam roller and mess things up.
Use your stencil upside-down to achieve a mirror-effect in the pattern.
Step back and look at your stenciled object from a distance. Are you happy with the outcome or do you need more?
Other stenciling projects:

As the last step, I added the top border all around. Markus didn't think it was necessary but agreed that now it looked sort of finished & complete.
Handy Cheat Sheet for your next stenciling project!
I've put together all the MUST Knows about stenciling for you. I added a ton of detailed and self-explaining images and nifty tips I learned during my many stenciling projects. I thought I'd save you the trouble of making beginners mistakes yourself.
Download your example for free today!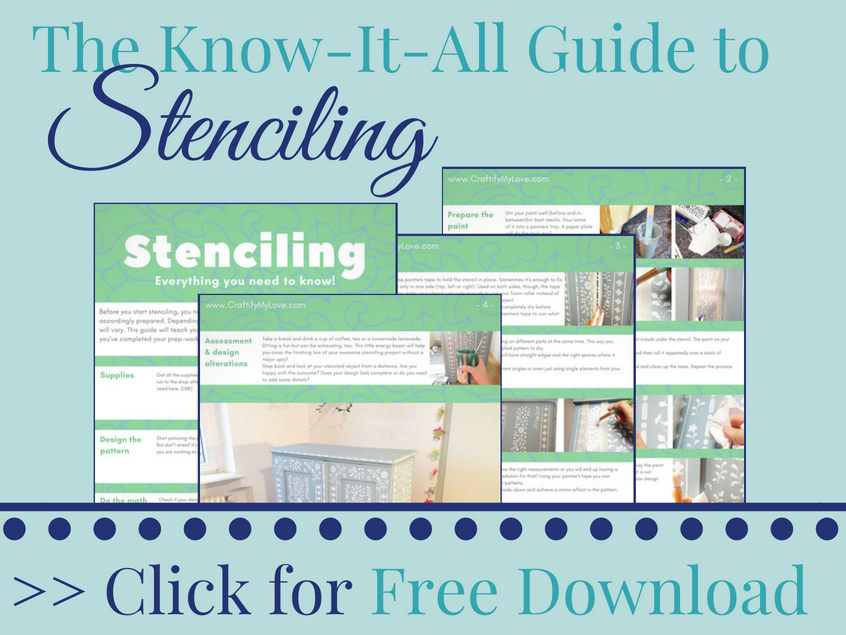 4. Artificially Age Your Dresser by Distressing It
This is totally optional! I love the look and almost all of my upcycled furniture projects include this step.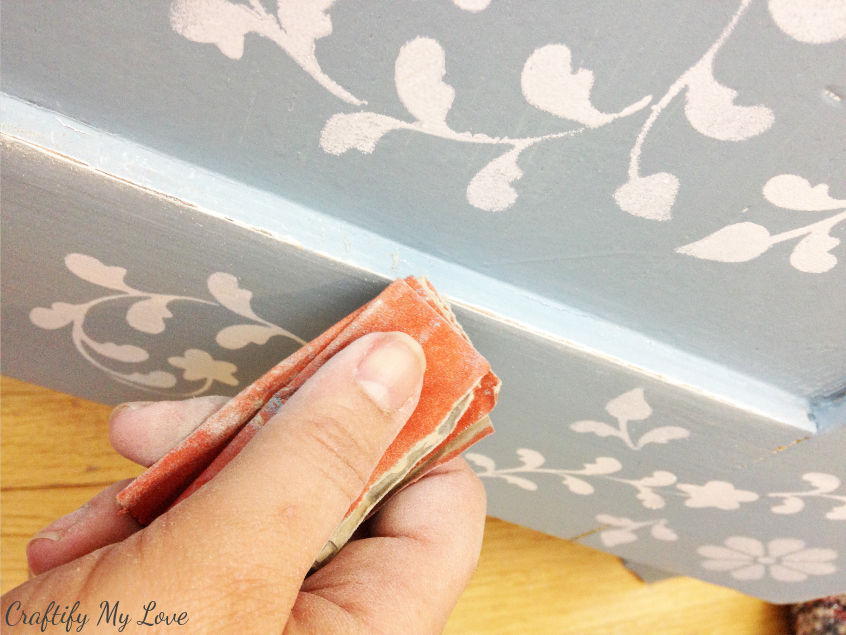 Using a piece of sanding paper you will slightly go over areas of your furniture that would most likely suffer from heavy usage anyways and take away a little of the paint.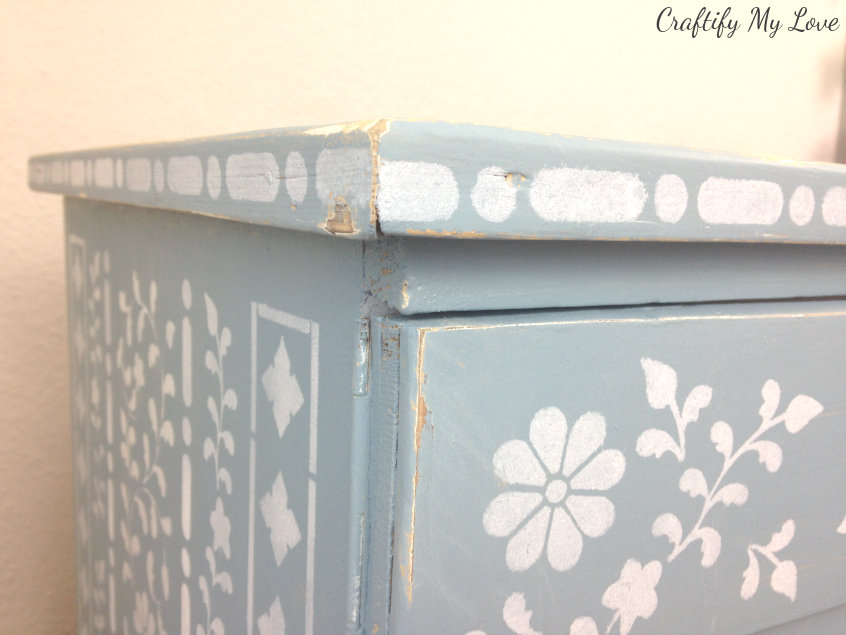 By doing so you are speeding up the process that usually comes naturally with time. Also, you won't mind it as much when the first bump or paint splinter occurs because accidents do happen.
5. Protecting Your Anthroplogie Knock-off Furniture Flip
I like to use natural wax to protect my projects from water stains, and other dirt. I explained the simple process in detail and am sharing a nifty frugal tip here.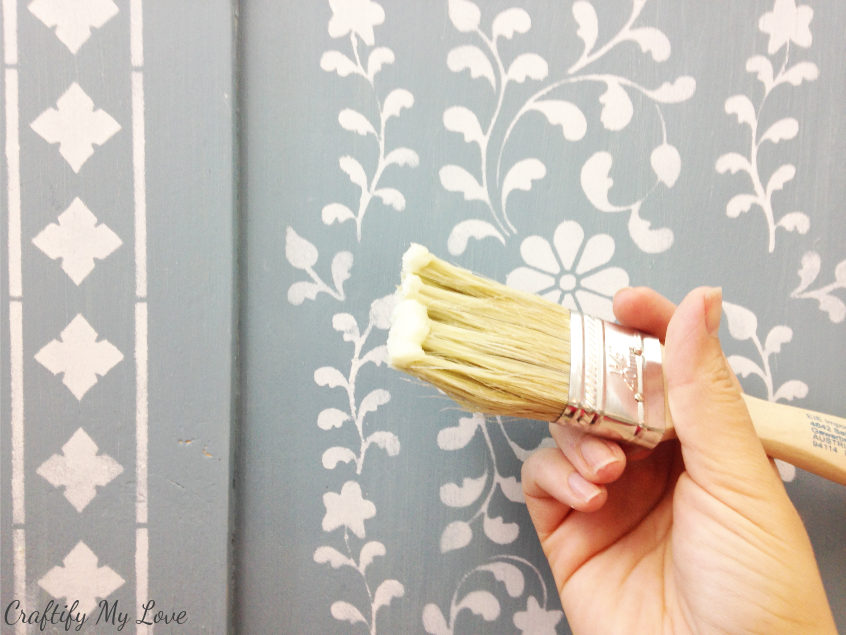 If your piece of furniture has deeper sections like mine, you'll most definitely end up having big blobs of wax collected in those corners. Simply remove them with a cloth before the drying period.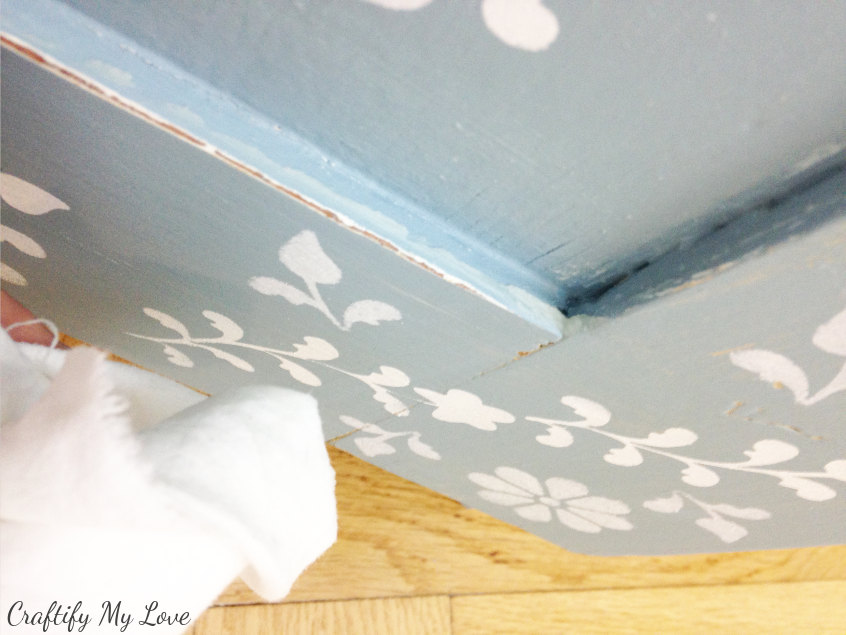 You've Created A Stunning Anthropologie Hack
Congratulations! By now you will have DIYed an awesome Anthropologie Knock-off to bring the store's concept into your very own home for very little money!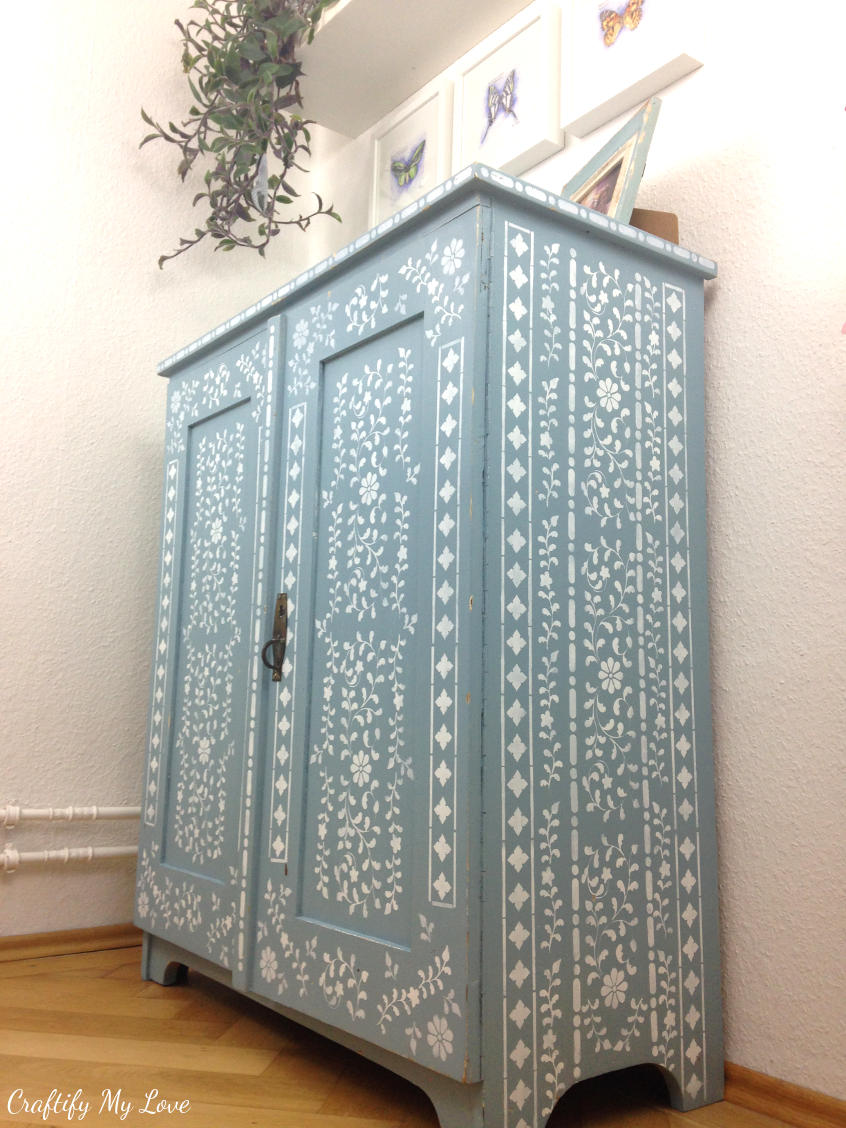 I think my version looks so much cleaner and even somewhat breezy with this coastal & flowery paint and stencil job. I think it's quite fitting for my beach themed decor, don't you think?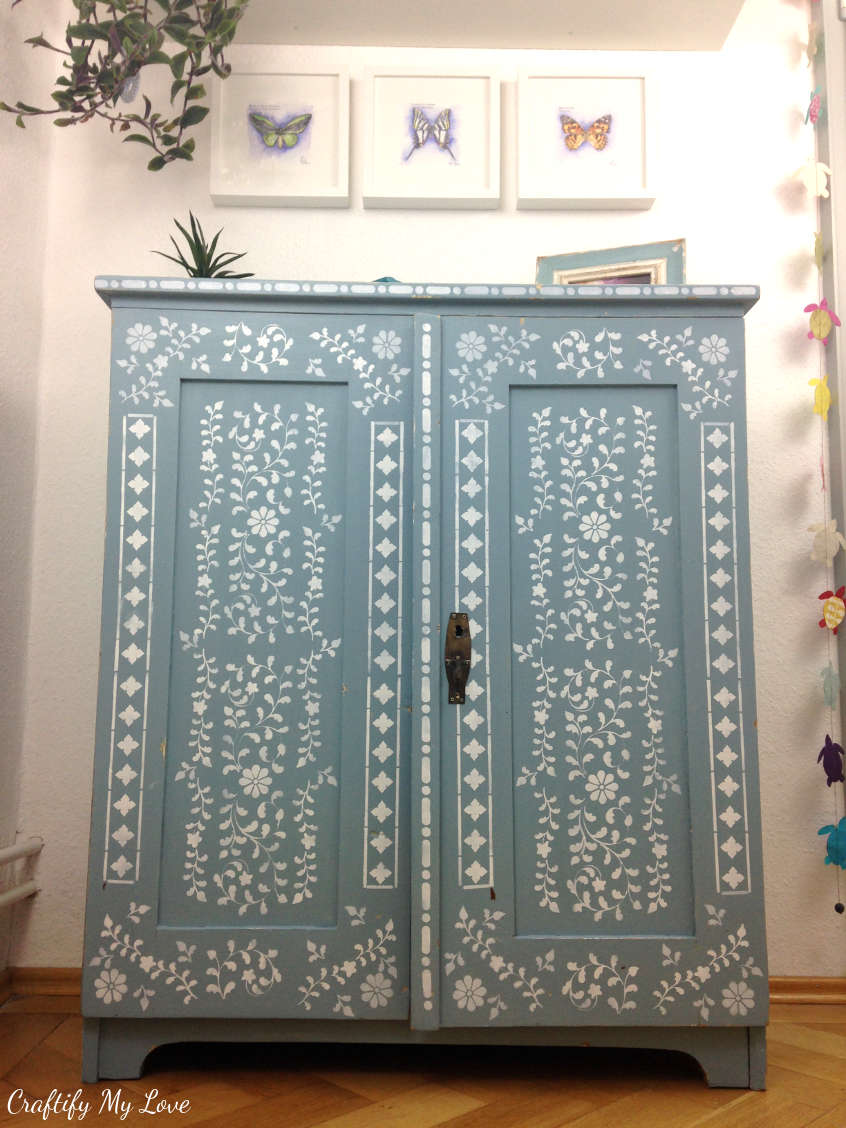 Oh, and all the money I was able to save! Here is the comparison. Now, what do you say?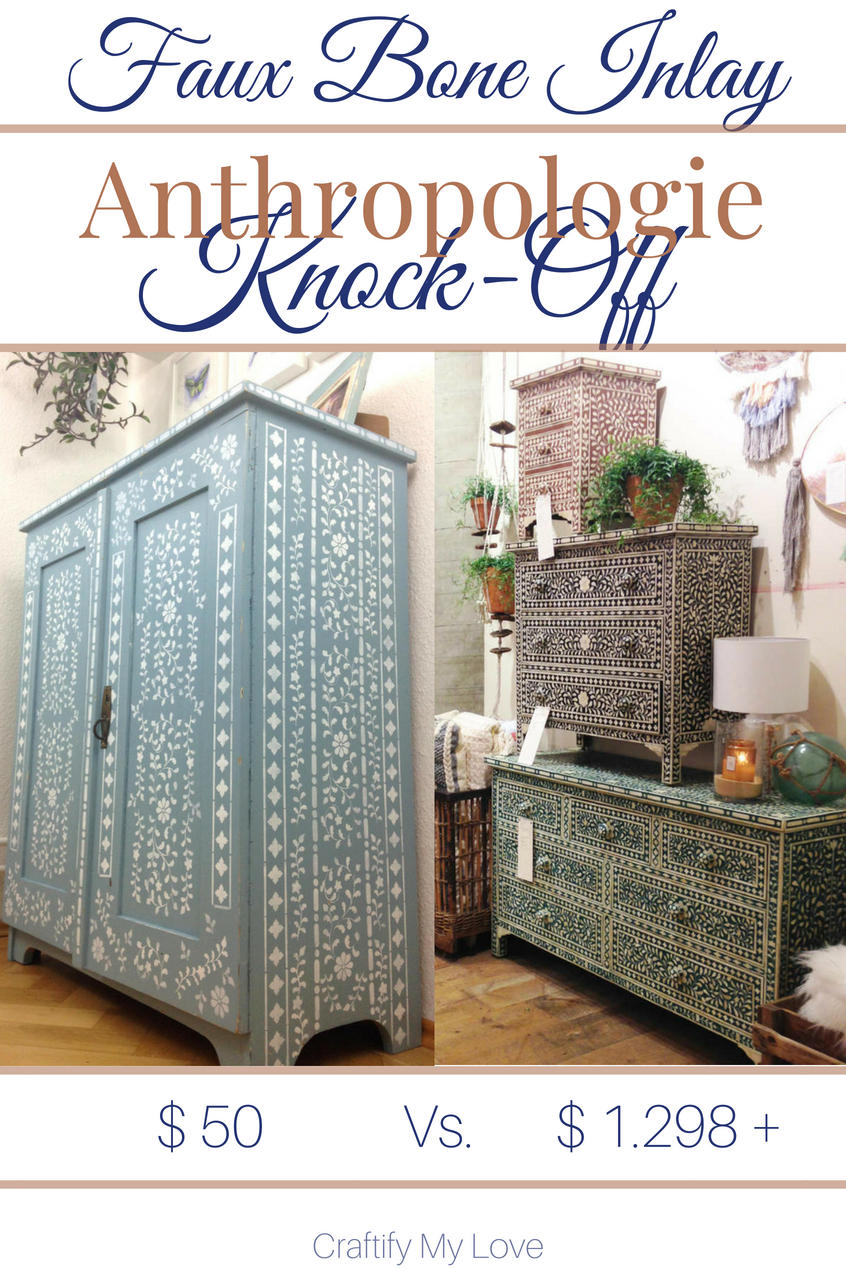 If you're interested to see how much more storage I gained with this addition to my Craft Room and what I store in it, then click here (read blog post | watch craft room tour).
Now, sign-up for my newsletter & download your Free Stenciling Cheat Sheet.
Happy stenciling!
Love,

PS: Don't forget to PIN this to Pinterest.
PPS: Please make sure to check out the other great projects of both the Pinterest Challenge and Thrift Store Upcycle Challenge below!
---
Now, let's see what other things Pinterest inspired! Head over and visit the other hosts to see what they crafted, cooked, built, or tried!
Erlene – My Pinterventures • Jenny – Cookies Coffee and Crafts Alexandra – EyeLoveKnots • Joanne – Our Unschooling Journey Chelc – Inside The Fox Den • Erin – The Usual Mayhem Beverly – Across the Boulevard • Lynne – My Family Thyme Laurie – My Husband Has Too Many Hobbies • Lydia – Lydia's Flexitarian Kitchen Gail – Purple Hues and Me • Leslie – Once Upon a Time & Happily Ever After Lauren – Mom Home Guide • Emily – Domestic Deadline Debra – Shoppe No. 5 • Roseann – This Autoimmune Life Terri – Our Good Life • Lisa – Blogghetti Kelli – The Olympic Nest • Rebecca – Hello Central Avenue Bri – Halfpint Design • Cherryl – Farm Girl Reformed Julie – Sum of their Stories • Habiba – Craftify My Love Shirley • Intelligent Domestications
---
And now for more thrifty goodness!
The Rules:
Upcycle an item(s) from a thrift store, resale store, or garage sale into a new piece of decor.
There's no monthly theme.
There's no budget to stick to.
Meet the Hosts
Make sure you follow our board on Pinterest for more upcycled decor inspiration!
---
Check out what my fellow upcyclers created below!