Today I will show you how to make this darling coastal air plants home decor. I found inspiration for it during my recent vacation in the beautiful South of the US.
In fact, you will read more about vacation inspired crafts, recipes and the occasional travel tip (between the lines) in the near future, as this last road trip sparked so much creativity inside my head. I've made so many notes about crafts and DIY ideas that will keep you entertained for the next year or so, lol.
My Markus and I spent a view days at those lovely white sanded, turquoise watered beaches in Santa Rosa Beach, in Florida Panhandle. Where I spent hours beach combing.
My favorite pastime at the beach is beach combing.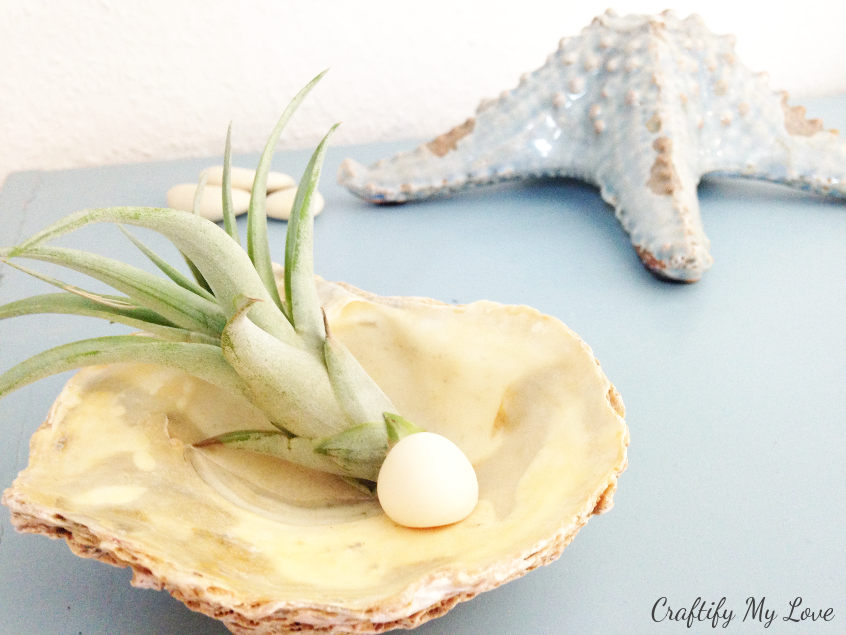 Monthly Thrift Store Challenge
Surprisingly, lovely Santa Rosa Beach, FL is not where I've found these gorgeous shells and sea urchins. No, I've found them – believe it or not – in a thrift store in the UK years ago.
They have been sitting in various spots throughout my partially coastal decorated home.
I love to decorate my home with treasures I've found while travelling.
And, while I totally knew after day 1 of my US vaca that I wanted to decorate my home with air plants (as I kept seeing them everywhere), I only came up with the coastal air plants home decor idea, when I returned to Germany.
I already missed those lovely white beaches and my eyes fell on these gorgeous beach treasures I already had at home.
These industrial looking air plant holders from the next image are a souvenir from a cute little shop called The Collective in Atlanta, GA. I am linking to very similar ones for you here.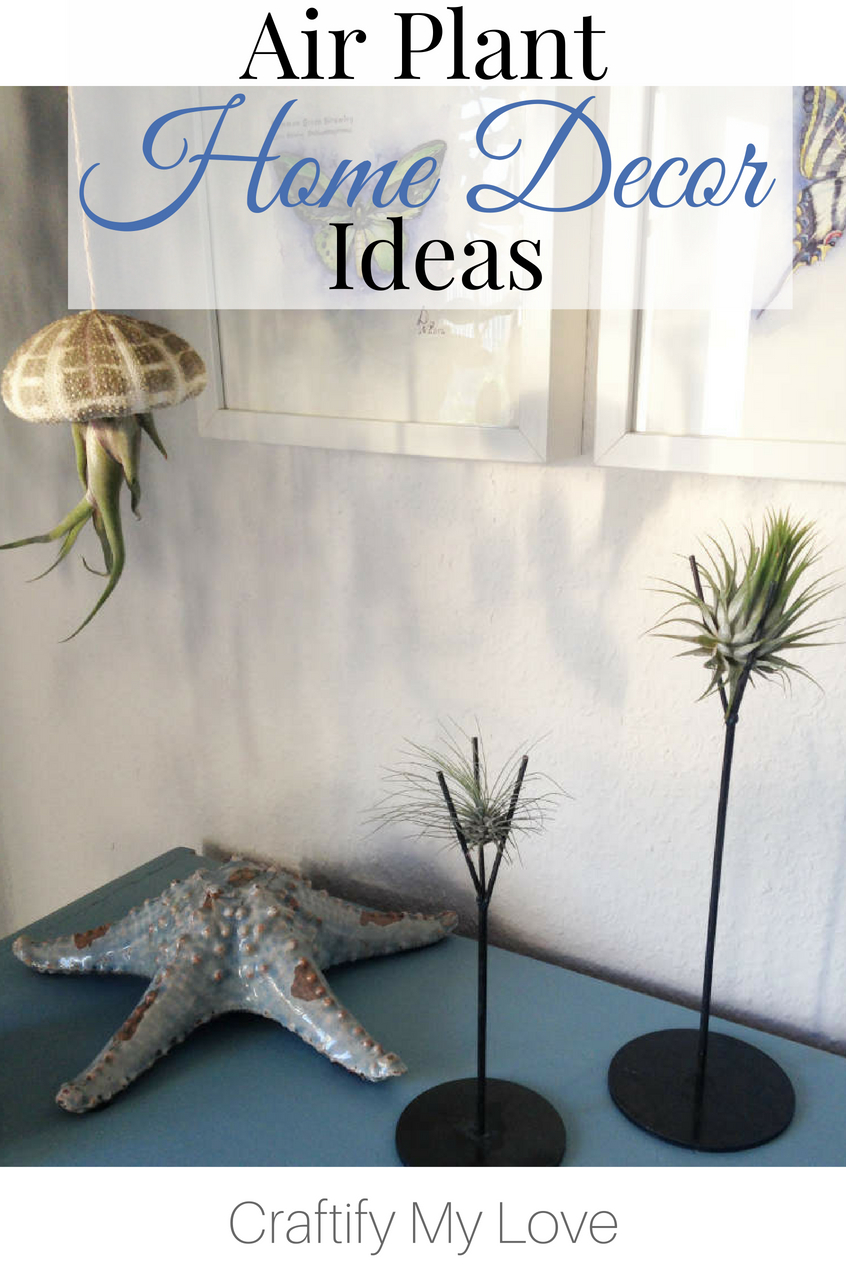 And thus the idea for this months thrift store challenge was born. We are a group of bloggers that share the love for thrifting and creating and we make it our goal to spread the word about our creative DIY ideas each month so you get to follow along.
Other Projects of mine for this Challenge:
Further down you will find 10 more awesome thrift store upcycle crafts, you might want to try your hand on!
Supplies to make Coastal Air Plants Home Decor
This post contains affiliate links. That means if you make a purchase through these links, I may receive a small comission at no extra cost to you! You can click here to read my full disclosure.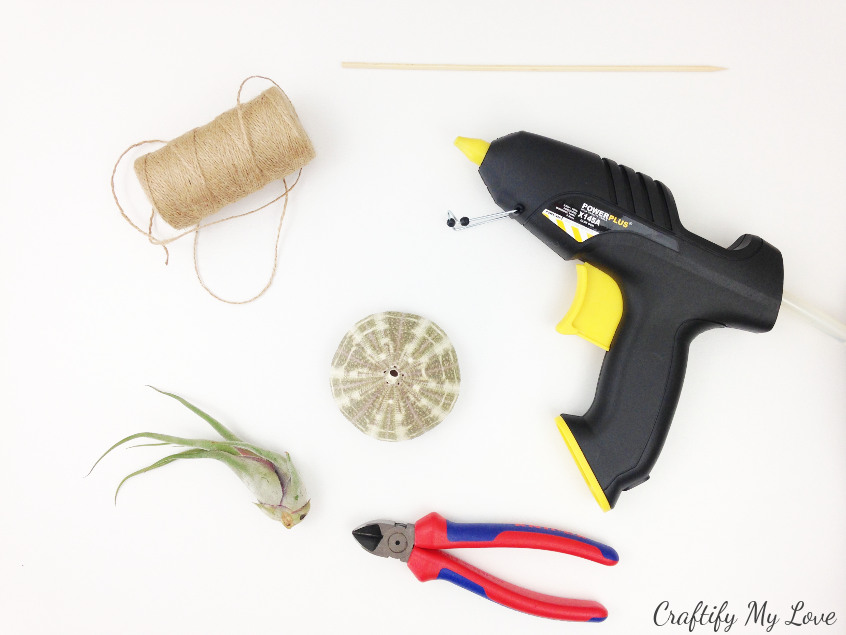 If you want to make a Jellyfish living artwork, you'll need the following things, too.
cutting pliers or strong scissors
tape, nail, hook (to hang your jellyfish from)
How to make a DIY Jellyfish – Coastal Air Plant Home Decor
Related: Learn how to make the Anthropologie Dresser Knock-Off you see in the video.
Heat up your hot glue gun.
Find an air plant that fits comfortably in the bottom opening of a sea urchin skeleton
Thread your twine through the sea urchin.
Tie it around your bamboo stick.
Cut the bamboo stick to size. It should fit through the bigger opening at the bottom, but not through the smaller opening at the top. You will have created an anchor so your jellyfish will kinda float in the air.
Add hot glue around the bigger opening at the bottom.
Now, this is important!!! Let it cool off for at least 10 seconds. You don't want to burn your living air plant!
Press the air plant slightly into the opening. Again: You don't want to hurt your air plant and you don't want to break your sea urchin.
Let dry in a flat position + find a good spot for your DIY jellyfish.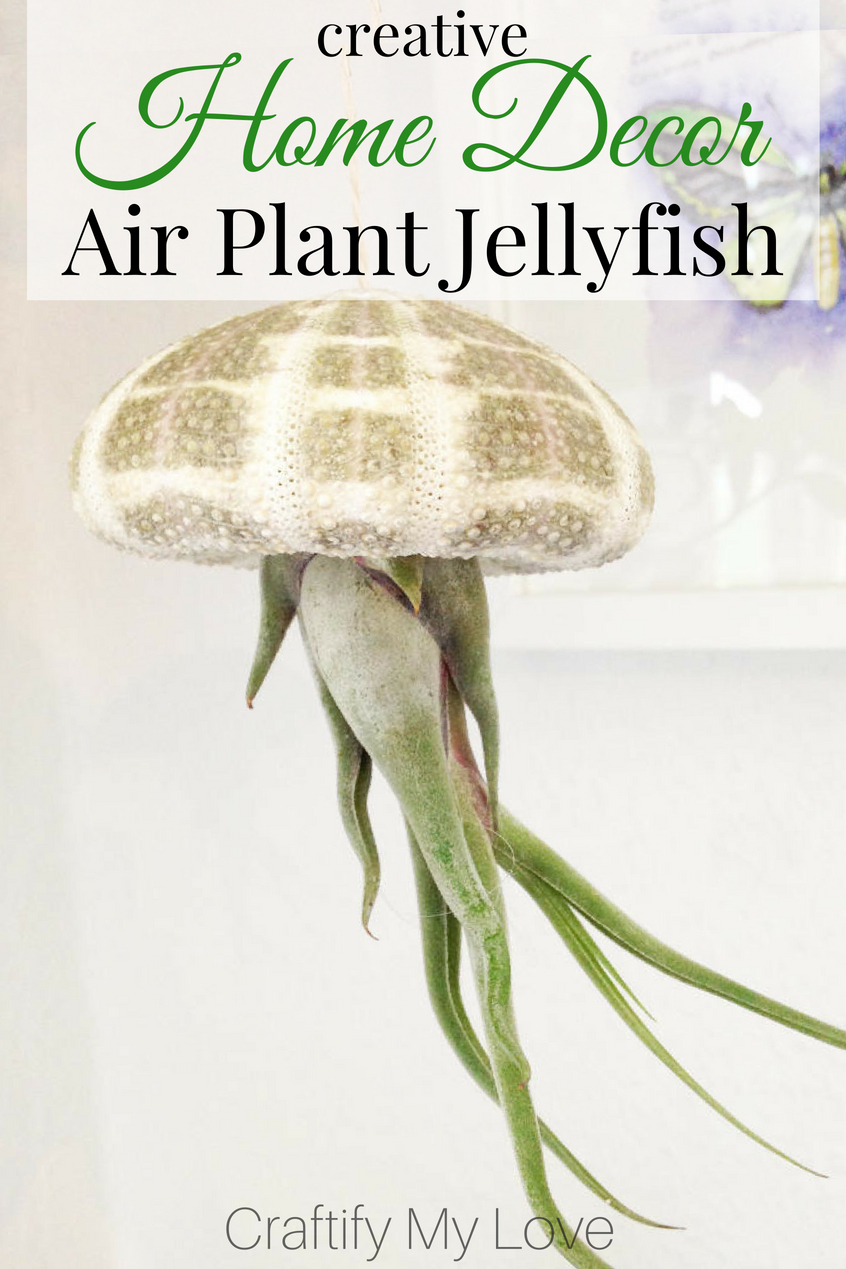 How to Care for Air Plants
Air plants look as if they were super sturdy and nothing could kill them. After all, they don't even need roots and soil to survive, right? Nope. First of all, they do have air roots. And secondly, they need a good amount of TLC so they can be your happy roommates for a long time.
They need a lot of light, but they don't like direct sunlight.
They take their food from the air and they love a humid climate. So if you don't live in the jungle (or any other super humid region) you will have to spray your air plants with water 2 to 3 times a week and give them the occasional bath.
It is suggested that you boil the water beforehand and obviously let it cool down.
You can fertilize with orchid fertilizer. Just add a tiny amount to your water mister.
I placed a nice looking spray bottle like this one on a nearby shelf (I think it looks rather decorative, too) and try to remember to simulate their beloved humid climate regularly. A good indicator to tend to them asap is when you notice a little loss of green in their foliage.
At first, I thought they wouldn't make it through the first week in my home, as only the hard survive, lol. But it's week 5 now, and they still look fine.
That's probably because of the good care instructions I've found over at Air Plant City. Go ahead, and check them out!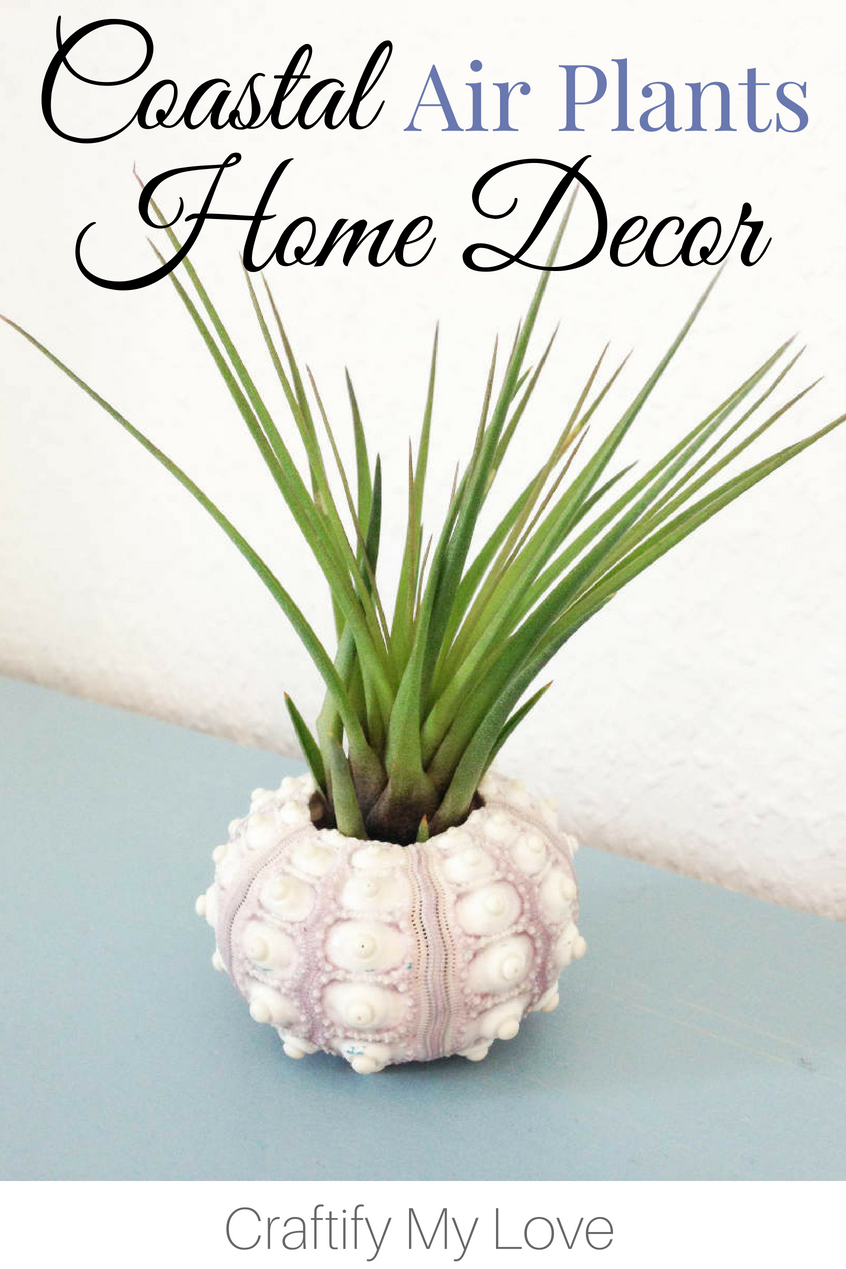 I stuck one air plant in an upside down sea urchin (this way the opening is bigger) that sorta looks like Sputnik. No hot glue needed for this coastal air plant home decor.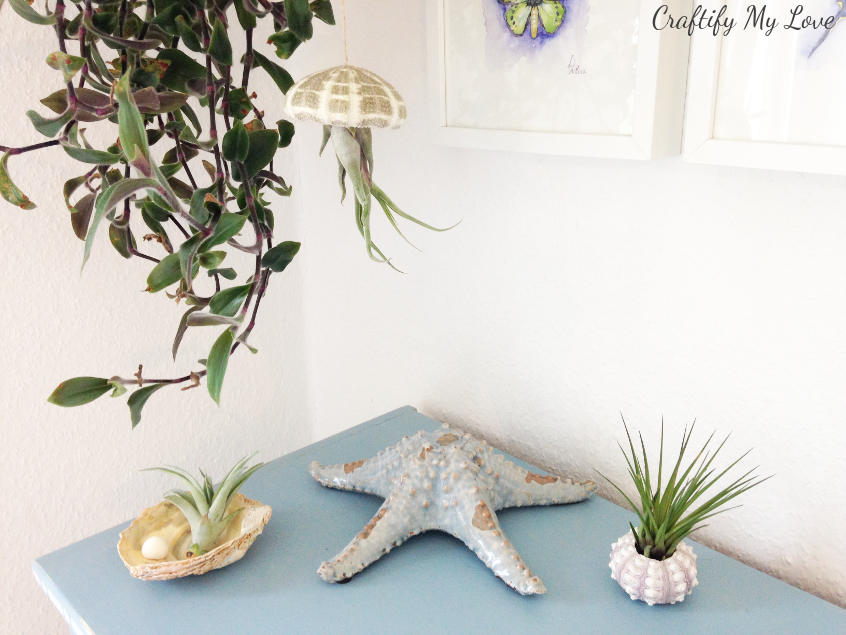 Another air plant found its happy spot in a giant oyster shell. I lift the Tillandsia (that is the botanical name of air plants) up and spray it from all sides with water 2 to 3 times a week.
That darling ceramic starfish found its way home to me from yet another trip to the UK. My friend Debbie lives in Christchurch, UK and I love to visit her and her lovely family regularly. They used to be my guest family when I was 14 – 16 years, spending my summers in the UK to learn English.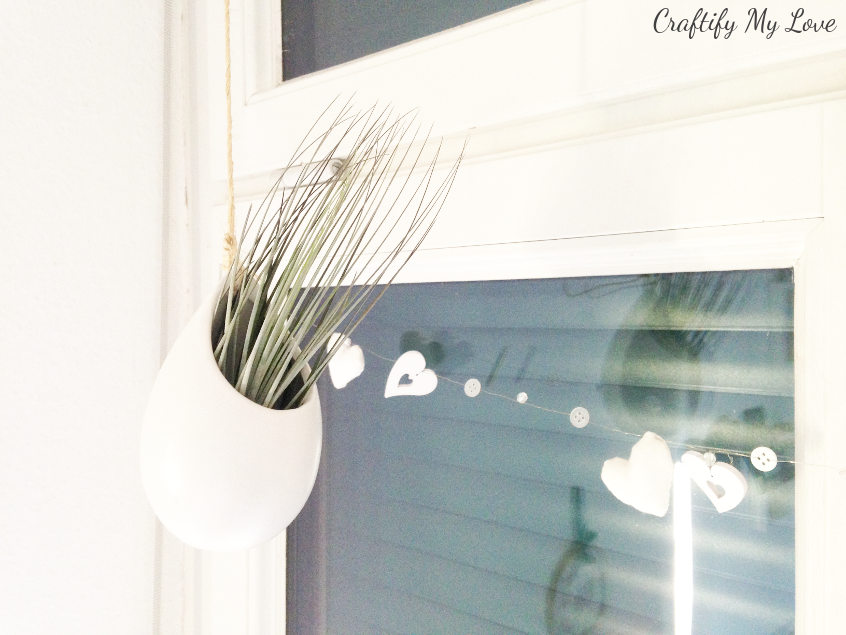 This hanging container for my biggest air plant is also from this cute little shop called The Collective in Atlanta, GA. I think it looks much like a hanging birds nest. I think I saw bright-colored birds once in a documentary, making nests like this hanging from trees to protect their young from predators.
Take a close looks once in a while. Nature is so very inspiring!
If you are ever in Atlanta, you should definitely also pay a visit to The Merchant at Krog Street Market, where you can shop unique home decor (they even had a giant vintage apothecary closet all the way from Germany) and eat marvelous food.
Frugal Tip:
Try to find unique containers to hold your living home decor next time you visit your local thrift store. And who knows … maybe you want to join us in the next monthly thrift store challenge?
Love,

PS: Don't forget to PIN this to Pinterest and keep on scrolling for more thrift store upcycling ideas!
The Rules:
Upcycle an item(s) from a thrift store, resale store, or garage sale into a new piece of decor.
There's no monthly theme.
There's no budget to stick to.
Meet the Hosts
Make sure you follow our board on Pinterest for more upcycled decor inspiration!
---
And now for more thrifty goodness!
Check out what my fellow upcyclers created below!
And if you still haven't found the perfect decoration DIY for your home, check out those darling ideas over at Favecrafts.com