Today I want to share with you the reasons why you absolutely should take advantage of the upcoming Amazon Prime Day.
If you have read a few of my craft or DIY tutorials you'll have noticed that I buy almost all of my craft supplies and tools from Amazon. It's not a secret that I am a big fan, a loyal customer and have only made good experiences so far.
Sometimes I need things asap, and sometimes I don't. If I can, I am making notes on my Amazon wish-list or place things in my shopping basket, waiting patiently for the big day…
…is when I (and you, for that matter!) save a lot of money and get all the goodies I have been dreaming about.
Set your timer! It will be here on July 16th, 2018, starting at 3 pm EST through July 17th. This is going to be the first time ever, that they are running their sales for 1.5 days you guys!!! Even more, time for us to grab those treasures. Yay!
Are you familiar with this special occasion?
Prime Day has become a once-a-year happening. Amazon is selling lots of things for less than their typically low prices, on this special day. In fact, Amazon sells so much stuff that Amazon Prime Day 2017 was their second biggest shopping day EVER. They managed to achieve a 60 percent increase in sales compared to their previous largest shopping day: Prime Day 2016. Crazy, right?!
But I don't want to bore you with any more statistics for now. I'd rather share with you my main
7 Reasons You Need To Shop Amazon Prime Day This Year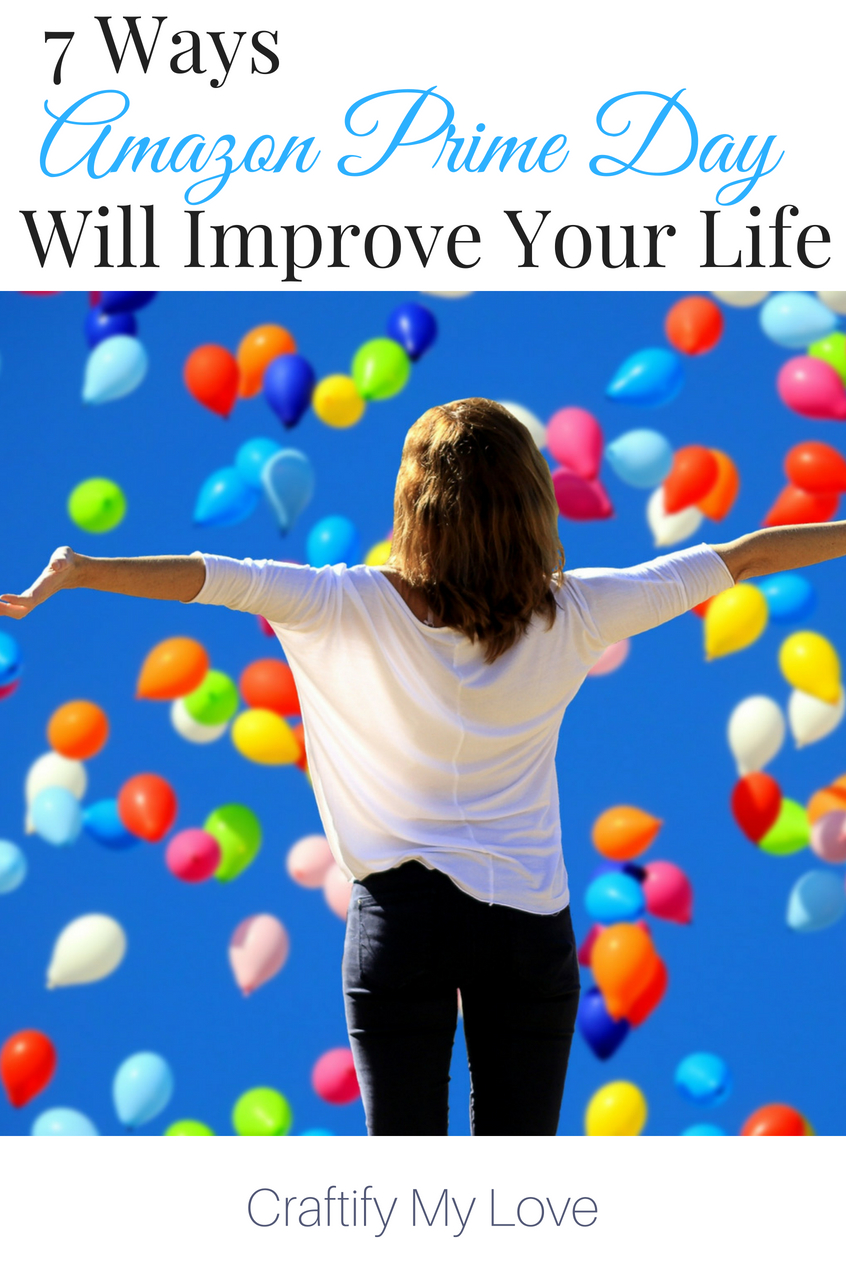 1. Profit from Quick and Free Delivery
Amazon Prime is a great service that lets you order your craft supplies (or anything else, obviously) last-minute. As a Prime member, you'll profit from free shipping and a quick two-day, often even a same day delivery!
Frugal Tip:
Sign up today for the 30 Day Free Trial. This way you can test drive Amazon Prime. Even better, if you register now and you'll be able to shop this year's Amazon Prime Day without having to pay the full membership fee!
2. Save Money Big Time
On Amazon Prime Day there will be EXTRA Sales on top of those awesome year-round Amazon Prime offers.
It's Christmas in July!
Especially if you are drooling over products from one of the following 6 categories, I recommend taking advantage of this year's Amazon Prime Day! Treat yourself and you will be able to achieve tremendous savings. Promise!
3. Enjoy excellent Entertainment while Crafting
It's great to be able to watch your favorite movie or binge-watch the latest TV show while getting creative in your craft room. At least that's what I think and enjoy doing.
As an Amazon Prime member you can choose between two options:
Frugal Tip:
You can score always a good deal buying Amazon Devices & Services on Amazon Prime Day!
If you are more into books, you'll have noticed that the more you craft, the less time you have to read a good book.
Luckily, there is a solution for that!
Test drive Audible and start listening to your books while reading. This way you can combine your two favorite pastimes!
Oh, I almost forgot These 2 Must-Haves: Wireless Headphones!
While you might need some Boom in order to be creative (Amazon Music offers a free trial!), your family might not! The super simple solutions are great (cordless!) headphones. This way you will still be able to move around while crafting without being tied to your technical device or Hospital-bound because you've tripped.
& Getting an Assistant!
And if you have your hands full of paint or glue, but can't stand the current song playing, need desperately to take a note, or need to know the conversion from cm into inches, then Alexa is your go-to Girl.
She is the friendly voice of your Echo and will happily entertain (try asking her silly questions, she's always good for a fun answer!) and assist you while you get your craft on.
Oh, and, did you see that the 2nd generation now comes in a variety of adorable colors now? Easily matching your style of home decor!!
Already have an Echo Dot? What do you use it for most often? Make sure to let us know in the comments.
Also, check out this amazing Echo Dot Outlet Wall Mount Hanger. It has amazing reviews and is just plain handy!
4. Get Unlimited Reading For Your Kindle
If you'd rather read your books than listen to them, you could consider getting a Kindle or even an Amazon Fire Tablet. With the latter, you can bring your current reading material wherever you go without schlepping bulky and heavy books around with you.
I tend to read several books when on vacation and ever since I have my e-book reader,
my luggage is so much more lightweight
I have more room to bring home craft supplies from my trips (A crafters kind of souvenirs, right?)
Actually, I have two devices now:
I still have one of the first kindles that were available on the market – they literally last forever!!
and I just bought myself an Amazon Fire Tablet. This way I can combine my love for books and TV Series while traveling.
Frugal Tip:
On Prime Day you can score 3 months of unlimited reading for $ 0.99
5. Save A Lot of Time
Shopping for clothes or groceries and cooking your meals every day can take up a lot of your time! If you are a busy kind of girl like I am you are on the constant lookout for possibilities to save you some of your precious time!
I decided that investing in an Instant Pot (we call them programmable Pressure Cooker in Germany) is a very nifty thing to do! Let the pot do the work, while you are getting other tasks done, right?
In order to let your Crock Pot do all the work for you, you have to get it up and running. A big time saver is doing your meal planning once a week or even once a month and get Amazon to deliver you all the groceries, even fresh produce! Wow! A view years back, who would have thought, right?
They have a great deal going on for Amazon Prime Day:
$ 30 off of your first order!
But even if you are reading this later, you can still profit from unlimited grocery delivery for $ 14,99 per month.
Now on to the clothes shopping part:
I love fashion! What girl doesn't, right?
But I really don't enjoy going out to do the actual shopping!
You know the drill!
Driving downtown. Going to a shop. Looking for nice pieces. Entering the changing room. Getting undressed. Trying the clothes on. Horrible lighting and a mirror you look two sizes bigger. Aaarrrrrgh. Not the right size, no good fit either. Do I have matching accessories?
I'd rather let everything deliver to my home and try it on in one session, see if I can mix & match with other pieces of my wardrobe and most of all, in the comfort of my own home.
Needless to say that I discovered the charm of clothes shopping online a long time ago. How about you?
Frugal Tip:
Get Free Shipping on all orders over $ 25 shipped by Amazon. And don't forget to browse on Amazon Prime Day for those extra price reductions!
6. Outsource Tasks you Don't Enjoy
We just got ourselves one of these cute little Vacuum Cleaning Robots. Best. Decision. Ever! And the cherry on top: our little Robo Friend teams up perfectly with Alexa.
We are now letting this little buddy clean our home, while we are doing other things that we actually enjoy. How awesome is that?!
And, did you know that Amazon offers Home Services now, too? You don't have to waste your precious time setting up your home theatre, deep cleaning your carpet or assembling new furniture … let other people help you out while you do what you can do best: Creating.
7. Gift Or Be Gifted With Ease
This is not in direct connection to Amazon Prime Day, but I love this feature and use it so often, that I really want to tell you about it:
Did you know that you can use Amazon as a baby or wedding registry? The wish-list feature is great, too!
I have started several of them, as my family always needs a hint or two on what to get for me 😉
Christmas
Birthday
Supplies & Tools for my two main hobbies (DIY and Blogging)
Spread the news! Try it out yourself! And if you have Prime you can sort of last-minute order gifts for loved ones without having to worry about shipping costs, too!
Oh, and of course you can give the gift of Amazon Prime, too, lol.
What will be in your shopping basket today? Did you stumble over a great offer? Make sure to tell us in the comments, so we can check it out, too!
Love,

PS: Don't forget to PIN this for later.