In the middle of this July the weather was so dreadful, I had a sudden craving to create Watercolor Mushroom Art that screamed FALL to me. Moody as this summer was, a couple of weeks later I was back to painting fun tropical sea creatures and beach motives for my sons birthday party on a hot late August Saturday (more about that in a different post…hopefully… eventually).
Beware, these following lines will probably be a little too personal for some of you. You'll ask yourself: "Why is she telling me all this? I really couldn't care less!". But, I really feel the need to explain to my close and dear readers/friends out there why my blog is in hibernation and what's going on in my life.
Early Christmas Present from Craftify My Love
Also, I'd like to thank you for your loyalty and patience with an early Christmas gift. You'll find more on that further down.
So here goes…
Same as this years summer, I'm experiencing regular mood swings myself, when I think about my creativity and this blog.
I LOVE my creativity – YAY 🙂
Whereas other Moms have a super tidy home and are on top of their massive to do list, my home is a mess and I have a three page to do list that isn't nearly completed…and honestly, is stressing me out a bit. But, as I absolutely love being creative (and try to spark this creativity in my son, too) I set my priorities differently than others might do.
I LIVE my creativity – YAY 🙂
Hardly a week goes by where I don't get creative in one way or another. Be it a quick sewing project, a last minute whipped up present for a friend's birthday, or a cake I bake with my son creatively altering the recipe and hoping that freestyle cake will taste delicious none the less.
I SHARE my creativity – NAY 🙁
Sadly, not so much anymore. I used to publish at least a crafty post a week and eventually even videos before my son was born. When he turned 6 months I was able to start getting back to creating things. But so far I only managed to share one (1!) creative project here on the blog and only a few things over at my Craftify My Love Instagram account. Although the camera roll on my phone is full of awesome tutorial photos and even the occasional video footage. Arghhhh.
I MAKE a LIVING off of my creativity – NAY 🙁
My big dream or should I rather rephrase that and say: My big goal! I would love to turn my passion and hobby into a business and I already got started by writing this blog of course, publishing videos in my Craftify My Love YouTube channel, and by opening up my Etsy shop this March. So far, I am at the beginning, and really should invest more time and effort, but I can't bring myself to it as much as I like.
I try not to be too hard on myself. Dear friends of mine tell me frequently that it is not easy to be a mom and an entrepreneural blogger at the same time. And I get that! Not only am I a mom to a super clever and very challenging two year old and pregnant with baby boy no. 2 who is due mid March 2022, but I suffer from Multiple Sclerosis, my mom is very sick and needs help in many ways, Markus and I are buying our first house together, and much more. And then I see other mom bosses who manage just fine. And I bet they have challenging lifes, too! Oh, here we go again…mood swing, lol.
But let's get back to business, shall we?
Cash for Christmas Giveaway
In order to make myself publish at least every now and then, I use a trick: I commit to participate in these amazing giveaways Tammy organises twice a year and then I.simply.have.to.make.it.work. BAM. Here's to a check for SHARING my creativity.
You'll find more info about your chance to win $340 further down in the post.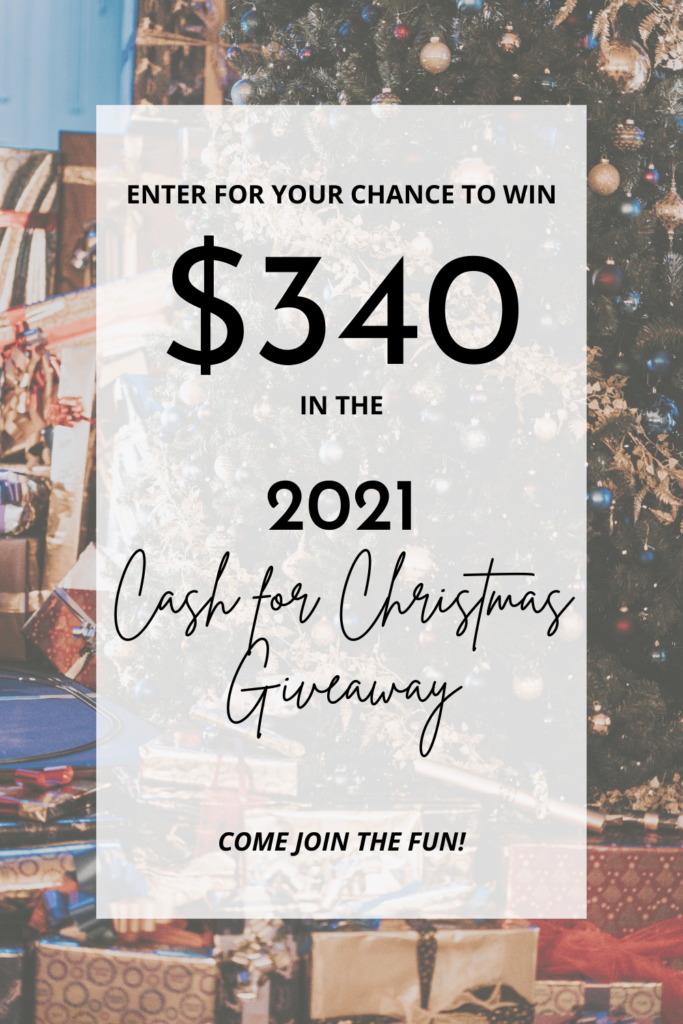 And now, let me show you what I've turned my cute (not so much) summer Watercolor Mushroom Art exercise into to work on yet another check in the MAKING a LIVING off of my creativity 😉
Watercolor Mushroom Art turned into Instant Download and Print at Home Cards
I digitalised my watercolour Mushroom Art (as I did with my pretty watercolor flowers this spring) and designed several greeting cards for you to instantly download from my Etsy shop and print at home. As often as you like. Now, they're not really seasonal cards for fall or Christmas as I want you to be able to reuse them more often and thus safe a lot of money. In these times frugal is the way to be, right?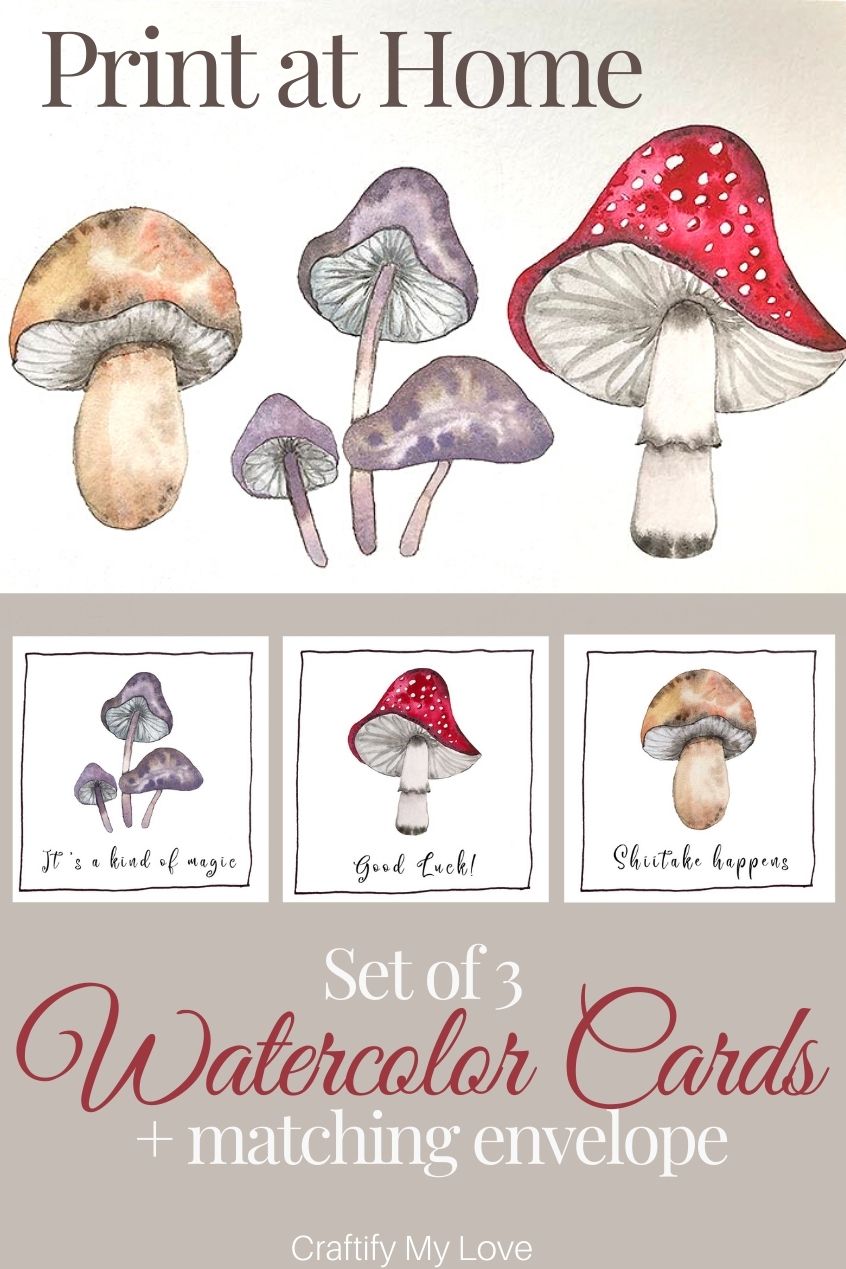 In case you're also into watercoloring, the amazing Emma Jane Lefebvre, a watercolour artist from Canada, taught me how to paint these cute little mushrooms. You'll find the free video tutorial to follow along at the end of this post!
1. Set of 3 Fun Watercolor Mushroom Art Cards
I started off with these cute little square cards. You'll get a set of three for the prize of one (buy the Set of 3 HERE). And there will be even a matching envelope included that is not shown in the following three pictures but further down. Sorry about that. I simply couldn't make it work technically.
Good Luck – Viel Glück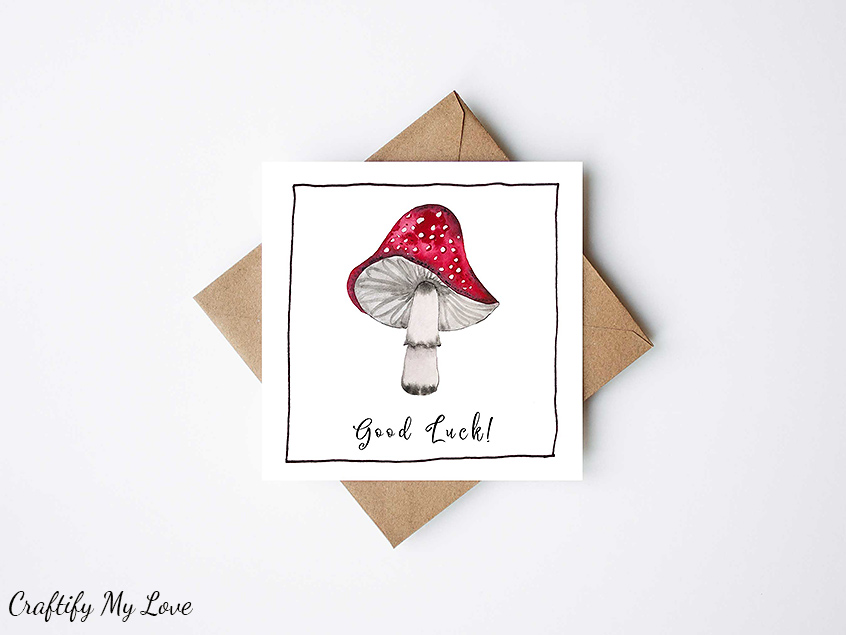 In Germany, the toadstool stand for good luck (Viel Glück! in German), so this first design was a no brainer.
Shiitake happens – Shit happens
The second design looks like a Shiitake mushroom. I have a book and I looked it up online, too. Lol. I thought it kind of fun to add a wordplay to this card and let the card say "Shiitake happens" as the fun equivalent to (obviously) "Shit happens".
It's a kind of magic – magic mushroom pun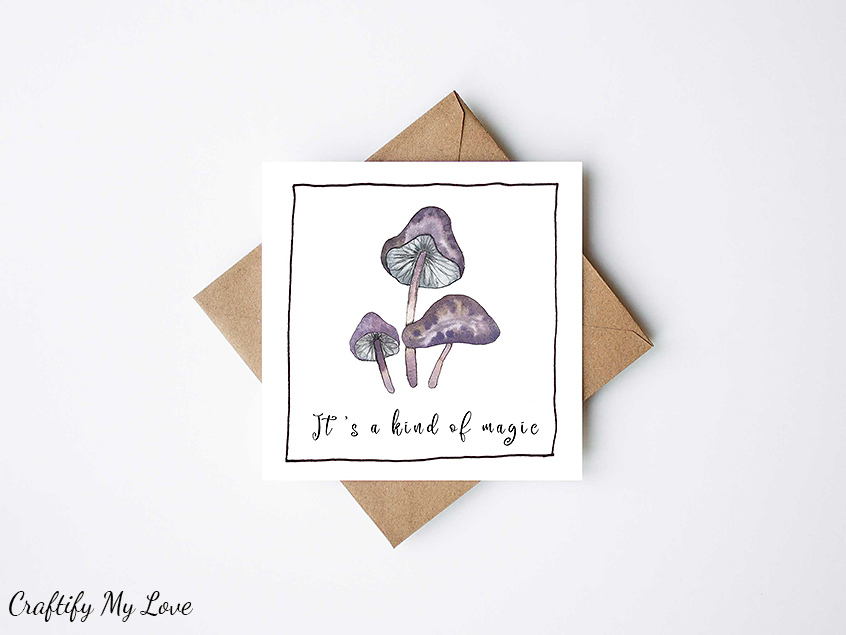 The last card is supposed to be an allusion to magic mushrooms. My slim purple shrooms look somewhat like those and I didn't come up with a better idea (haha). I've never done drugs, but I think this card is fun anyways.
2. Matching Watercolor Mushroom Art Envelopes
The left design is C6 format and available in this fun toadstool pattern, but also in the mushroom mix. The design on the right hand side comes with the set of 3 cards and is 90 x 90 mm or 3.5 x 3.5 inches.
In the picture you see how the digital file is designed. Obviously after purchase there won't be the watermark "sample" on it anymore. You'll print it at home or in a copy shop, cut it out, fold it into shape and glue the envelope shut.

3. Watercolor Greeting Cards for Various Occasions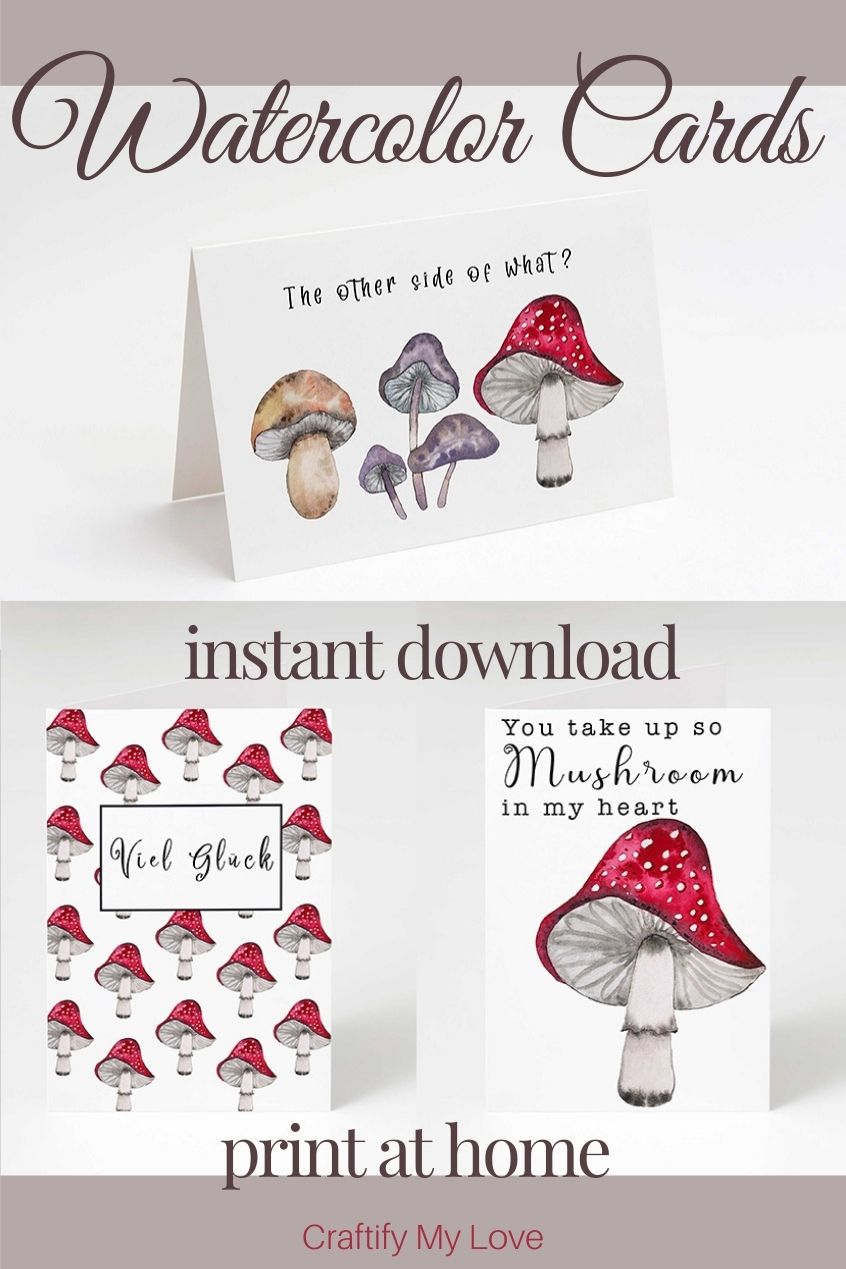 I love you – said in a cute and different way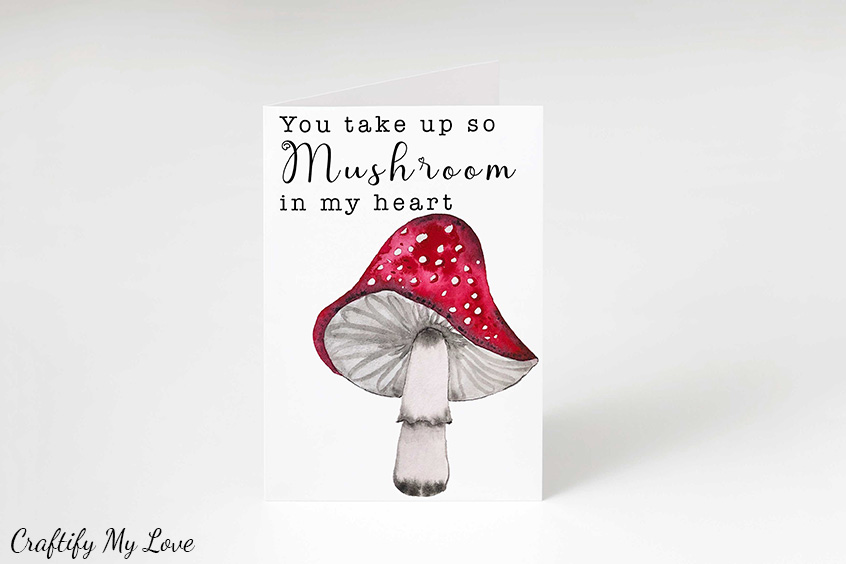 Yet another wordplay using the word mushroom: "You take up so mushroom in my heart" meaning "You take up so much room in my heart".
Purchase this card HERE.
Viel Glück – Good Luck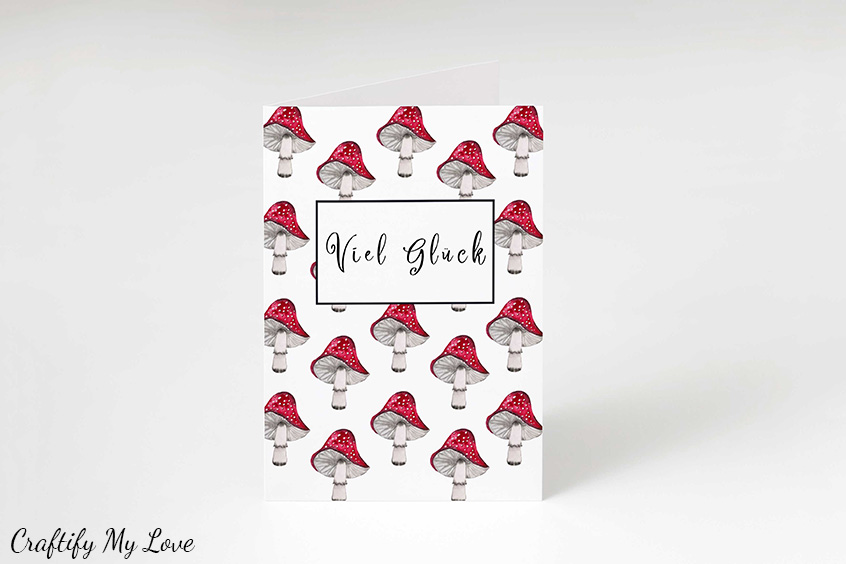 I am really in love with this toadstool pattern and have daydreams about getting it printed on fabric or wallpaper. I probably will come up with some idea to use it in future crafts somehow.
The card reads the German phrase "Viel Glück" that translates to "Good Luck". I felt that one mushroom is not going to be nearly enough. This card is supposed to be the lifesaver for people out there who need tons of luck!
Purchase this card HERE.
Alice in Wonderland Movie Quote – "The other side of what?"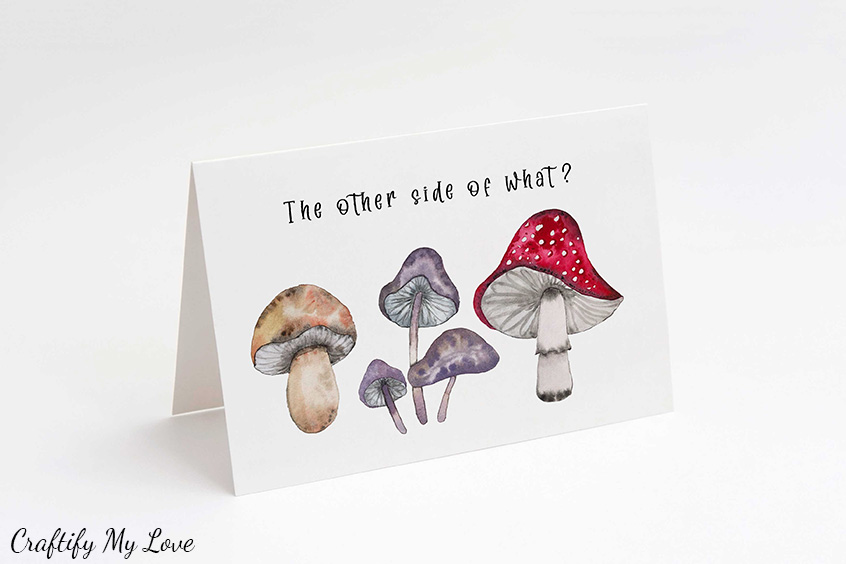 I love that movie and I know there are Alice in Wonderland fans out there who would love to send or receive a geeky little card like this one.
Purchase this card HERE.
Early Christmas Gift – 20% Off of Everything in the Craftify My Love – Etsy Shop
Why don't you stop by over at the Craftify My Love Etsy Shop and look around. Give me a feedback and tell my what you like best and what you'd like to see more of. I not only have digital cards, but sewing tutorials and a craft kit with Watercolour flowers up, too!
As a THANK YOU I'd love to gift you a little early Christmas present: 20% off of everything in my shop until December 31, 2021. Simply enter the coupon code MUSHROOMS20 during checkout.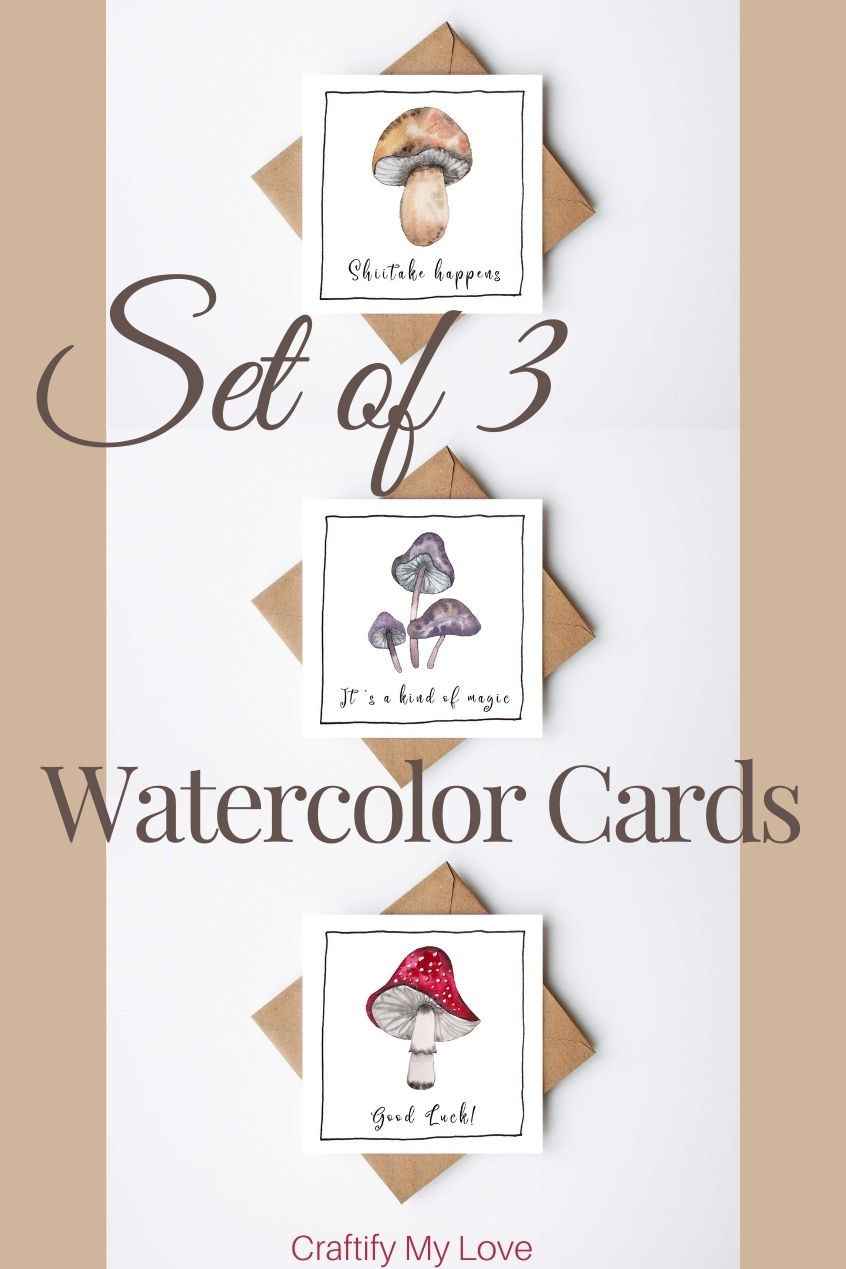 I would also love for you to "heart" my shop so you get notified when I manage to upload new products. I have other printables in the pipeline, SVG cutting files, sewing and crocheting patterns, and I am thinking about physical products, too.
Love,

Cash for Christmas Giveaway 2021
Let's get this party started!!
Here are the prizes:
1 – $100 Gift Card
1 – $100 Gift Card
1 – $50 Gift Card
1 – $50 Gift Card
1 – $40 Gift Card
There will be 5 winners in this giveaway. Each winner will choose an e gift card of their choice and receive the code to use either at the online store or at the actual store of their choice.
Now it's time to meet our wonderful co-hosts who have made this giveaway possible.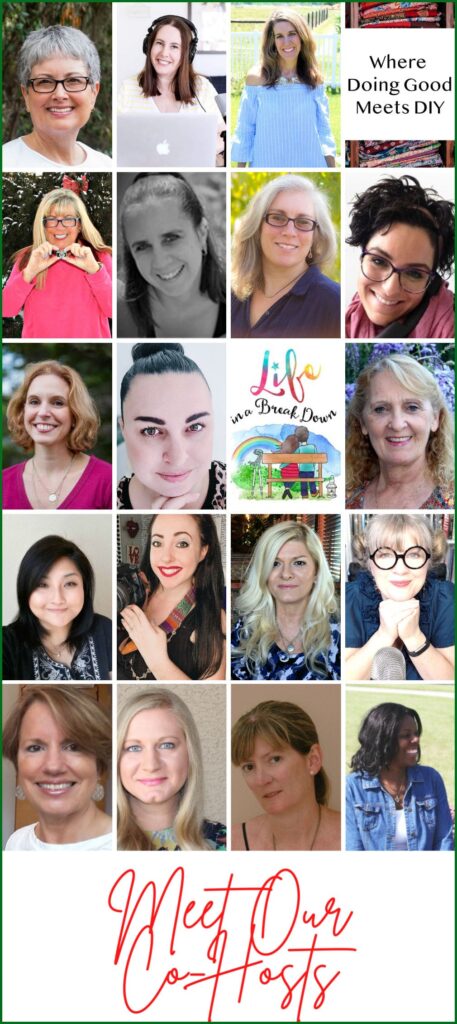 Starting at the top row we have:
Tammy – My Life Abundant | Heather –The Super Mom Life | Carrie – Curly Crafty Mom | Dana – Create to Donate | Linda – A Labour of Life | Stacey – Simple Living: Creative Learning | Debi – Life Currents | Habiba – Craftify My Love | Meredith – The Mom of the Year | Megan – The Stephen 3 | Sarah – Life in a Break Down | Beverly – Eclectic Red Barn | Erlene – My Pinterventures | Lindsay – Paperclips and Confetti | Donna – Blog By Donna | Denise – This Is My Everybody | Simple Living | Sinea – Ducks N' A Row | Kara – Phoenix Mom Blog | Kathleen – Our Hopeful Home | Zan – At Home with Zan
Please be sure to stop by and say hi to these wonderful ladies and their blogs.
The giveaway will end at 11:59 pm on November 24th on the day before Thanksgiving. You will have 48 hours to respond to the email claiming the prize. If you respond right away, we will get you the gift card code promptly so that you can shop with it on Black Friday! If we don't hear in 48 hours, we will have to choose another winner.
Open to anyone who can receive e gift cards from major retailers.
How to Paint Watercolour Mushrooms – Free Video Tutorial to follow along by Emma Jane Lefebvre