Today I rummaged in my crafty projects box that I haven't shared with you yet. If you're interested I'll be showing you how to make a Bent Wire Memo Board.
I found inspiration for this little organisational DIY on Pinterest and made it as part of my Craft Room Re-Organization Challenge a year and a half ago. Originally, I shared it over at Sheri's blog Hazel+Gold and had big plans on putting the tutorial out there for you, too, my lovely Crafty My Love reader!
But as happens quite often I craft things, take pretty pictures, sometimes even video footage, and then I never get round to sit down and type up the post. Sometimes that makes me sad. But then, on other occasions, such as today, it makes me real happy. Why? Because, I have awesome things to teach to you even though the time is tight. As is the case this week: I'm 36 weeks pregnant and had to stay in hospital for 24 hours because of high blood pressure. Needles to say there are many other things my mind is occupied with or things that still need to be prepped until my precious baby boy arrives in just a view weeks.
Pinterest Challenge
I really love this monthly challenge by Erlene from My Pinterventures. She challenges us to not just pin, pin, pin away on Pinterest but actually create something from all that wonderful inspiration.
Look what I've made so far:
Will you join in on the fun in next month's #pinterestchallenge, click here to sign-up ⇒August Pinterest Challenge
Let's meet this month's Pinterest Challenge hosts!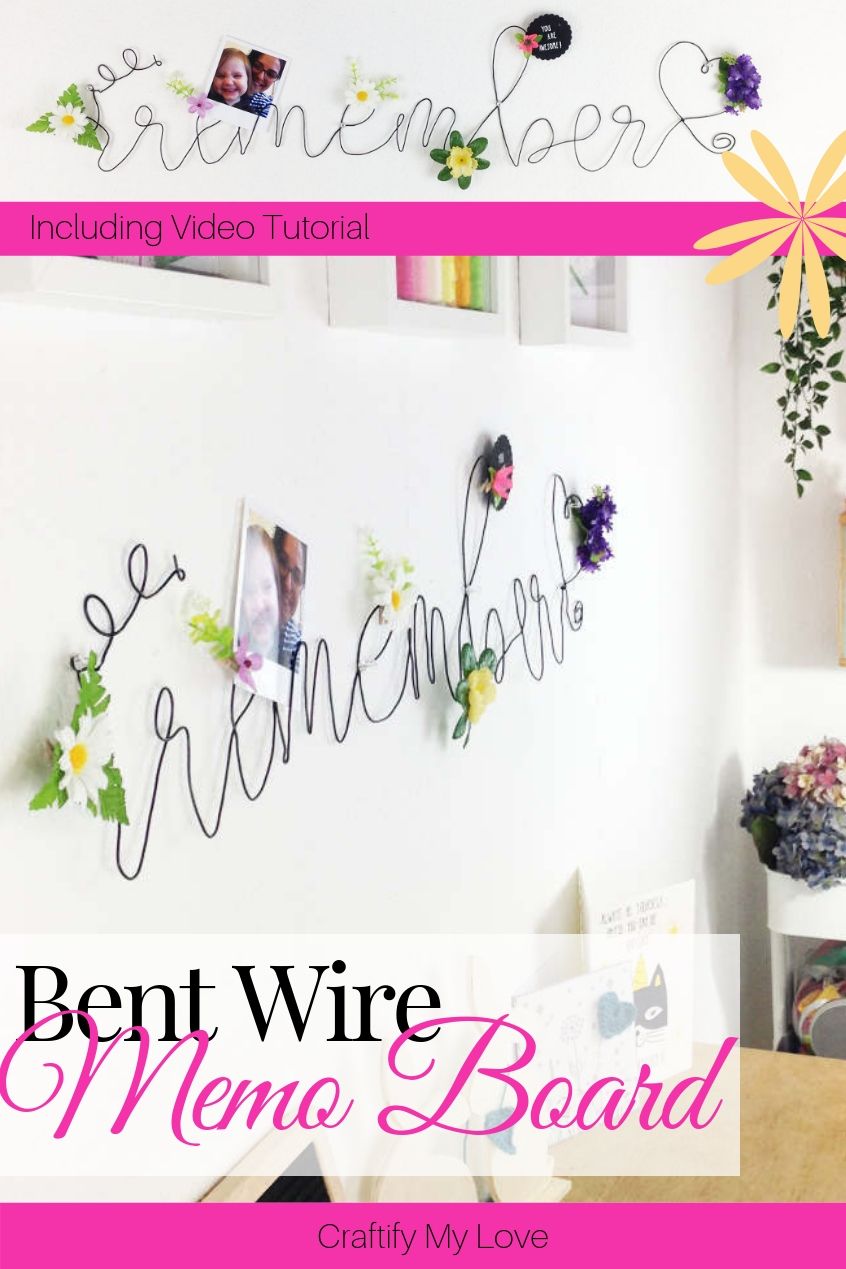 Supplies & Tools for a Bent Wire Memo Board
This post contains affiliate links. That means if you make a purchase through these links, I may receive a small commission at no extra cost to you! You can click here to read my full disclosure.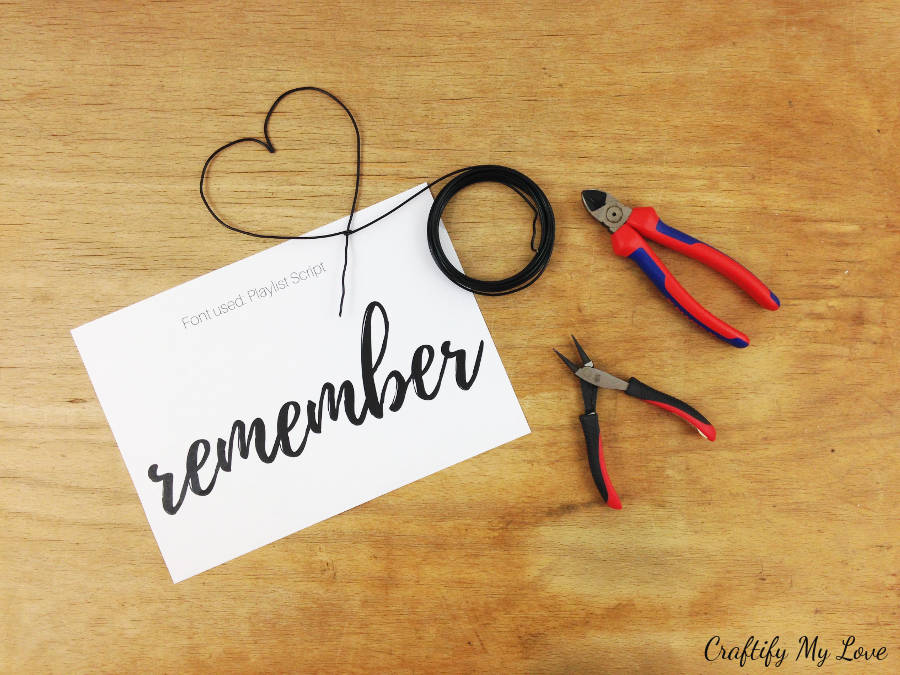 Step-by-Step Tutorial: Hand-formed Wire Memo Board
1 – Creating a template
If you like the idea of your decorative memo board spelling the word remember, you can download a FREE template HERE (remember, it's a thank you for subscribing to my newsletter). Or you can bend the wire in literally any shape you want. Simply type the word you desire in a pretty script font, scale it to the size you want your memo board to be, print your design and tape it together.
If need be you'll find the photo tutorial for steps 1 – 3 over to Sheri's blog Hazel+Gold.
2 – Hand bending the wire
This step might sound a little intimidating, but actually it's pretty easy to be done. Watch the short video to see how to hand-shape the letters for your quote memo board made from wire.
Tip: Start by creating the entire word without worrying too much on looks. After you've spelled your desired word from wire, step back, look at it from a distance, and decide were you want to make adjustments.
3 – Installing your memo board
Naturally, you don't want big ugly nails holding up your little piece of art, as you want your DIY bent wire memo board to look as pretty as can be, right? The solution is to use clear pins to install it to your wall. I suggest you use a hammer and start from the outside towards the inside. I used four pins in total to make sure that the word was smoothly attached to the wall and not parts of it standing out in awkward angles.
4 – Decorate & put to use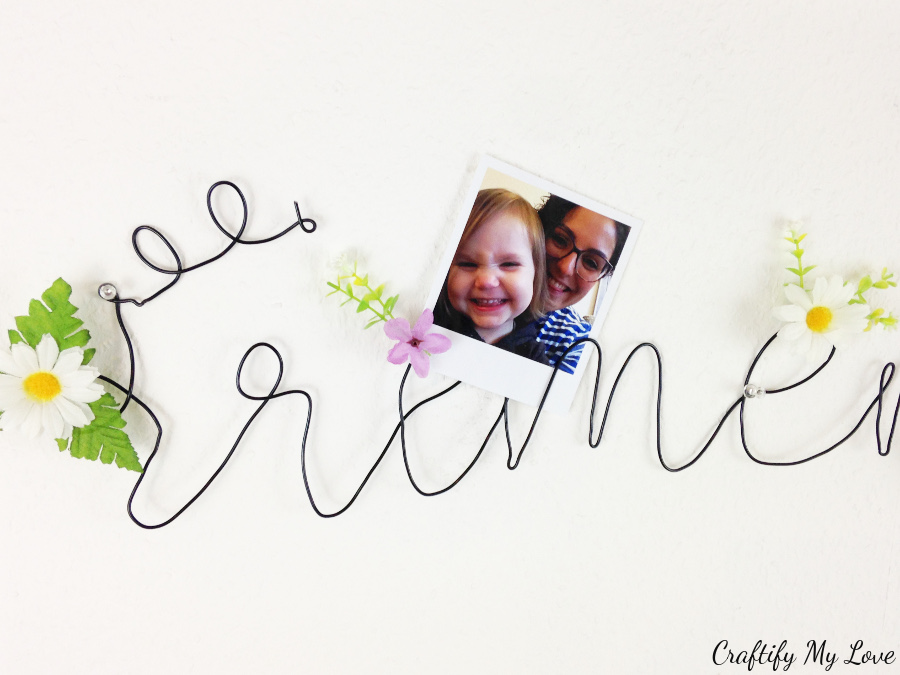 If you're anything like me you'll use your memo board not only for the odd shopping list or note. You'll add photos, post cards with motivational quotes, and the likes, too. And maybe you'll even dress up pegs to hold your notes with pretty silk flowers like I did.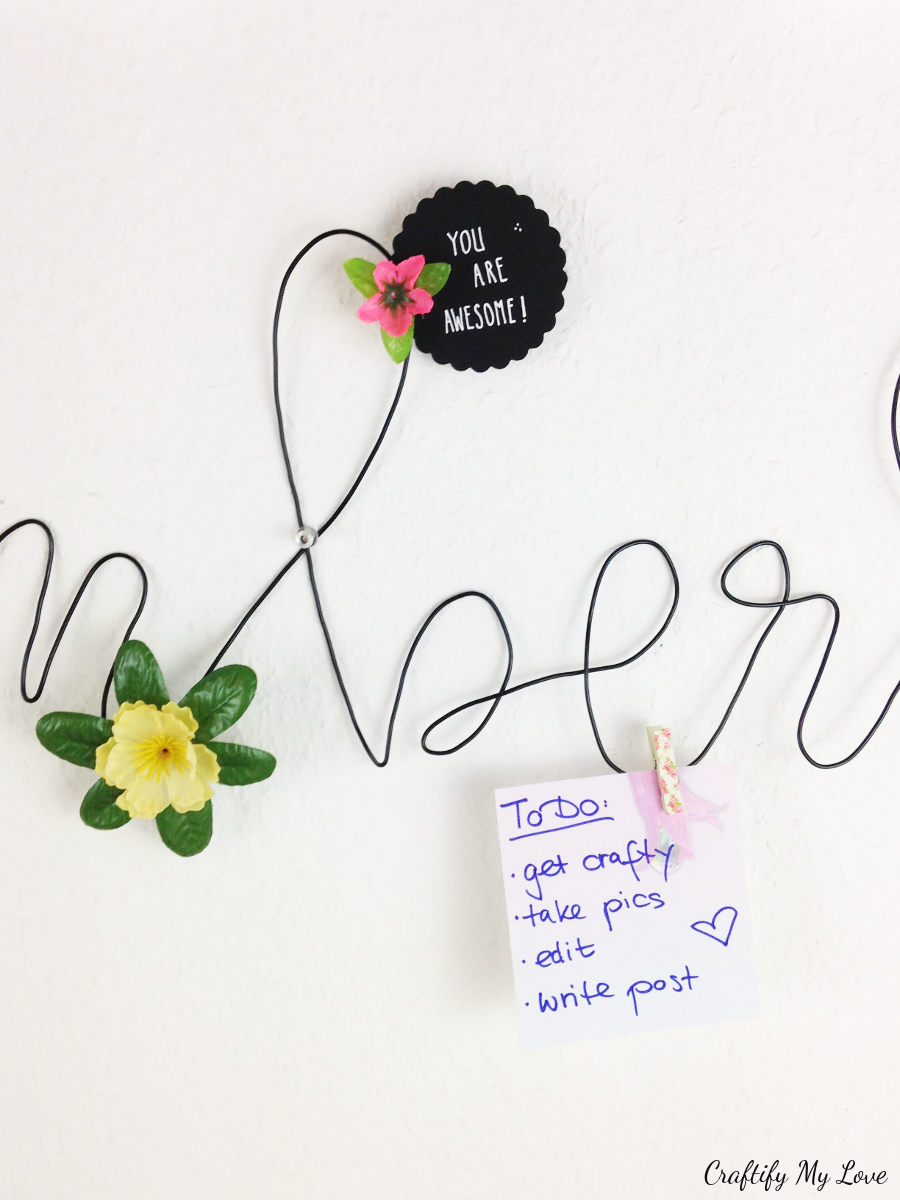 Free Printable: You are Awesome!
See the YOU ARE AWESOME! note in the image above?
I think you totally need this one, too! So I've created a FREE Printable for you to download as a thank you for subscribing to my newsletter.
More DIY Decor, Storage, and Organisation
Here are some of the other things I've created during my very own Craft Room Challenge.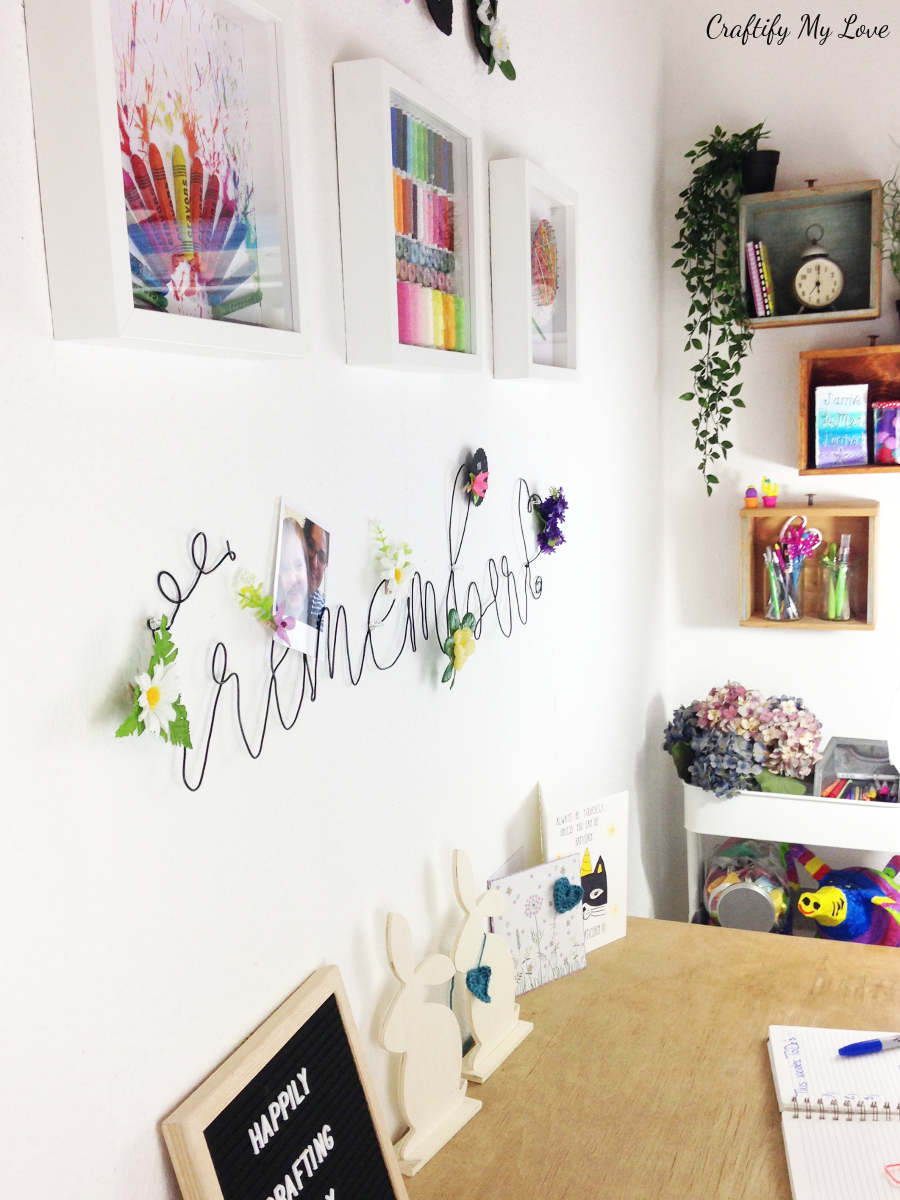 Other decor and/or functional elements for your home or craft room you might like: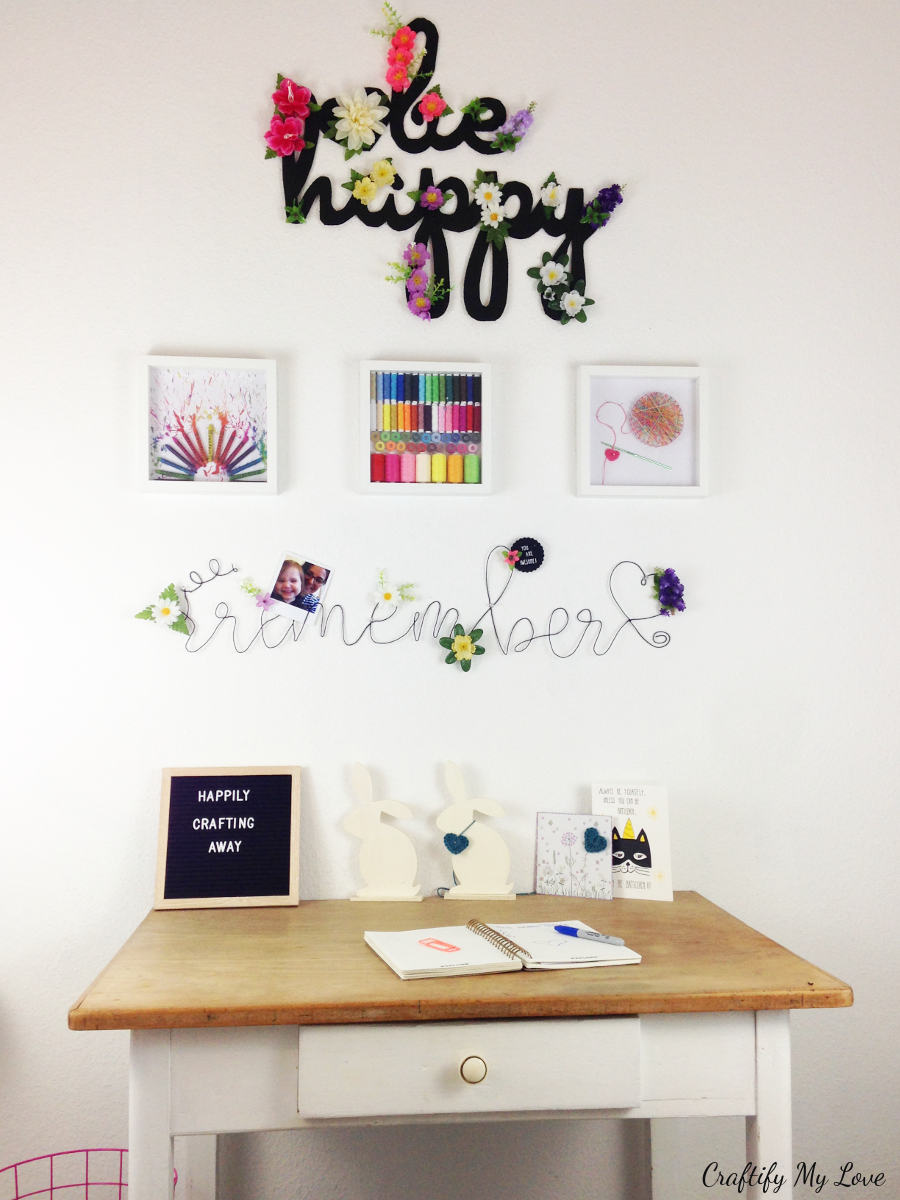 What word would you like to read your DIY bent wire memo board? And where would you place it?
Love,

PS: Don't forget to PIN this to Pinterest.
And now, let's see what the other hosts have created ⇓⇓