This post contains affiliate links. That means if you make a purchase through these links, I may receive a small commission at no extra cost to you! You can click here to read my full disclosure.
I had my eye on crocheted boho hoop earrings in forever. They were the first item saved on my DIY jewelry projects Pinterest board.
So when I bought the Handmade With Love Ultimate Bundle, a collection of 200+ handcrafting projects, patterns and courses for a mind blowing 95 % discount and realized that it included an ebook with 4 different patterns for crocheted earrings by My Handmade Passion, I knew it was time to try my hand on something new.

I love everything handmade, and I love to extend my skills step by step. I do know how to crochet (I tought myself 4 years ago), but I usually lack the patience to crochet with those super thin hooks and delicate yarn.
Pinterest Challenge Blog Hop
My friend Erlene from My Pinterventures has this fun monthly challenge where she motivates all the participants of this hop (and you, too) to not just pin, but to make things happen! To join next month's #pinterestchallenge, click here to sign-up ⇒ October Pinterest Challenge.
I have participated quite a view times so far and I absolutely love, love, love this challenge. Will you join in on the fun next month?
Step-by-step Tutorial for Crocheted Boho Hoop Earrings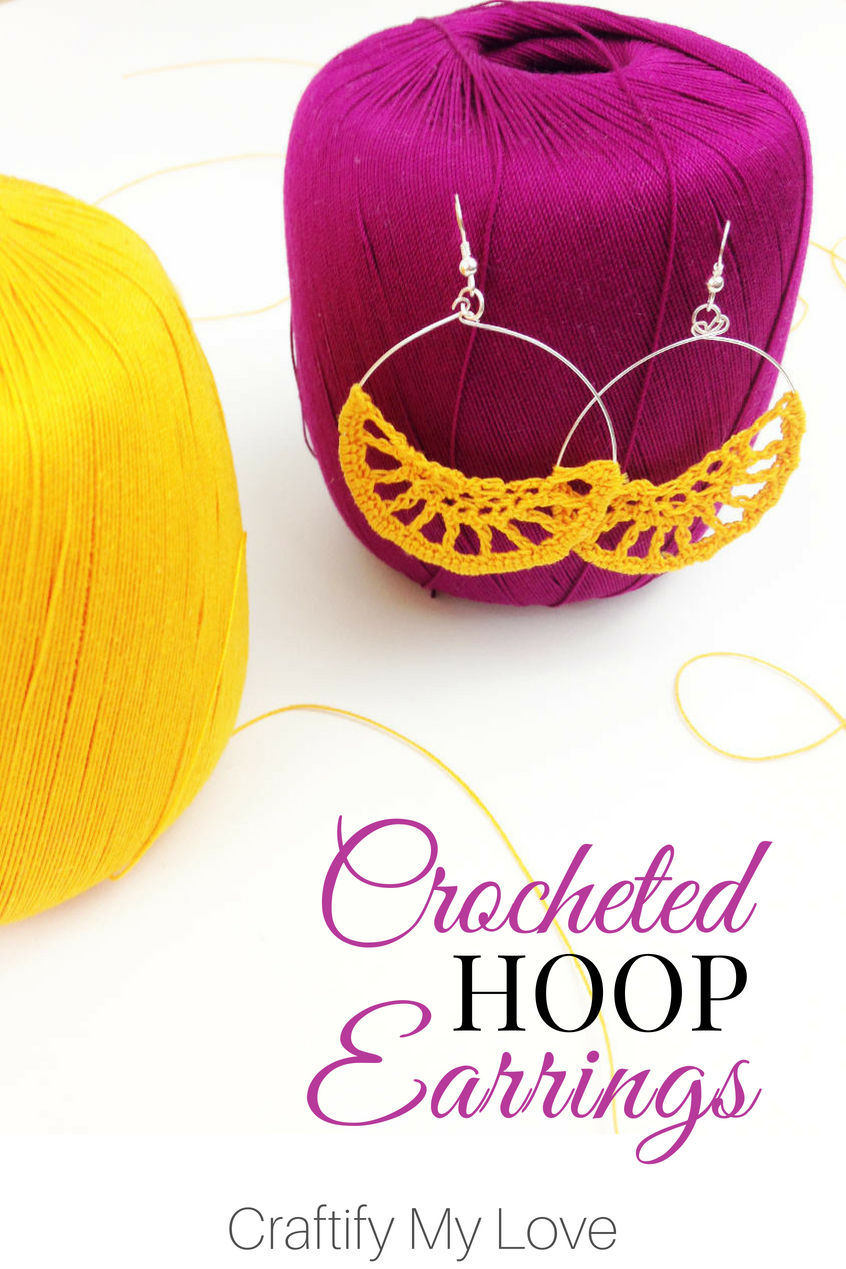 I won't be sharing the crocheting pattern in this tutorial as it's not mine to share.
But I will tell you where you can get it for a bargain
Buy the Handmade With Love Ultimate Bundle HERE. It includes the Set of 4 Crochet Earring Patterns e-book by My Handmade Passion.
Why you should consider buying the bundle, too!
By now I've followed along one pattern (app. $8) and took two courses about stenciling fabric ($69) and Shibori & natural deying ($20) out of the Handmade With Love bundle and I only paid as little as $47 for the entire collection of more than 200 tutorials. Sorry, the offer ended 11-30-2018 – but if you'll sign up through the link above, you'll get notified when it's back on the market!
Plus I'll teach you how to DIY the round hoops that are the base for your crocheted boho hoop earrings.
I don't know about you, but when I decide on my next creative project, I want to start. right. now. As you can't have all craft supplies that the world has to offer in your small space craft room (trust me, I've tried, lol), sometimes you simply need to get creative.
More DIY Jewelry you might like:
Supplies & Directions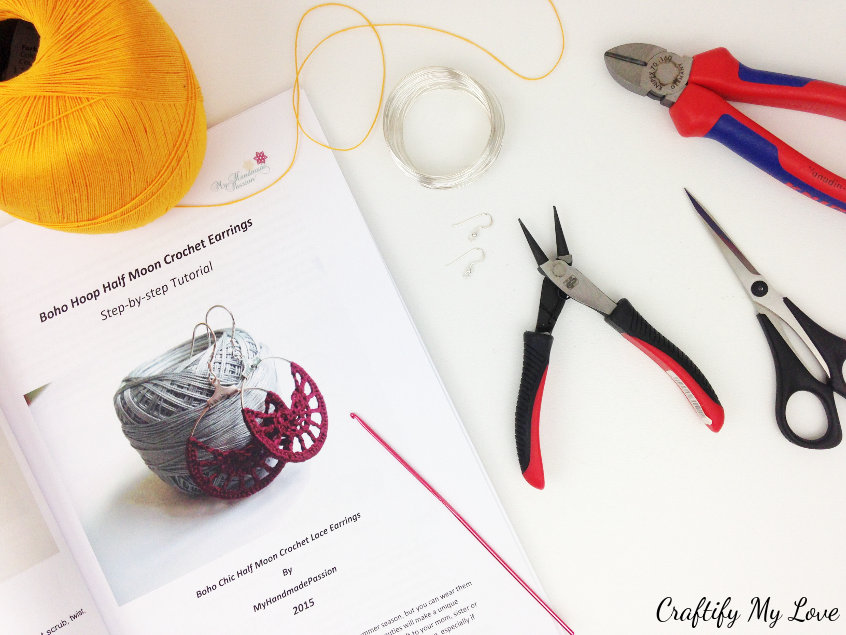 If you'd rather buy the hoop, than make it yourself:
To DIY the earring base you'll need:
How to DIY the base for crocheted boho hoop earrings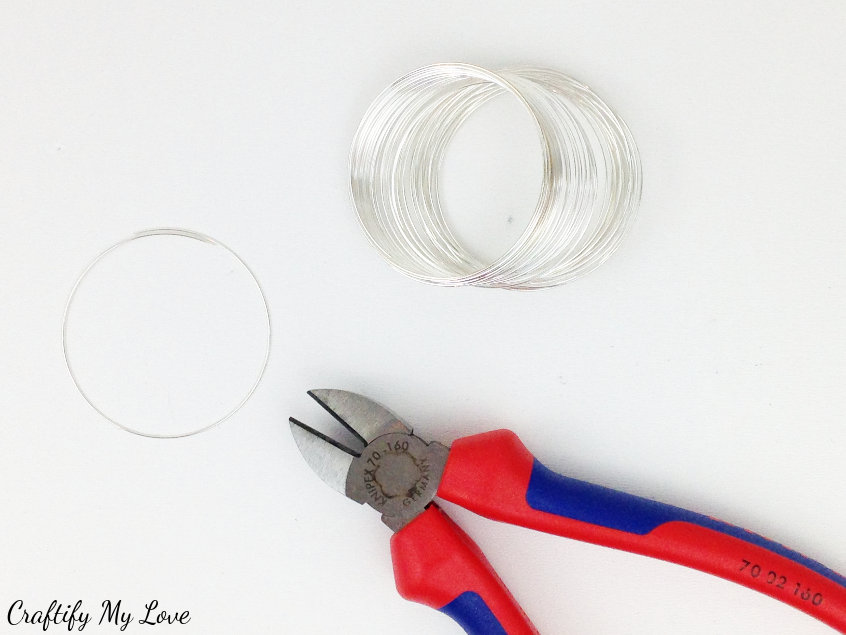 Cut a little more than one round (see image above) of your memory wire with your cutting pliers.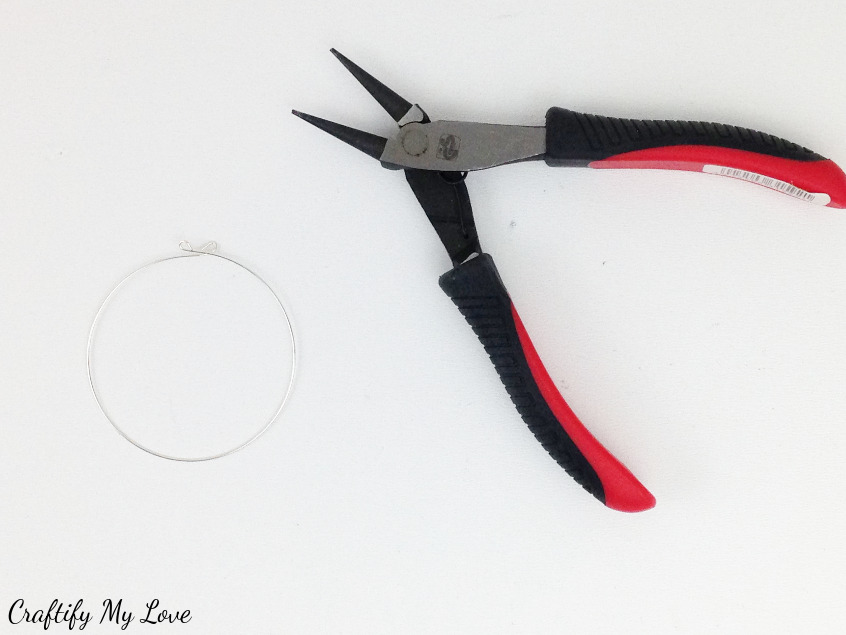 Using your round nose pliers you'll bend both ends backward into a loop.
This way your crocheted stitches won't slip off the hoop while you're working on your project and you've created the connection to the hook ear wires for later.
How to crochet boho hoop earrings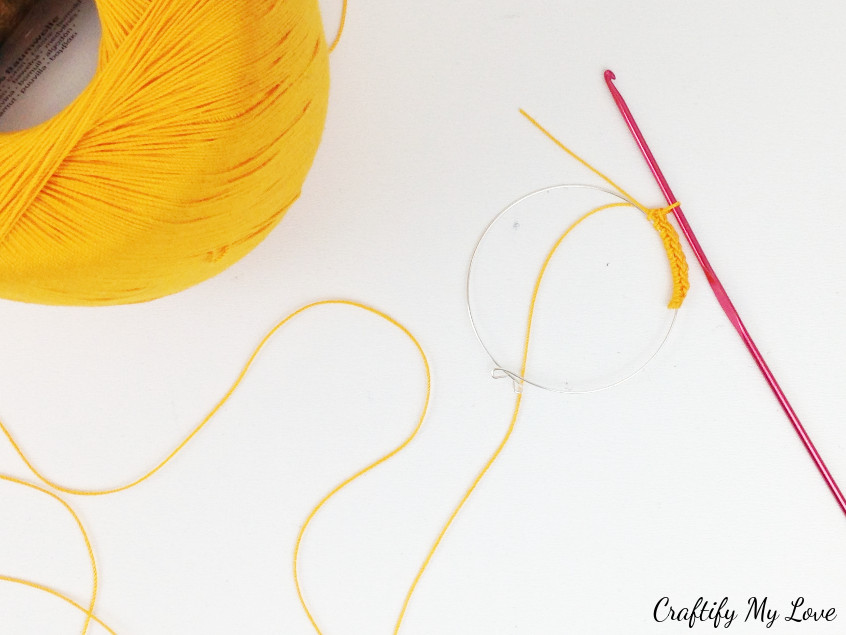 You'll find an e-book by My Handmade Passion with 4 different patterns (this one included!) as a part of the 95 % off Handmade With Love bundle HERE (offer ends 11-30-2018!).
Of course, you can search the web for free patterns, too. Maybe you find one you like over at allfreecrochet.com?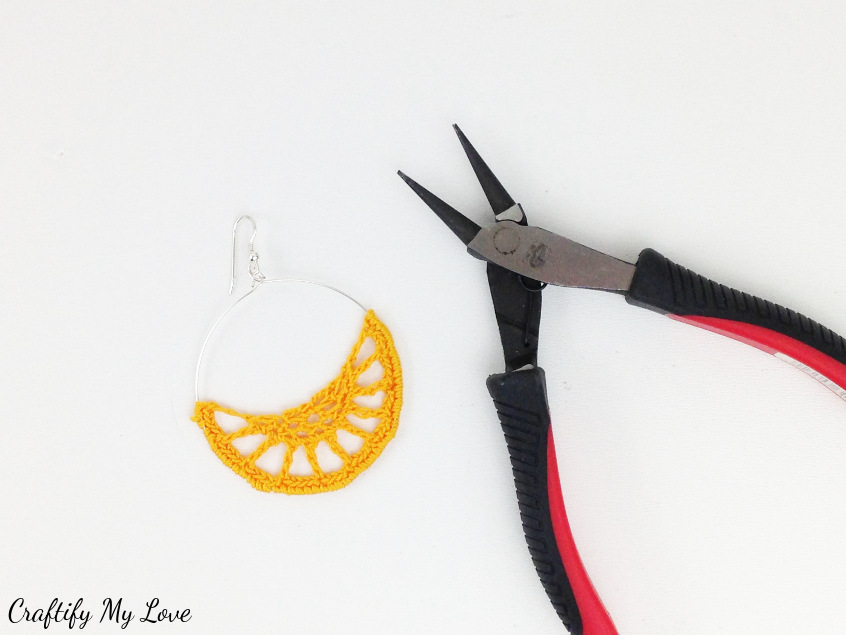 Once you're done crocheting, add a hook ear wire to each hoop and try them on!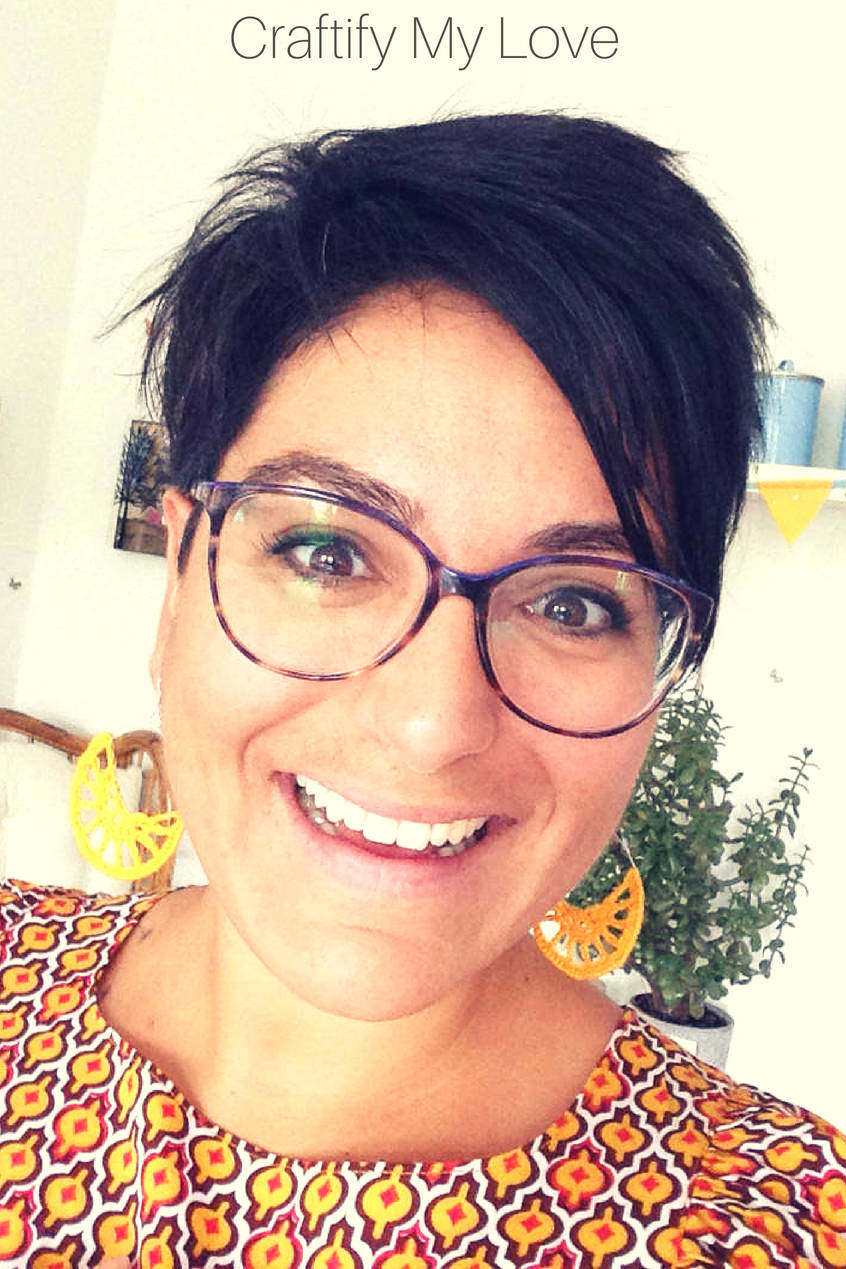 I am super excited that I now have a matching pair of earrings for my new dress.
The story behind the dress:
I bought it from this wonderful lady from Ukraine. As I don't speak any Russian, this other wonderful woman called Judith (whom I 've met on a blogging conference in Munich) helped me out. I think it's simply amazing what kind of friendships we can develop online nowadays, don't you think? #technologyrules
Those tassel earrings aren't too bad either, right?
Love,

PS: Don't forget to PIN this to Pinterest.
Now let's see what other things Pinterest inspired! Head over and visit the other hosts to see what they crafted, cooked, built, or tried!
Erlene – My Pinterventures • Alexandra – Eye Love Knots
Joanne – Our Unschooling Journey • Laurie – My Husband Has Too Many Hobbies
Jenny – Cookies Coffee and Crafts • Kristie – Teadoodles
Beverly – Across the Boulevard • Katrin – Kreativ K
Debra – Shoppe No. 5 • Gail – Purple Hues and Me
Chelsea – Making Manzanita • April – Stampin Fool
Julie – Sum of their Stories • T'onna – Sew Crafty Crochet
Michelle – Our Crafty Mom • Lisa – Blogghetti
Marie – The Inspiration Vault • Kelley – Simply Inspired Meals
Debbee – Debbee's Buzz • Shirley – Intelligent Domestications
Habiba – Craftify My Love • Marci – Stone Cottage Adventures
Kenyatta – My Design Rules • Kelli – The Olympic Nest
Roseann – This Autoimmune Life • Terri – Our Good Life
Leslie – Once Upon a Time & Happily Ever After
Lydia – Lydia's Flexitarian Kitchen