I love to dress up and DIY at least part of the costumes if I find the time. Last year, when I spent my first Fasching (which is a German tradition in February) with Markus, I came up with this super cute butterfly themed couples costume.
When I was a child, we didn't celebrate Halloween in Germany. But over the last decade I think, this US tradition swapped over to Germany. Yay for me – now I get to dress up twice a year!
If you are looking for not just a couples costume, but a family costume, this idea is expendable! Check out the possibilities I've had in mind further down in the post.
How To Put Together A Butterfly Themed Couples Costume
It's actually pretty simple if you think of it. Every woman I know loves to dress up as a sparkly winged creature. If you call it fairy or butterfly doesn't really matter, right?
And every man out there can call himself lucky if he manages to catch one of these sparkly creatures in his life and keep her forever.
So, there you have it!
Bring on the Crafts – A Craft & DIY Blog Hop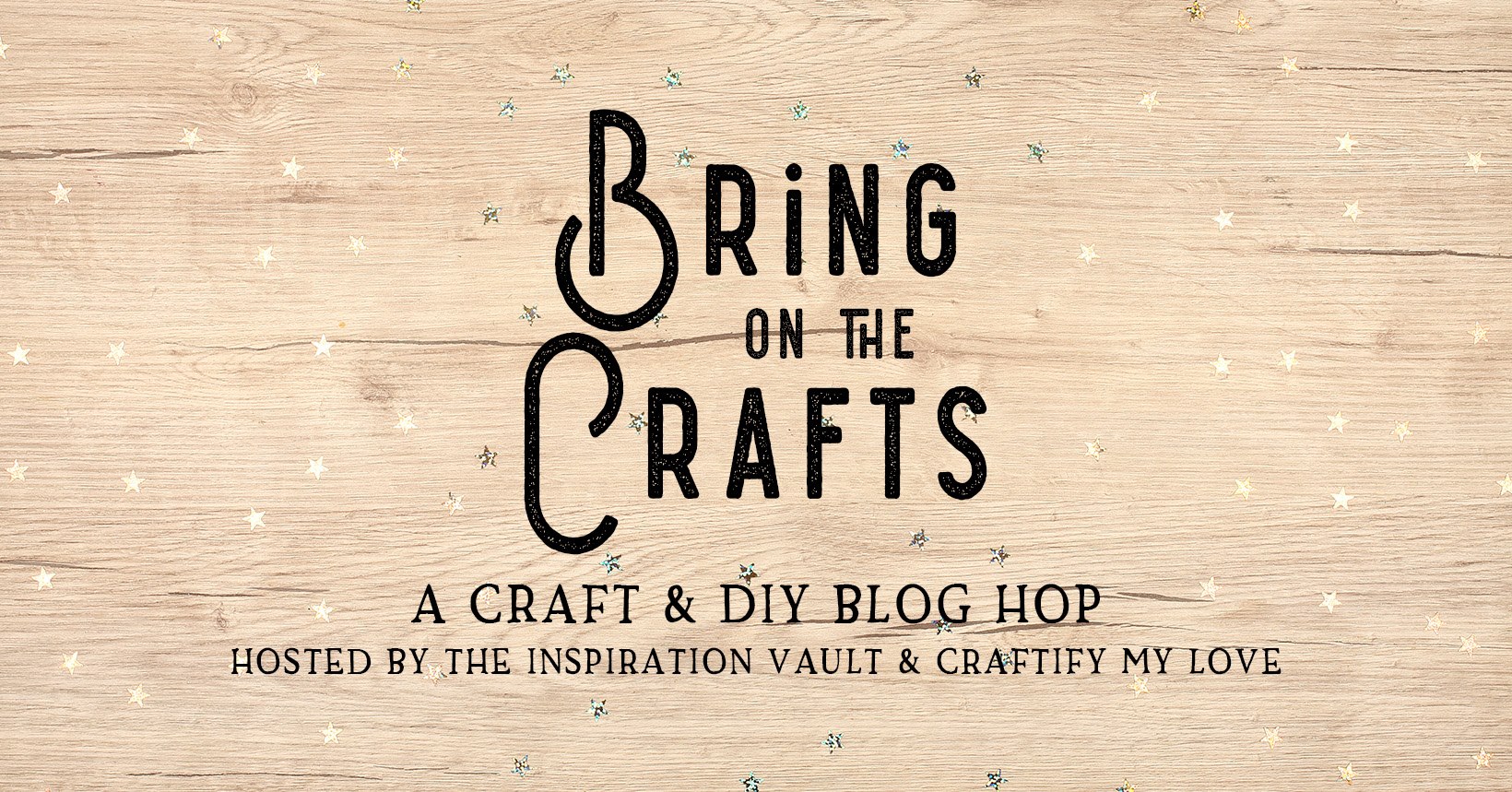 Oh, and I am publishing this post as part of a fun blog hop I host together with my blogging friends Marie & Aleisha. If you make it till the end of this post you can see other Halloween inspired crafts & DIY's by 5 different bloggers.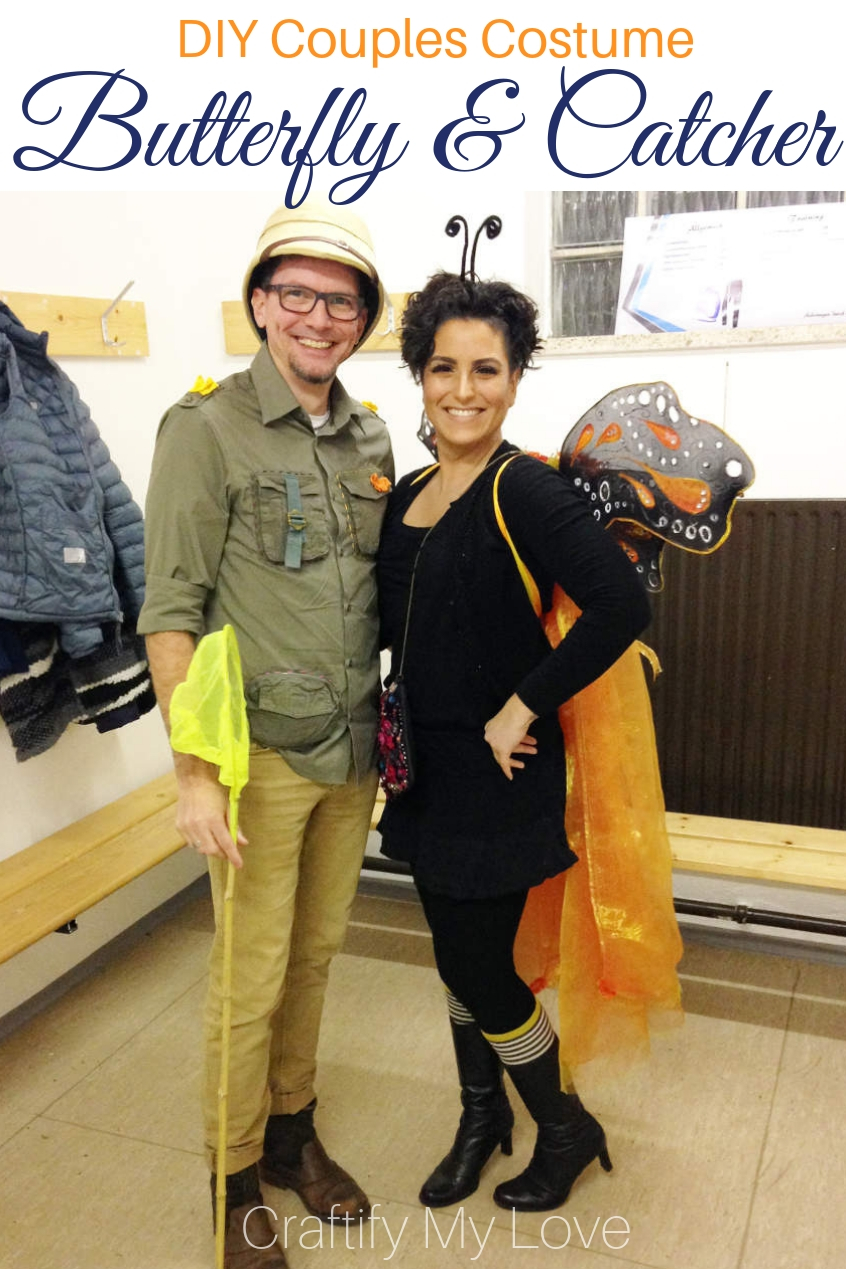 This post contains affiliate links. That means if you make a purchase through these links, I may receive a small commission at no extra cost to you! You can click here to read my full disclosure.
The female part of a gorgeous couples costume: The Butterfly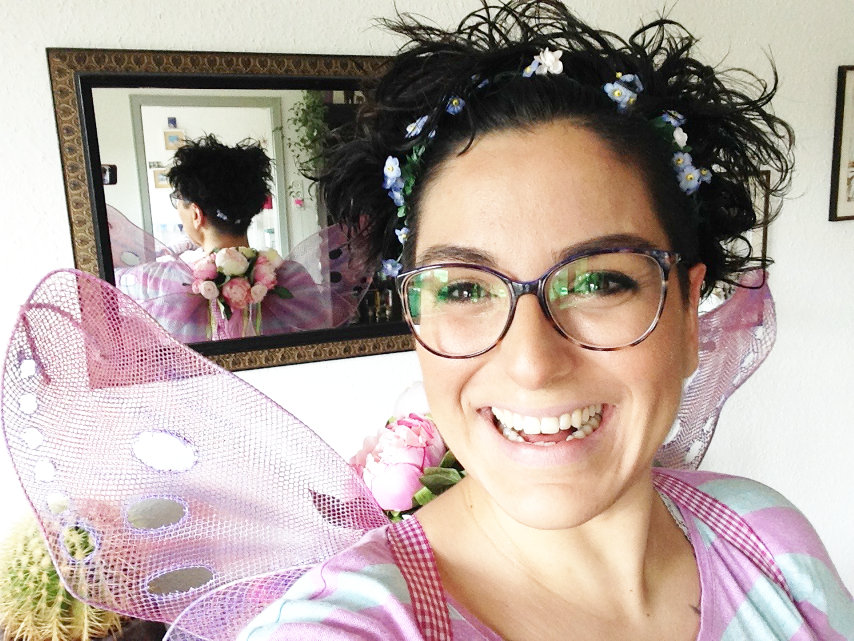 I love butterflies and fairies and to dress up as such. So I have not just one set of DIY wings at home, but two! I protocoled the production process in detail and put detailed tutorials for you together.
You might think that this sounds intimidating, but really they are very easy to make!
Also, a butterfly needs a set of antennae, right? So here is the how to for your perfect accessory:
If you don't feel like DIY-ing your costume this year, you can find super cute butterfly costumes HERE.
Add Accessories to your Butterfly Costume
I have been wearing this costume several times now and I like to mix things up a bit. What I tend to do is the following:
I wore an orange wig to my set of orange monarch butterfly wings.
Simply glue a little paper monarch butterfly to your cheek bone using eyelash glue. I simply printed one out from the internet, and bent it in the middle so the wings would stand up.
You could wear a dress with a butterfly pattern.
You could wear matching accessories such as butterfly earrings, necklace, ring or handbag (I have one by Accessories covered in little pink flowers – if you look closely, you can see it in the picture further up in the post).
The male part of this gorgeous butterfly themed couples costume: A Butterfly Catcher
I made the safari shirt for Markus out of a thrifted dress shirt and a thrifted cargo pants. You can read up how I've DIYed his butterfly catcher costume HERE.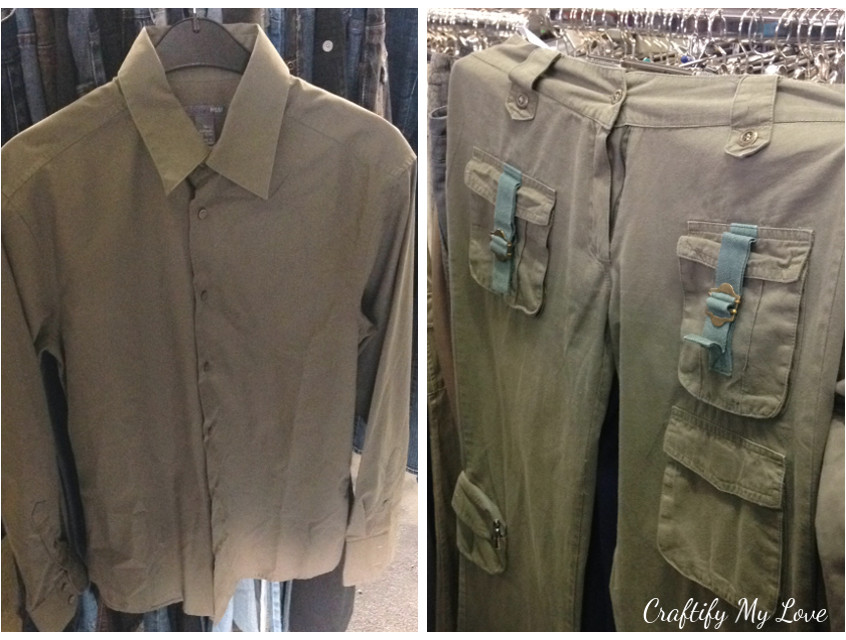 I bought the helmet and the butterfly net on Amazon and added little crocheted butterflies I already had at home. Eventually I will come round and share the tutorial for them here on my blog, too. So don't forget to sign up to my newsletter to get notified!
Don't care to DIY and rather BUY?
If you're on a tight schedule, couldn't find the perfect clothes in the thrift store, or simply are not really into sewing this costume yourself, you can easily buy all the different parts on Amazon.
Easily turn this couples costume into a family costume
Caterpillar Kids Costume
If you have a baby or a toddler, you could DIY a little caterpillar costume. I've saved a couple PIN's on my Pinterest board with costume ideas for kids for you HERE.
Or you can buy some pretty cute ones HERE. There is even a crocheted one for a baby that looks absolutely handmade!!!.
Butterfly or Butterfly Catcher Kids Costume
Or you could make a butterfly costume for your little girl or a butterfly catcher junior one? Depending on their age, maybe you could even craft it together?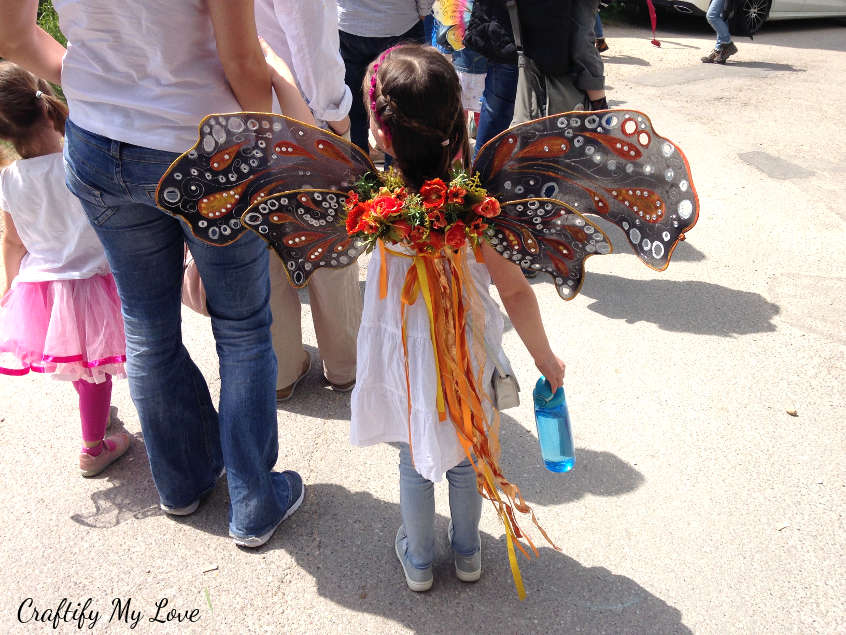 Admittedly these wings are a bit big. But this pretty butterfly was handling them very well while attending a wonderful fairy festival.
Have you decided? Is this for you? I'd love to see an image of you all dressed up as a sparkly butterfly and her handsome butterfly catcher.
If this butterfly themed Halloween costume idea is not for you, that's ok, too! Why not check out this crazy list of 107 DIY Halloween costume ideas for adults, kids, and pets by Favecrafts.com.
Love,

PS: Don't forget to PIN this for later.
Bring on the Crafts – A Craft & DIY Blog Hop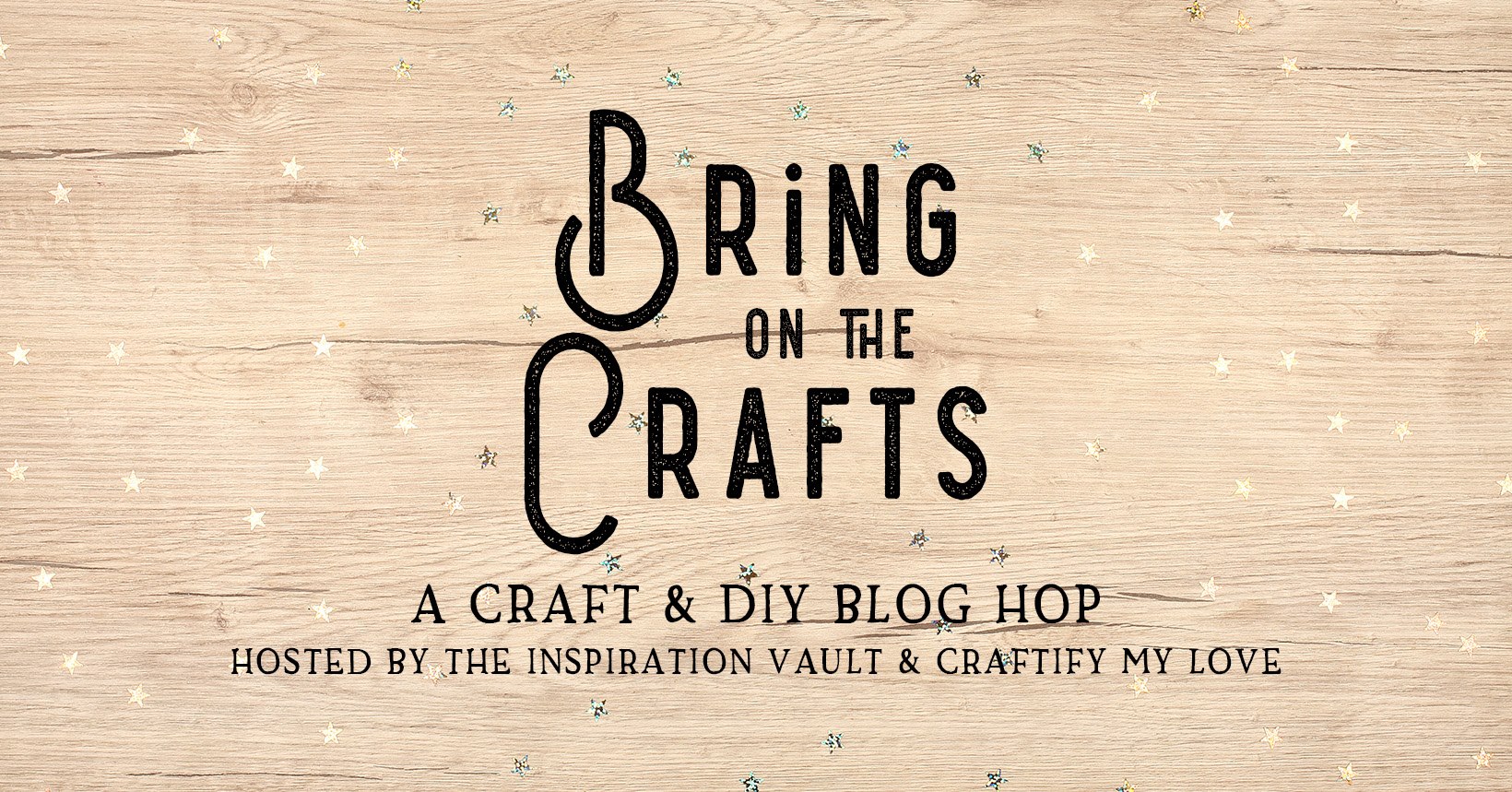 On the first Wednesday of each month, a group of DIY and crafty bloggers join forces. Together with their hosts Marie & Aleisha from The Inspiration Vault and Habiba from Craftify My Love they bring you the #BringontheCrafts blog hop. Each blogger creates a fun craft or DIY project to share that goes with a monthly theme.
September's theme is Halloween. Each blogger chooses their own craft to make as long as they love it and it's Halloween themed.
Meet our September Co-hosts!
Becky from The Moments at Home • Jenny from Cookies, Coffee, and Crafts
Erlene from My Pinterventures • Debra from Shoppe No. 5
Join in on the fun!
If you'd like to participate next month, you can request to join our Bring on the Crafts Facebook group. Next month's theme is Thanksgiving!
Not a blogger, but a creative mind none the less? Don't worry. Share your awesome creations in our Craft Cult Facebook group. This is also a great place to ask craft & DIY related questions and find inspiration for your next project.
Now let's see all of those amazing craft and DIY projects!