Gosh, I've been away from the blogging world a very long time, so I figured I'll start telling you what I've been up to: I found a new passion: watercoloring, and card making with floral watercolor cutouts.
What I have been up to in the last 18 months
As the reason for my absence was that Markus and I started a family and I am a Mom to a 1.5 year old darling boy now, I thought it's a good opportunity to present you this years Mother's Day give away at this opportunity, too. You'll find all the details at the end of this post. But let me tell you this right now:
We're giving away $430 in gift cards!!!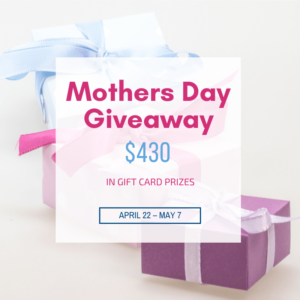 Although, some people told me I would never find the time to craft ever again once I am a mother (a really scary thought!), I managed to stay creative throughout the whole time. Given, the first 7 weeks were pure horror as my mental health suffered from all those post partum hormones a lot. After two weeks my baby hardly ever stopped crying, and I had to start bottle feeding next to breast feeding. But even then I crocheted tiny wrist warmers for my baby boy.
Yes, you can be a new mom and be creative at the same time!
After 6 months, I've adjusted to motherhood enough to be able to create on a regular basis again. There was just not enough time to write about it. Sorry!
The biggest changes for me: I needed to learn to be patient. Nowadays, I am not able to sit down and finish a craft in one sitting anymore. And, as my small space craft room / bedroom is currently still occupied by our little boy at night, I have to work in the living room. On the floor. Mostly at night. Which leads to numb legs, a messy place, and really bad lighting in my blog pictures, lol.
I picked up a new skill: Watercoloring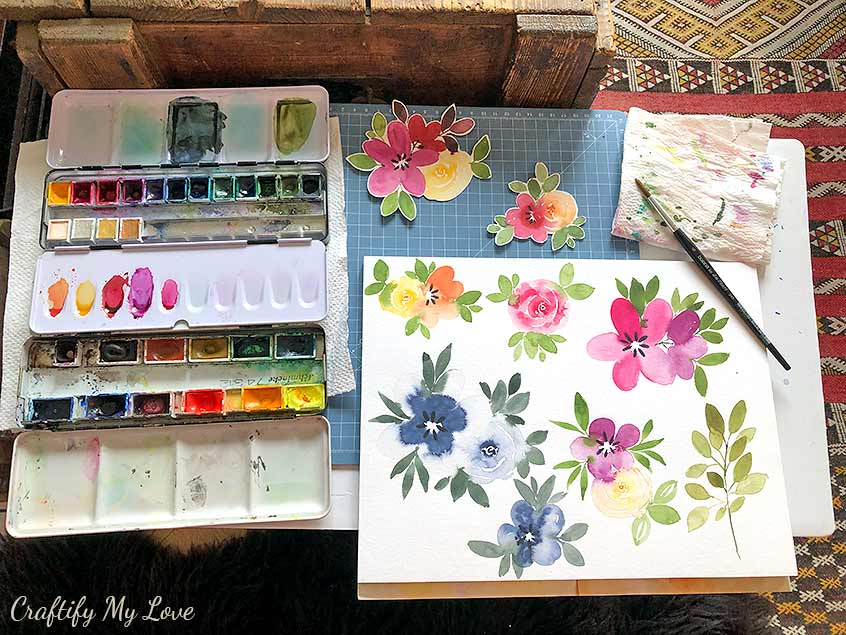 I have been thinking about giving watercoloring a try for a long time (you'll find the story about that here) and finally managed to get to it during my quite lengthy maternity leave. I found wonderful women online sharing their knowledge for free (I've tagged them in this Instagram post), and found some awesome classes over at Craftsy.com.
Learning a new craft can produce a lot of trash,
but also many treasures!
When picking up a new skill, there is a lot of training involved. Wanting to do something with all those practice sheets (same as with my handlettering sheets), and following a little hint of the wonderful Swiss artist Emilie, I started to cut out the best watercolor flowers and leaves and started playing around with them….
How to make DIY floral cards with watercolour cutouts
The possibilities are endless, but today, we're going to be card making with floral watercolor cutouts.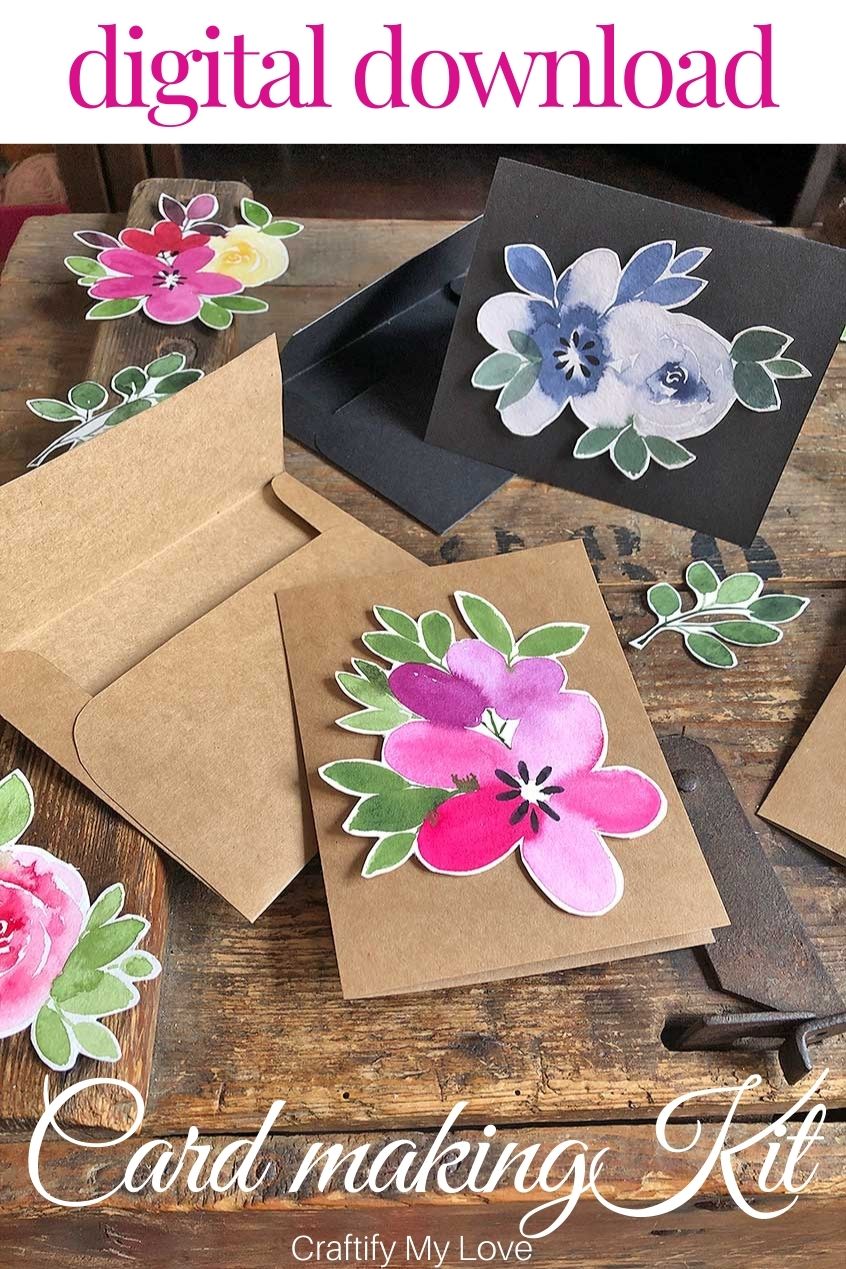 What you'll need for card making with floral watercolor cutouts
This post contains affiliate links. That means if you make a purchase through these links, I may receive a small commission at no extra cost to you! You can click here to read my full disclosure.
If you already are into watercoloring, you probably have tons of practice sheets. If not, sit down and start painting! Of course, you'll need your watercolor paint, paper, and brushes to create those flowers yourself.
If you don't have watercolor supplies at home and don't care to dabble in that art, but want to do watercolor cards none the less, you can get my best watercolor florals HERE to download and print at home.
Furthermore you'll need
The card making process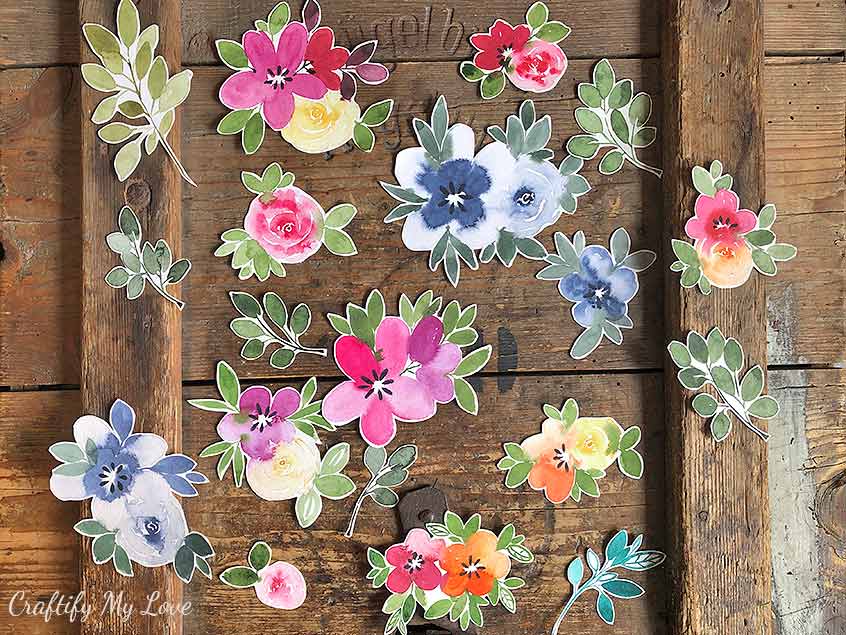 1. Make floral watercolor cutouts
Go through your stock and choose the flowers and leaves you like the most. Grab your tiny scissors and cut them out. Make sure to leave a very thin white outline, this makes your cutouts look even more spectacular!
If you happen to purchase my selection of watercolor floras HERE, I recommend you print them on heavy weight matte card stock (approx. 250 gsm) for best results.
Look at this pretty assembly on the next photo, I think I'll be making a cute wreath with the next batch…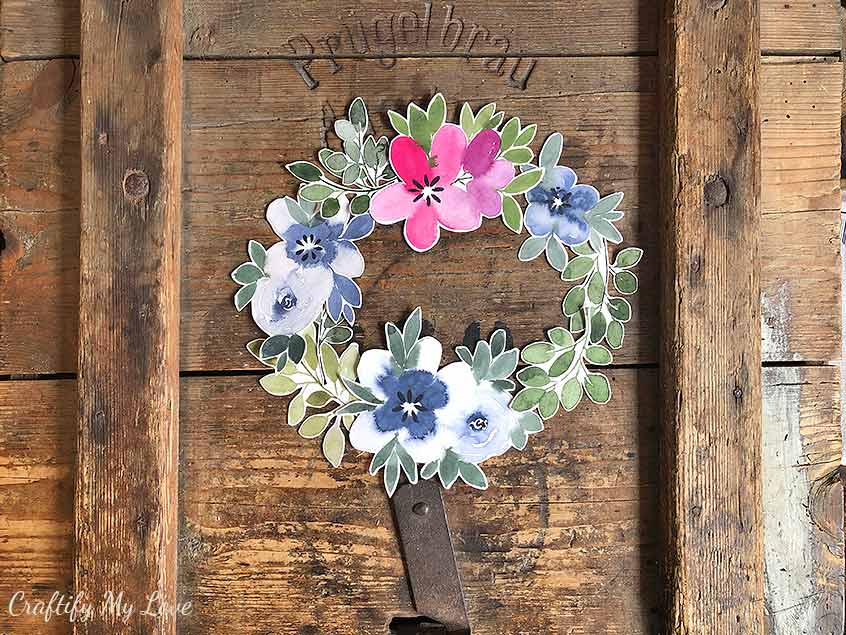 2. Make the envelope and card
I unfolded an envelope I had at home and created a template. You could do the same, or search the web for a free template if you want your envelope to match the paper of your card (which I like a lot!). If you don't bother, simply use a ready to go envelope you have at hand.
To make things easier for you, I provide you with a template to print, cut, and trace the shape of an C6 envelope and A6 card in my floral watercolor craft kit. If you own a cutting machine like a Cricut Maker, Shilouette, or Brother Scan N Cut, you might find the according svg files handy, that I've also included in the package. To enhance your creative possibilities even more, I've added a couple super cute backgrounds and frames….why not take a look?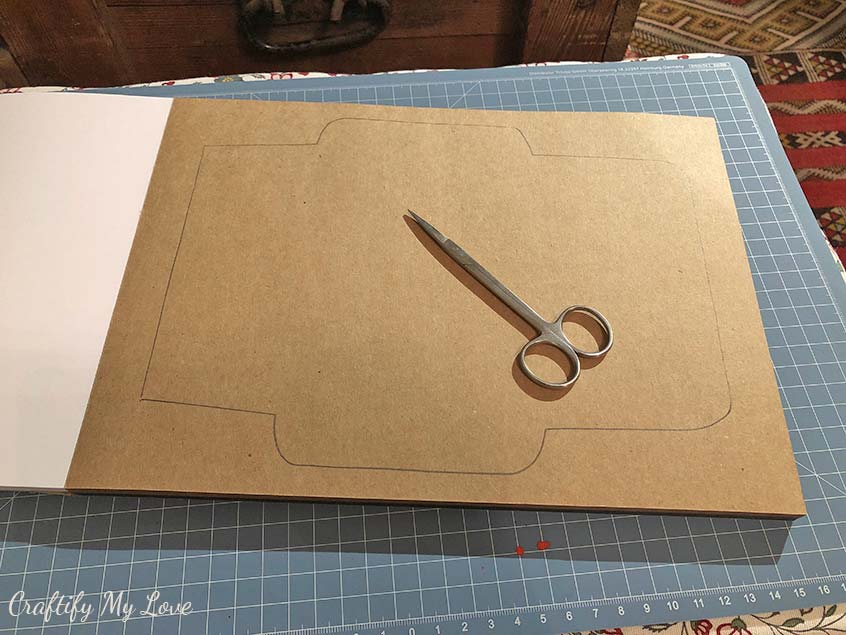 Once you've traced the envelope template on your card stock, cut it out and fold the four flaps inwards. I recently bought myself a bone folder, a very good investment! I find it now so much easier to precisely score and fold card stock when using it in combination with a ruler.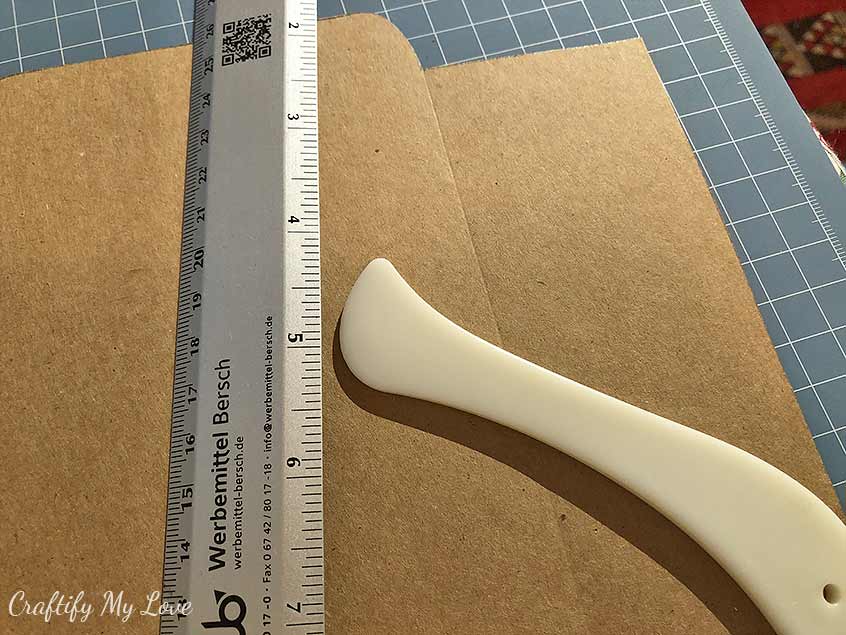 Use your glue stick on both side flaps left and right of your envelope. Fold the longer bottom flap upwards. This way you'll create the pocket of your envelope that'll hold your card later on.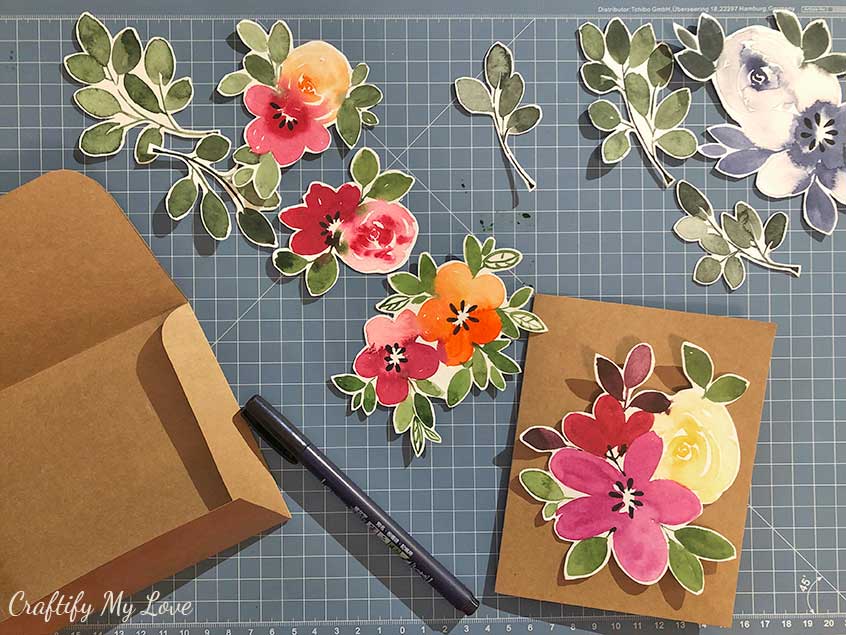 For the blank card, you'll cut a rectangle to size (210 x 148 mm or 9 x 6 1/4 inches). The final size of your card after scoring and folding it in half will be A6. 105 x 148 mm or 4 1/2 × 6 1/4 inches.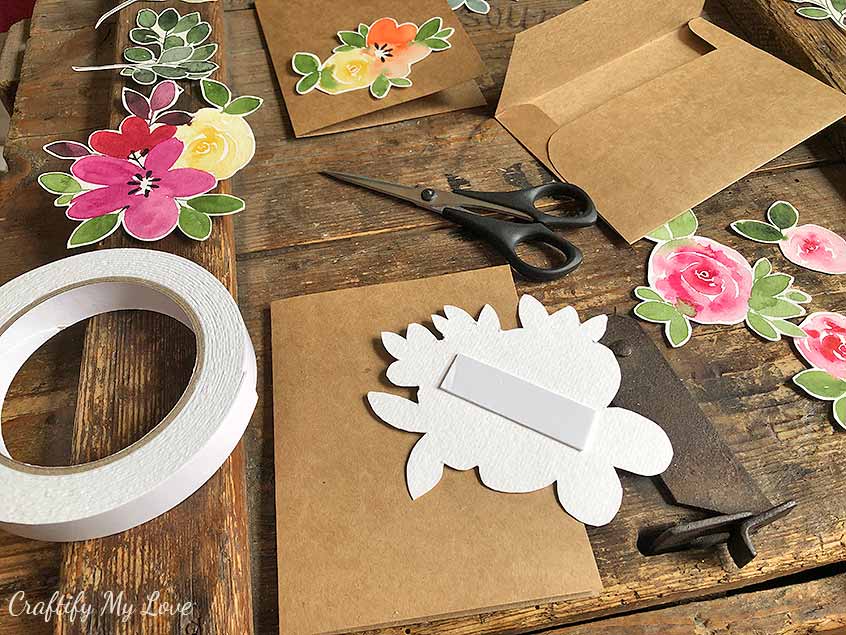 3. Decide on your design and put your DIY greeting card together
Once you've decided on your floral watercolor card design (find more inspiration HERE), it's time to put your handmade greeting card together. I like to use double sided foam tape to give my cards some depth.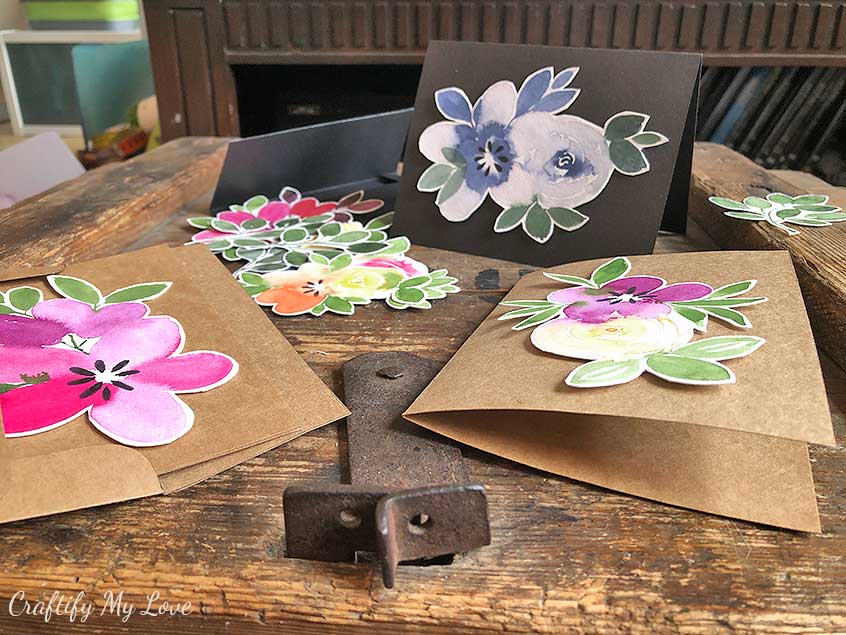 You can load your cards full of florals and leaves, or decide on a very simple design with just one flower. Even a multi media card combining watercolor floral cutouts, hand lettering, and/or doodles will look awesome. It's totally up to you!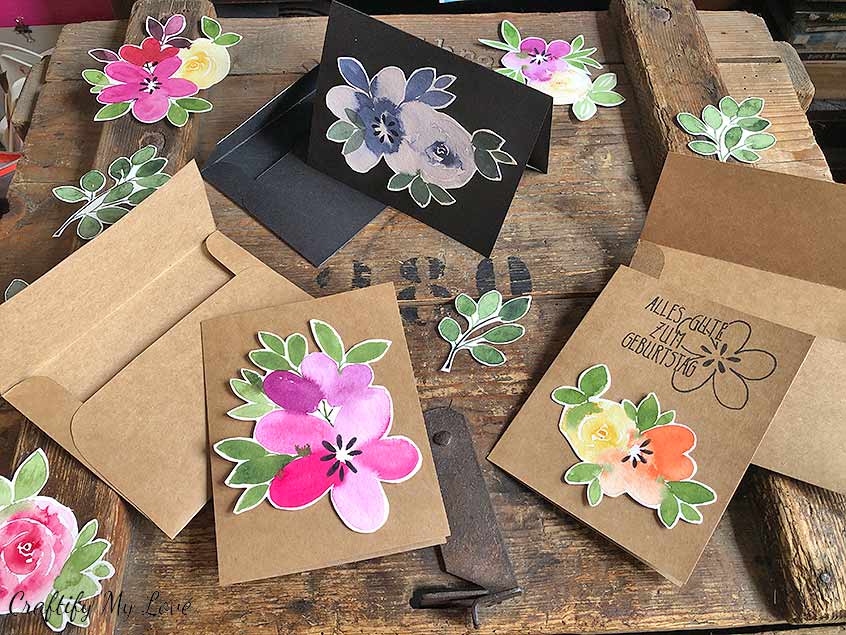 To round things up you can glue a matching watercolor cutout on the front of your previously handmade envelope.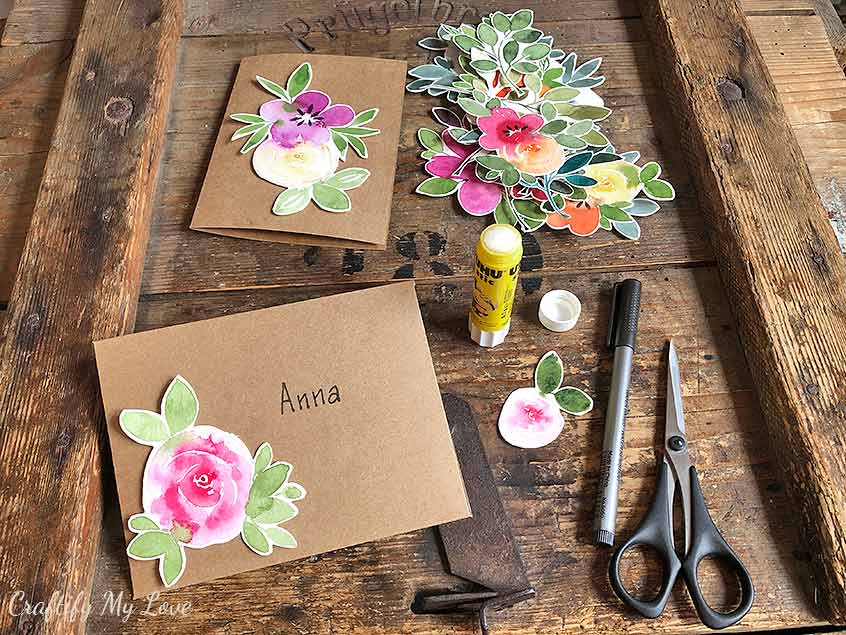 And even use one of those pretty watercolor roses to glue the envelope shut.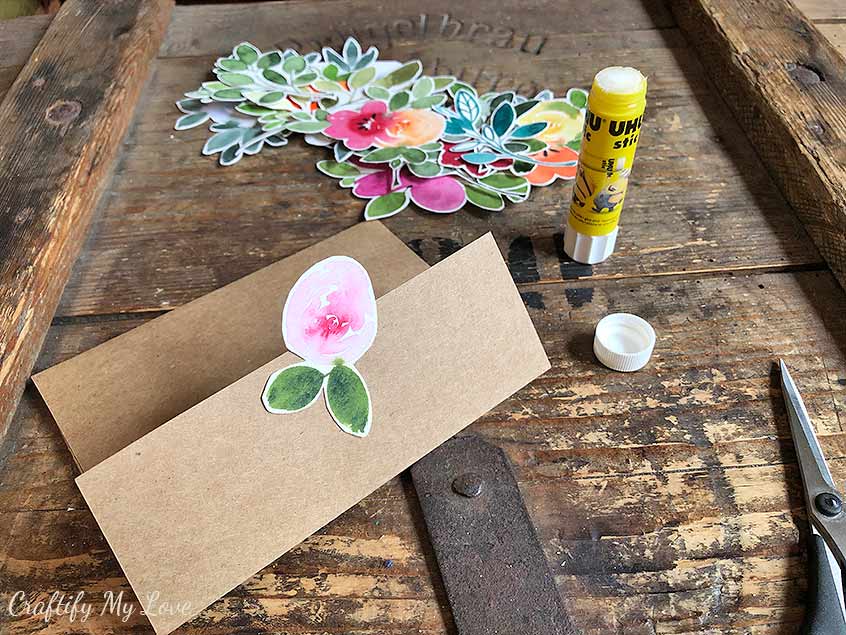 I really do hope you'll have as much fun card making with floral watercolor cutouts as I had. Let me know if you'll be creating your very own floral elements to work with or if you're happy to use mine.
Multiple purposes to use this floral watercolor craft kit
If you paint or print fairly large floral watercolor arrangements you can use them as cute gift tags or a little note all by themselve.
I have several more ideas in mind e. g. a wreath, DIY cake toppers, decorating things in my home, maybe I'll even start scrapbooking or journaling. Once I've finished a fun new project where you can use this technique, I'll make sure to let you know!
Don't forget to participate in the Mother's Day give away…keep on reading!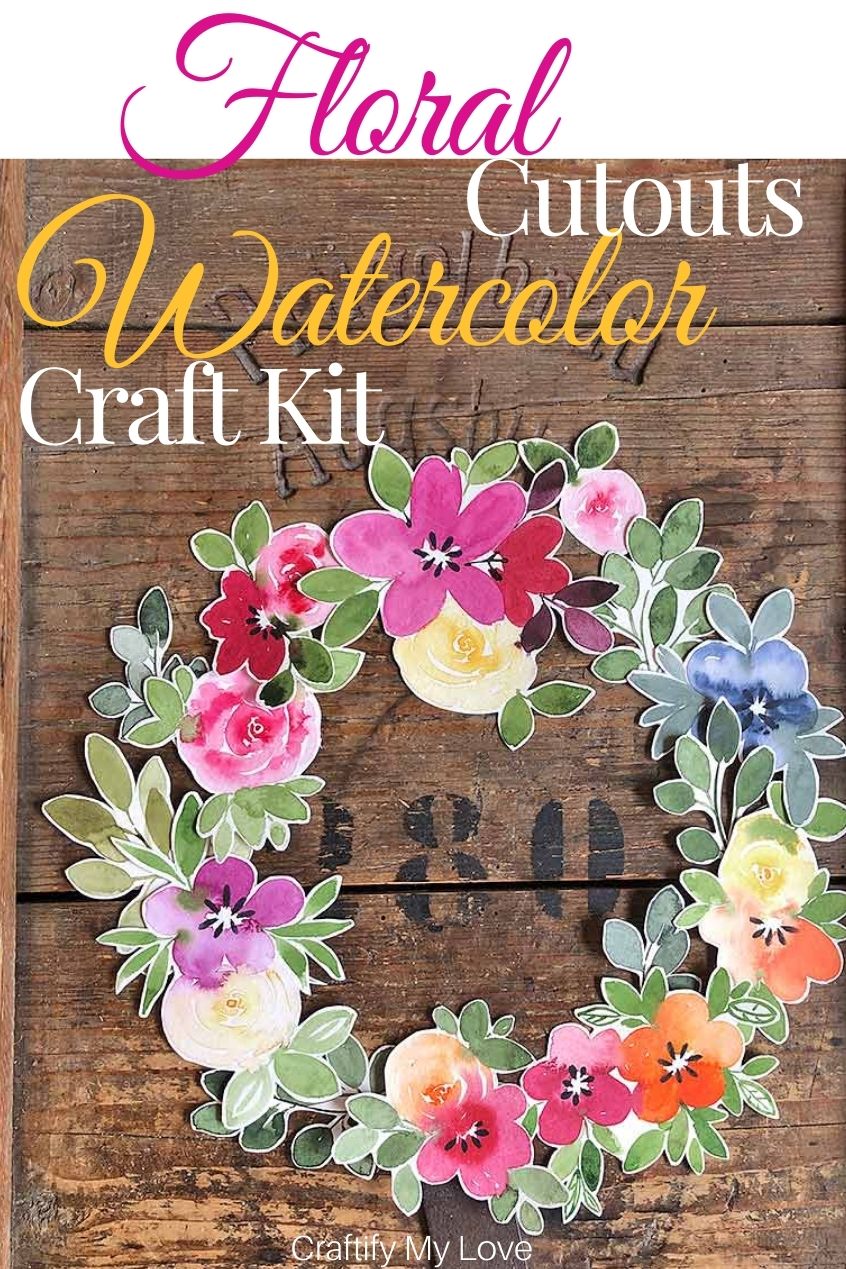 Before I end with this very first post after becoming a Mother, here is another thought: Why not get to it and make a beautiful card for your Mom for Mother's Day.
You: I'd love to, but sadly don't have the time!!
Me: No problem, I've got you covered: simply purchase a pretty digital card HERE made with these exact same watercolor flowers.
Love,

PS: Make sure to PIN this for later.
Now on to the giveaway!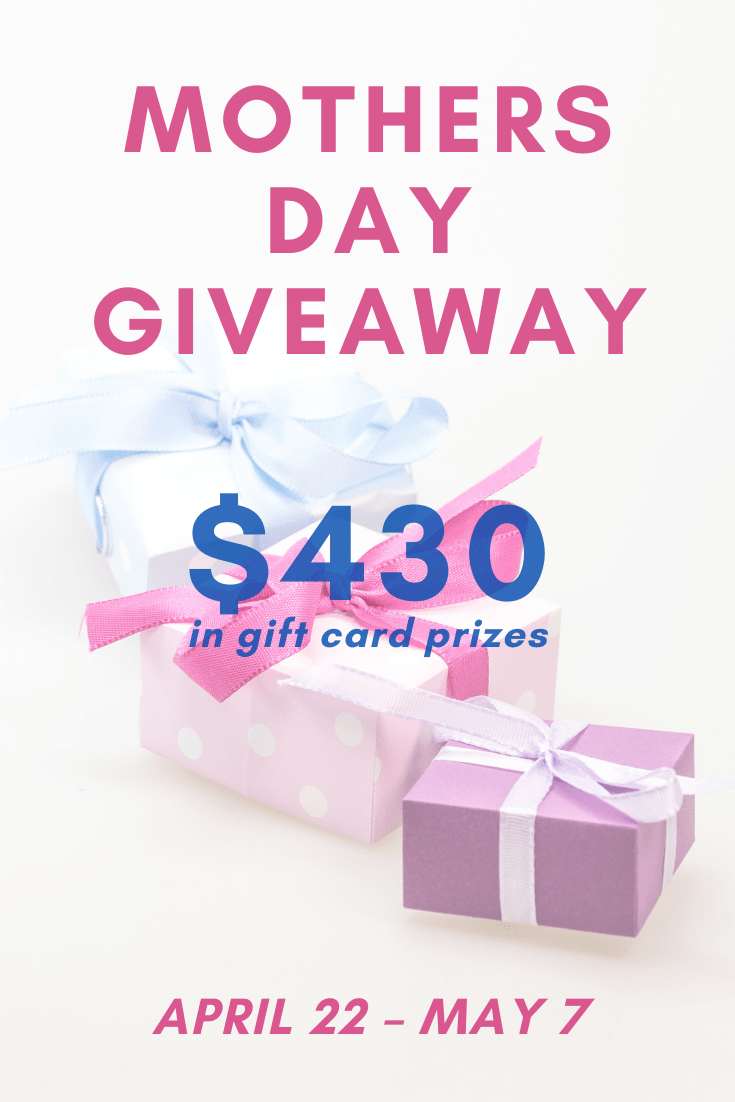 We are so excited to be giving away $430 in gift cards for Mother's Day to two lucky readers. The giveaway will run from April 22 – May 7.
The prizes are:
1 – $215 gift card

1 – $215 gift card
Each winner will choose the gift card they want. Please choose a gift card that comes from an online store and can be paid in US dollars. EX: Amazon, Target, Walmart, Macy's, Kohls, etc. You may ask for more than one gift card but must add up to your prize amount.
Now it's time to meet our co-hosts who have made this giveaway possible.

The giveaway will end at midnight on Friday, May 7th, a few days before Mother's Day. The winner will have 48 hours to respond to the email claiming their prize. If we don't hear in 48 hours, we will choose another winner. The giveaway is open to anyone over 18 years of age and able to receive e-gift cards from the U.S.