A butterfly needs antennae of course and that's why I'll be showing you today how to easily DIY butterfly antennae. I love dressing up for Halloween, for German Fasching, or just for any party really.
And if you're already following me on my crafting journey, you know that I am almost obsessed with crafting and wearing fairy or butterfly wings. What? Are you not following? Then it's about time you start doing so, lol. No seriously. Do it. Like now.
For once this is going to be a short post, as it's super easy to DIY butterfly antennae.
Supplies to DIY butterfly antennae
This post contains affiliate links. That means if you make a purchase through these links, I may receive a small commission at no extra cost to you! You can click here to read my full disclosure.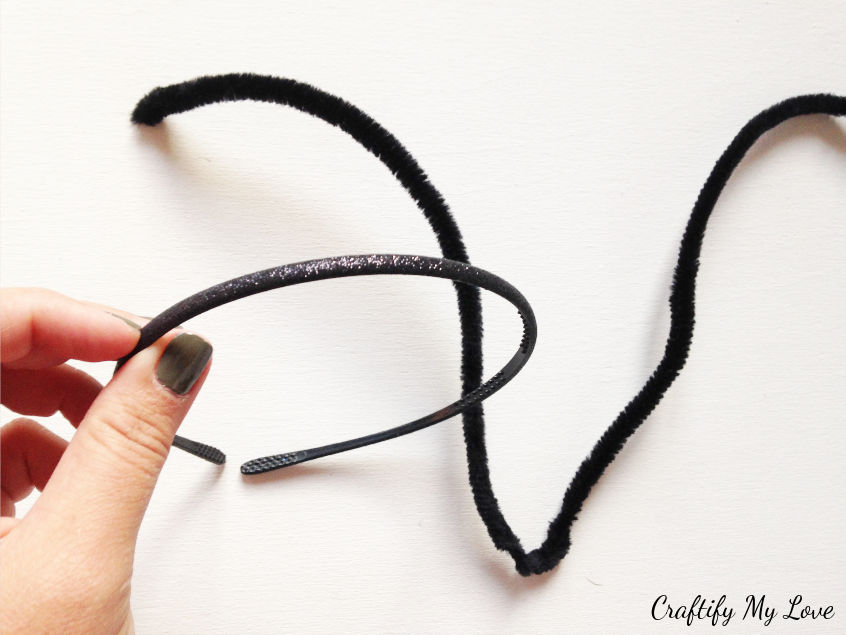 I don't know about you, but I am rather special when it comes to headbands. Maybe because I am wearing glasses and some of them simply will be in the way and hurt my ears.
So I've done a little research for you and found super thin plastic and metal ones (I feel they are the most comfortable ones for me), an extra wide one (if you prefer that look) and even a sparkly one like the one I bought in the UK.
Related: Other crafts with pipe cleaners:
Craft Supplies for LOW or NO Money
For this project, it's only two "ingredients" and hence a very frugal craft. But in order to transfer projects with a long list of supplies into frugal crafts, you have to get creative!!!
I'm sharing all my tips & tricks with you:
Get your FREE Guide to Craft Supplies for LOW or NO money now!
How to DIY butterfly antennae
Go find your Alice band and pipe cleaners. I bought my black headband for only a couple of Pounds (I bought it in the UK while visiting my friend Debbie) and guess what? It comes with silver sparkle. Yay! That's definitely a plus as far as I am concerned.
Fold your pipe cleaner in half and wrap each side once around the middle of your Alice band.
For a more cutesy look, start rolling in the ends of each antenna till you are happy with the outcome. Aaaaaaaand you're done! Told you, it's super easy and done within minutes.
Scroll further down for two easy tutorials on how to craft butterfly or fairy wings. You'll find a male butterfly themed costume idea, too!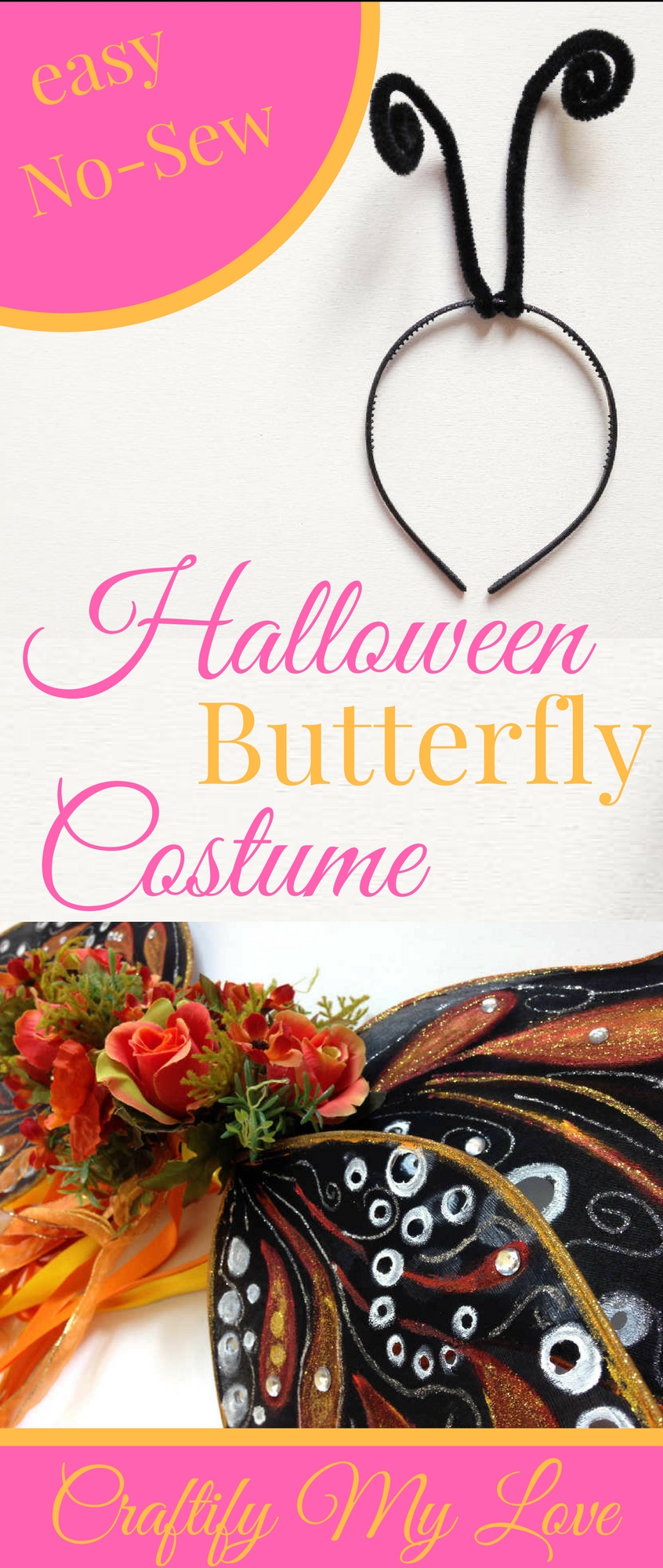 Now for the butterfly wings
If you are still on the lookout for a tutorial on how to make yourself a beautiful set of Butterfly Wings, I've got the thing for you! Even two things, for that matter…They're both no-sew tutorials using wire, pantyhose, acrylic paint, sparkle, ribbon and silk flowers.
They work perfect as individual costumes or as a family or group costume!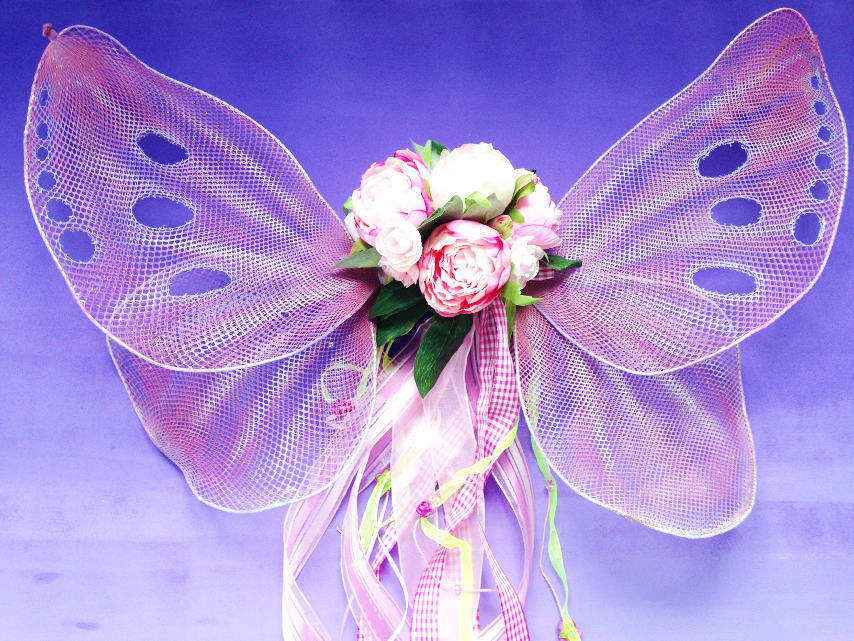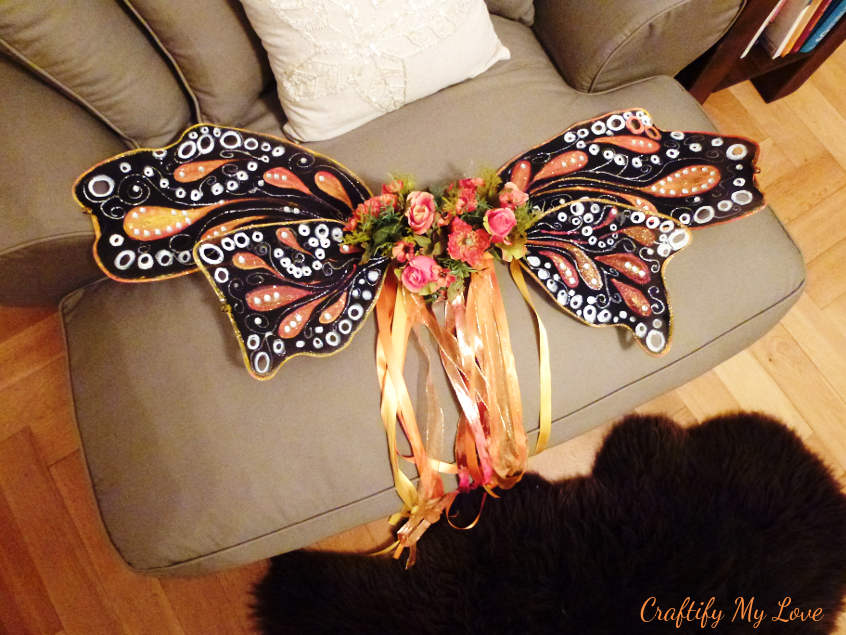 Male Butterfly Themed Halloween Costume
My Markus asked me to create him a costume matching to mine that is NOT a butterfly. I guess he doesn't dig wearing wings and a lot of sparkles, lol.
Read up on how to put his butterfly catcher costume together HERE.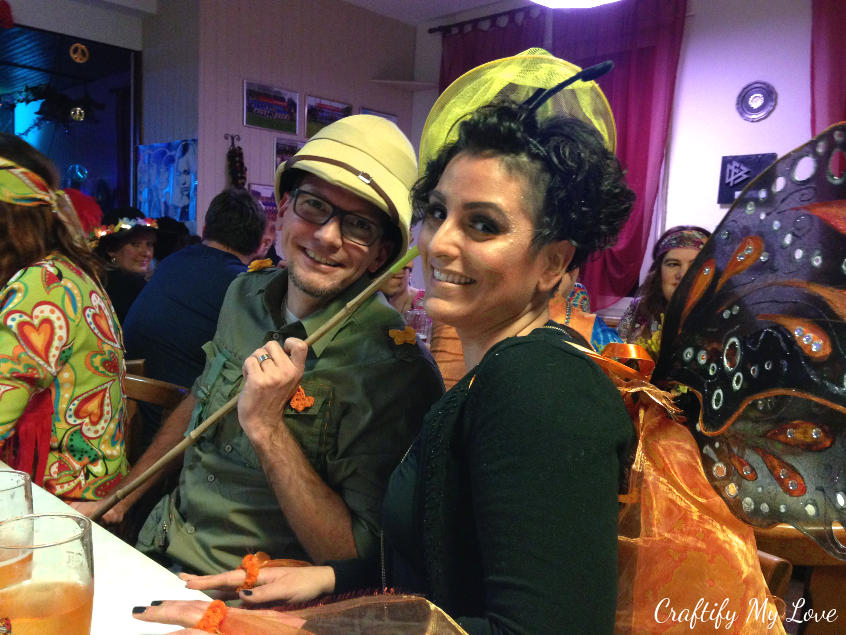 Other DIY Minimalist Last-Minute Headband Costumes
Are you planning on rocking that Halloween party as a butterfly? If so, send me some photos or tag me on social media, I'd sure love to see what you created!
Love,

PS: Don't forget to PIN this to Pinterest.