Today, I am fulfilling a promise I gave you in my recent post about our super cute Butterfly Themed Couples Costume HERE. I am finally sharing the tutorial on how I've made Markus' DIY Butterfly Catcher Costume from thrift store finds.
Quite matching if you think about it, as I am participating in the Thrift Store Challenge, today 😉 Although I am bending the rules a bit as I am upcycling a thrift store find into a costume rather than a piece of home decor.
Monthly Thrift Store Challenge
The Rules:
Upcycle an item(s) from a thrift store, resale store, or garage sale into a new piece of decor.
There's no monthly theme.
There's no budget to stick to.
Meet the Hosts
Angela | Simply Beautiful by Angela
Jennifer | Cookies Coffee and Crafts – Marie | The Inspiration Vault
Debra | Shoppe No. 5 – Michelle | Our Crafty Mom
Habiba | Craftify My Love – Ali | Home Crafts By Ali
Jeanie | Create and Babble
Make sure you follow our board on Pinterest for more upcycled decor inspiration!
How to put together a DIY Butterfly Catcher Costume
We were invited to a dress-up party sorta last-minute last year and I had only a couple of days left to come up with a costume idea for Markus and I.
I chose to wear a costume I already had and enjoy wearing. Read how I've made my darling DIY Butterfly Costume HERE. And did you know I even have an alternate set of sparkly wings?
Markus wasn't in the mood to be a butterfly, too, but wanted to be wearing a matching costume nonetheless. It didn't take us long to come up with the idea for a Butterfly Themed Couples Costume.
It has a lot of potential to be a family costume. See for yourself HERE.
This post contains affiliate links. That means if you make a purchase through these links, I may receive a small commission at no extra cost to you! You can click here to read my full disclosure.
Supplies & Directions to DIY the Safari Shirt
So, of to the thrift store I went and found these awesome two pieces of clothes. I think, together they cost under $5. I know that I was blessed on this day at the charity shop!
Little time, little budget and a whole lot of luck!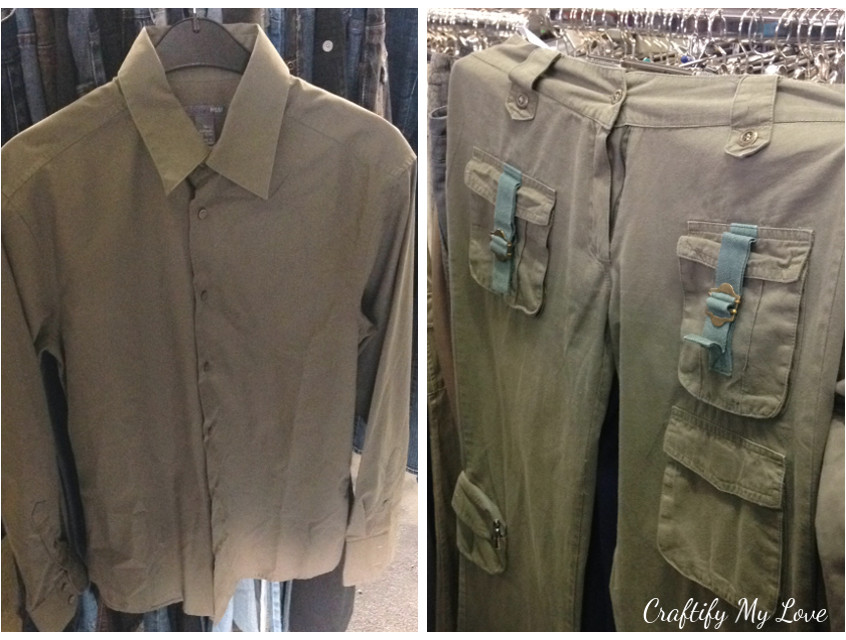 I used the pockets and belt loops of those thrifted cargo pants to upcycle the simple dress-shirt into a safari shirt.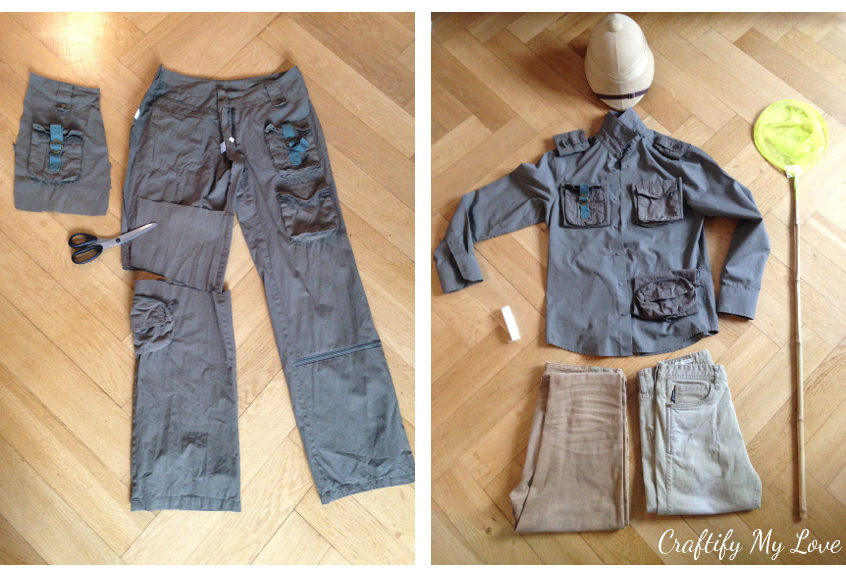 As this safari costume won't be worn day in day out I decided to make this project as simple as possible. I cut out the pockets and belt loops and used an iron on hem tape to add them to the shirt. The spray adhesive I've had at home was only temporary and wouldn't give enough hold.
I left the cutting edges raw as I figured a little fringe would add to the look.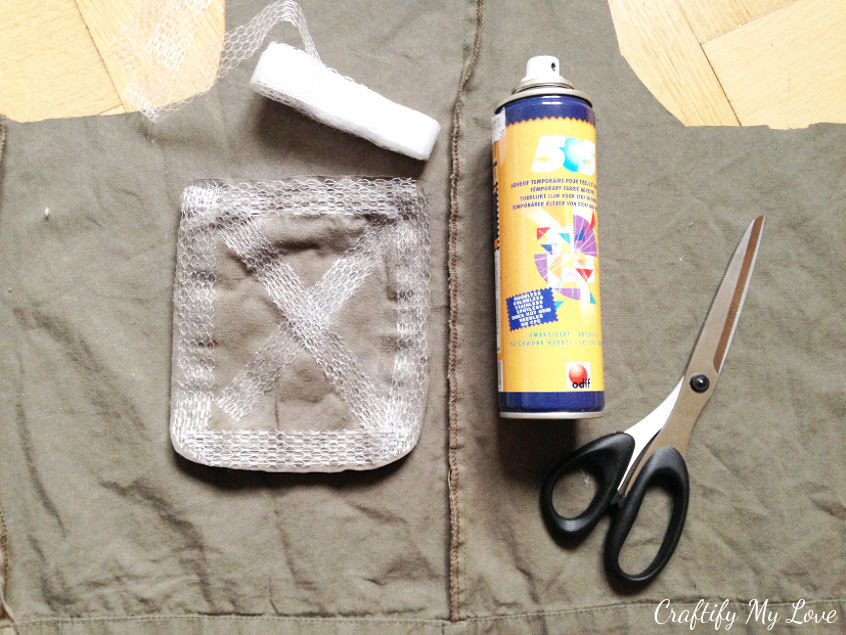 As I am a lover of bright and fun colors I found my stash of embroidery floss and added a border running stitches around each element. Next to the pockets I upcycled the belt loops, too. I added them to the shoulders of the shirt.
If you don't know how to do the running stitch you can read up on it over at The Spruce Crafts. It is super easy to do!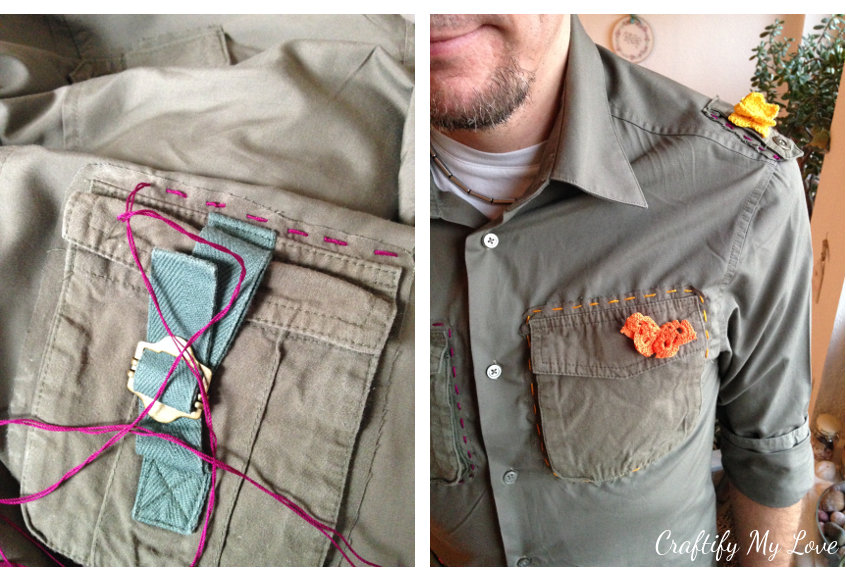 I knew I had several crocheted butterflies somewhere and luckily found them pretty quickly in my Craft Room. Probably because I finally brought some order into my mess of craft supplies.
Using a couple of stitches I added them to Markus's shoulder patches and onto one breast pocket.
How to crochet a butterfly
I hope I get round to film a little tutorial on how to crochet these cute butterflies for you soon. Make sure to subscribe to my YouTube channel HERE so you don't miss it.
In the meanwhile you can either learn how to crochet a 3-minute-butterfly over at AllFreeCrochet.com or use decorative butterflies if you don't want to DIY them.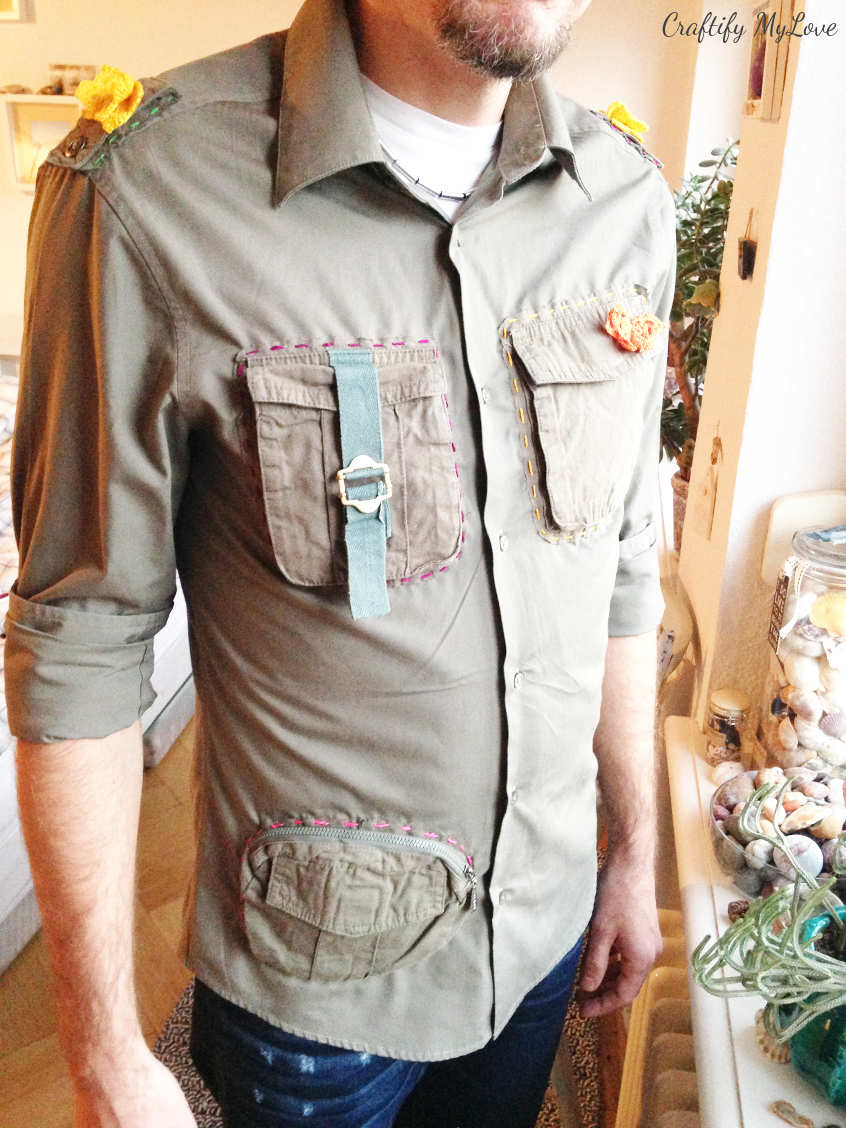 Now, as I see my Markus standing all dressed-up in our home, maybe I did create a piece of decor after all?! He looks quite the handsome and suave hunter, don't you think?
Last-Minute Costume Accessories
To round this costume off, we've ordered both a pith hat helmet and an insect or fishing net via Amazon Prime and it arrived the next day aka the day of the party. Yay!
If I hadn't been so lucky at the thrift store, I would have simply bought this outdoor vest, too. Sure, it would have cost more than the thrifted clothes, but I would have saved a lot of my crafting time.
I have to say that my Prime membership saved my little crafters behind not once, but several times so far. It's totally worth it!
Are you already a member? If not, you can start your free 30-day-trial HERE.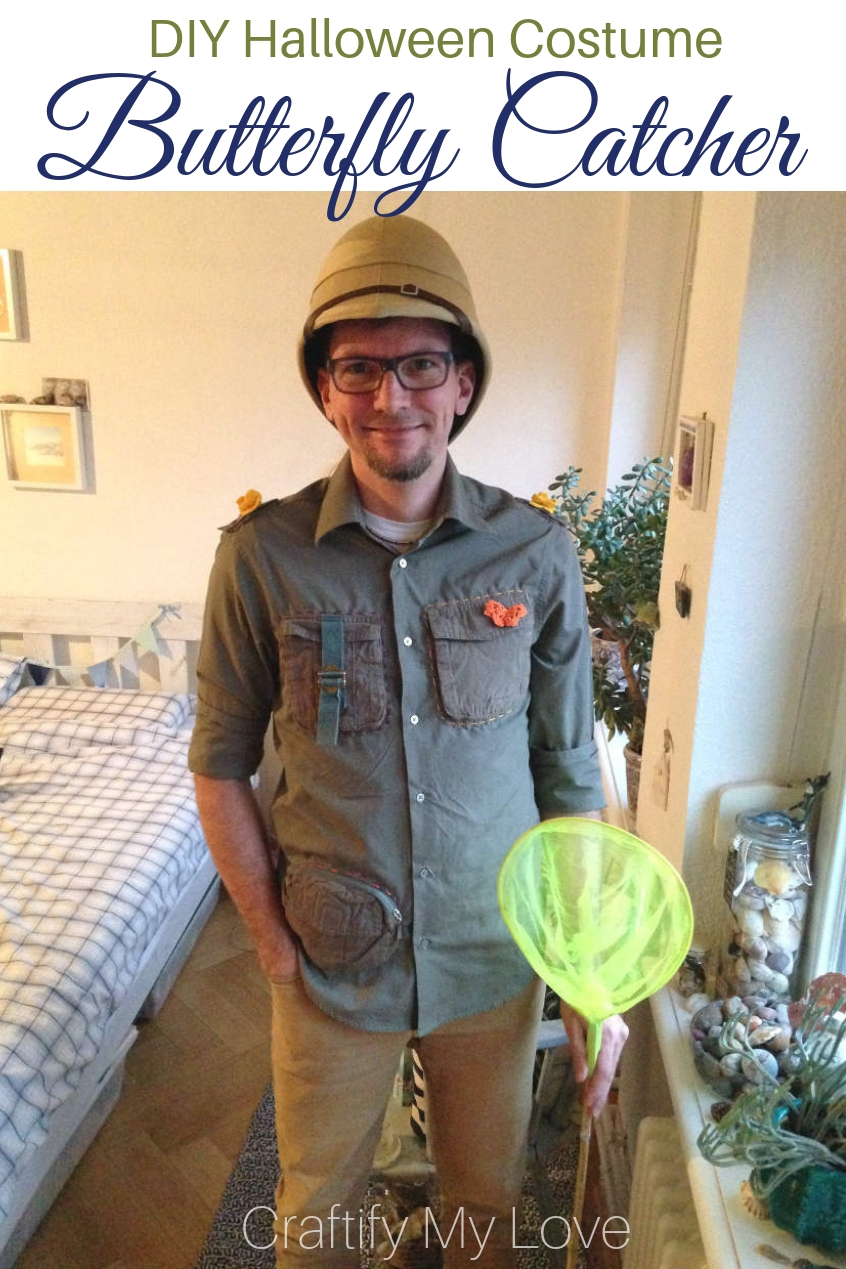 And off we went to the Faschingsball (a German festivity in February or March where we get to dress up and be goofy) with a bunch of friends all dressed up like butterflies.
Related: Butterfly themed couples costume + ideas on how to make it a FAMILY costume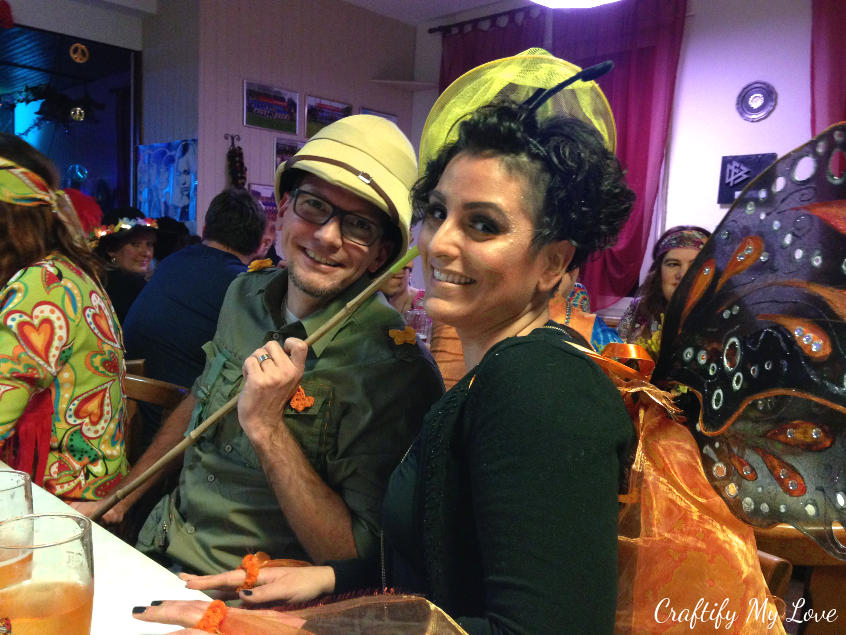 We even made the second place (or was it third?) in the best costume contest. Funny thing that, as the motto of this party was DISCO. As you might have guessed, we were kinda badly prepared for that party as we didn't know about the motto and the contest, lol.
We've won a 30 Euro gift card from a local yarn shop (yes!) and my lovely friends gave it to me (double yes!!) as they know of my craft & DIY passion. I got the loveliest dark rose yarn to crochet a baby blanket for the christening of Markus' niece Romy. Yet again another tutorial I have to make time to tell you all about!
Happy dress-up!
Love,

PS: Don't forget to PIN this on Pinterest and follow me or my board for Amazing Costume Ideas.
---
And now for more thrifty goodness!
Check out what my fellow upcyclers created below!