Believe it or not, but during this Craft Room Challenge, I learned a lot! And not only how to part with some of my beloved craft supplies (read more about that here). So, I decided to sum up my new gained knowledge and share those handy craft room organization tips with you right here and now…
If your dedicated craft space looks anything like this, you are in dire need of a nifty tip or two! I promise you'll feel so much better, once you've worked yourself through the mess.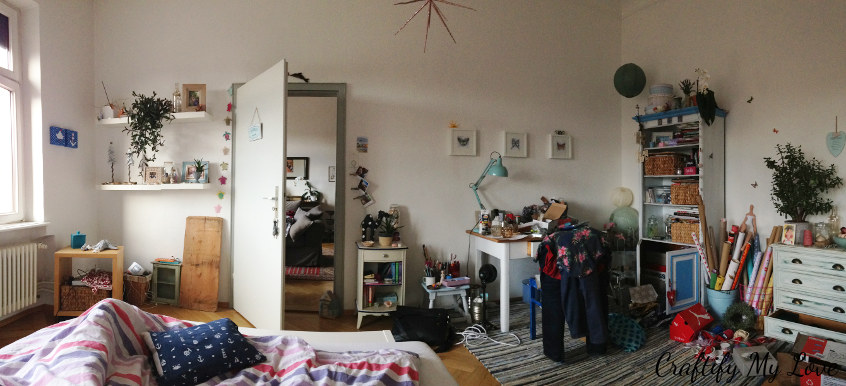 Craft Room Challenge 2018
I teamed up with some of my crafty blogging friends this January. We challenged ourselves to clean, purge, reorganize and decorate our crafting areas because we were all fed up with the messes we've produced during the past Christmas season.
I think you need to know that I am the Queen of a Hot Mess and not the tidiest person in the world. My superpower seems to be that I find everything I need anyway, so why waste precious time on tidying up, when I could be creating, right?
And now let me tell you how I feel as I've reached week 3 of this 4-week craft room reorganization challenge: I feel like DA BOMB!!! The feeling is very similar to how I feel when I created something new. And I am very proud of myself.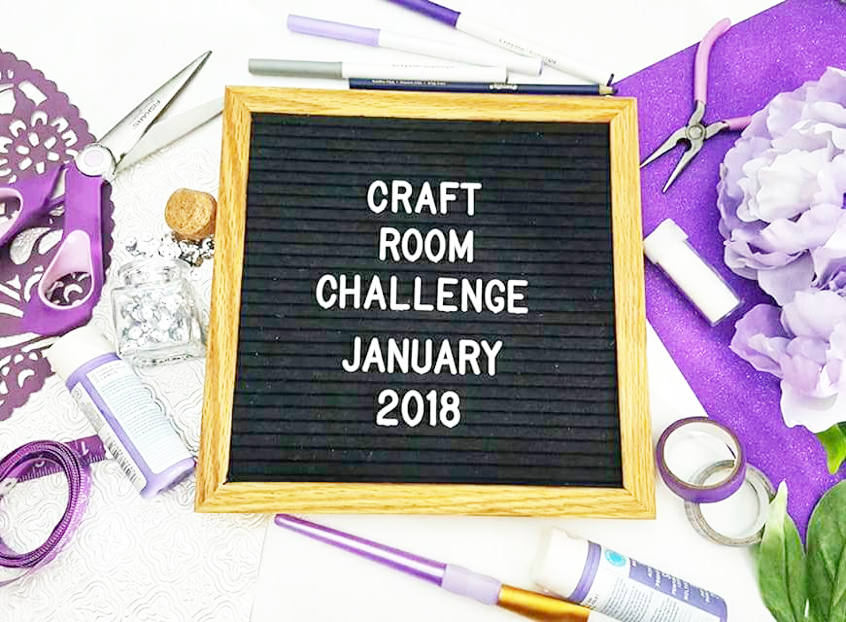 Read up on the different steps of this challenge and work yourself towards that amazing feeling! You Can Do It and I'll be at your side to cheer you on at all times. Promise!
Week 3 – Organise Supplies
Also, make sure to download your FREE example of the guide & checklist I've put together during those 4 weeks. I poured all the knowledge in it, that I gained during my craft space remake, so that you can rock your very own Craft Room Challenge!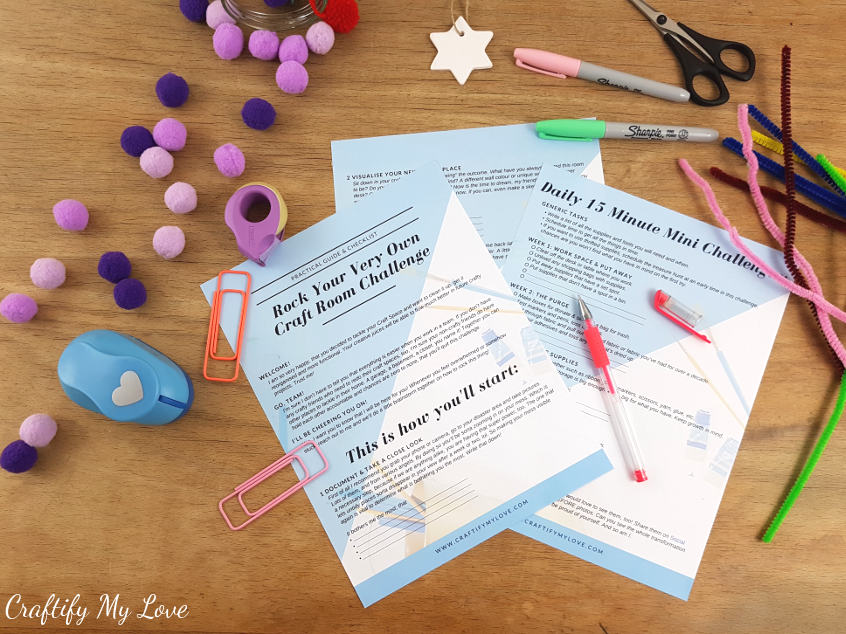 Top 5 Craft Room Organization Tips every DIYer Needs To Know!
Tip No. 1 – Create New Storage Space
Determine if your current storage is big enough or maybe even too big for what you have (probably not, lol. Right?). Keep growth in mind. But we'll come to that later.
So if you remember the photo above, you'll see that I had room behind my bedroom door. And this free space was cluttered up with small furniture, woven baskets and such. So of course, was I in need of new storage space! One cupboard with closed doors looks so much better than all those smaller pieces cluttering about, right?
I was on the lookout for that new piece of furniture for a long time. Two years ago (Jeez…can you believe how long it took me to tackle that project?!) I was gifted with a wonderful old little cabinet. Click here if you are curious how the cabinet looks from the outside.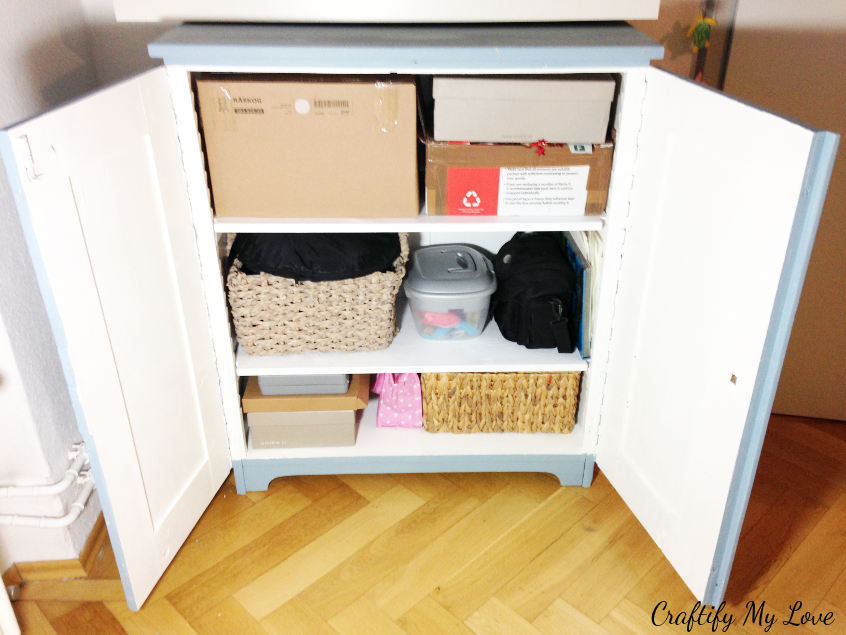 Consider the following options:
Buy something new.
Repurpose furniture from your home and maybe give it some extra love with a little paint.
Do an upcycling project like I did with those old drawers (see video tutorial below).
Spread the word with friends and family. Maybe someone wants to part with a lovely piece.
Keep an eye out at thrift stores, or when driving (you won't believe what treasures I've found at the side of the road).
Tip No. 2 – (Re)Organize for Efficiency
For that, you'll need boxes, boxes, and some more boxes.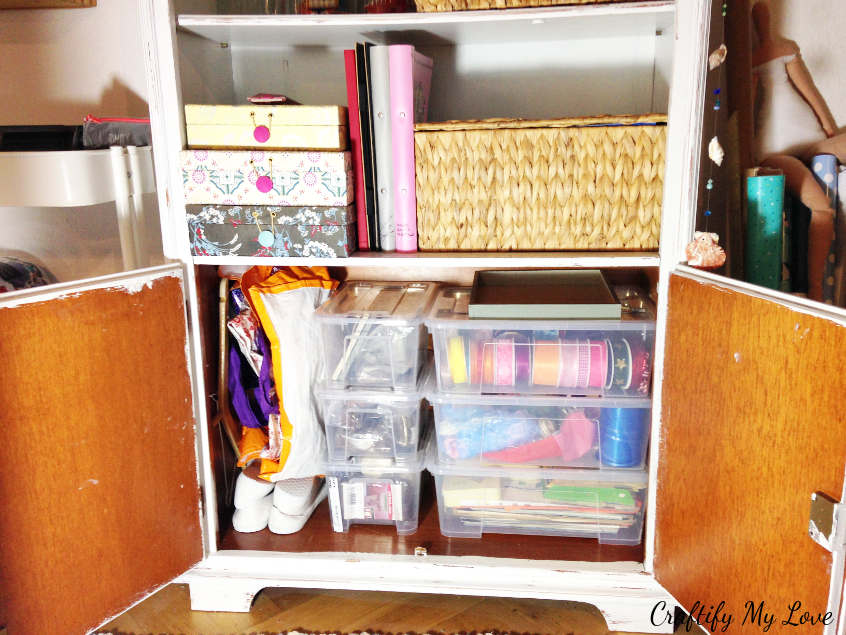 Make sure to…
measure your shelves and closets before shopping for boxes.
leave a little space around boxes so they are easy to move in and out of their dedicated space.
group similar items together such as pens, markers, scissors, yarn, glue, etc.
check out my idea for storing wrapping paper in a very efficient way.
I liked my over time naturally grown system but I had to admit that it didn't work out in some areas. And if anything is a hint, to reorganize, it's starting to avoid opening your cabinets and drawers and go shop for supplies you know you already have!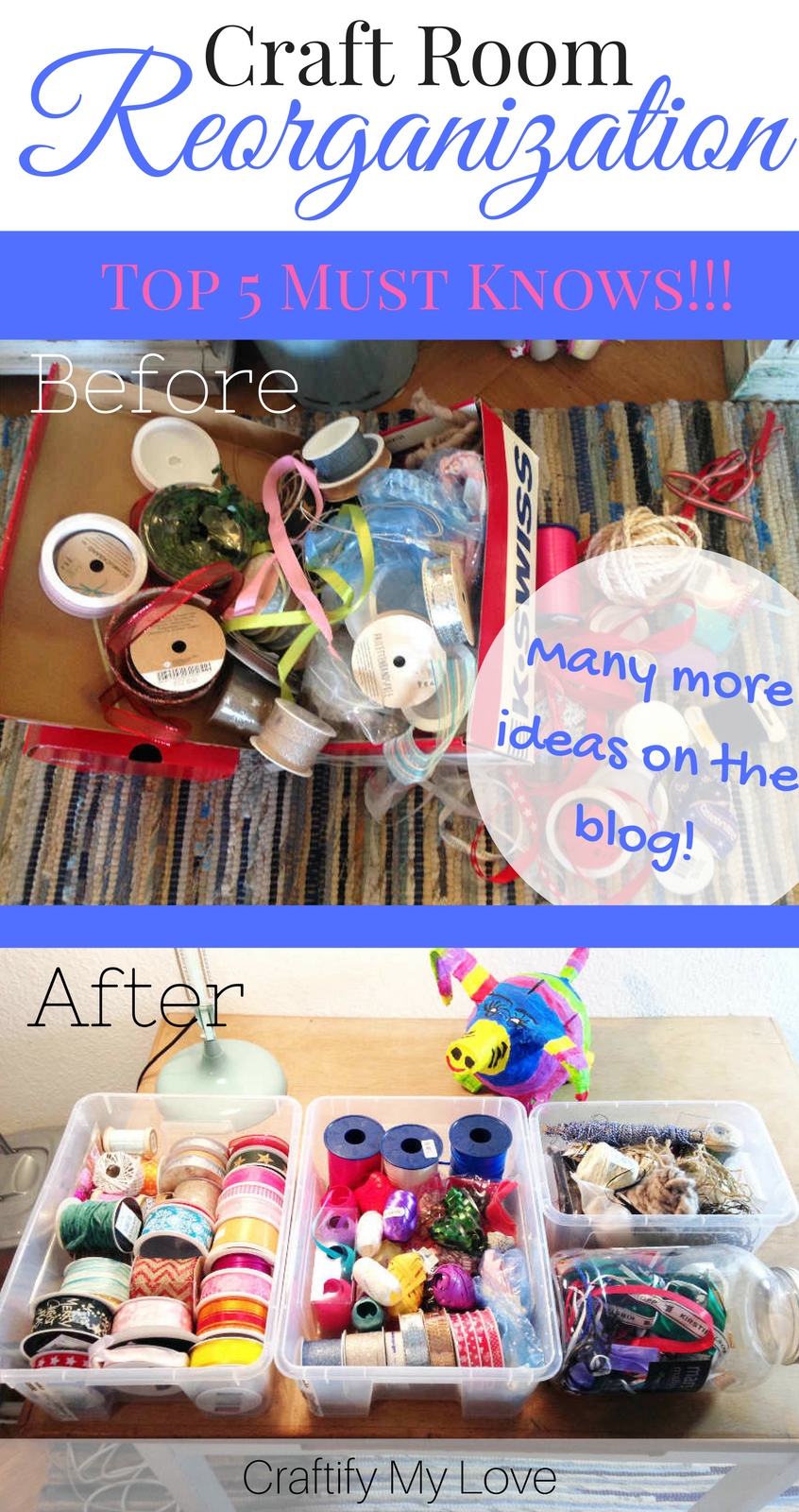 Again you have several possibilities:
buy new boxes, bins, or containers,
thrift them, or
recycle those boxes that contained your latest craft supplies delivery. Yep! I know you've just received a parcel or two 😉
Drawer dividers are a very handy tool to make an end to that nasty junk drawer, I am sure you must have, too! Those are similar to the ones I used.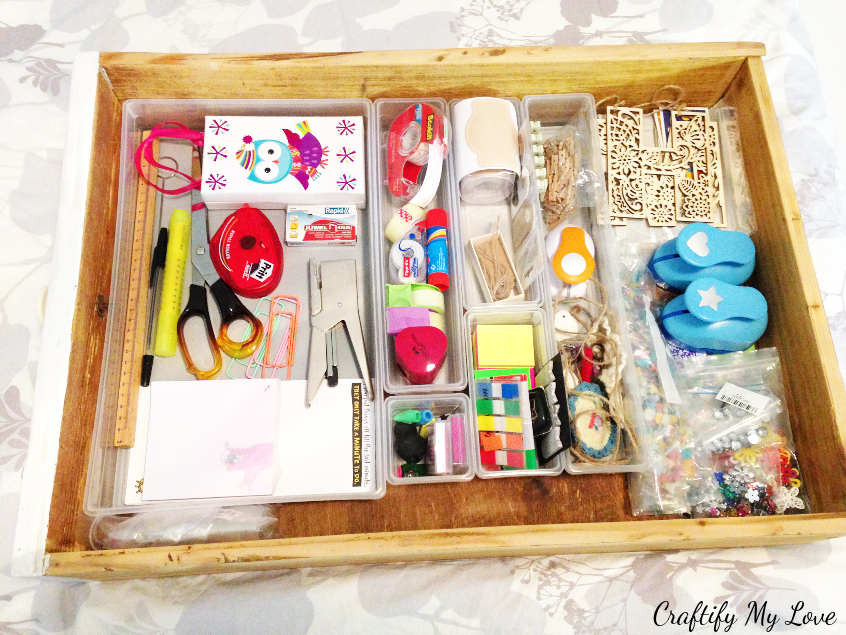 Also, I like to keep fancy metal tins, wooden boxes, and cookie jars. This way I can do something good for our environment by recycling and can give loose craft supplies a happy new home.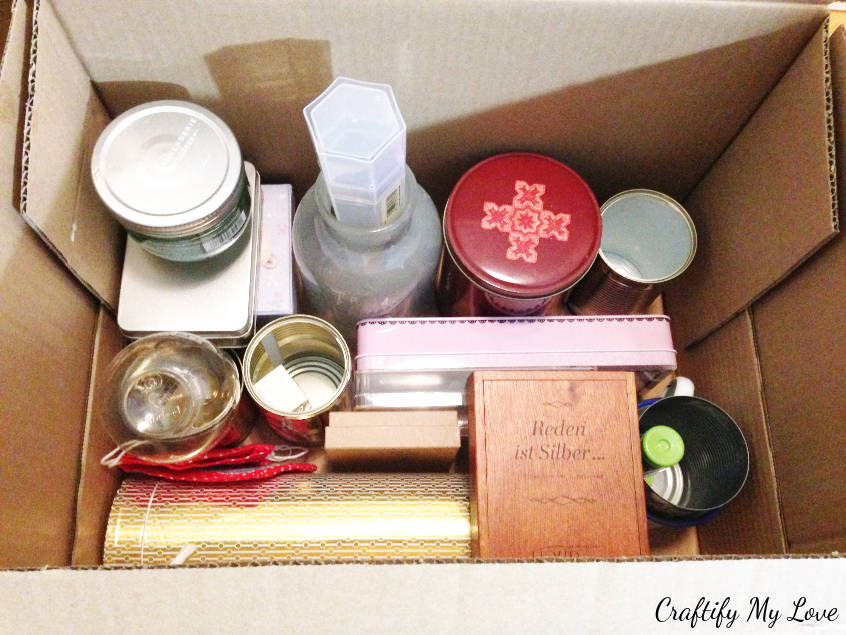 If talking about efficiency, here, you might want to consider to put a clock somewhere in your craft room. I lost track of time so often when crafting, but I try not to be late to my appointments anymore. So this little vintage inspired alarm clock from IKEA is an affordable option and will hopefully be taking care of things for me.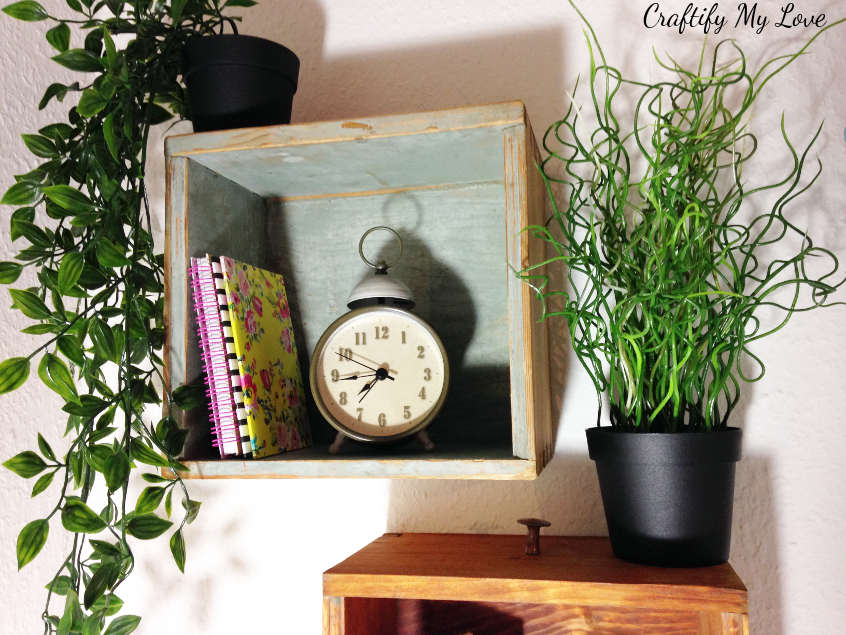 Tip No. 3 – Flexibility & Practicality
Think to have the tools you use the most right by your side. And what if you could take them with you if you were to move your crafting spot to the kitchen because there is another project drying on your desk?
I bought this little caddy RASKOG from IKEA as a base for those crafting necessities I want to be within my reach and that I need frequently (like my pens and Sharpies, but also my MacBook supplies). The fact that it has little wheels and thus is movable will definitely come in handy.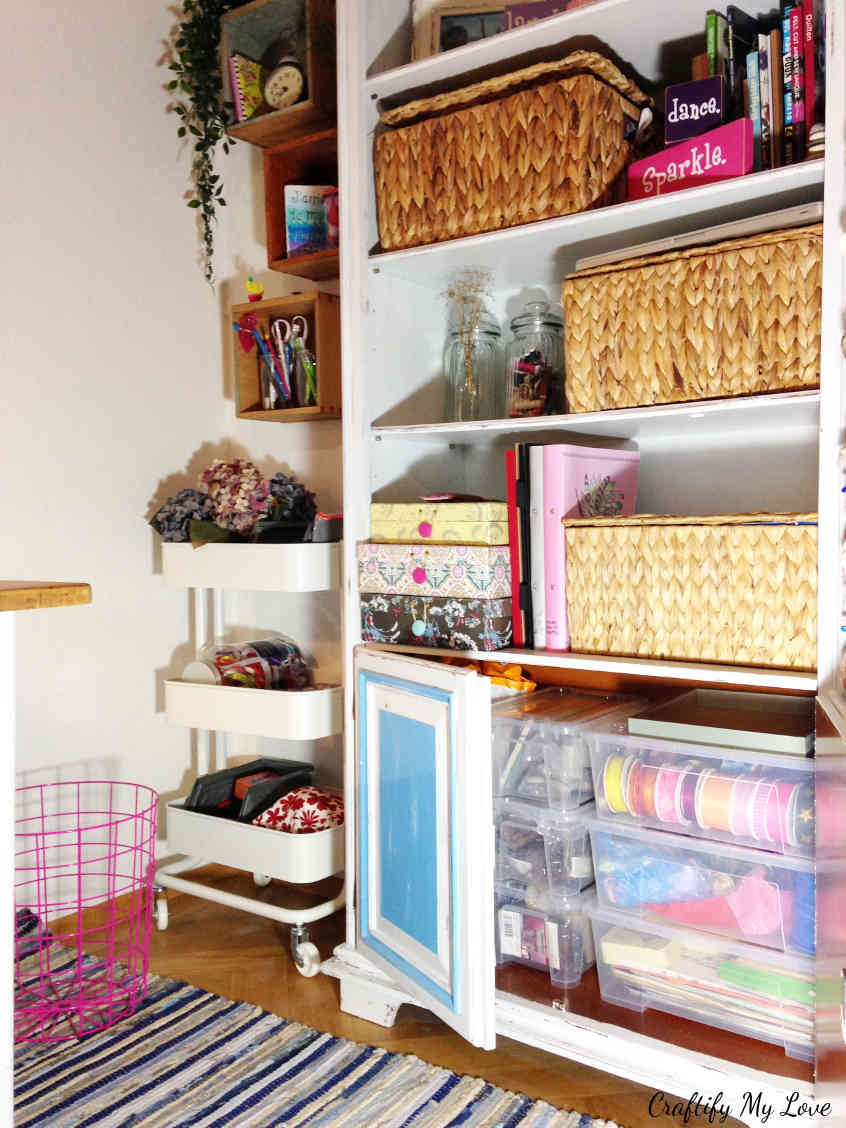 How do you like my new bright pink paper bin? I know, it's only good for big sheets of paper, but I couldn't resist the color, lol. Maybe I'll use it as storage for work in progress projects. We'll see!
Tip No. 4 – Enhancing Longevity of Supplies
Did you know that some craft supplies will last longer when you store them in a certain way? Actually not only craft supplies. Nail polish will last 10 years and longer if you store it in your fridge. Just sayin'…
It's worth to read the info provided on the packaging before throwing it out or do a little online research: For example, your Sharpies, Gel-Pens, Porcelain Brush Pens and the like will last much longer if you store them horizontally.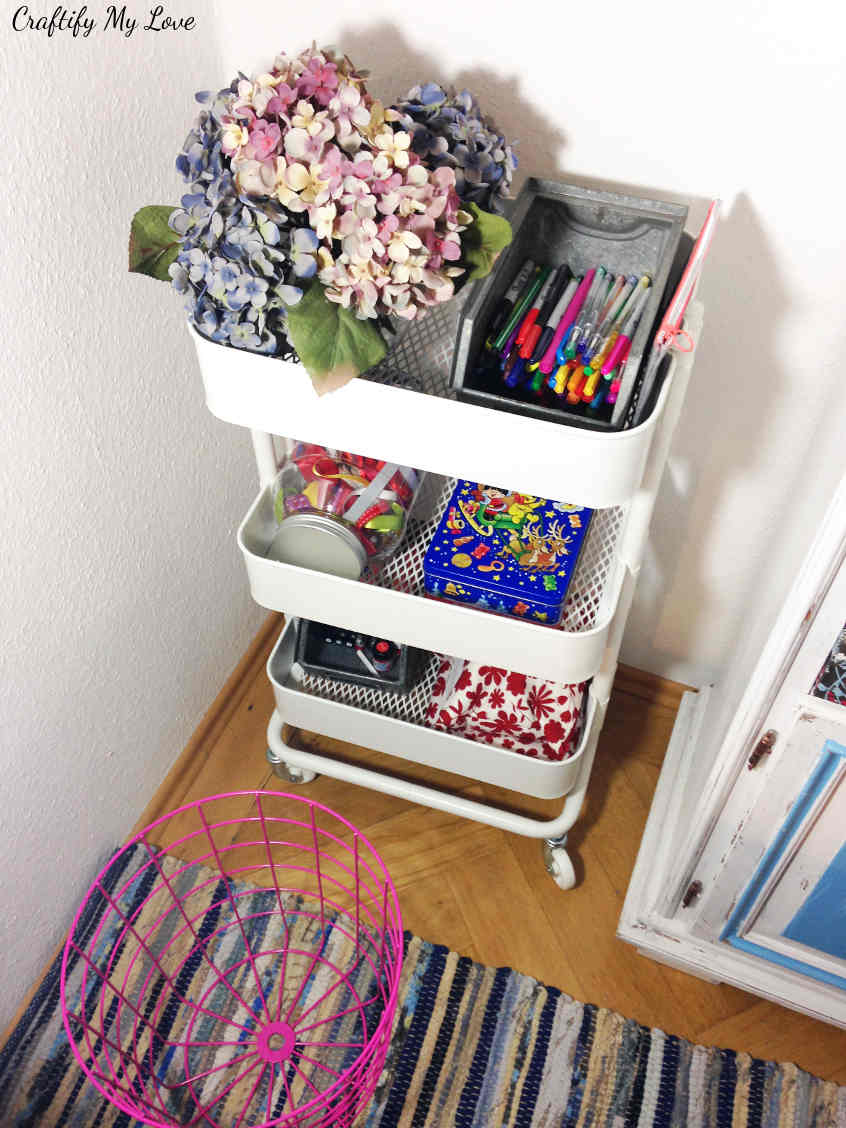 I know it's way more convenient to store them vertically in a pen holder, but they will dry out more quickly if the tip is pointing up. If you place the pen tip down in your jar, there is an increased chance of your pen bleeding out a.k.a. a horrific mess!
I am now using an industrial metal bin (see picture above) I've got from my friend Yvonne's husband when they returned to the United States two years ago.
Tip No. 5 – Thinking Ahead
Remember? I promised you we'll talk about this in more detail: Try to keep growth in mind. I know when in a throw-it-all-out-mode it can easily happen that you want to get rid of one item after another.
It feels good to let things go, I understand that now!
But keep in mind, where you want to go! Is there a new technical device on your wish list like a Cutting Machine (like this Cricut Maker – dear family, hint hint 😉 ) is on mine? Or do you want to learn a new craft that will obviously come with new craft supplies?
If so, the frugal gal might want to put that odd little desk, armoire, or shelf up in the attic or the basement for later use.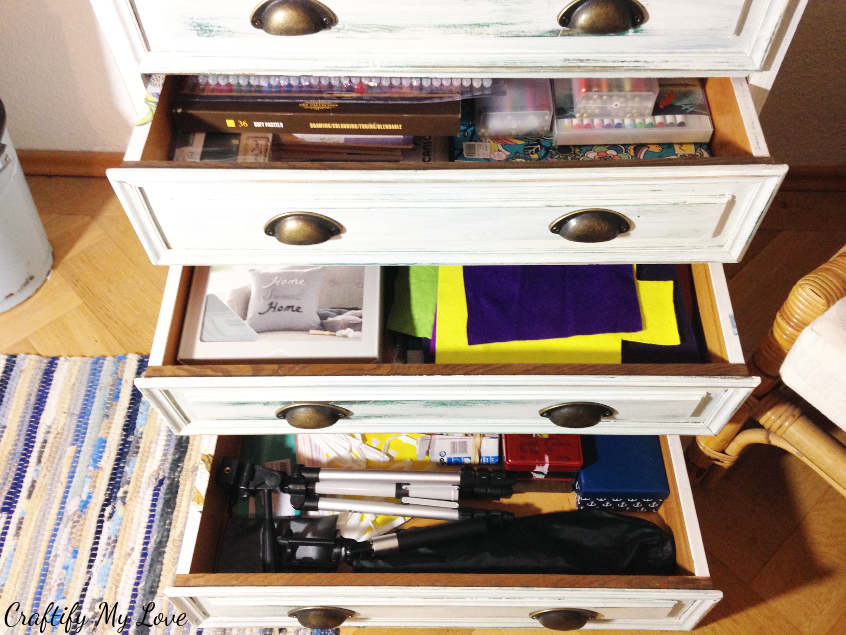 Happy Craft Room Reorganization, Y'all!
Ok, now you're fully equipped with a lot of nifty reorganization tips and ready to go! Make sure to let me know how things worked out for you and share any further tip you come across. K?
Love,

PS: Remember to grab your free guide & checklist, now!
Welcome to the 2018 Craft Room Challenge!
From January 3rd through January 31st, 14 crafty bloggers will be sorting, organizing, cleaning, and decorating their craft spaces.
Each of us has a very different craft space to tackle, so chances are you will find one similar to yours. We'd love for you to join in on the fun challenge and clean right alongside us.
Follow along and join in on social media by using #craftroomchallenge and #confessyourmess.
You can also find us and the challenge via our social media accounts you'll see listed on each of our sites.
We'll also have 15-minute mini daily challenges for you in case you have limited time to dedicate to the challenge.
We hope you share your messy spaces and progress with us so we don't feel alone this month!
Before you see the rest of the crafty spaces, please meet our lovely hosts:
Marie & Aleisha from The Inspiration Vault • Pam from P.S. I Love You Crafts
Yami from The Latina Next Door • Jolene from Create Pray Love
Habiba from Craftify My Love • Lyne from The Paper Addict
Megan from C'Mon Get Crafty • Erlene from My Pinterventures
Shirley from Intelligent Domestications • Valerie from Val Event Gal
Michelle from Our Crafty Mom
MerkenMerken
MerkenMerken
MerkenMerken
MerkenMerken
MerkenMerken
MerkenMerken