Welcome back! It's Week 1 of the Craft Room Challenge 2018 and the mission is to recover your workspace by putting away recently used craft supplies.
In my case, it wasn't only craft supplies but also Christmas wrapping supplies and cards I found and had to put away. What curiosities did you find whilst clearing of your workspace?
If you missed last weeks gory tour through my very messy craft corner in my bedroom you can read up here. #confessthemess
Why let your Craft Room get messy, after all?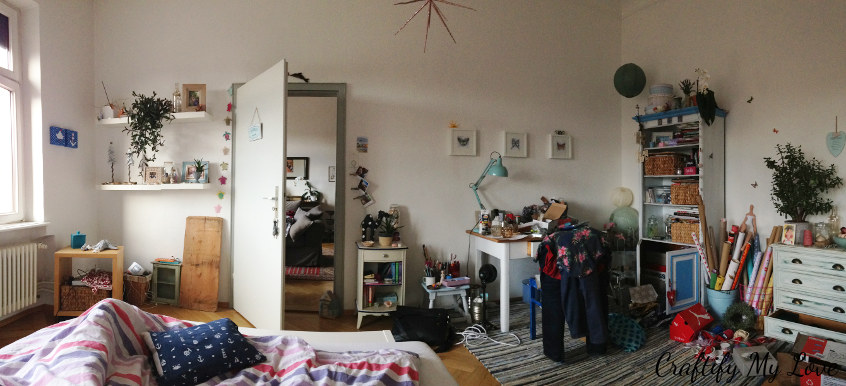 I know, I know, I ask myself this question all the time. And I found that there are several answers to it:
Because I prefer to stay creative and craft right on rather than cleaning up. Maybe because I am lazy. Or my priorities are off. Although I'd tell you anytime they are spot on, actually, as it's more important to live a wonderful life than to clean. But most probably because organizing a huge craft supplies stash can be really overwhelming. At least for me…
Don't be shy, ask for help!
Luckily we all have friends, and when the overwhelming part takes over, I found it best to ask friends or family for support and motivation.
One of my best friends, Sina, is an organization guru. I'm telling ya, it seems like tidying, purging and organizing a room is her superhero strength. She helped me a lot in the past!!! Thank you so much my Lovely ?.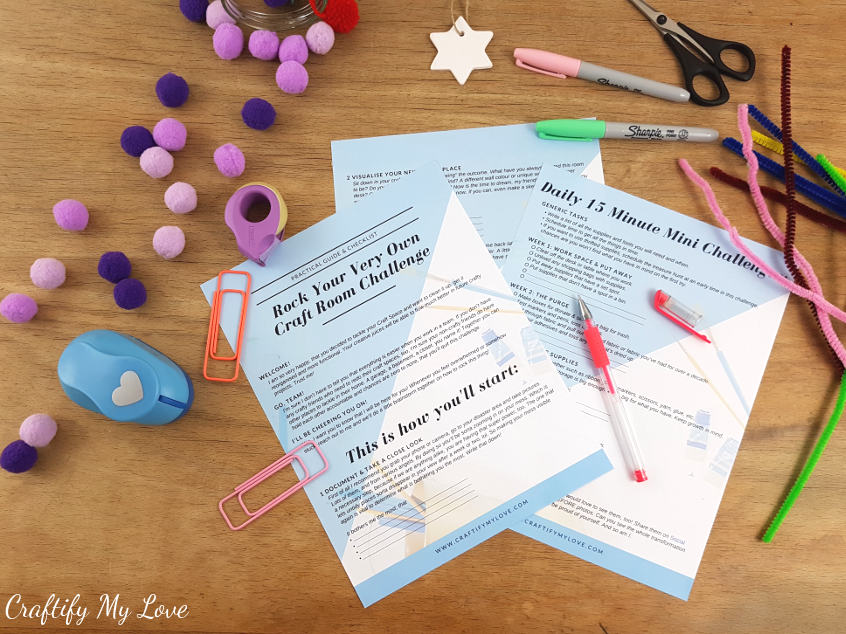 As far as help is concerned, I've written down everything I've learned in this Craft Room Challenge and I want to give this info to you for free! Grab your copy of my guide & checklist on how to rock your Craft Room Challenge, now!
Craft Room Challenge 2018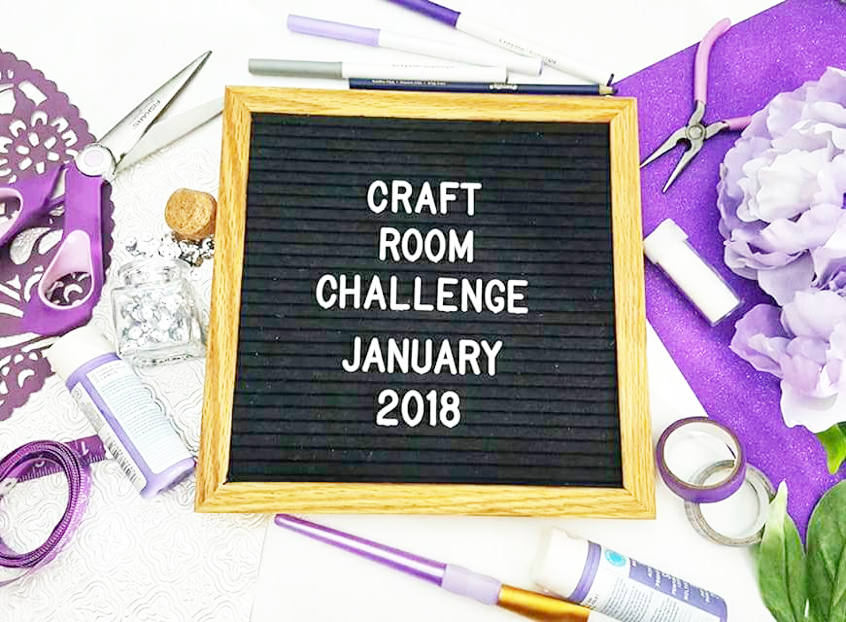 This time around, my friend Marie from The Inspiration Vault had the idea to tackle our craft room messes together by starting our Craft Room Challenge. And even though I don't enjoy the process of this challenge (just being honest here), I know I will absolutely love the end result!
I really appreciate the cheering on, tips and support of all my blogging friends! And that they hold me accountable, lol. And I am so happy that even my love Markus is helping me with this project, too. #ICanDoThis
Do you need motivation, too?
Let us know! We'll be here for you, promise! Join our Facebook group here, send me an e-mail, or tag me on Social Media.
Week 1 – Clear your Workspace
A week has 7 days and so it is super easy to break this weeks mission down into several manageable bites.
Dedicate 15 to 30 minutes a day to this challenge!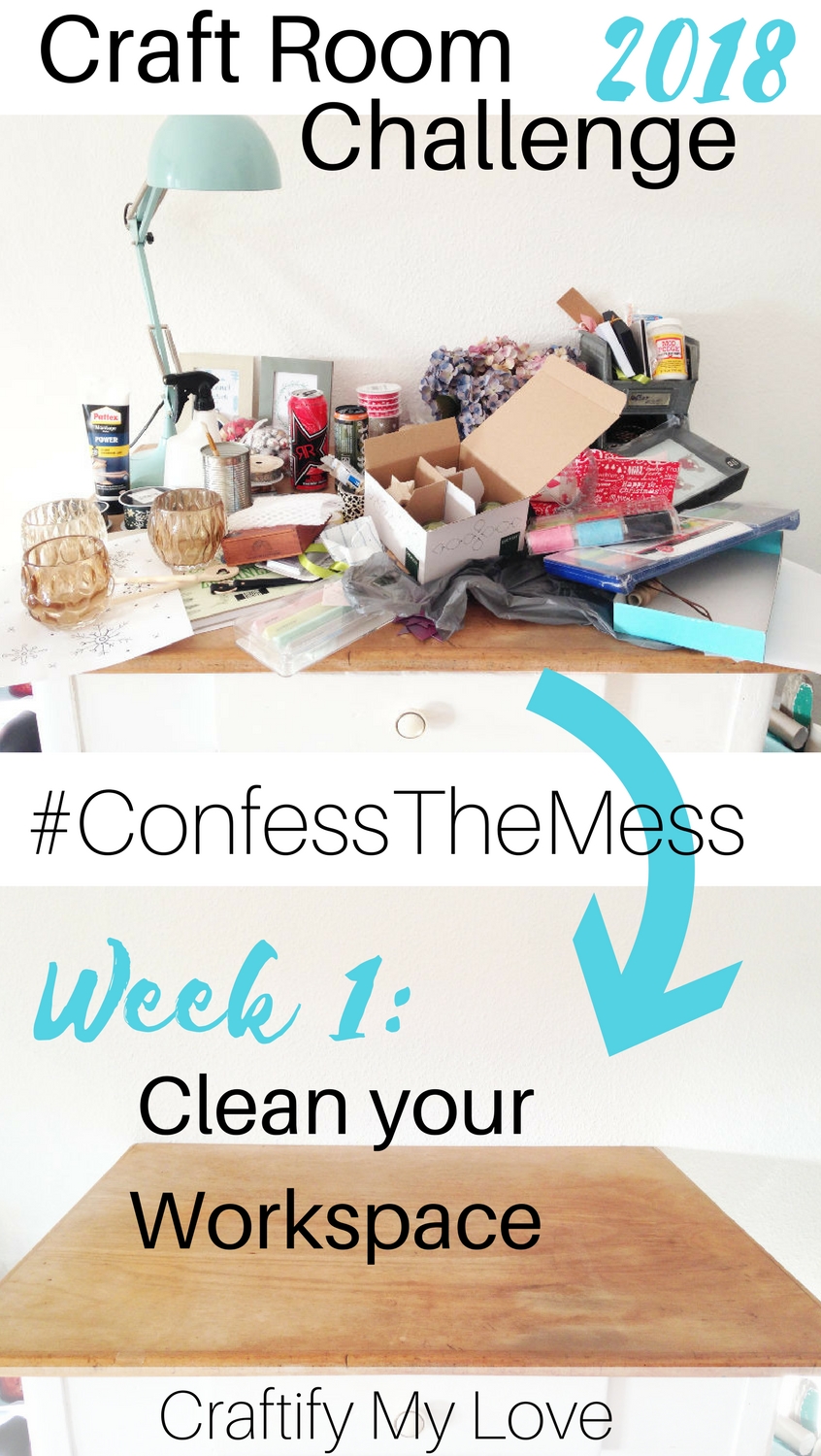 So, this is what I did:
1. Unload any shopping bags with supplies.
In my case, it was a bag with newly bought and thrifted Christmas ornaments. I put them in a box and added all the Christmas crafts supplies I found on my table.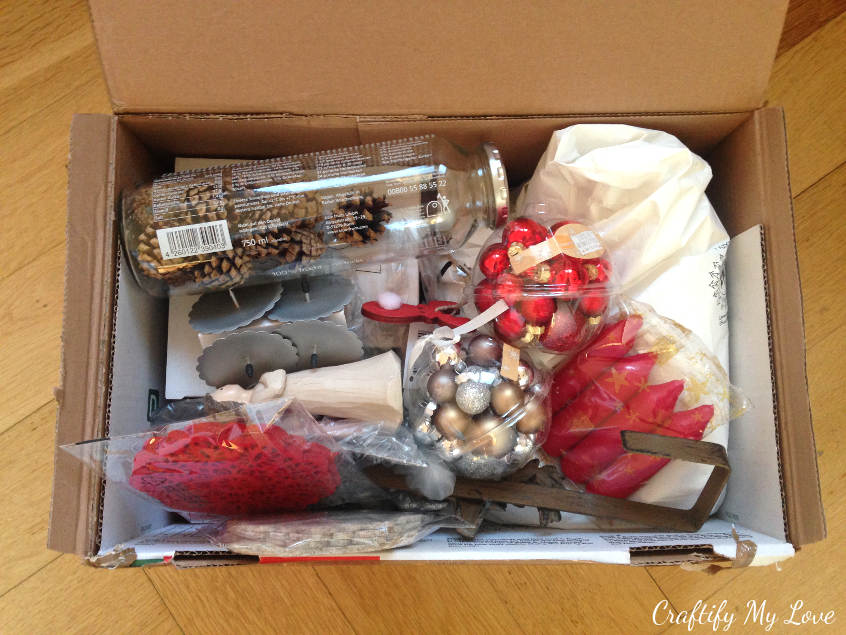 2. Put away supplies that have a set spot.
I bought a set of three baby blue enamel buckets in a charity shop in the UK many years ago. I am telling you, it's always fun to bring my treasures home by plane. The looks I get from the airport staff that scans your luggage, though.
I dedicated one of those buckets for all my adhesives and glues so this is where I put my new E6000, my friend Yvonne brought me from the States when she came to Germany for her Christmas visit.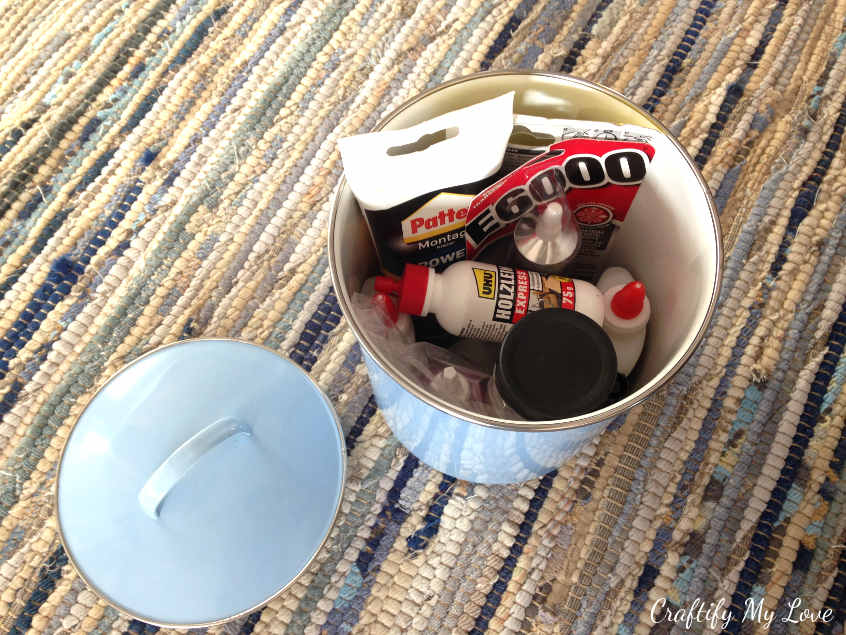 My stash of ribbon used to have a set spot, too. Namely this old shoe box. But as you can see, as I brought all the ribbon together in one spot, I had to realize that the box is no longer big enough.
So for now, all the ribbon lies on this messy heap on my floor until I find a new solution for it. Let me just say: I am already working hard on it and it will be functional again!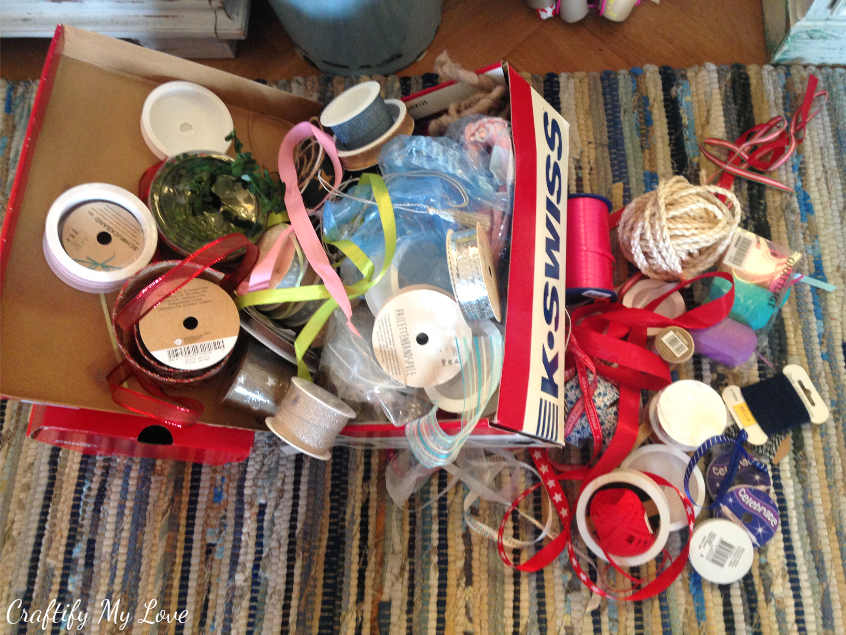 3. Put supplies that don't have a spot in a bin.
I didn't have a bin at hand, so I used a shopping bag. This Christmas I saved wrapping paper I really liked in order to make more of my Recycled Wrapping Paper Christmas Trees.
I found other things without a set spot and, for the time being, I placed them on the big wing chair, that is in one corner of my bedroom. Again, working on a solution here, so those pieces will all have a happy home in my craft space, soon.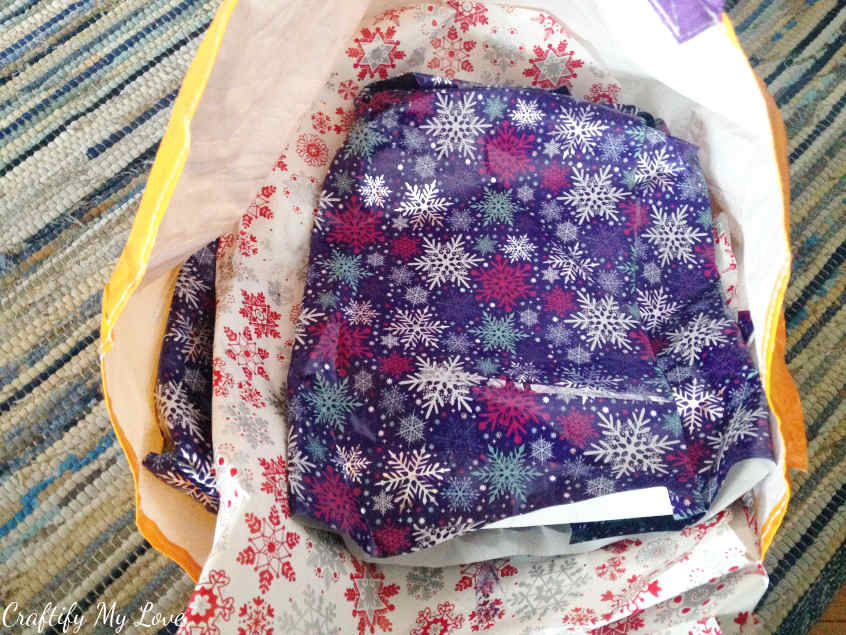 Phewwww….now that this one is done, I need to start mentally preparing for Week 2 – The Purge. I'm telling ya, this is going to be a hard one, because #ICraftThereforeIHoard or is it the other way round, lol.
Love,

PS: Have you downloaded your free copy of the guide & checklist to your very personal Craft Room Challenge, yet?
Welcome to the 2018 Craft Room Challenge!
From January 3rd through January 31st, 14 crafty bloggers will be sorting, organizing, cleaning, and decorating their craft spaces.
Each of us has a very different craft space to tackle, so chances are you will find one similar to yours. We'd love for you to join in on the fun challenge and clean right alongside us.
Follow along and join in on social media by using #craftroomchallenge and #confessyourmess.
You can also find us and the challenge via our social media accounts you'll see listed on each of our sites.
We'll also have 15-minute mini daily challenges for you in case you have limited time to dedicate to the challenge.
We hope you share your messy spaces and progress with us so we don't feel alone this month!
Before you see the rest of the crafty spaces, please meet our lovely hosts:
Marie & Aleisha from The Inspiration Vault • Pam from P.S. I Love You Crafts
Yami from The Latina Next Door • Jolene from Create Pray Love
Habiba from Craftify My Love • Lyne from The Paper Addict
Megan from C'Mon Get Crafty • Erlene from My Pinterventures
Shirley from Intelligent Domestications • Valerie from Val Event Gal
Michelle from Our Crafty Mom
Now, let's take a look at what they've accomplished in week 1: