Hi! I am glad you are joining me today in this easy Sewing Room Wall Art project in 3d!
I am currently smack in the middle of the Craft Room Challenge and this weekend I was simply sick and tired of decluttering, purging, and re-organizing. I wanted to do something creative, and creative I got!
Update: I absolutely rocked the Craft Room Challenge…want to take a quick tour with me?
Three-piece Crafting Inspired Wall Art
This little project is going to be part 1 of a 3 piece crafting themed wall art I'll be decorating my newly organized craft space with.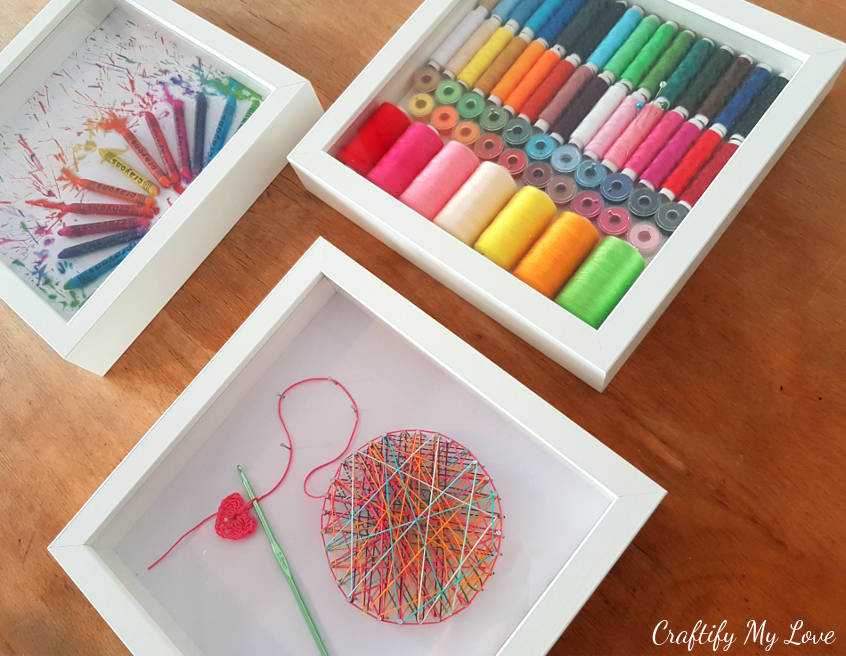 Check out the other two elements:
Luckily decorating is also part of vamping up my craft space, so I didn't even have to have a bad conscience. I am merely working ahead of my schedule here. Yay, me!
Monthly De-Stash Challenge
As I only had to buy the IKEA frame Ribba for 5 Euro to make this sewing room decor, I can dedicate this little craft easily to the De-Stash Challenge, my friend Megan from C'mon Get Crafty hosts every month.
We are allowed to make stuff using the ginormous craft supplies stash we already have at home. But it is ok to buy necessary extras for $ 10 or less.
Supplies for Sewing Room Wall Art
Ages ago I bought these two boxes of sewing thread bobbins. They never got to see the inside of my sewing machine, though. Why? Because I got told off for using this kind of "cheap" thread when I brought my machine to inspection last time.
So did I waste the money on these boxes? Nooooo. I put them away and figured one day I'll come up with a crafty recycling project. And that day has come this weekend, lol.
I was so excited about this project, that I totally forgot to take a proper picture of those sets before putting them to use. And I wasn't patient enough to put all those spools back in, lol. But I'm sure you'll forgive me for that.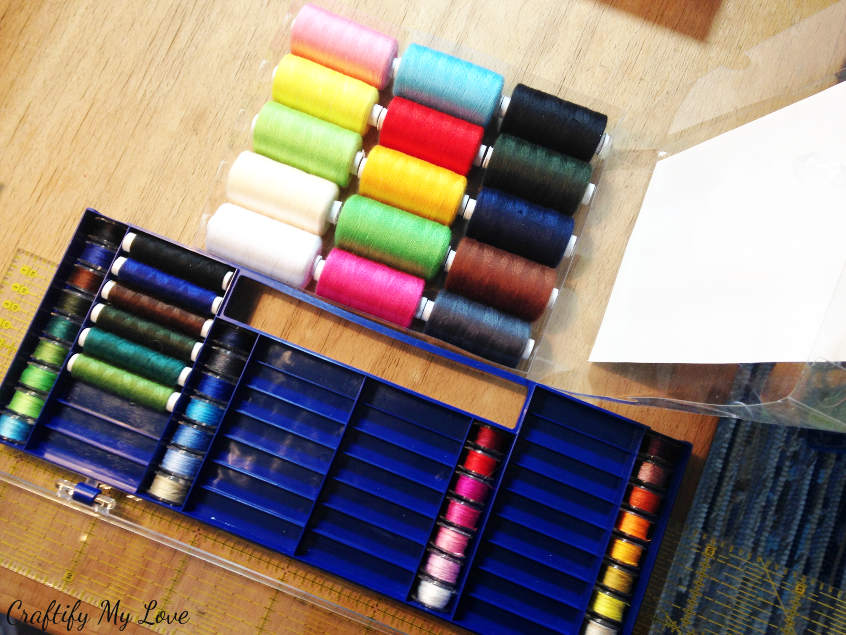 Thread set like this one
Big sewing thread reels like this set
Sturdy cardboard (preferably white, 2-3 mm thick)
Ruler
Pencil
Some sort of paper cutting tool, like this Xacto Knife
Hot glue gun
Glass Head Pins (optional for decoration)
4 Simple Steps to Make Your Very Own 3d Sewing Room Wall Art
You can do this little creative recycling project in a couple of hours, one afternoon, tops! Keep reading for well-explained step by step instructions:
1 – Disassemble IKEA frame Ribba
Bend those little metal thingies open, but be careful, not to cut your fingers. I find using a letter opener is quite handy.
Take off the back and get the Passepartout (you know, the fancy white paper frame to make your photos look even better)and the spacer out. You'll be using them both as a template in a minute.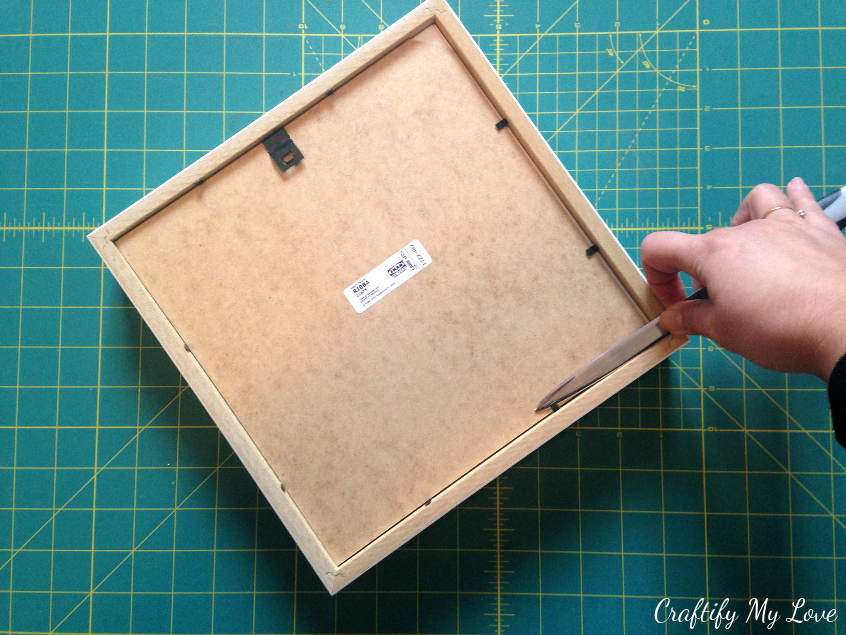 2 – Create Base for your Sewing Room Wall Art
Using the Passepartout as a template, you'll cut a piece of sturdy cardboard. It will have to hold all those thread reels so make sure it is nice and thick. But then, not too thick, so you will still be able to close the frame. Mine is about 2 mm thick.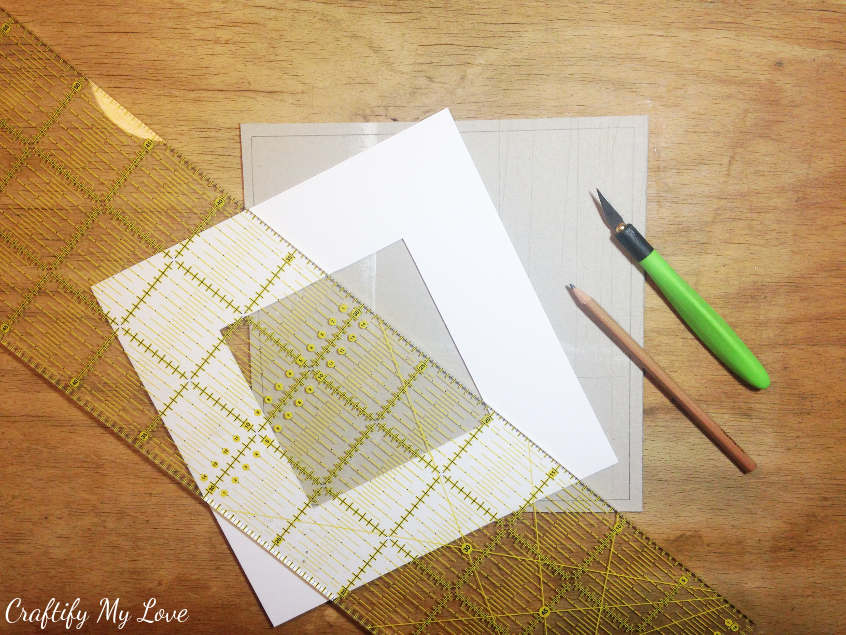 I only had a well used sturdy cardboard at home, that actually fit the size of the frame. A German DIN A 4 (regular printing paper) won't do the trick as the measurements of the Ribba are wider.
Time-Saving Tipp:
If you want to skip the part, where you have to either spray paint or glue a white paper on your base, you might want to invest in a nice white sturdy cardboard.
Because of all those cutting lines from previous projects (I eventually invested in my wonderful self-healing cutting mat as cutting on cardboard is not good for the sharpness of your knives or rotary cutters) I ended up sacrificing a sheet of scrapbooking paper with a white back. I chose one with a pattern I am not too keen on and hope I won't regret in the future, lol.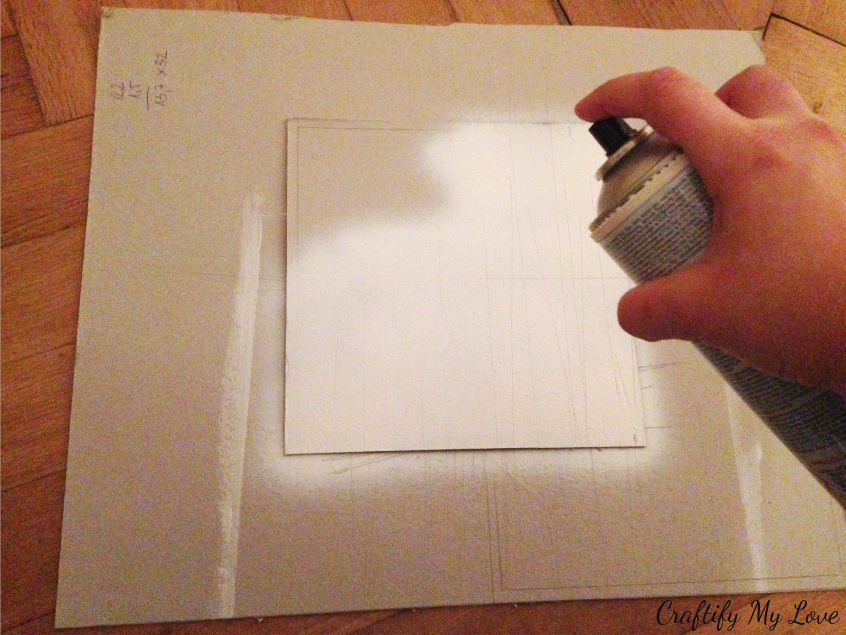 3 – Creating the actual ART part
First of all, you'll place the spacer of your Ribba frame on top of your previously made base. This way you'll make sure that your artwork will actually fit into the frame when assembling it.
I'd recommend you do a dry run before actually getting out your hot glue gun. You can see my dry run in the GIF further down.
Did you notice that the background in the GIF was still grey? This is how I realized that I need to cover the base with white paper because you could see through in a couple of spaces.
Also, you will be able to see if you can do the same exact design I did or if you need to freestyle. Why? This could be necessary because of differences in the size of your thread spindles.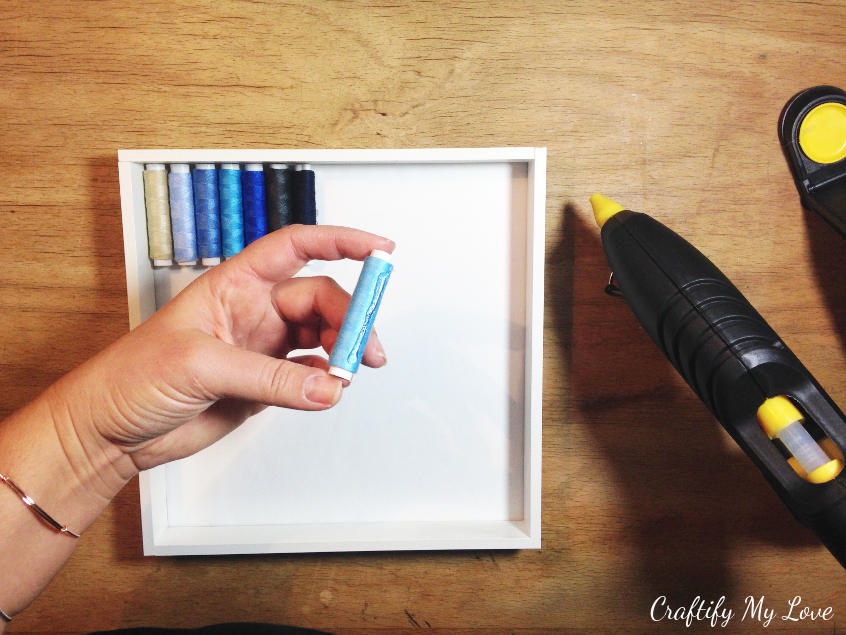 Keep on gluing until you created this wonderful rainbow bobbin design: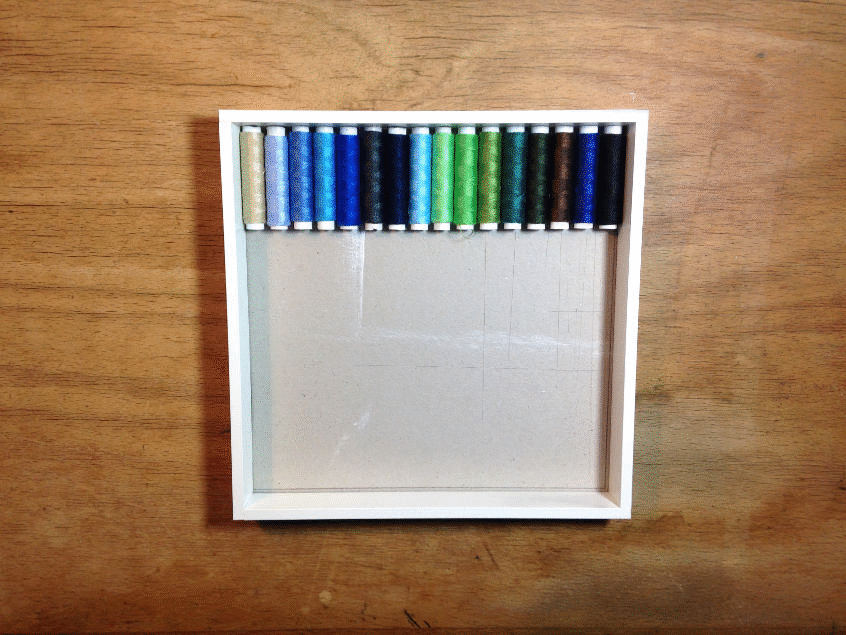 Can you see that there is a little blank space around the base? This is so your artwork will fit into your Ribba.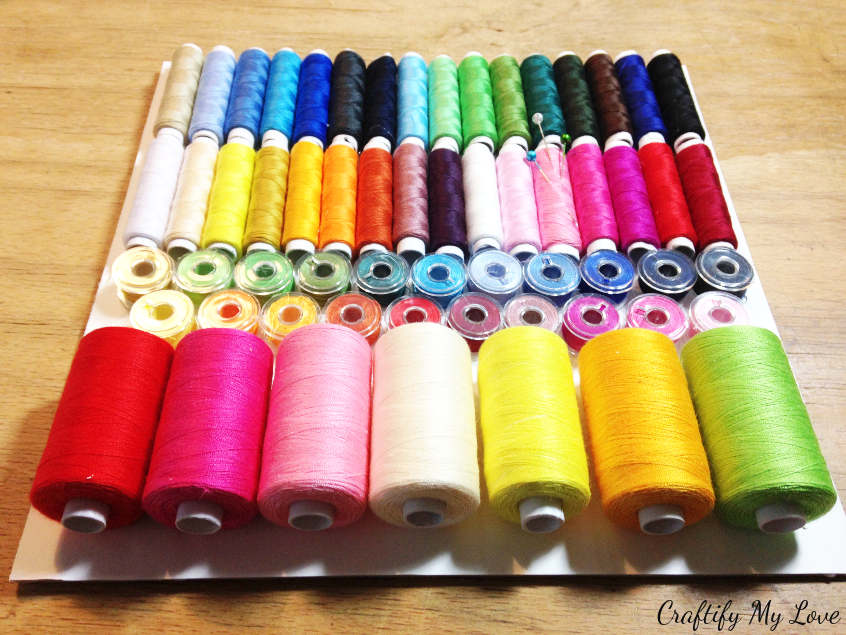 I decided to add a view glass head pins to emphasize the sewing theme of this project.
Simply stick them into one or several thread reels.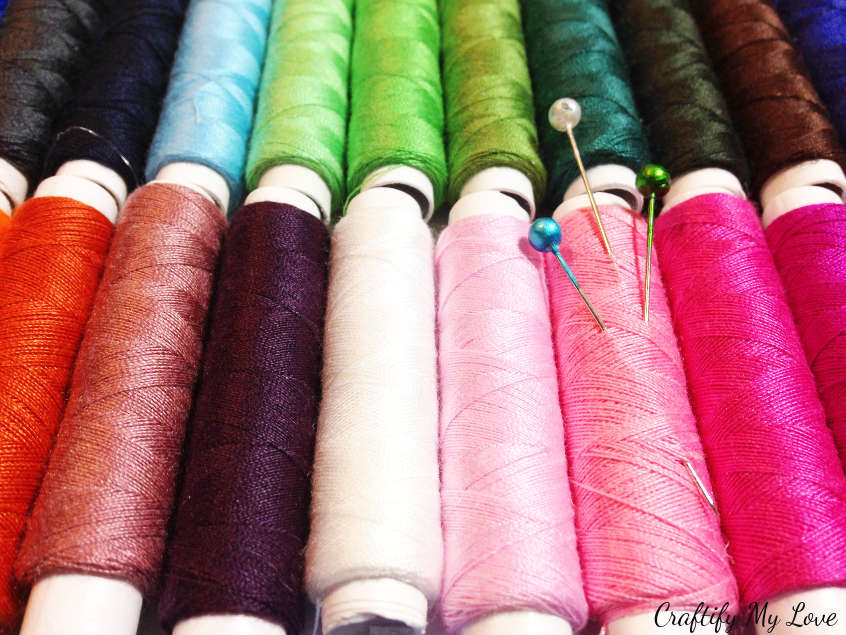 4 – Assembly
It's time to finish up! Get your IKEA Ribba frame and insert the spacer. Place your individually created artwork upside down on the spacer (the exact opposite than in the picture below), add the back and bend the metal thingies down again.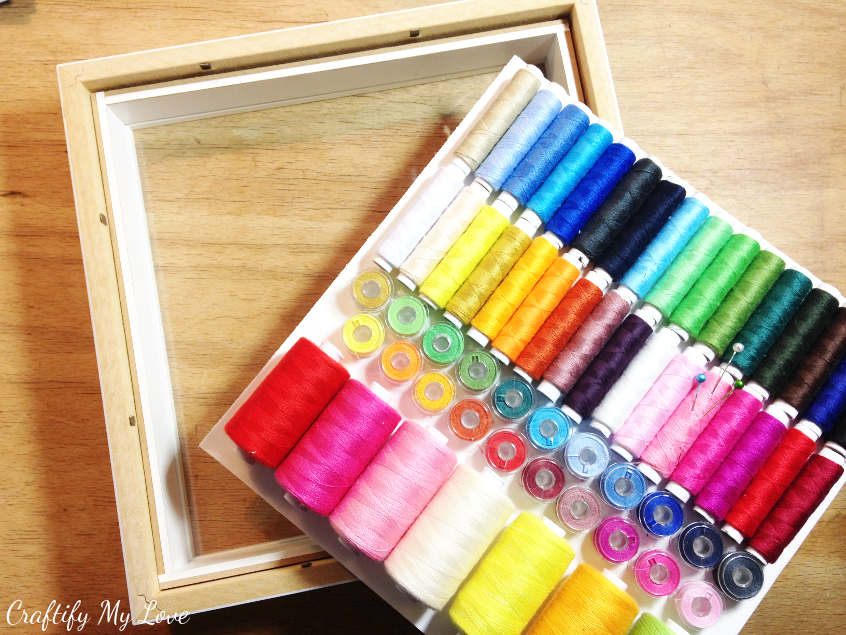 Admire your self-made Sewing Room Wall Art
I always get a huge energy boost, when I've created something. Do you, too?
Also, here is the promised sneak peek of part 2 of my 3 piece craft room decor. Make sure to join my tribe, so you get a notification when it's time to make this one.
I can guarantee a lot of fun and a little messiness, lol.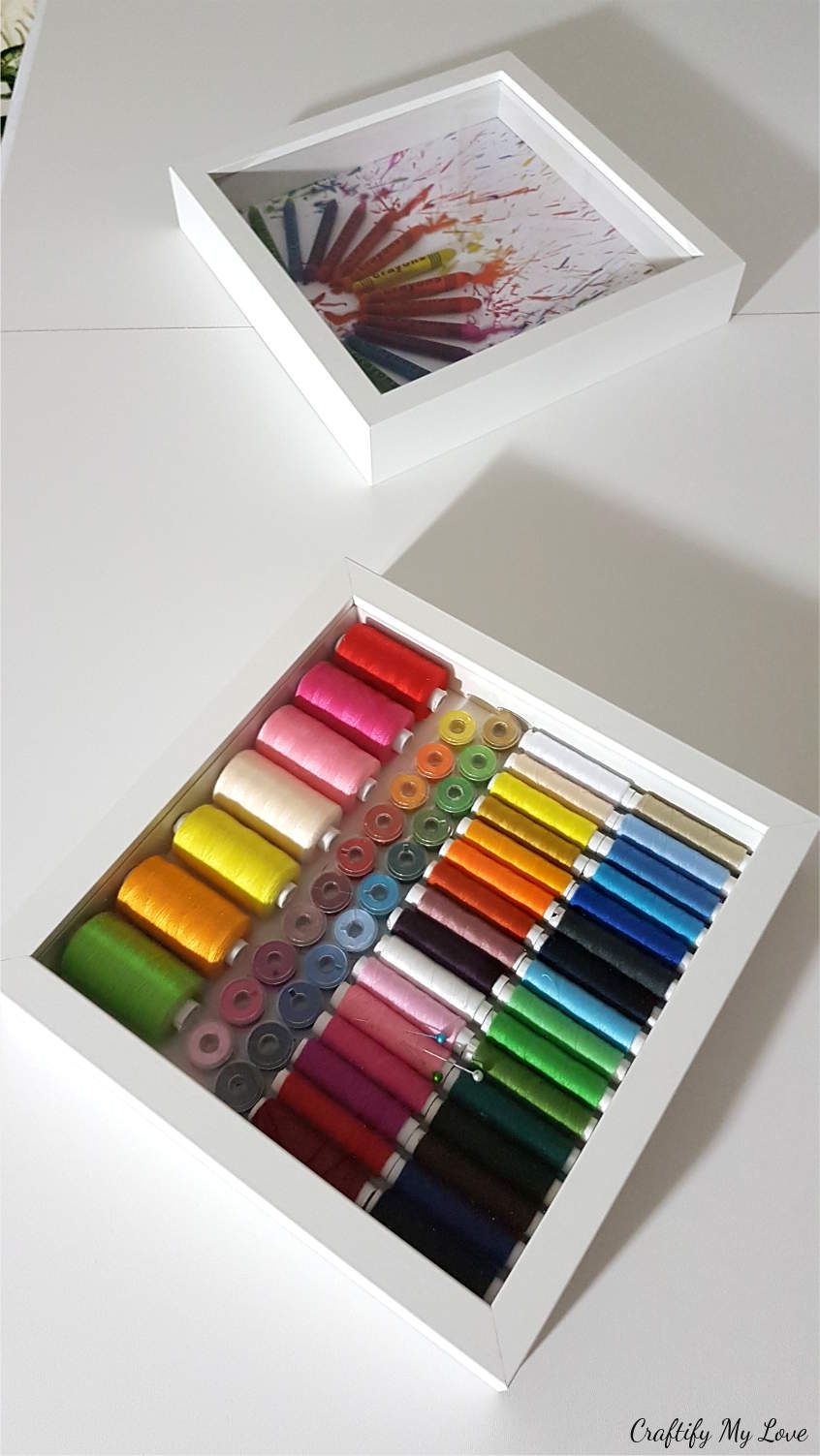 I had to add this image, too, because ohhhhhh those colors!!! I am in L.O.V.E.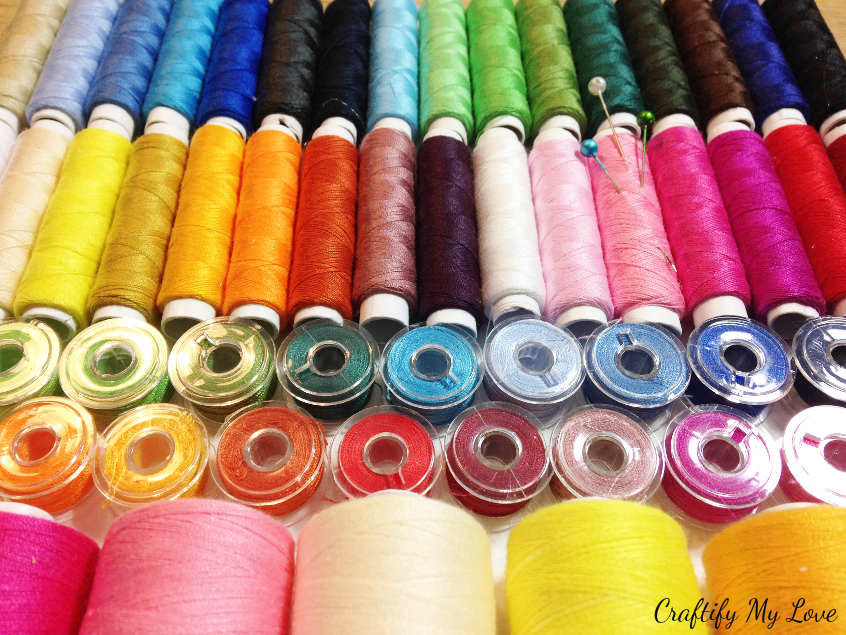 If you think some friends of you might like this tutorial for a sewing room wall art, too, it would be fab if you shared it on Social media or Pinterest. Thank's a ton, hon!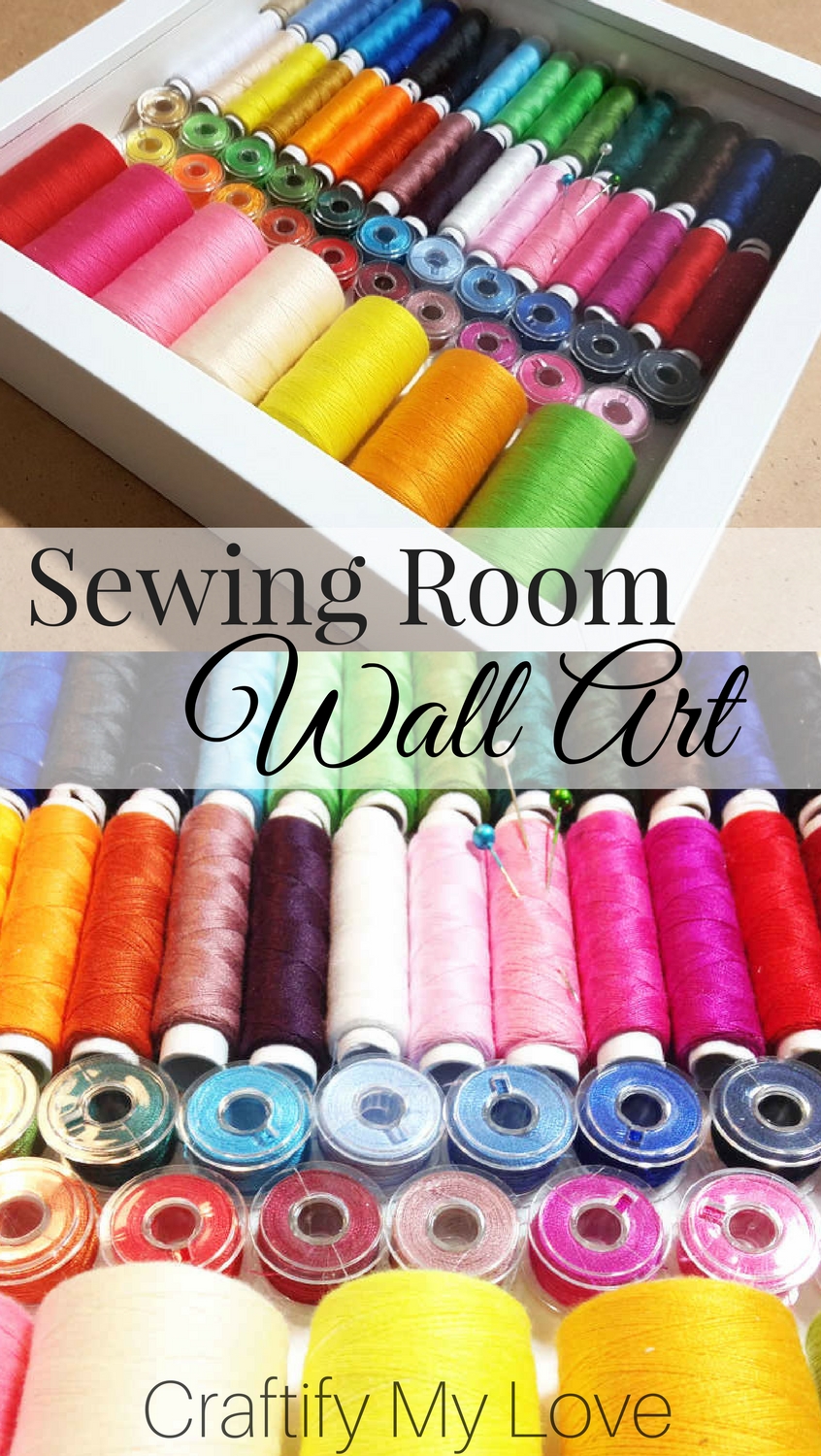 Tell me, have you decorated your craft space?
Love,

PS: If you want to learn what actions I took during my Craft Room Challenge 2018, you can check it out here.
Craft Room De-Stash Challenge
And now it's time to check out what creative projects you could accomplish today with your craft supply goodies. #CraftRoomDestashChallenge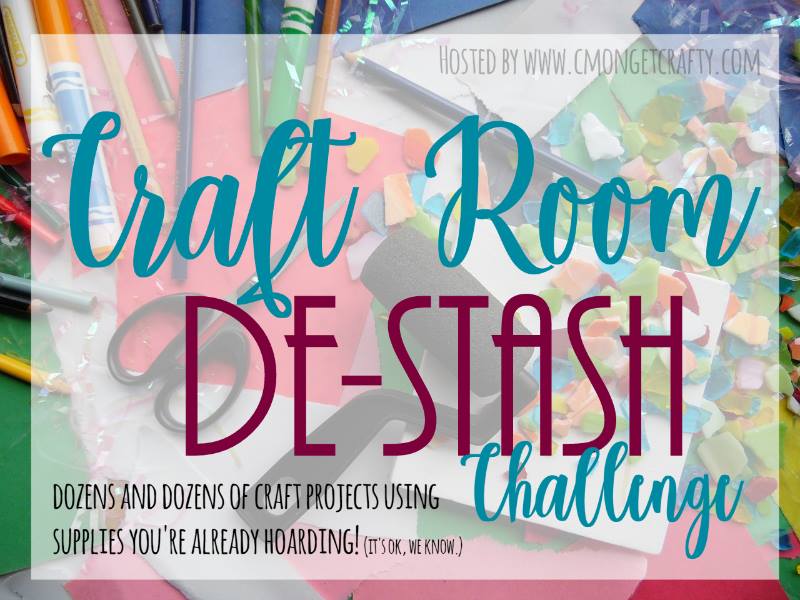 MerkenMerken
MerkenMerken
MerkenMerken