I made this set of macrame spiral bracelets for Markus and me for his birthday in January. I ordered these darling charms on sale before Christmas but have never gotten round to DIY our couples macrame spiral bracelets up until the day before his birthday.
All started with this PIN I stumbled over on Pinterest. After that, I was intrigued and researched a lot of different macrame techniques to DIY a bracelet and ended up falling in love with one of the simplest styles. I took the step by step photo tutorial while I did the first bracelet. The one with the "M" charm. As I wanted to give Markus a perfect gift I made my partners bracelet first in case I messed things up a little. Me being the last-minute crafter you've come to know, poor Markus had to wear the "M" bracelet for the first week until I managed to make the second one, lol.
Turns out I did learn a couple of things while I made my first DIY macrame spiral bracelet, so I made sure to incorporate those tips in the video tutorial I've put together for you. Also, I think being able to actually see the movements you have to make to tie those macrame half-knots or square knots is way easier to learn from than working only with photos.
Pinterest Challenge
As this craft – as so many – started with inspiration from Pinterest I am sharing it as part of this months Pinterest Challenge by my blogging friend Erlene. Visit her over at My Pinterventures.
You might already know or have guessed what this challenge is about. We challenge ourselves to not just pin but to actually create by the inspiration we've found on Pinterest.
See what amazing things this challenge made me actually turn into reality so far:
To join next month's #pinterestchallenge, click here to sign-up ⇒ March Pinterest Challenge
Supplies
This post contains affiliate links. That means if you make a purchase through these links, I may receive a small commission at no extra cost to you! You can click here to read my full disclosure.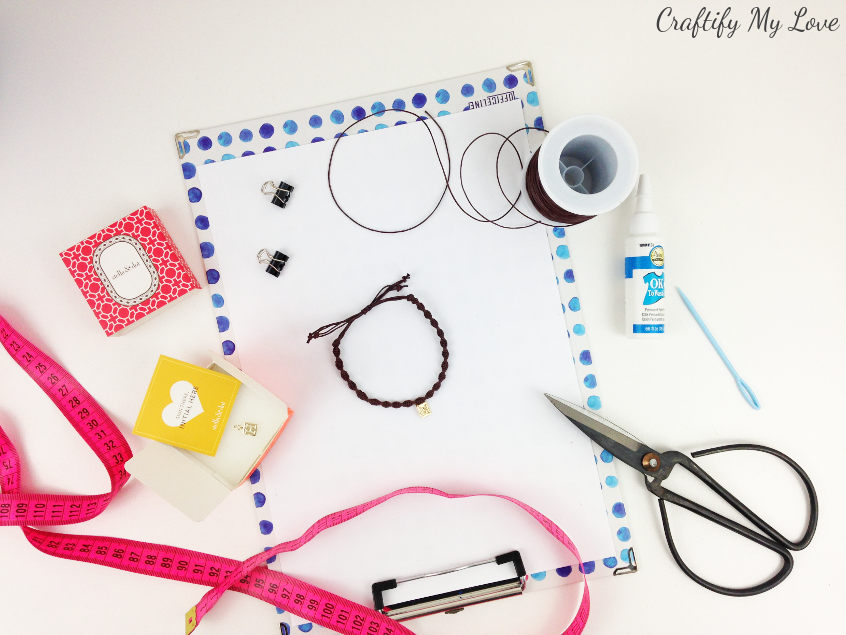 Here are the same or similar items I've used:
5 Simple Steps on How to Make A Macrame Spiral Bracelet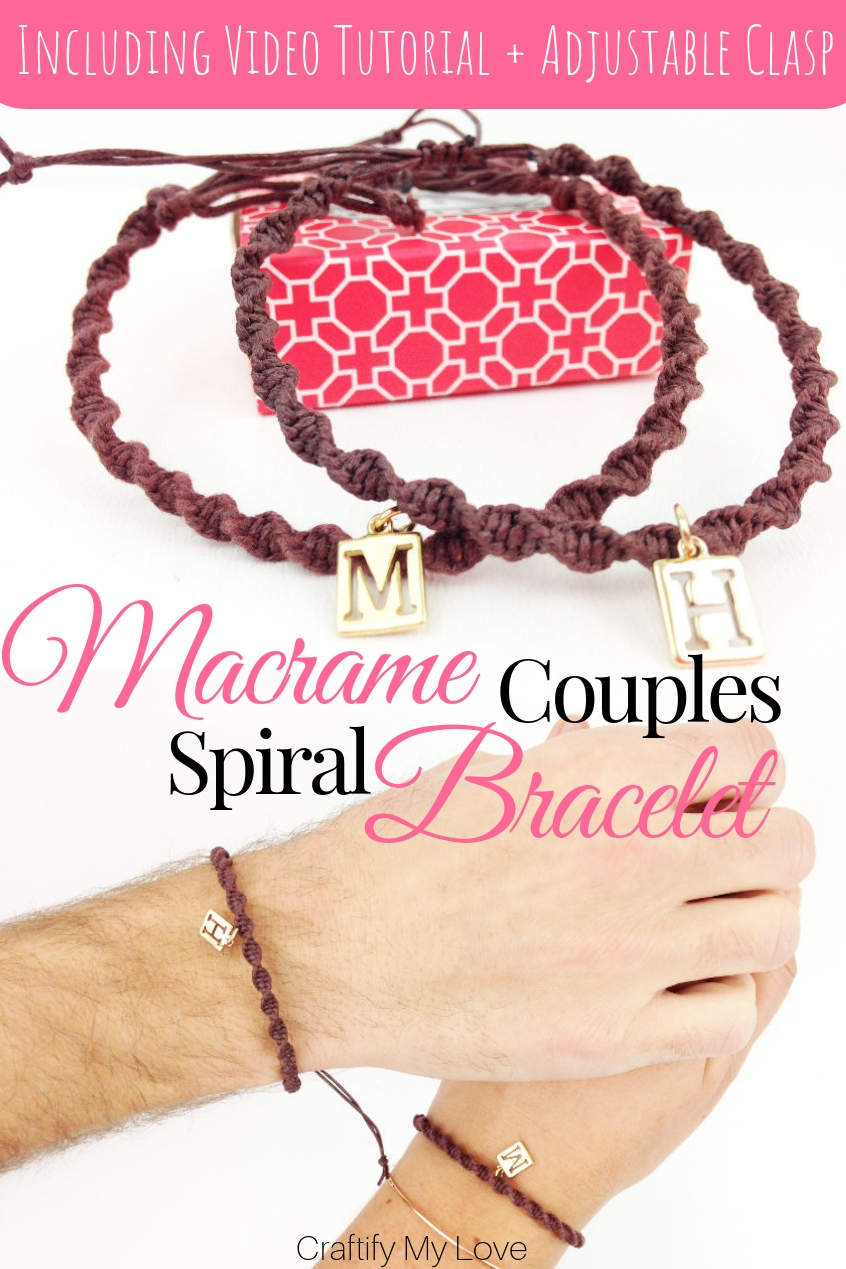 I don't know about you, but I still stress myself out when I am planning to craft something I've never done before. I tend to procrastinate for ages until I finally get started and while I create I sweat a lot. Embarrassing, really! I wish I could stop with this nonsense, though, as almost all of my creations turn out fabulous. Granted, they don't always turn out how I envisioned them, but they are perfect nonetheless.
So, please trust me when I say: You can do this!
Video Tutorial: DIY macrame couples bracelet
Simply follow along with the detailed step by step instructions and video tutorial (this one's for you, my lovely visual learners).
Tip: Many nifty tips & tricks included to rock your first DIY friendship bracelet.
If you enjoy Video Tutorials, make sure to sign up to my YouTube channel HERE.
1 – Prep Work
Start by cutting your waxed cotton cord to length:
1 x 220 cm / 87 inches (in my photo tutorial I used two 110 cm / 43 inches cords and ended up with too many loose ends when finishing my bracelet – for the second bracelet in my video tutorial I optimized this step)
2 x 50 cm / 20 inches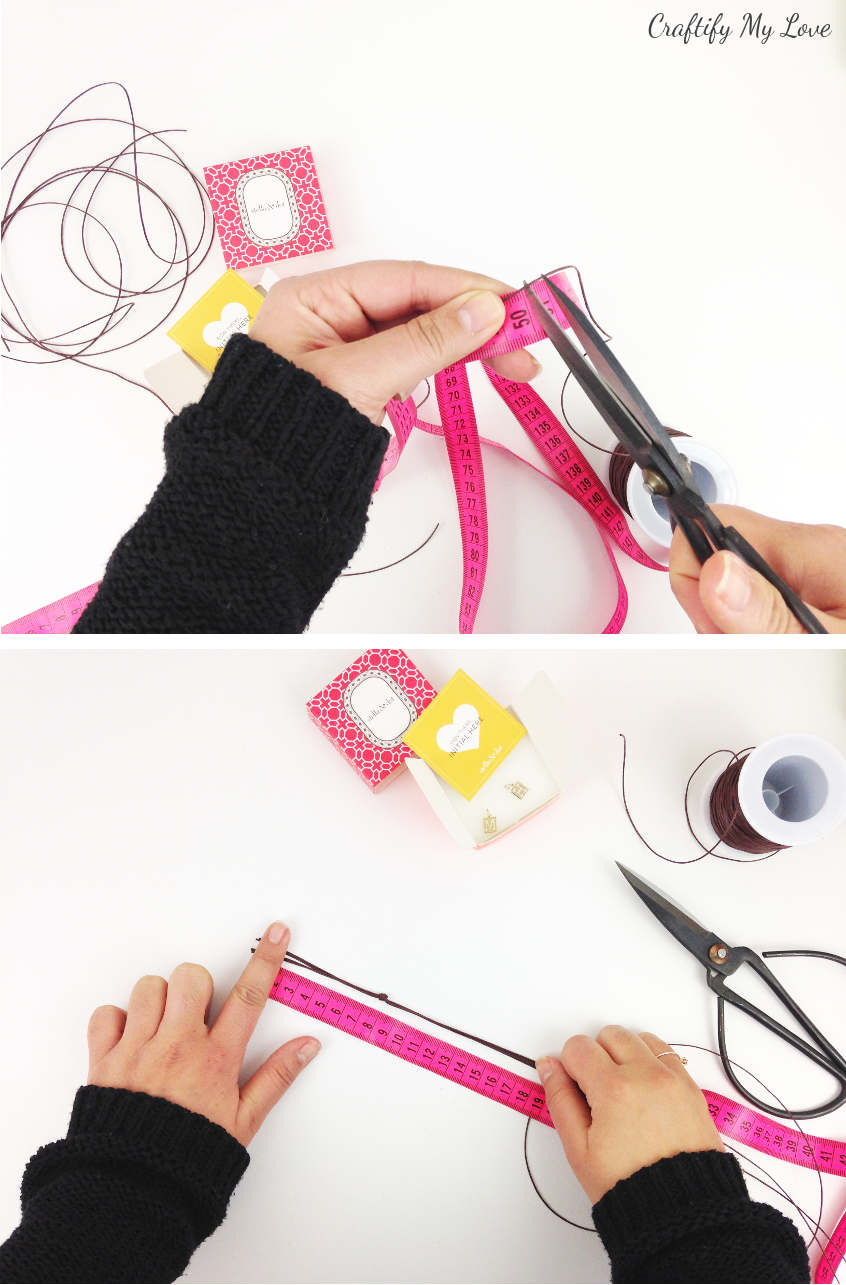 Tie the longest cord around your two shorter cords at about 8 cm / 3 inches. This way you'll end up with four cords hanging from the starting knot.
Arrange the two shorter cords in the center and the two longer cords on the outside. The shorter cords will be called anchor cords and the longer cords will be called tying cords (see top left image)
2 – How to Tie a Half-Knot that will Naturally Turn into a Spiral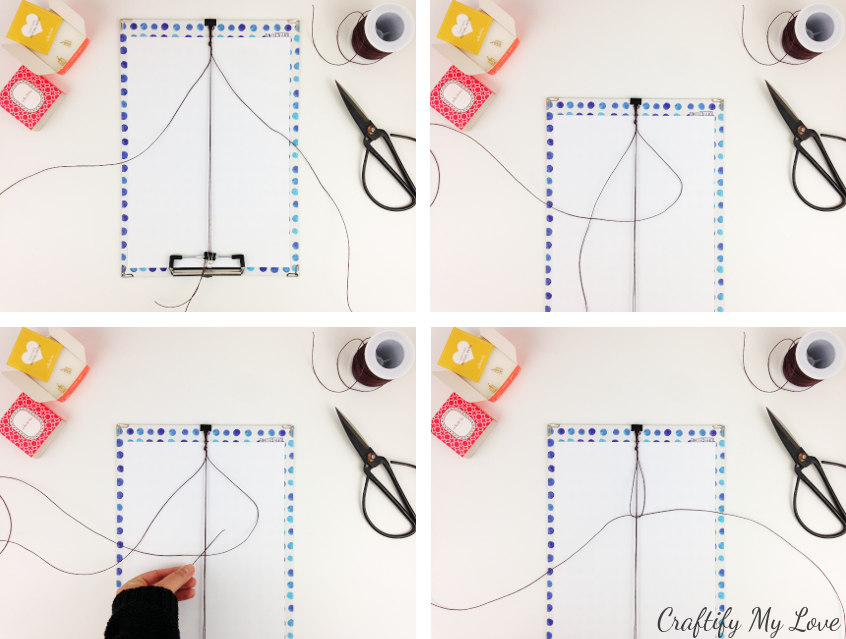 Pass the right tying cord over both anchor cords. Pass the left tying cord over the top of the right tying cord (see top right image).
Now pass the left tying cord under the anchor cords and through the loop formed by the right tying cord (see bottom left image).
Pull on both tying cords to tighten the knot (see bottom right image). You have now completed your first half-knot!
Repeat these steps to create a row of knots. After only a view knots you'll see that your work will spiral naturally.
Tip: You'll have to make quite a few knots and you will have to pull on tight I started to get blisters on my middle finger really soon and used some self-adhesive cling tape to protect my fingers.
3 – Adding a Charm to Your Macrame Spiral Bracelet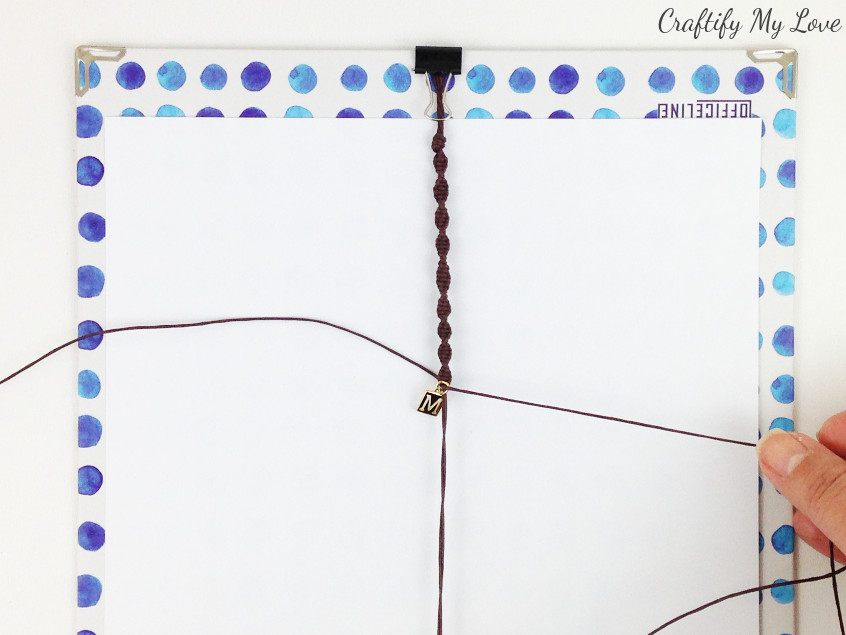 Continue tying knots until you have reached the length where you would like to add your charm (I did after 8 cm / 3 inches of spiral knots). Slip the charm over the right tying cord and perform yet another half-knot.
I scored Stella & Dot's gold-plated initial Soho Charm on SALE!
You can even customize your charm at Stella & Dot!
Keep on knotting happily away until you've accomplished another 8 cm / 3 inches or whatever length you need.
4 – How to Finish Up?
Lay your bracelet around your wrist. If you are happy with the length of your bracelet it's time to finish things up.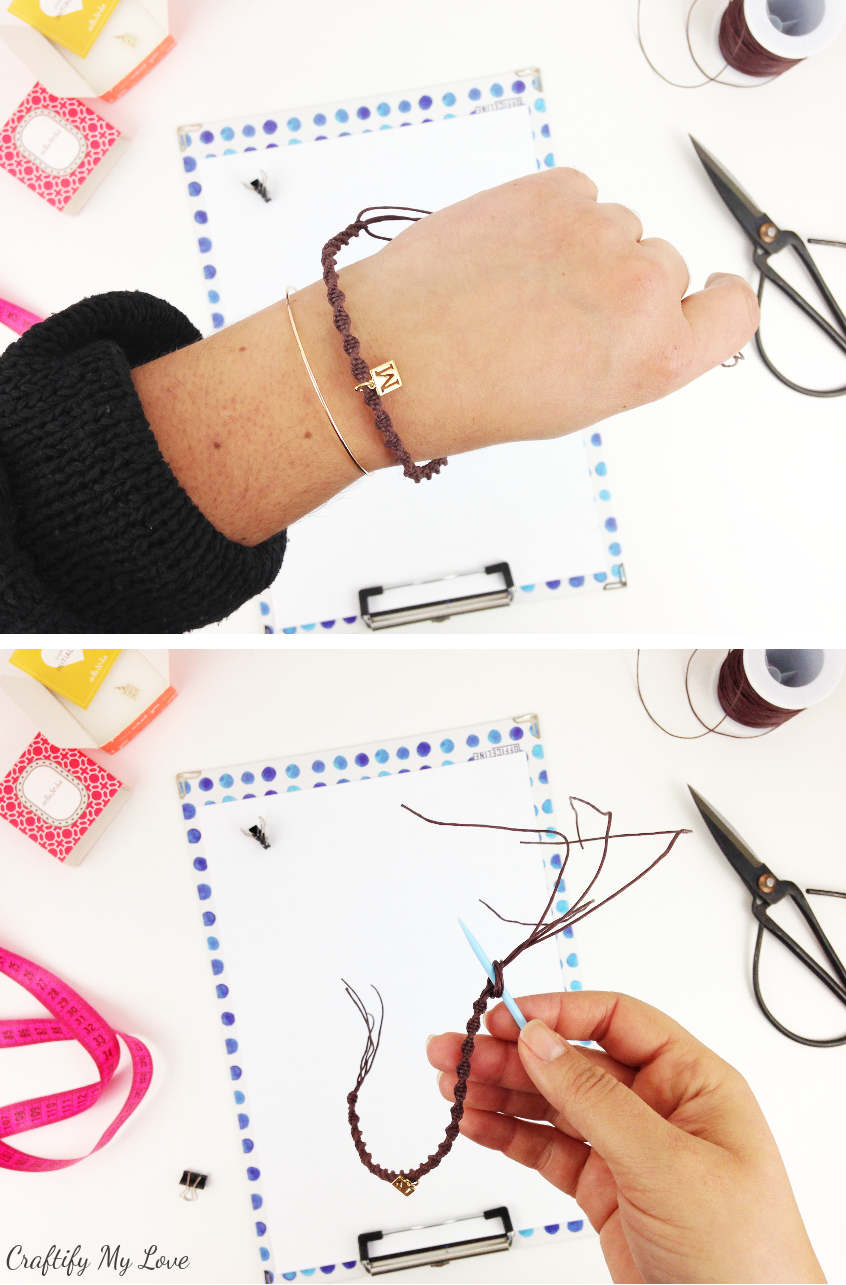 Simply make a regular overhand knot. By using an embroidery needle as a little helper you can easily guide or slide the knot to the very end of your knotted macrame spiral. You'll need to insert it into the knot before you pull tight.
You'll find an alternative method (and really my favorite) in the video tutorial where you'll end up with less loose ends.
5 – How to Make an Adjustable Sliding Knot Clasp using the Macrame Square Knot
I love to be flexible, so tying the bracelet around Markus' or my wrist with a permanent knot wasn't an option. I didn't want to have to invest in a store-bought clasp – aka there was simply no time to get one, lol. So I simply learned how to make an adjustable sliding knot clasp. I have seen and worn them a million times on those fun cheap bracelets I bought while on a beach vacation. Have you, too?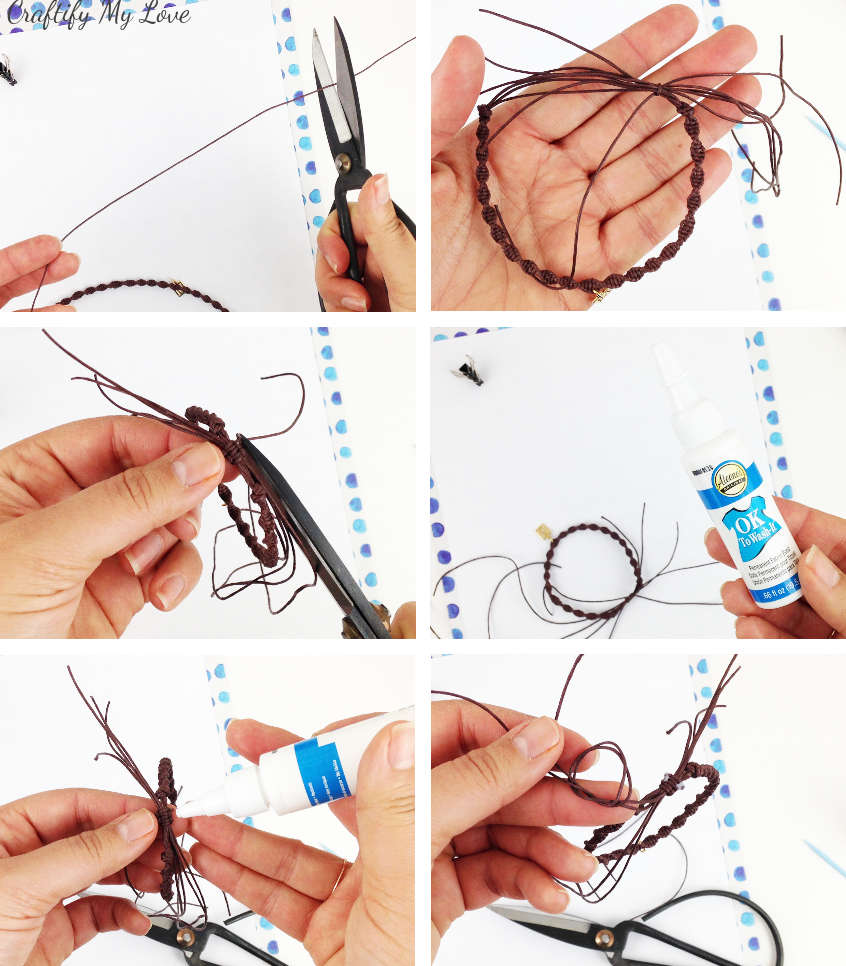 5 Simple Steps:
Cut a little over 30 cm / 12 inches of your cord.
Loop your work around your fingers and hold the ends of it parallel to each other. Place your cord in the inside of your bracelets middle and tie the first square knot (see how to in the video tutorial HERE) to the middle of the parallel ends of your work. Tip: If you don't pull as hard as for the bracelet knots, the sliding clasp will be easier to operate.
Repeat making square knots. The number will depend on how wide you want your adjustable sliding knot clasp to be. I'd say about 2 – 4 square knots.
Cut the ends of the cord you've used to tie the square knots closely to your work and dab them with washable fabric glue. Your adjustable sliding knot is complete.
To finish things up, you'll tie the two anchor cords together using an overhand knot and trim the ends.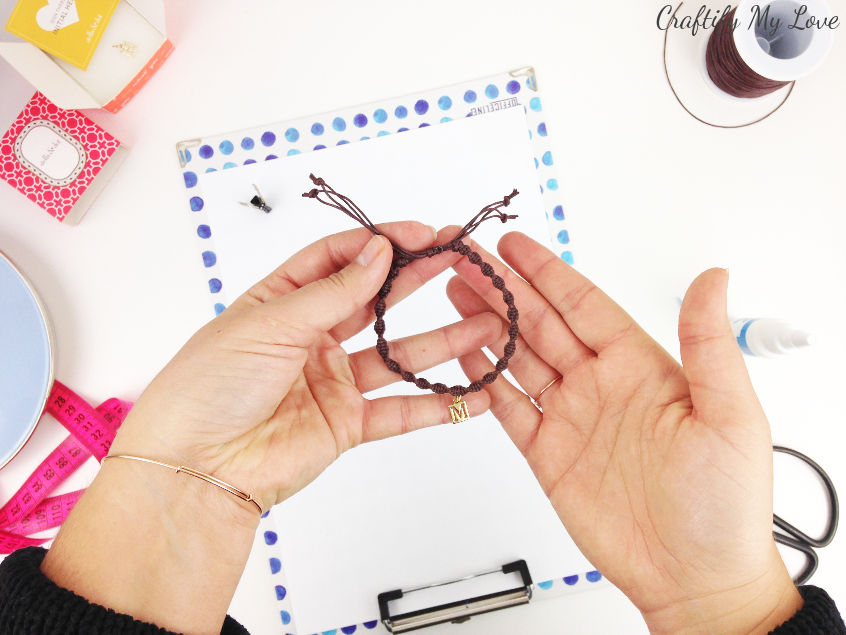 And you're done!
Remember that in my first try I ended up with four cord ends to each side of my bracelet. Check out the optimized version in my video tutorial. You'll end up only having two cord ends which means less mess on your wrist, lol.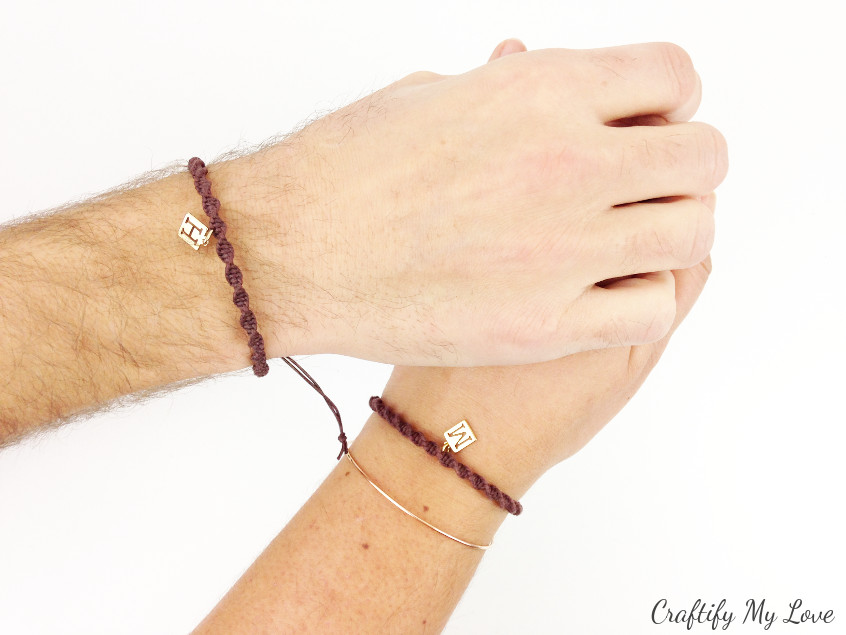 Don't you think that these macrame spiral bracelets look cute on our wrists? I think there is no need for a bulky bracelet on a man's wrist. Delicate DIY jewelry looks just as nice.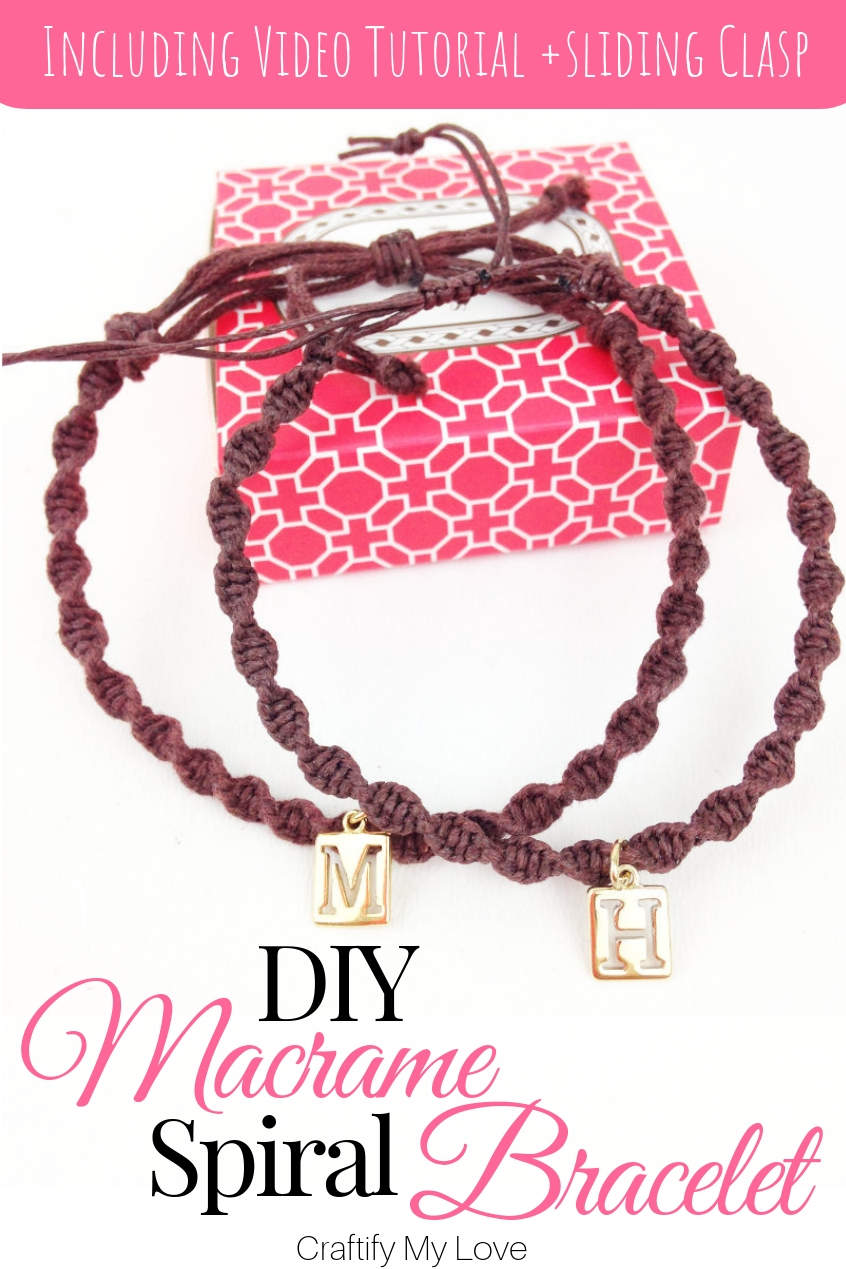 In case you are now totally into making your own jewelry (find all my tutorials HERE), make sure to check out these other tutorials I've put together for you:
Love,

PS: Don't forget to PIN this to Pinterest
Now let's see what other things Pinterest inspired! Head over and visit the other hosts to see what they crafted, cooked, built, or tried!
Erlene – My Pinterventures • Jenny – Cookies Coffee and Crafts
Debbee – Debbee's Buzz • Bri – Halfpint Design • Julie – Sum of their Stories
T'onna – Sew Crafty Crochet • Beverly – Across the Boulevard • Debra – Shoppe No. 5
Roseann – This Autoimmune Life • Cherryl – Farm Girl Reformed
Leslie – Once Upon a Time & Happily Ever After • Kelley – Simply Inspired Meals
Lydia – Lydia's Flexitarian Kitchen • Joanne – Our Unschooling Journey
Kristie – Teadoddles • Gail – Purple Hues and Me • Ashley – Emory Farm
Kristie – Love My Little Cottage • Crissy – First Day of Home
Habiba – Craftify My Love • Marie – The Inspiration Vault • Emily – Domestic Deadline
Lauren – Mom Home Guide • Maria – Simple Nature Decor
Alexandra – Eye Love Knots • Lynne – My Family Thyme • Terri – Our Good Life
Marci – Stone Cottage Adventures
Susan – SuzerSpace • Kim – Kimspired DIY • Pili – My Sweet Things
Kelli – K's Olympic Nest • Erin – The DIY Nuts • Shirley – Intelligent Domestications

Pinterest Inspired Projects