Want to learn something new today? I tried my hand at wood burning the other weekend and learned a ton that I am happily sharing with you today.
This little upgrade to a traditional German housewarming gift was literally made last-minute, right before Markus and I went to celebrate the new home of dear friends of mine. As I grew up with Tobias and consider him family, I wanted to gift them with something special and made by myself.
A traditional German housewarming gift
It is a German tradition to give bread and salt as a housewarming gift. As I am writing this, I just have read up on this a little more and learned, that it's also a traditional wedding gift and that it is actually quite common throughout all Europe.
Want to learn a German saying? I like that it rhymes. It translates similarly to this: "Bread and Salt – God preserve it!"
"Brot und Salz – Gott erhalt's!"
What does Bread & Salt symbolize as a gift?
This gift of bread and salt is said to ward off wicked spirits and offer fertility and prosperity. Back in the days both salt and bread were counted as staple foods. If there was bread, the family wouldn't suffer from hunger. Salt was used to preserve or conserve goods aka preventing bad things from happening. The fact that it was a very special and expensive good can symbolize added flavor and luxury to one's life.
Is there a tradition similar to that where you live? Let me know in the comments.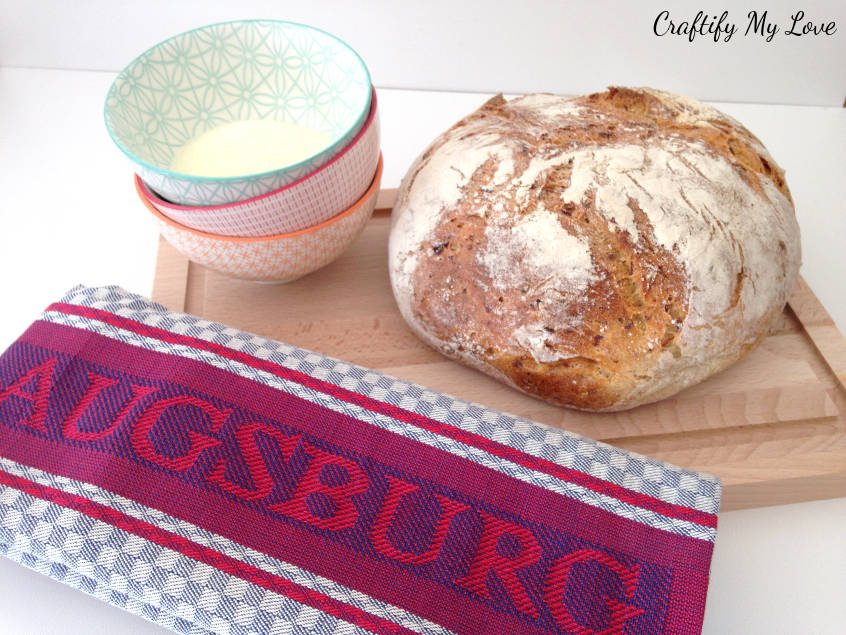 How to class up this simple gift idea?
In addition, you can extend the gift with a few extras, so that your friends will have a keepsake:
Nice bowl for the salt. I bought a set of three at a local shop that my friends can use to serve snacks when they are entertaining. I found similar ones HERE.
Dish towel to cover the bread in. Extra points if you find one that will be matching your friends' kitchen colour scheme. I found mine in our local weaving mill. The red-lettered Augsburg (which is the name of my city) is matching their berry colored accessories. And if you don't find one, simply DIY a Stamped Tea Towel.
Lastly, a Cutting Board for easy transportation and charming display. Continue reading to learn how to easily personalize it yourself using pyrography.
Pinterest Challenge
It wouldn't be a gift I made if it didn't include a little DIY. I learned about wood burning many years ago on Pinterest before I even had this blog (see alternate carving board decor HERE + kitchen utensils HERE). I found my inspiration for the saying of this darling housewarming gift on the same platform.
So, obviously, I needed to participate with it in this months Pinterest Challenge by my friend Erlene from My Pinterventures. I think you might have already guessed what this challenge is about: Don't just PIN a gazillion Pins but actually create the stuff that the pins you've saved are all about.
Want to see what projects I've actually made happen since I joined this fun group of bloggers?
Will you join next month's #pinterestchallenge? Click here to sign-up ⇒ November Pinterest Challenge
Please, make sure to check out all those other projects that became reality during this months challenge at the very bottom of this post.
Supplies to DIY a personalized cutting board
This post contains affiliate links. That means if you make a purchase through these links, I may receive a small commission at no extra cost to you! You can click here to read my full disclosure.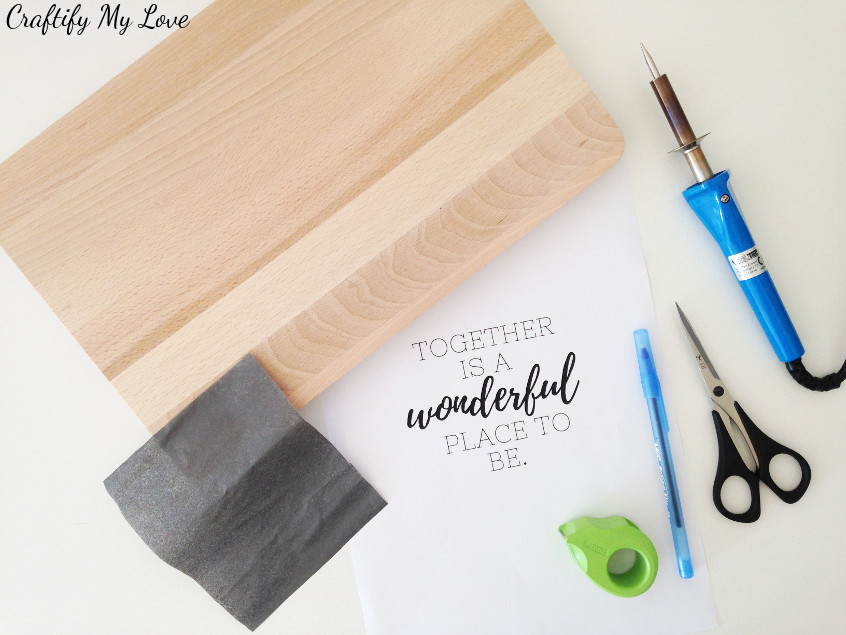 Basic Knowledge, Tips & Tricks on Pyrography or Wood Burning
Watch the process of wood burning in this short video. I'll be sharing with you everything I learned during this exciting DIY project:
And here are some Extra Tips on Wood Burning I didn't mention in my video:
Don't stay too long in one place or you'll end up with a deeper burn that will show.
Hold your wood burning pen as vertical as possible. After a while, the side of it will get very hot and burn parts you don't want to be burned.
Ask me how I know all of this, lol.
I can't stress this enough:
Please take your time & don't rush.
Don't freak out if it doesn't look like much during the process,
it will turn out to be a wonderful piece of handmade art. Promise!
Related:
How to Wrap a Gift + Tips on Bow-Making, Adding Gift Tags & Supply Storage
What wood to use for Wood Burning Art or Pyrography?
Softwoods with minimal grain are easier to burn than hardwoods. I've used a cutting board made of beech for this project and was very happy with it. Other ideal wood types are aspen, basswood, birch, oak, poplar, and pine.
What is Wood Burning?
It is the art of decorating wood (you can decorate other materials such as leather with the same technique, though) with burn marks resulting from the controlled application of a heated object such as a poker. It is also known as pyrography, pyrogravure, or pokerwork.
Step by Step Instructions for a Personalized Piece of Wood Burning Art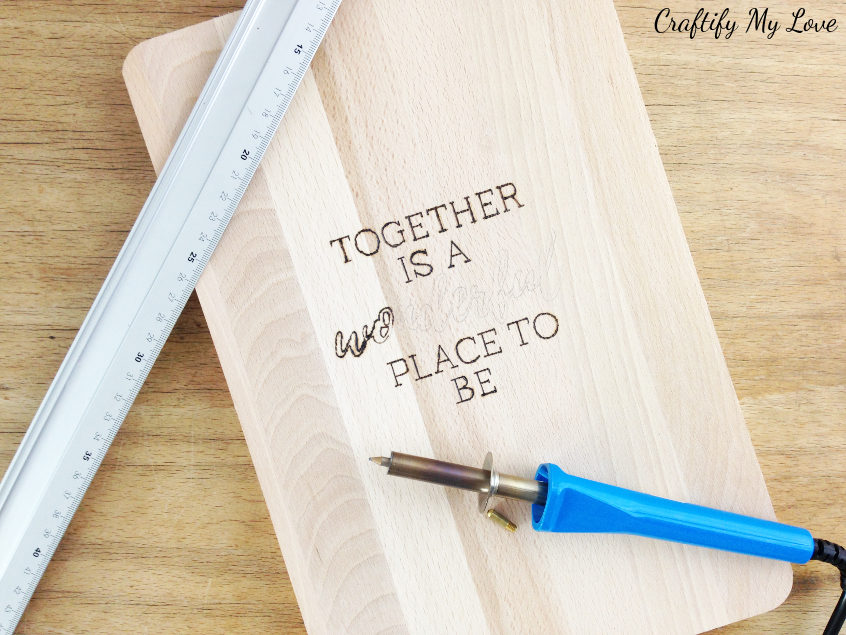 I intentionally placed the quote on the back of the cutting board. This way it won't get ruined during the use of a sharp knife. My friends will be able to place it against a wall when the board is not used and it will serve as a home decor for the kitchen in their wonderful new home.
If you are a visual learner – watch the video HERE.
Decide on a pattern/saying. Find inspiration on FaveCrafts.com or print mine HERE.
Print your template.
Tape a piece of carbon paper to the back.
Tape the template on your piece of wood.
Trace the template with a pen.
Make sure to apply enough pressure so the carbon will transfer your image to the wood.
Start burning your pattern into the wood with a wood burning pen. I am using this one HERE.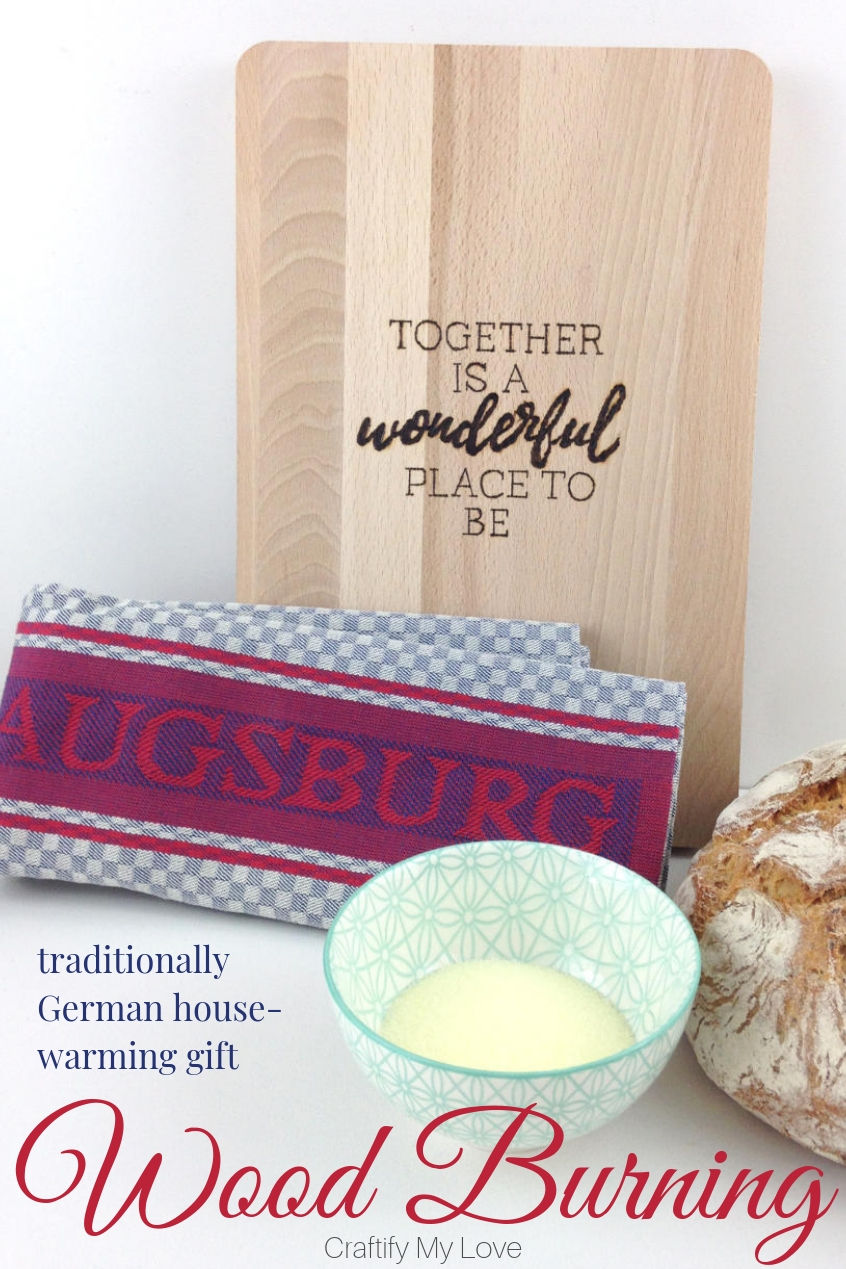 What design would you love to be burning into the wood?
Love,

PS: As this is a Pinterest Challenge, I CHALLENGE you to PIN this to your "To Make" Board and get crafty asap!
---
Now let's see what other things Pinterest inspired! Head over and visit the other hosts to see what they crafted, cooked, built, or tried!
Erlene – My Pinterventures • Gail – Purple Hues and Me
Kristie – Teadoddles • Lynne – My Family Thyme
Joanne – Our Unschooling Journey • Jenny – Cookies, Coffee and Crafts
Shirley – Intelligent Domestications • Debbee – Debbee's Buzz
Beverly – Across The Boulevard • Julie – Sum of their Stories
Chelsea – Making Manzanita • Katrin – Kreativ K
Michelle – Our Crafty Mom • Marie – The Inspiration Vault
T'onna – Sew Crafty Crochet • Chelc – Inside the Fox Den
Laurie – My Husband Has Too Many Hobbies • Alexandra – Eye Love Knots
Katrin – Nothern Feeling • Emily – Domestic Deadline
Terri – Our Good Life
Leslie – Once Upon a Time & Happily Ever After
Roseann – This Autoimmune Life • Toni – Girl, Just DIY
Kelley – Simply Inspired Meals • Lauren – Mom Home Guide
Debra – Shoppe No.5 • Lydia – Lydia's Flexitarian Kitchen
Susan – Suzer Space • Habiba – Craftify My Love