I enjoy so many crafts and creative techniques that I have a ton of craft supplies and tools in my home. As you might guess, I am always in need of storage and it is a plus, when the storage matches my home decor. Being a creative person, I simply make my storage match my decor as I did with this stenciled wooden storage box.
I give myself extra points if I can make my projects happen on a very small budget. So trips to the thrift store or walking through my life with open eyes (always on the lookout for precious road side finds) is a must for me.
I am using this box to store the yarn for current projects and my crochet supplies & tools. Right now, there is a giant pile on my box as I am in super crocheting mood as the temperatures are dropping and the days get shorter. I even sat down and poured my crochet knowledge into a Free Crochet Course for Beginners HERE.
Related:
Thrift Store Upcycle
One day I stumbled over this sturdy wooden box in one of my local thrift stores. I am always flabbergasted at the prices. This hardwood box only cost 50 Cents and I know I will have it forever!

Even More Thrift Store Finds & Creative Ideas
Can you see the doilies in the box? I got them for 50 cents each. I picture some darling grandma sitting in a comfy chair in the sun happily crocheting away. It was a must saving them and giving them a second life.
I am planning to upcycle t-shirts or a blouse with them or making a DIY table runner. I dedicated two for my stenciling projects and made this kitchen utensils holder for my little sister.
Follow my Pinterest board for more inspiration in the future.
Thrift Store Challenge
I love connecting with like-minded people, so naturally I love participating in the monthly Thrift Store Challenge, hosted by Angela.

The Rules:
Upcycle an item(s) from a thrift store, resale store, or garage sale into a new piece of decor.
There's no monthly theme.
There's no budget to stick to.
Meet the Hosts
Angela | Simply Beautiful by Angela
Gail | Purple Hues and Me – Marie | The Inspiration Vault
Michelle | Our Crafty Mom – Jenny | Cookies Coffee and Crafts – Victoria | Dazzle While Frazzled
Habiba | Craftify My Love – Debra | Shoppe No. 5
Make sure you follow our board on Pinterest for more upcycled decor inspiration!
Make sure to check out the thrifted creations my friends made, at the end of this post.
How to make a stenciled wooden storage box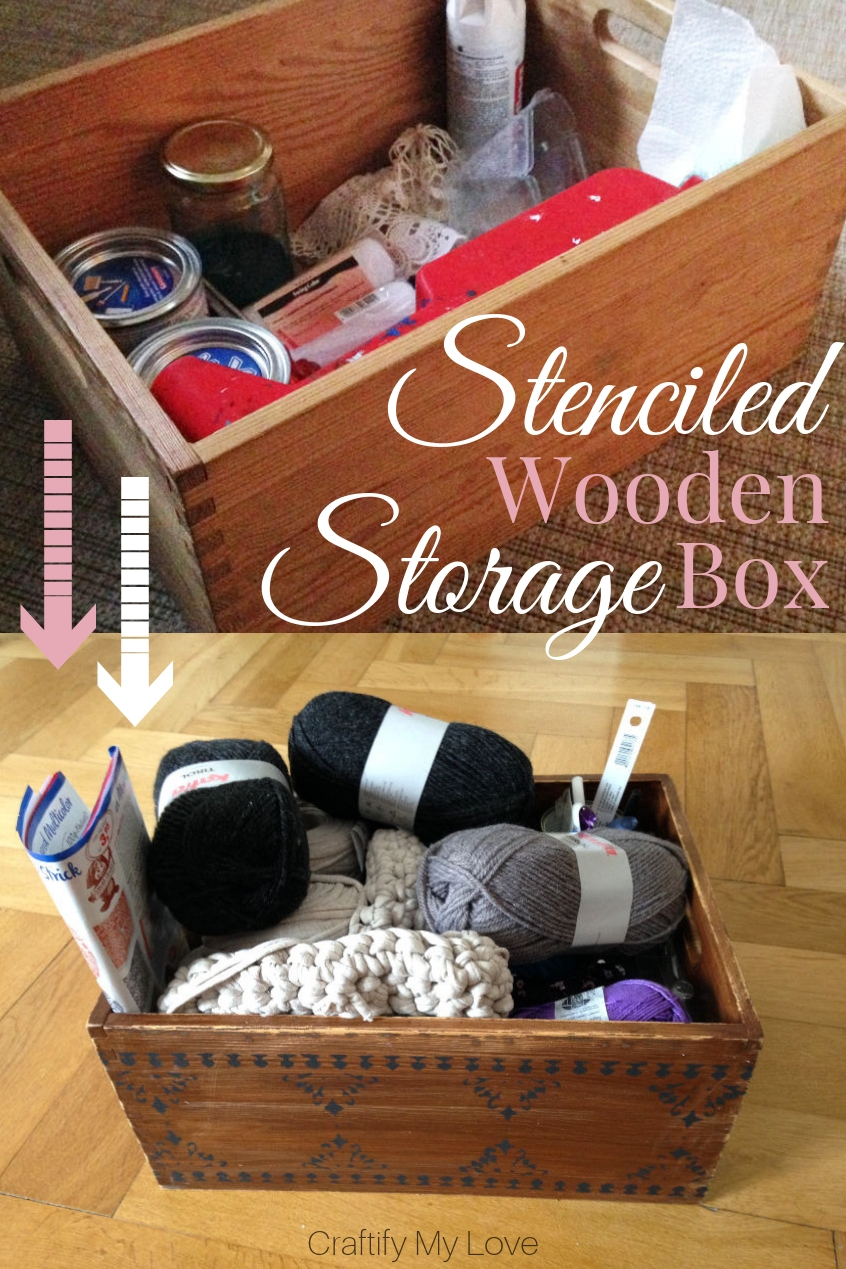 Supplies to Stain & Stencil
Wooden box
Paint or stain if you want to change the base color (I used stain from my local home depot in walnut)
Stencil (mine is called Marrakesh) and Stenciling Supplies (read up what Stenciling Supplies I love to work with HERE)
Sanding paper if you want to distress the box a little
Step-by-Step Instructions
Clean your thrift store find thoroughly.
If need be, prepare the surface before painting using sanding paper and/or a sander. I didn't as my box was from untreated wood.
Paint or Stain your box if you want to give it a new base color. I used walnut to match my other DIY furniture.
Let dry.
Decide on a stencil design and start stenciling. Grab your Free Guide to all the Must-Knows about Stenciling HERE.
If you like the look, grab your sanding paper and distress in places that would naturally wear off.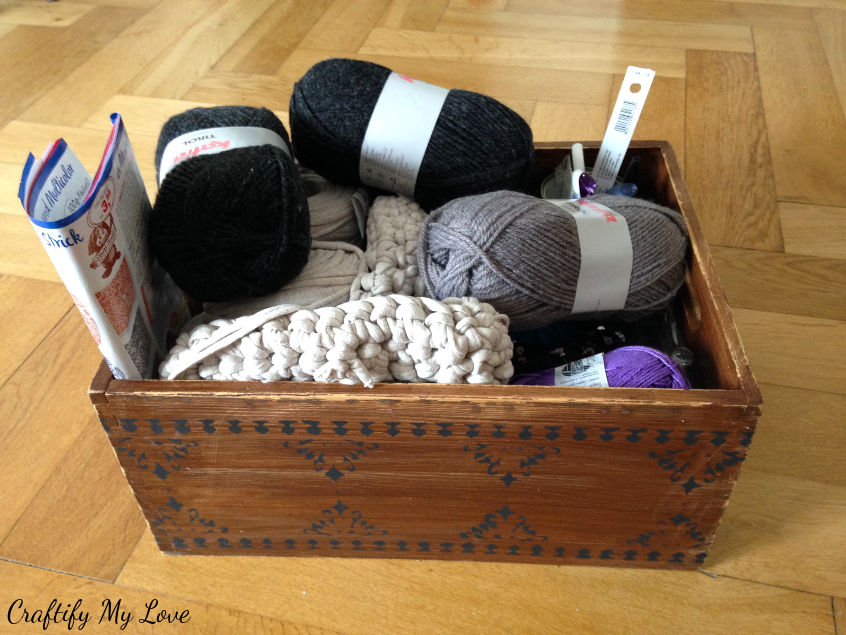 Voilà, there you have it! Doesn't it look nice?
I think it matches my boho-industrial-farmhouse design (I learned about my decor style combination from the DIY Mommy) I have going on in my living room, perfectly.
What would you be storing in a box like this? And are you a crocheter, too?
Related:
Love,

PS: Don't forget to PIN this.
Learn everything about Stenciling Supplies: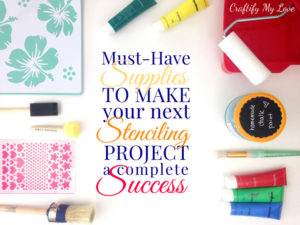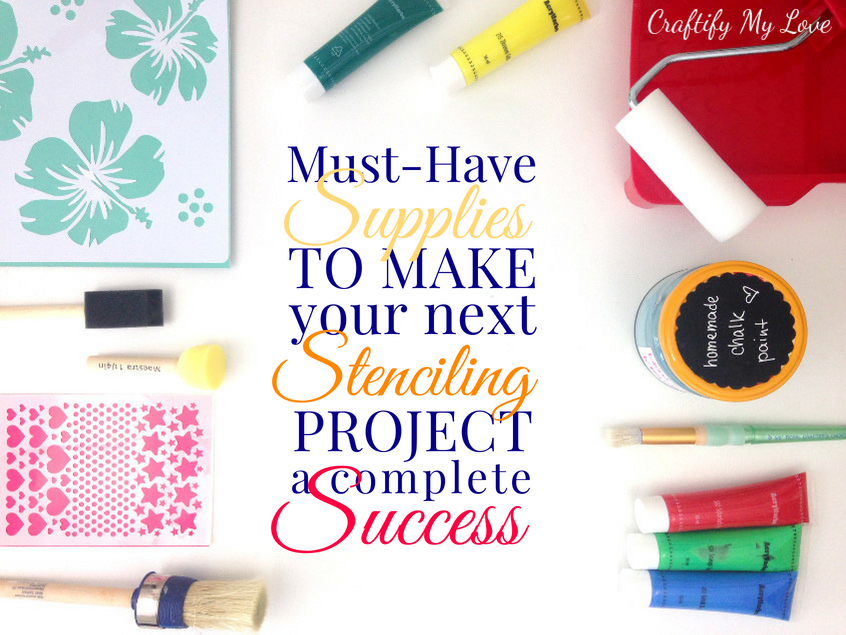 How to Use a Stencil the Right Way: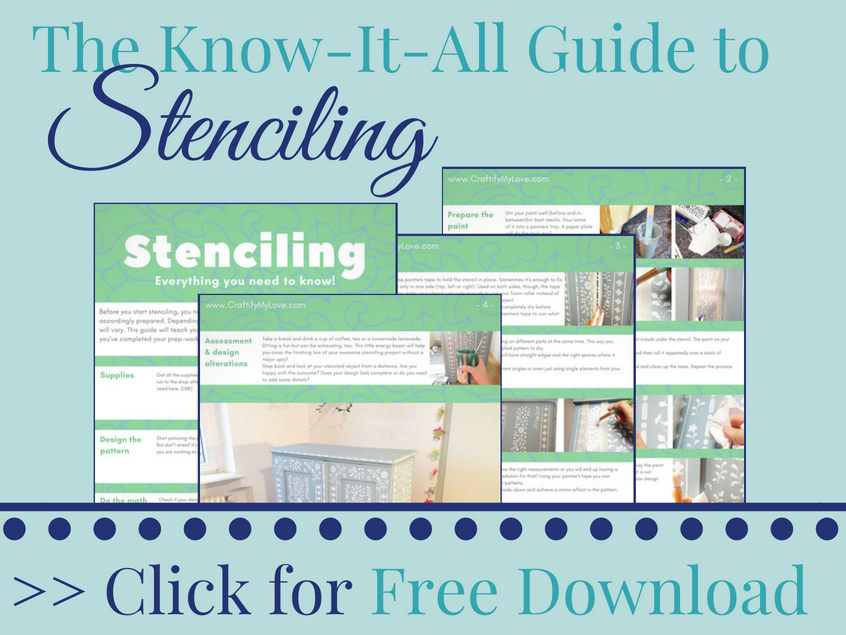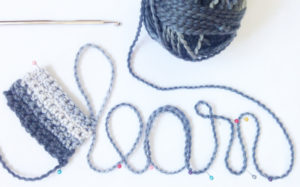 ---
And now for more thrifty goodness!
Check out what my fellow upcyclers created below!