I'd love to show you how and explain why I did the IKEA Hack TARVA for my living room:
I love to travel and experience various cultures. But I also love to be at home. I try to mix the two things I love (almost) the most by bringing souvenirs home from my travels to decorate my apartment. Also I like to find furniture that isn't of the rack. After all I am UNIQUE and don't want my home to look like everybody elses, right? I aim to find treasures on flea markets, and in thrift stores or charity shops, and I even found some gorgeous things in the trash which only needed a little TLC in order to find a permanent spot in my beautiful home. The saying 'One mans trash is another mans treasure!' is right, after all.
Related: Read up on those must-have stenciling supplies HERE
But what if you can't find furniture for (almost) free that you like?
Then you go find a cheap alternative and start DIY-ing! That's what.
In my case I was looking for a tall but not wide chest of drawers because I have a dead space behind my living room door and I am always in desperate need of room for storage! I think I suffer – like probably all craftaholics out there – from a big hoarding problem?. You guys, I have sooooo many crafts supplies it sometimes scares me?!
But back on track, here: So I decided to do an IKEA Hack TARVA, which is a chest of 5 drawers, obviously by our Swedish friend IKEA.
The how to: IKEA Hack TARVA
TARVA is made of untreated pine and thus ready to go! No sanding peeps!!!! Hooray!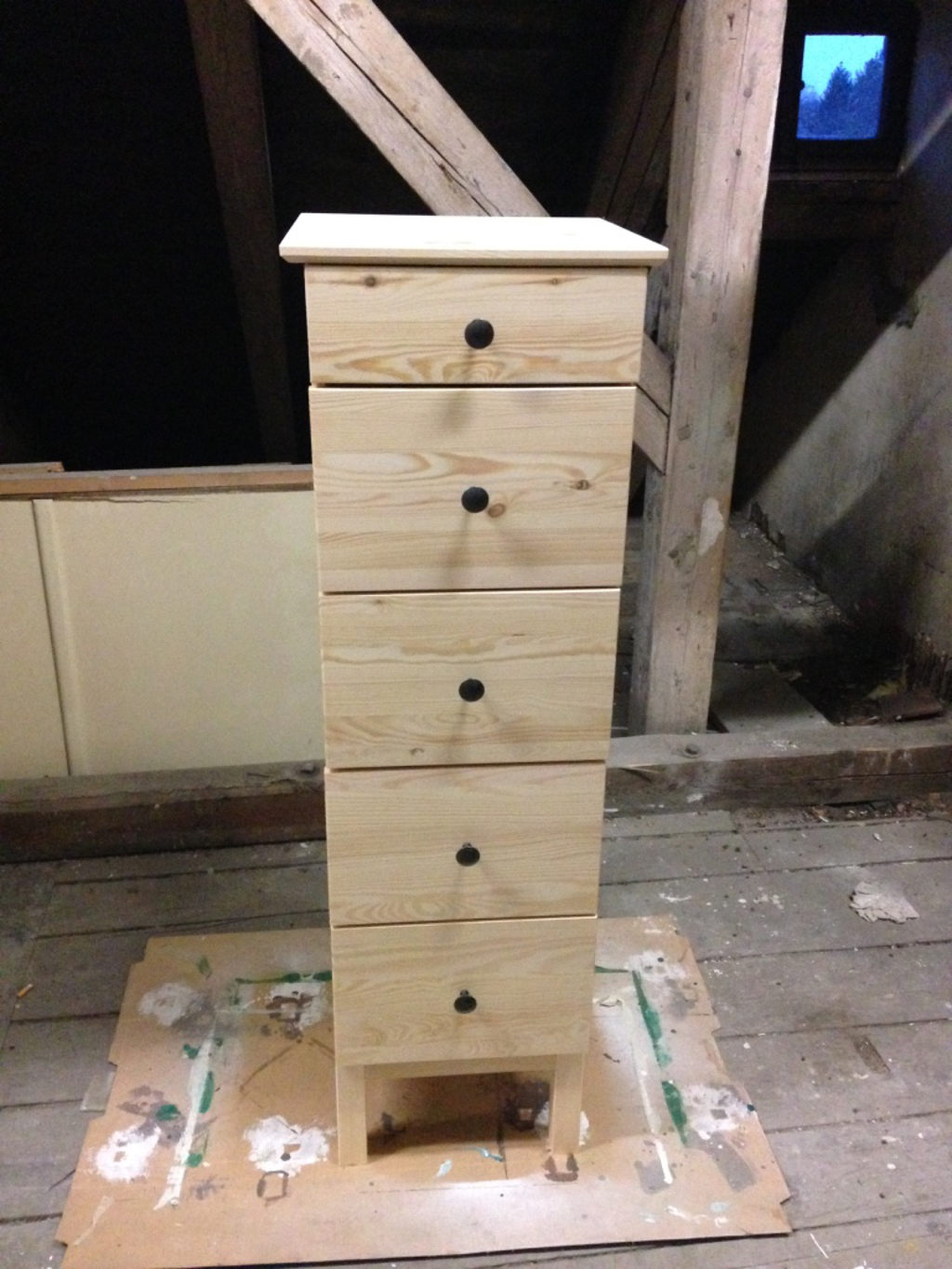 Also I was desperate to try out a set of stencils I got from my American friend Yvonne. And oh my, what a fun and affordable way to redecorate, right? Lately I discovered that by stenciling you can create wonderful patterns and achieve an all together different, and in my case, oriental inspired look, that matches my living room perfectly. Also stencils aren't that expensive, you can swap them with your craft buddies, and you can reuse them for various projects, too – soooo they're extra fun!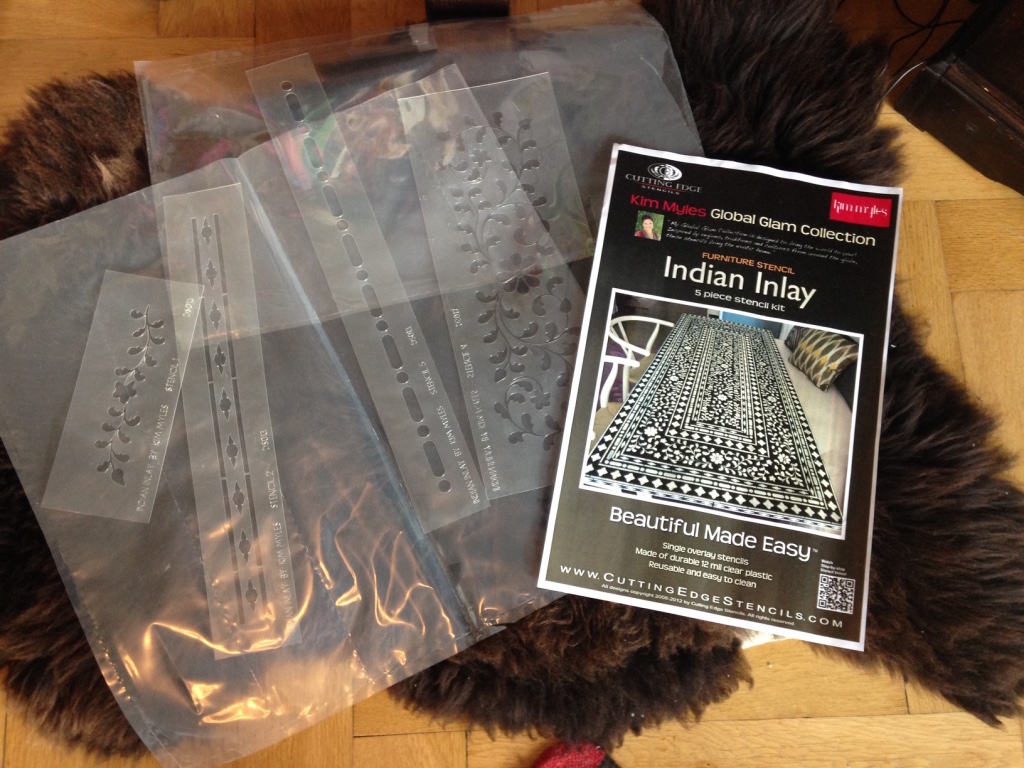 As I never seem to have enough space to store all my crafting supplies and clothes, I simply figured:
New chest of drawers to the rescue, please! And started planning this project!
The supplies you'll need
TARVA chest of 5 drawers, by IKEA
HEDRA knobs, by IKEA (3 packages, 5 knobs)
Stain (I used

walnut and did two layers)
Brush (I'd say 5 – 8 cm to apply the stain)
Black acrylic paint
Stencil (Indian Inlay from Cutting Edge Stencils)
Stencil Tools (Dense foam 4″ roller, Natural 5/8″ White Bristle Stencil Brush, Clip-on Stencil level)
Painters tape
Wet wipes (for correcting mistakes)
Paper plate or paint tray
Paper towels
Measuring tape
Rubber gloves (if you want to protect your hands from getting all messy)
Old newspaper or painters rug to protect your workspace
Related: Everything you need to know about stenciling + more fun Stenciling Projects you will love.

Easy step by step instructions: IKEA Hack TARVA
Assemble your TARVA according to directions.
ProTip by Habiba
Either leave the drawer rails to apply for later OR protect them with a little painters tape before staining your chest of drawers. If you mess them up anyways, you can clean off the stain with a paper towel. I tried! No harm done!
Stain all (now, this is a lazy-girls tips I apply all the time?: visible) surfaces until you're happy with the outcome. I did it twice. With letting it dry in between for 24 hours.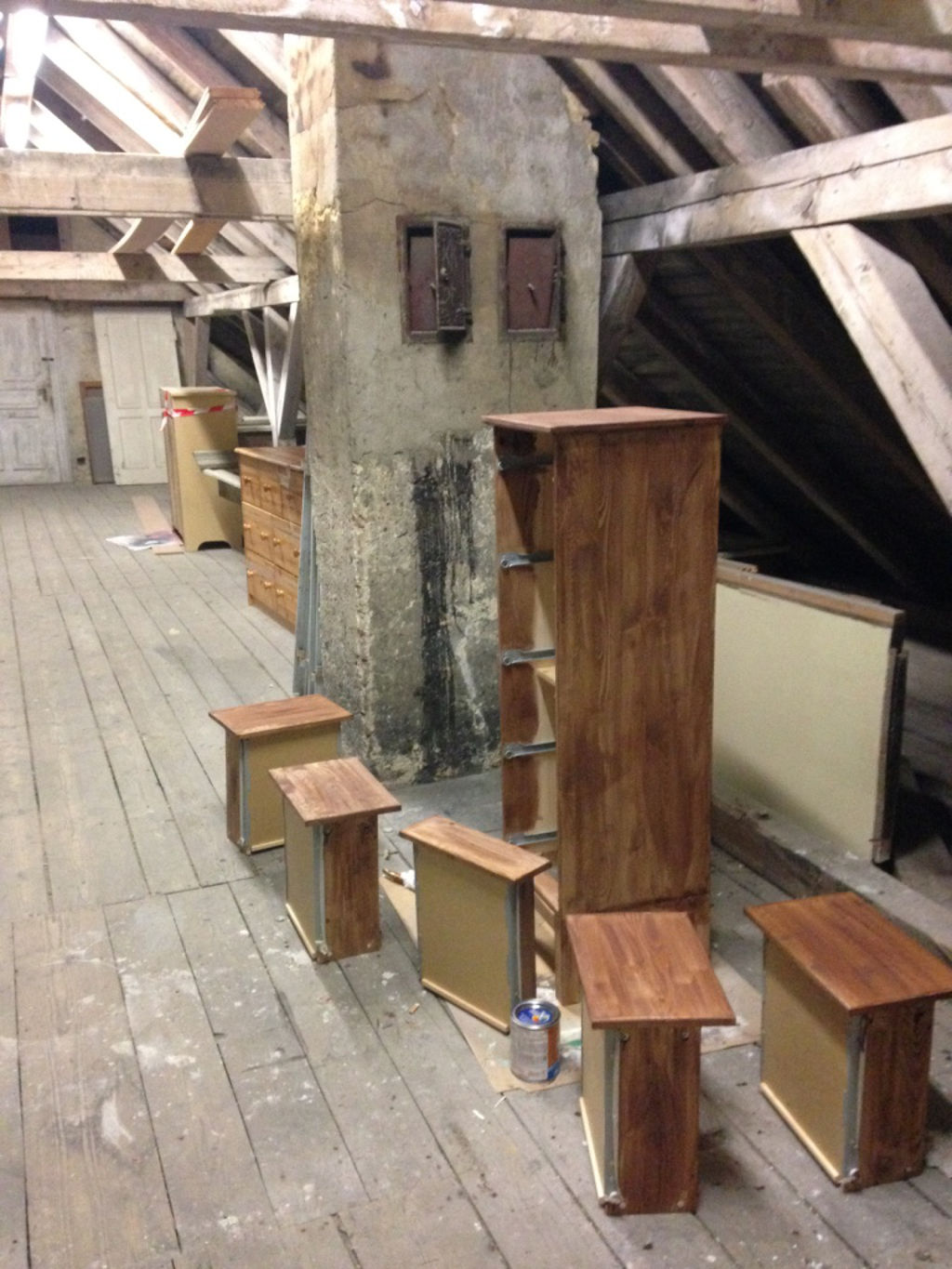 Can you see my next two projects of up cycling in the background? They keep yelling at me: Get.To.Work!!!
After this step I brought the chest of drawers from attic (this is where I do the messy stuff lol) to my living room. Because, man was it freezing cold up there and I already had a little cold. The light is not good either and there is no TV to keep me company while crafting ?? – also I was fairly sure the messy part was done!
Now – if you're not already a pro in how to use stencils, you really might want to invest a couple of minutes now!
Learn all there is to know about stenciling in my FREE Guide on How To Stencil Like A Pro HERE. It is a thank you for subscribing to my newsletter.
Decide on the way you want to apply the pattern, as this stencils come with 5 pieces.
And then stencil happily on! For the wider pattern I used the foam roller and for the more delicate parts the stencil brush. Just make sure to get rid of any excess paint before starting or else your pattern will 'bleed' through.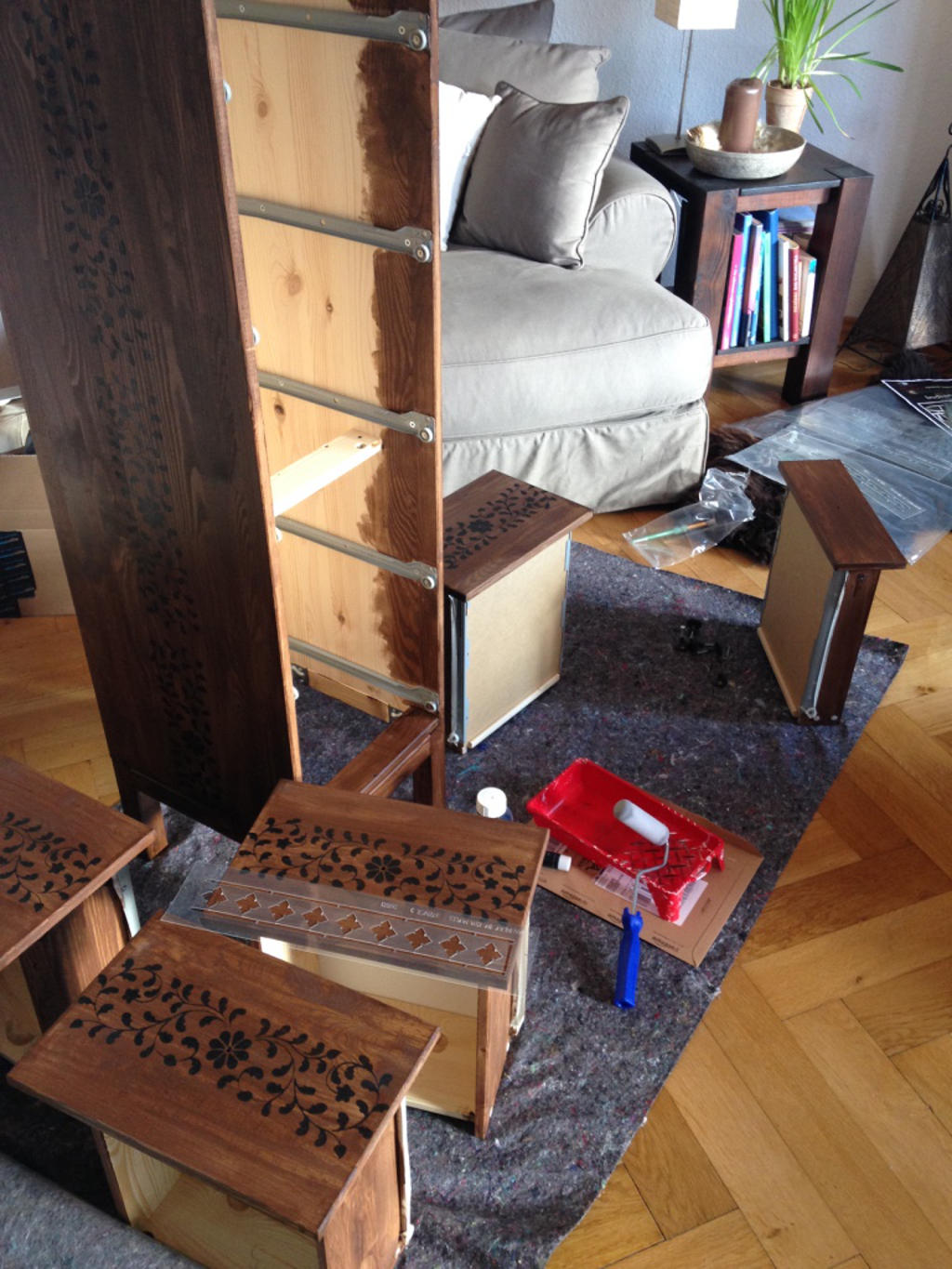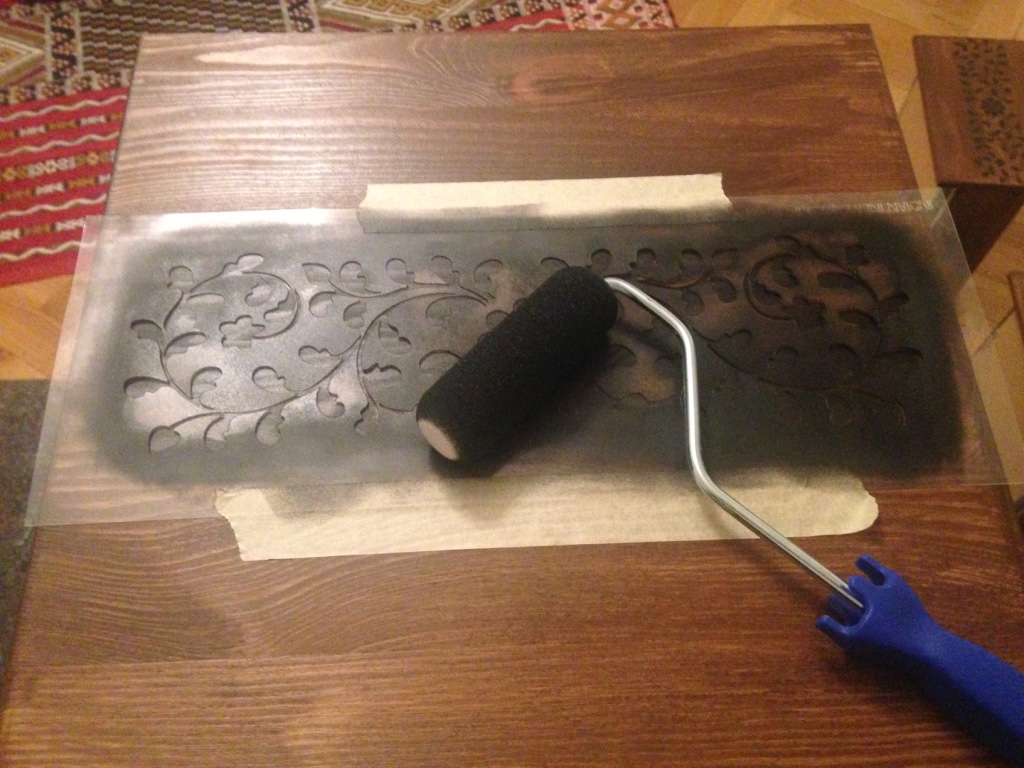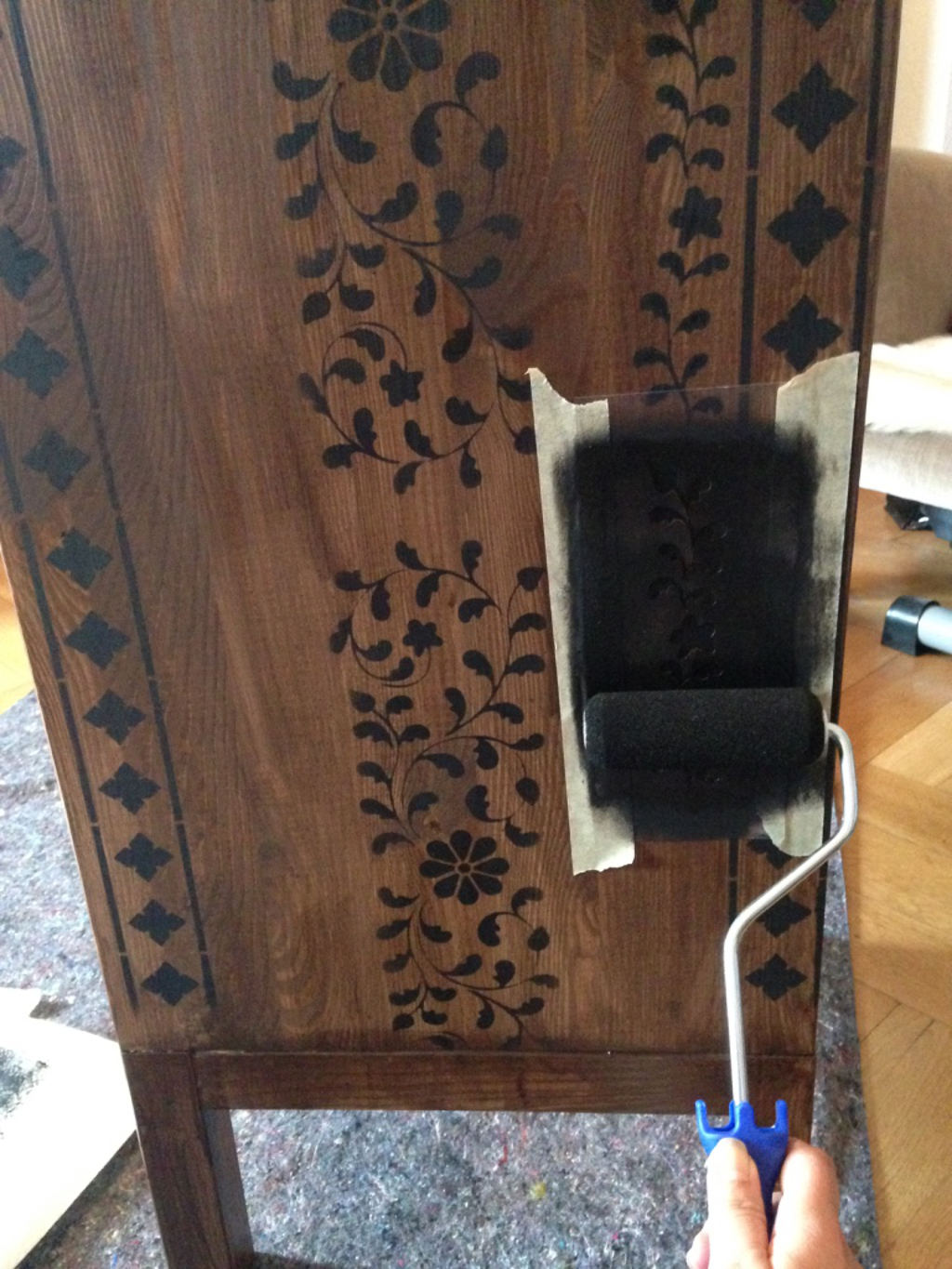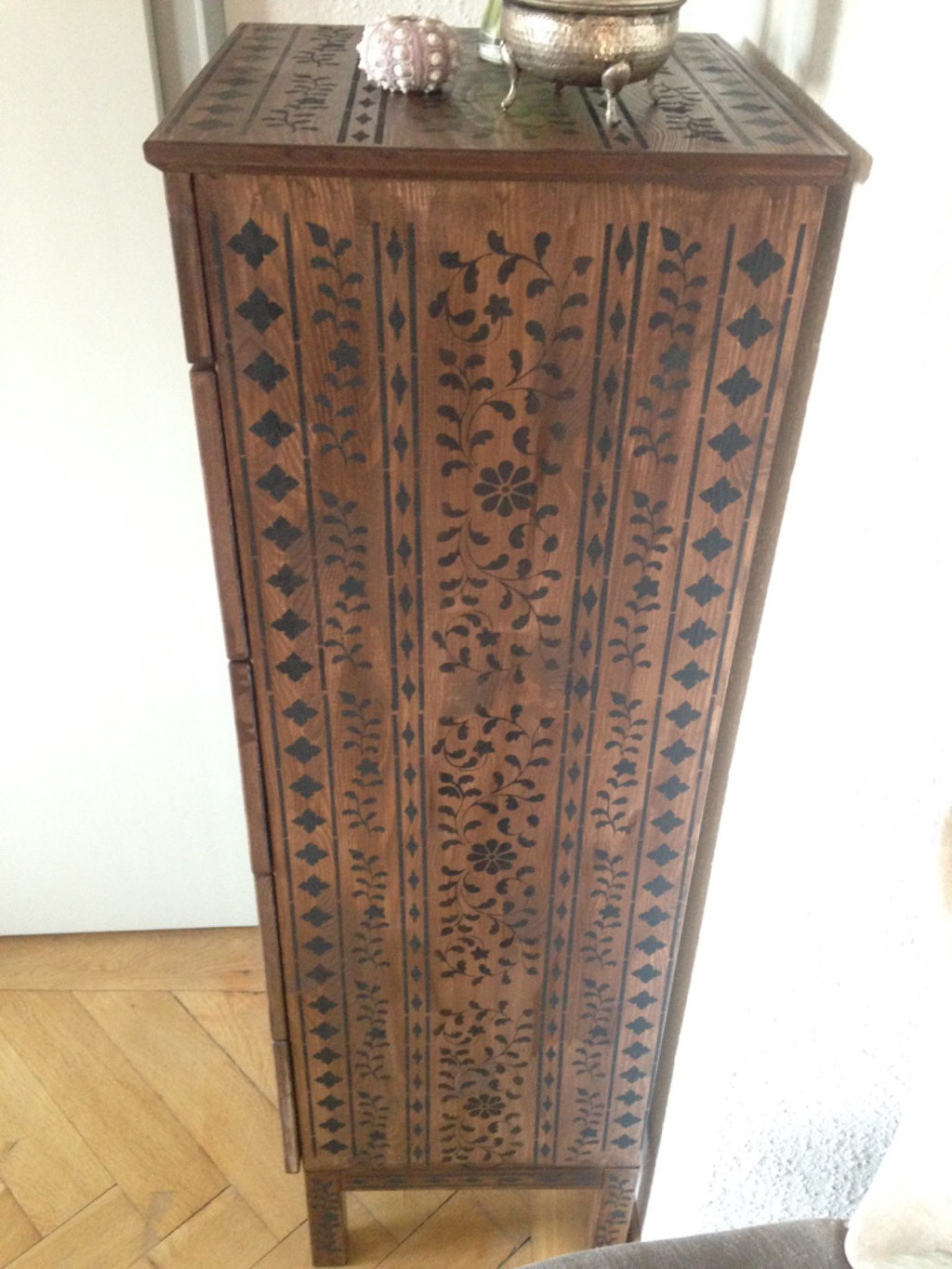 Clumsy, anyone?
Don't worry if you accidentally dab next to the stencil or get residue paint under the stencil and smear it all over your TARVA (it happened to me – #palmtoface you guys!!!). If you get a wet wipe quickly, you'll be able to literally wash your mistake off the wood. #highfive #phewluckyme
Either apply the drawer rails now OR get rid of the painters tape (depending on your previously made decision).
Fix the knobs to the drawers.
Aaaaaand you're done!
Now step back and admire your wonderful creation!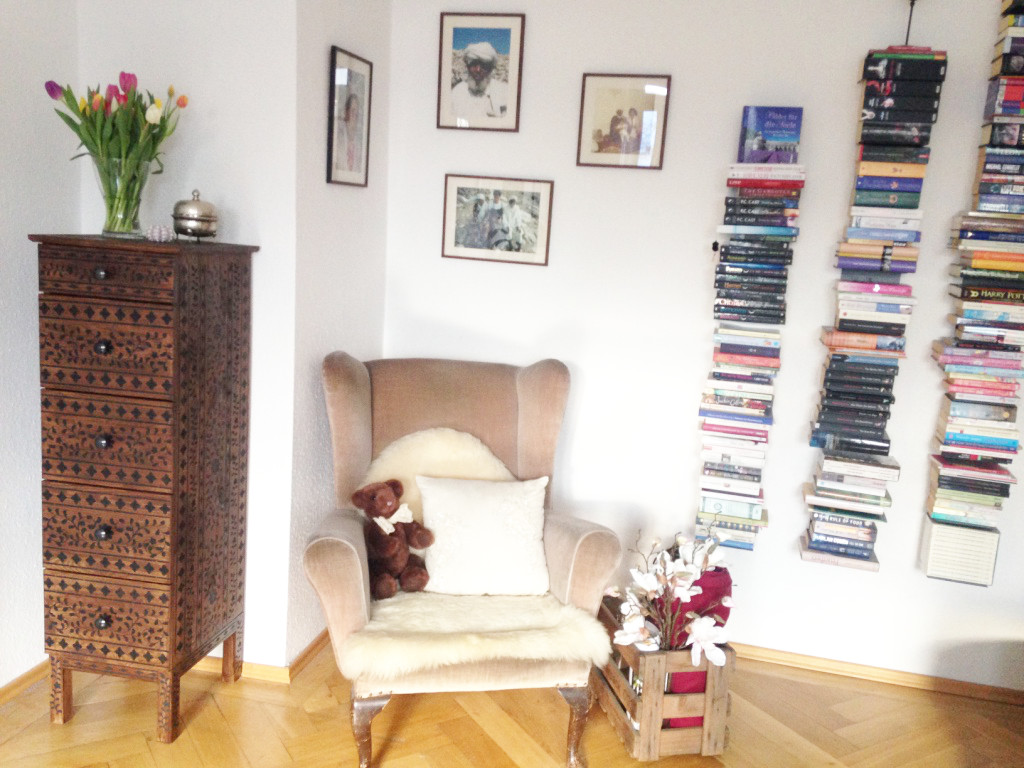 I love my very unique new piece of furniture!
And let me tell you: My oriental inspired IKEA Hack TARVA was full to the brim within minutes and my apartment a little bit more organized – whoop, whoop!
How about you? Are you planning on making an IKEA Hack or have you already mastered one? Tell me all about it!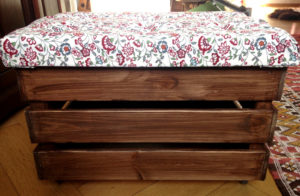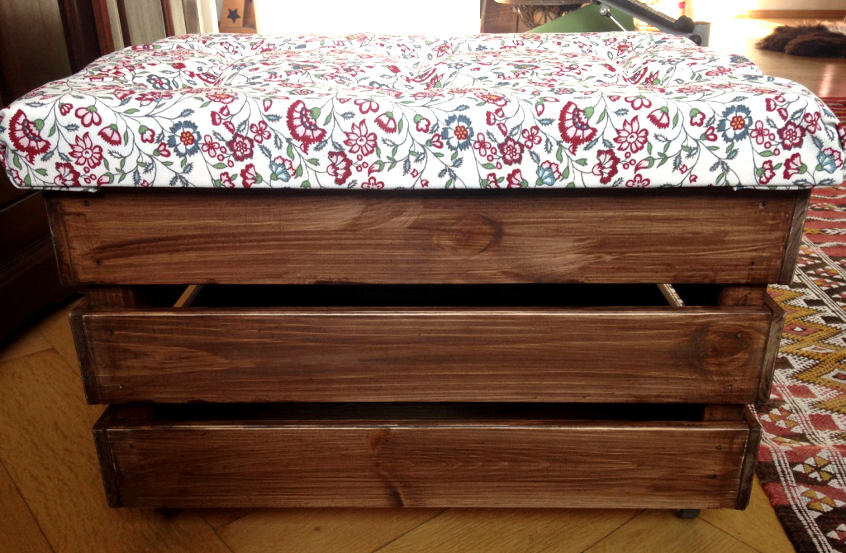 IKEA Hack – Tufted Storage Ottoman


MerkenMerken