This Mandala Colouring T-Shirt makes for a perfect summer activity for your kids (and maybe even yourself). My mom and I love Mandalas and my mum especially loves getting creative with mandala colouring pages and post cards.
Pinterest Challenge Blog Hop – I always find great inspiration and free colouring pages on Pinterest so I figured this would be the perfect thing for Erlenes monthly Pinterest Challenge. Learn more about this challenge, who is participating this month, and find lots of inspiration in my fellow creatives projects at the end of this post!
I made one shirt for my mom to lift her spirits as she is in hospital at the moment, and a shirt each for my darling god-daughter and her sister. They are spending their summer vacation in Italy and I thought they might enjoy a little colouring action whilst quiet time during siesta or in case of a rainy day.
As soon as I have pics of their wonderful creations, I'll make sure to share them with you. Follow me on Facebook so you don't miss out!
Now, do read along to learn how to either make a shirt on your own, where to buy one if you don't feel like DIY-ing, and some great tips & tricks on how to uniquely design your DIY mandala shirts.
Supplies to DIY a Mandala Colouring T-Shirt
This post contains affiliate links. That means if you make a purchase through these links, I may receive a small commission at no extra cost to you! You can click here to read my full disclosure.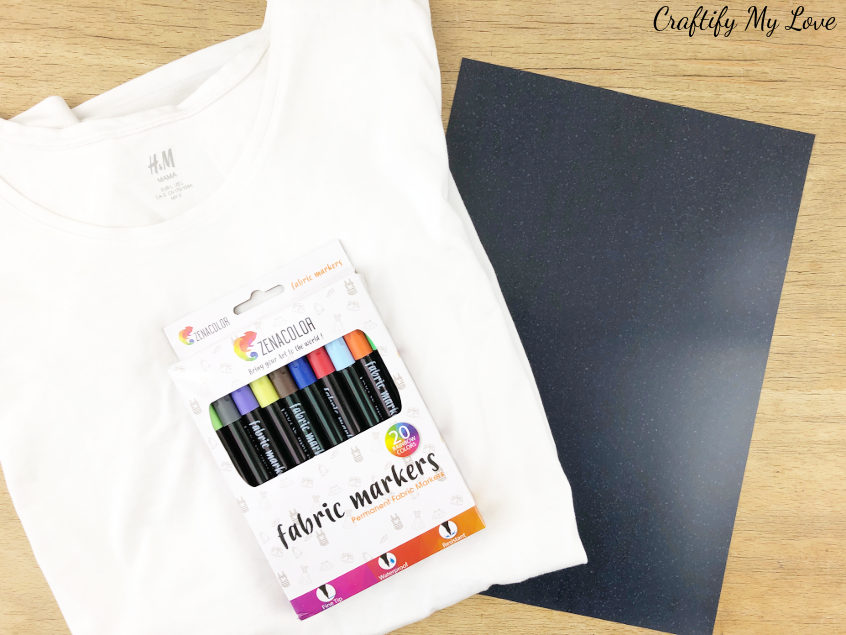 If you don't feel like making the colouring t-shirt yourself (there is only so much time in a day to DIY things, right?), but still want to enjoy the fun activity of designing your very own colourful Mandala T-Shirt, I've got you covered:

Make sure you have fabric markers or fabric paint & brushes at home!
A Mandala Colouring T-Shirt makes for a FUN Summer Activity or Gift Idea
You have two options:
DIY your very own unique colouring t-shirt with a Mandala Design of your choice (find several HERE).
Buy a Mandala Shirt HERE if you're on a tight schedule or don't own a cutting machine.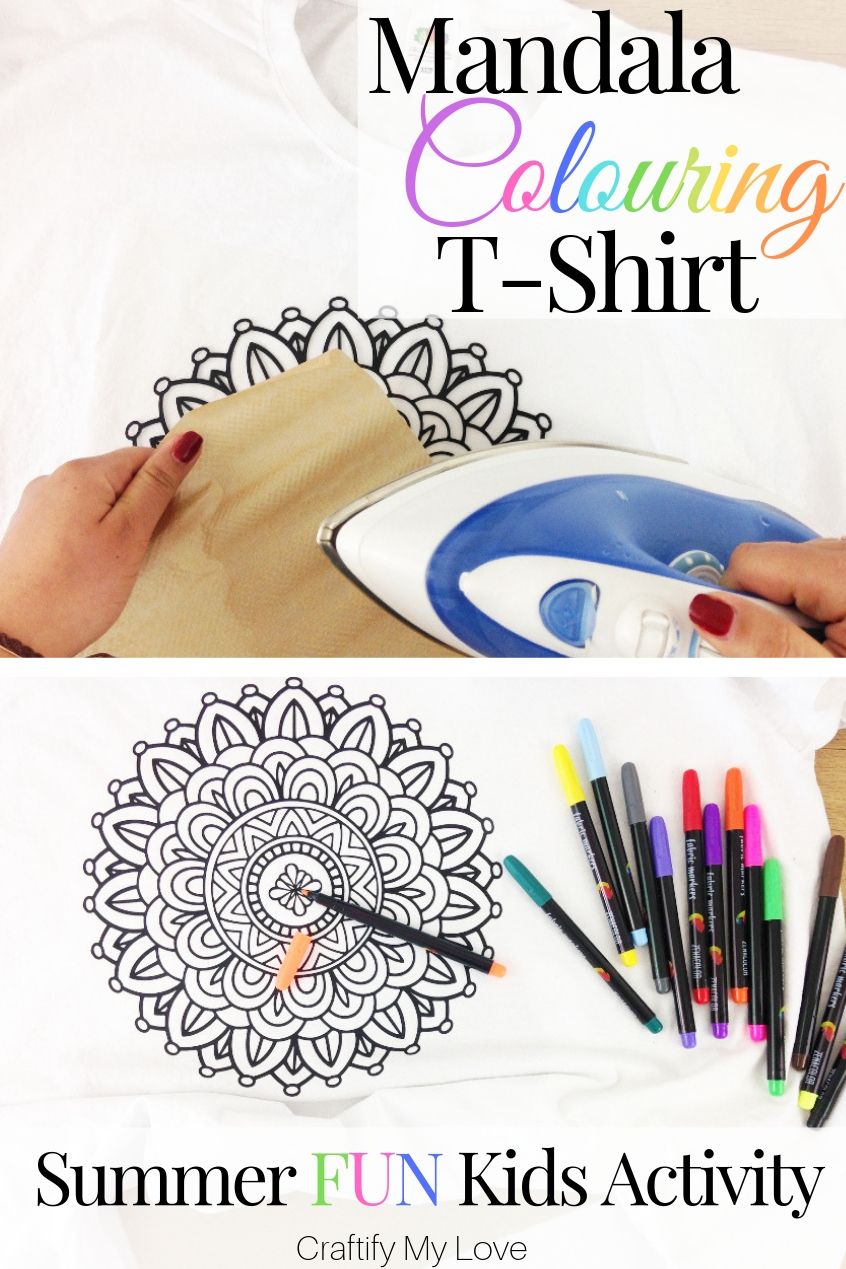 How to DIY a Mandala Colouring T-Shirt using a Cutting Machine
Let me explain to you in detail the 4 necessary steps:
1 – Prepare the Mandala SVG Cut File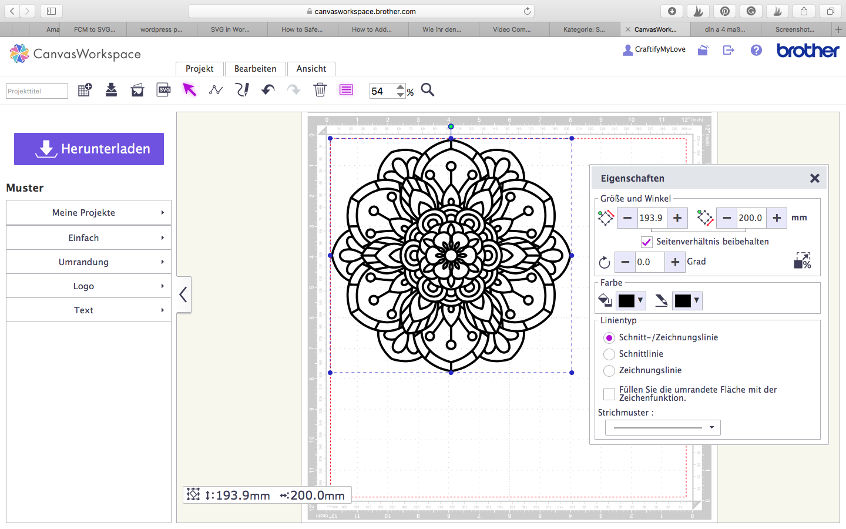 I have a Brother ScanNCut, but you can use any cutting machine (such as the Cricut Maker, or a Silhouette).
Find a mandala design of your choice (you'll find several nice ones for FREE here),
upload it to your cutting machines design space,
resize the image accordingly to the measurements of your shirt, and
start the cutting process.
2 – Cut out your Mandala Design with a Cutting Machine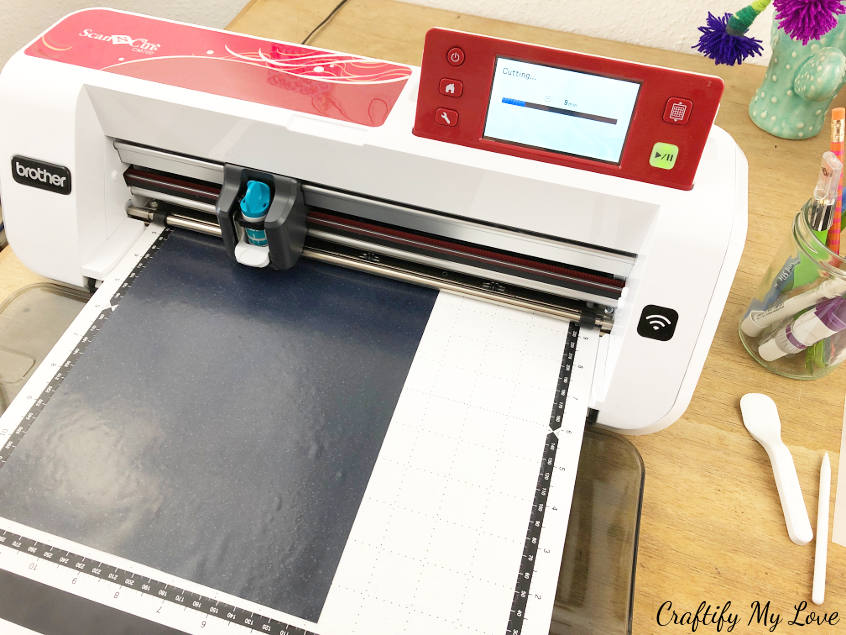 Make sure to use iron-on vinyl and to place it into your cutting machine with the right side up (I always need to think real hard which one that is, lol). Also, I think you'll achieve the best results using a black one, but I guess any dark colour would do.
Use whatever you have at hand to save you some bucks.
3 – Weeding your Cut-Out: Therapy or Nuisance?

Now, as for the weeding part: This might take a while!
If you are not prepared to invest that kind of time (especially if you have several kids you are planning to occupy with this summer fun activity) you could always buy my ready-made colouring shirts HERE. I made sure to choose a design that is not too delicate so it will work on smaller kids shirts as well as on adult ones.

4 – Transferring the Design onto your T-Shirt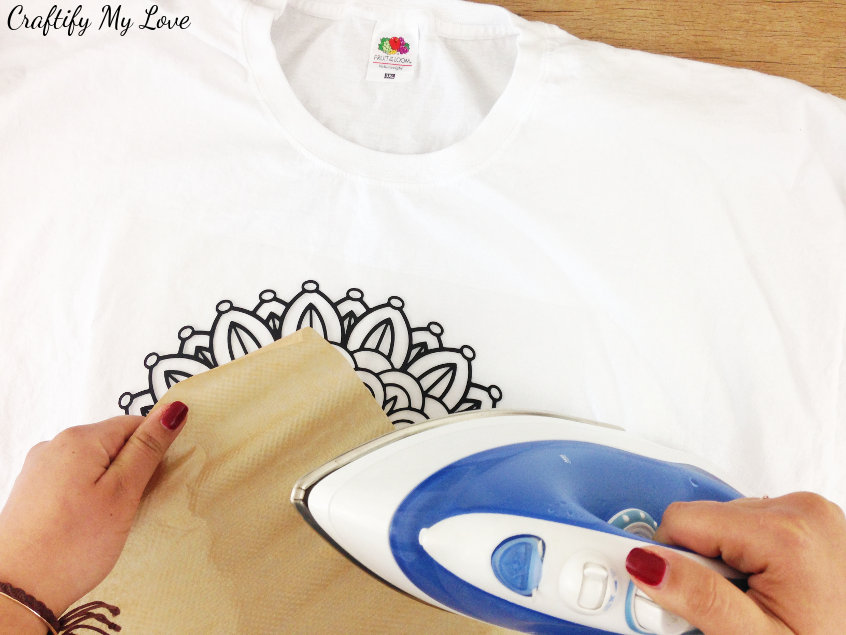 Nifty Hack to DIY Girly T-Shirt Sleeves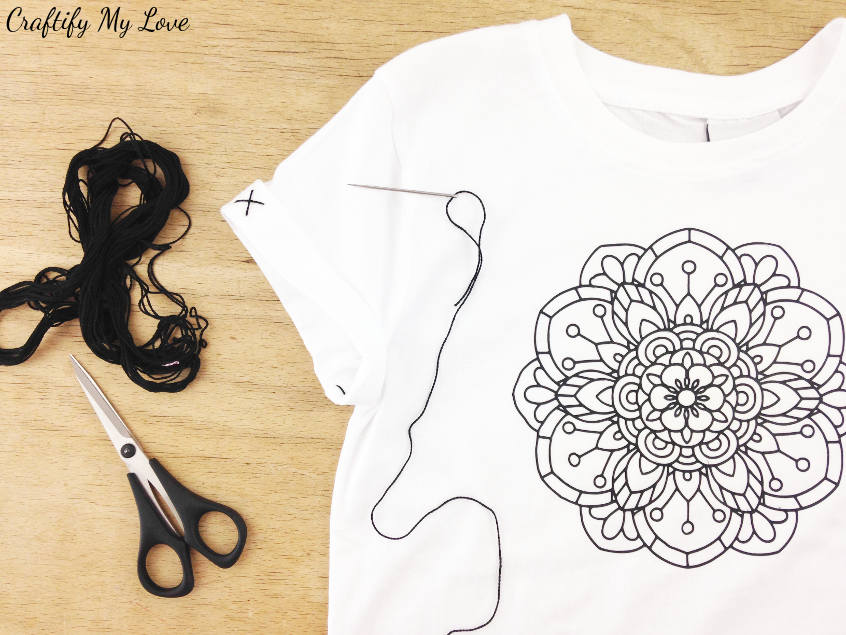 Believe it or not: I've had the biggest trouble finding white plain basic t-shirts for my girls. As I was only able to find boys shirts that have fairly long sleeves, I DIY-ed those girly rolled up or cropped sleeves by folding the sleeves up twice in the width of the seam allowance (a little press with your iron can help but is not necessary) and simply secured them with two cross stitches (one on the top of the sleeve and one on the bottom).
I think this makes for a fun add-on, don't you think?
Buy a Mandala Summer Fun Kids Activity Colouring Shirt
If weeding an intricate mandala design is not your kind of thing, or you simply don't have a cutting machine, stress not! You can buy these darling ready-made mandala colouring t-shirts on Amazon. So far I only have uploaded one design (the one to the right in the image below), but if you want a variety, just let me know!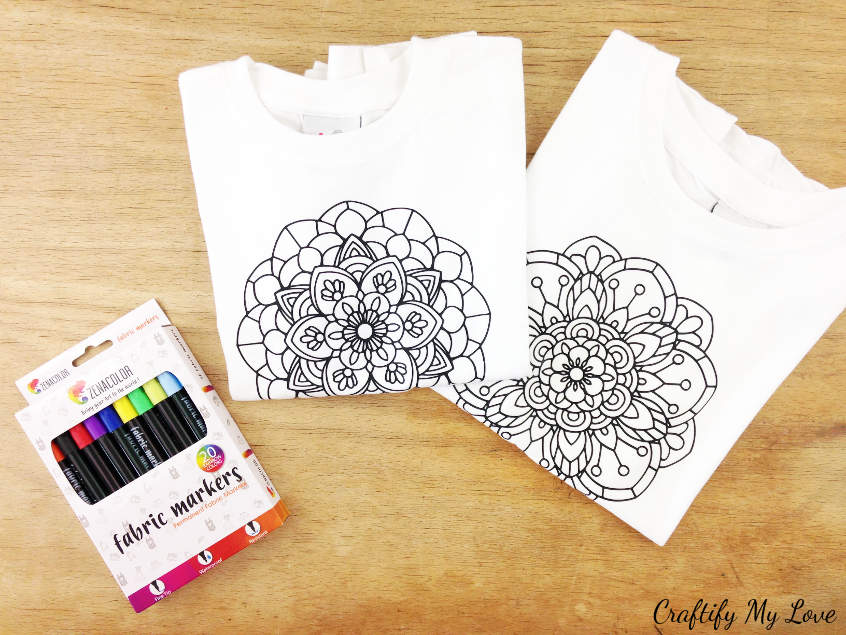 You'll be able to find male, female, and kids sizes when clicking the following button:

And don't forget to get fabric markers or fabric paint & brushes, too, whilst you shop on Amazon. This can save you shipping costs and time needed to run into your next crafts supplies store!
Summer Fun: T-Shirt Colouring Activity for Kids (on a Rainy Day)
A – Using Fabric Markers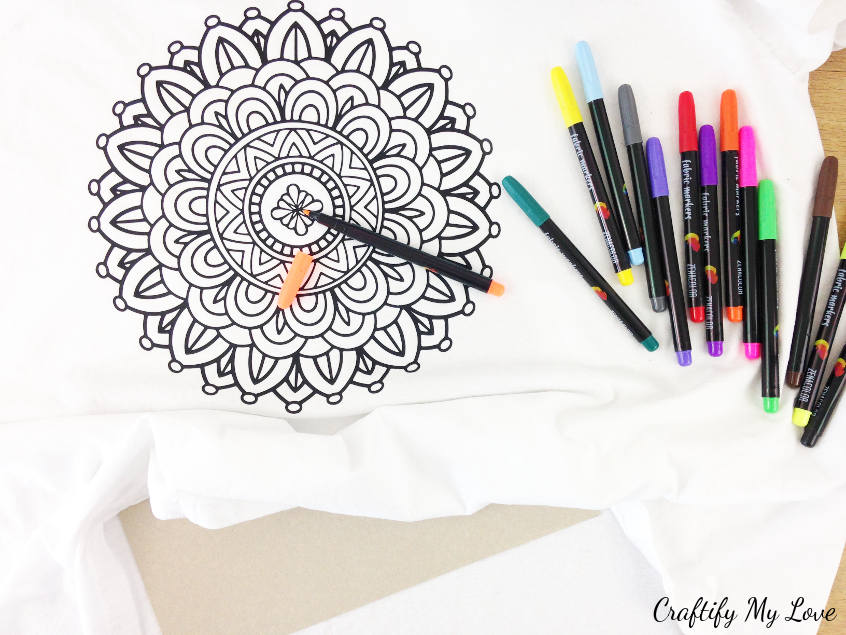 Originally, I thought it's best (and the only option) to colour these mandala shirts with fabric markers.
Tips for the colouring process:
Make sure to always insert some cardboard between the front and back of your shirt, else the colour might seep through.
Use a piece of white scrap fabric to try out those felt markers before painting your shirt. Sometimes the actual colour is not the same as the pens lid might suggest.
The fabric markers I've purchased for my little girls don't need any curing with heat (perfect for the vacation in Italy, because who brings an iron on a vaca, right?). They only need to dry for 24 hours and then they're ready to go into the wash.
2 – Using Fabric Paint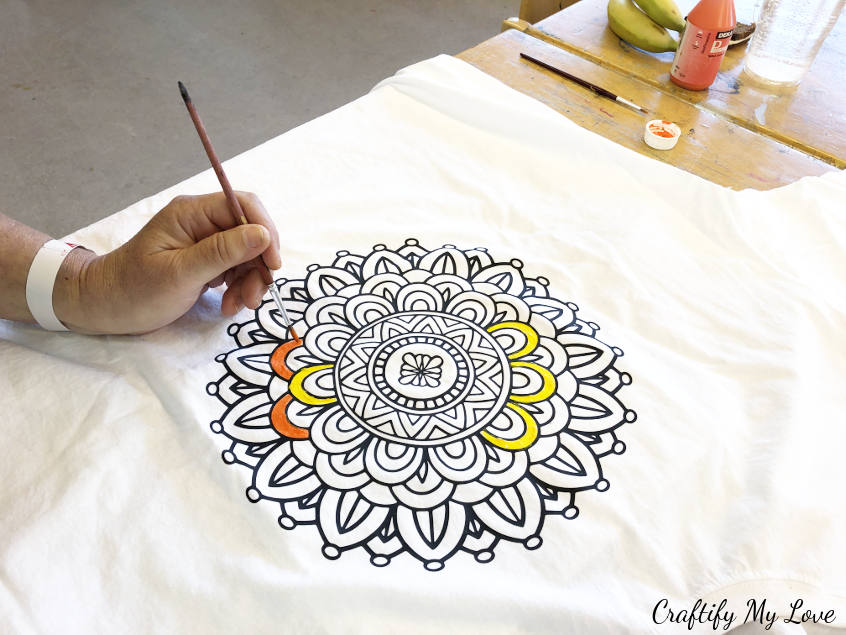 Now, my mom wouldn't be my mom if she didn't challenge my creativity, lol.
I mentioned earlier that I've made her a shirt to cheer her up whilst in hospital. She broke her right arm (and she is right-handed!!) and had to have surgery during which they inserted a ton of nails and screws into her bone…hence no cast, but a delicate arm with little strength and even less mobility.
She asked to have fabric paint and a brush and it worked out quite well in the beginning (see image above). I think she got impatient after a while (and might have secretly changed to regular acrylic paint without telling me), but seeing her smile tells me she had fun none the less.
Related: Stenciled Pillow Covers to use up that left-over fabric paint.
I think her unique – if a little messy – orange, red, and yellow mandala shirt still turned out awesome! If nothing else, her design (done with her untrained left hand) shows you that you can entertain even a toddler with this fun summer craft activity 😉
Don't forget to place some cardboard inside your shirt to protect your shirts back and to cure the fabric paint according to your brands directions (usually you'll place a tea towel (find a cute little DIY HERE) on your design and iron the dried fabric paint for a certain amount of time.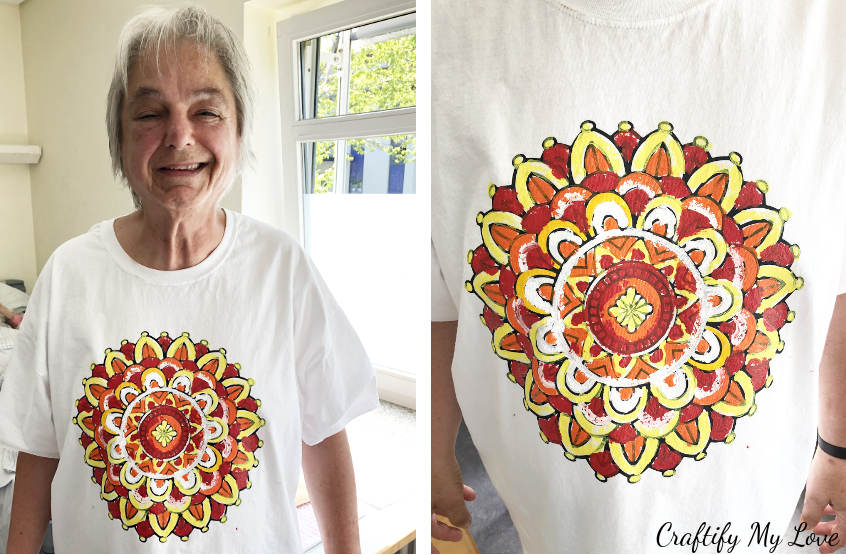 More projects to come!
I am planning on making a shirt for myself, too. I think it would be fun to place the mandala a little lower so it will sit right on top of my very pregnant belly ? . But I am mulling over a different technique.
Ain't no fun to do the same thing over and over again, right?
A onesie for my baby boy is also in the making. Make sure to sign up to my newsletter (you'll have access to my freebie collection as a little thank you) so you won't miss out on these tutorials.

Find other projects to DIY Wearables, messing around with Paint&Stencils, or Cutting Machine Inspiration here on Craftify My Love. You'll find even more inspiration over at FaveCrafts.com.
Love,

PS: Don't forget to PIN this to Pinterest.
---
Let's meet this month's Pinterest Challenge hosts!
To join next month's #pinterestchallenge, click here to sign-up ⇒ July Pinterest Challenge
Now, let's see what the other hosts have created: