Today you will learn how to make a darling fall fairy garland for your mantel, window, or porch decor.
Germany is experiencing a heat wave at the moment and I am sweating off my behind even when I do NADA. So imagine the temperature in my small-space craft room when I am crafting and taking all those pretty tutorial pics for you with my photography lights on full blast and the hot glue gun blistering devilishly away.
While typing up this post my laptop is bbq-ing my legs and I am starting to crave an ice-cold ginny real bad.
Why all that yammering you ask? The autoimmune disease Multiple Sclerosis I got diagnosed with almost 10 years ago and excessive heat don't go along well and thus you can imagine I am not a happy camper right now.
But as always I try to make the best of every situation!!
That is probably why I have already started working on crafts projects for the cooler fall season. Can you tell I am a huge believer in visualisation? And if I am totally honest here, I already had been eying my box with all the Christmas crafts supplies, lol.
4 Simple Steps To Make A Fall Leaves Fairy Home Decor
Read along and find out how super easy it is to make these cute little fairies. Kids and adults will enjoy this process of creation. That I am sure of!
This post contains affiliate links. That means if you make a purchase through these links, I may receive a small comission at no extra cost to you! You can click here to read my full disclosure.
I challenge you: Get creative and design a unique fairy
As always with my crafts, you have options, too!
Instead of fall foliage use autumn colored faux flowers for your home or garden.
And if you don't care for a garland you can simply make fairy ornaments by clipping the clothes pin onto a length of garden twine (see the following image).
Turn the clothes pin upside down and you can clip the fairies to a wire memo board, a vase, or whatnot.
But, I am getting ahead of me. Let me show you now how to actually make these darling little puppets.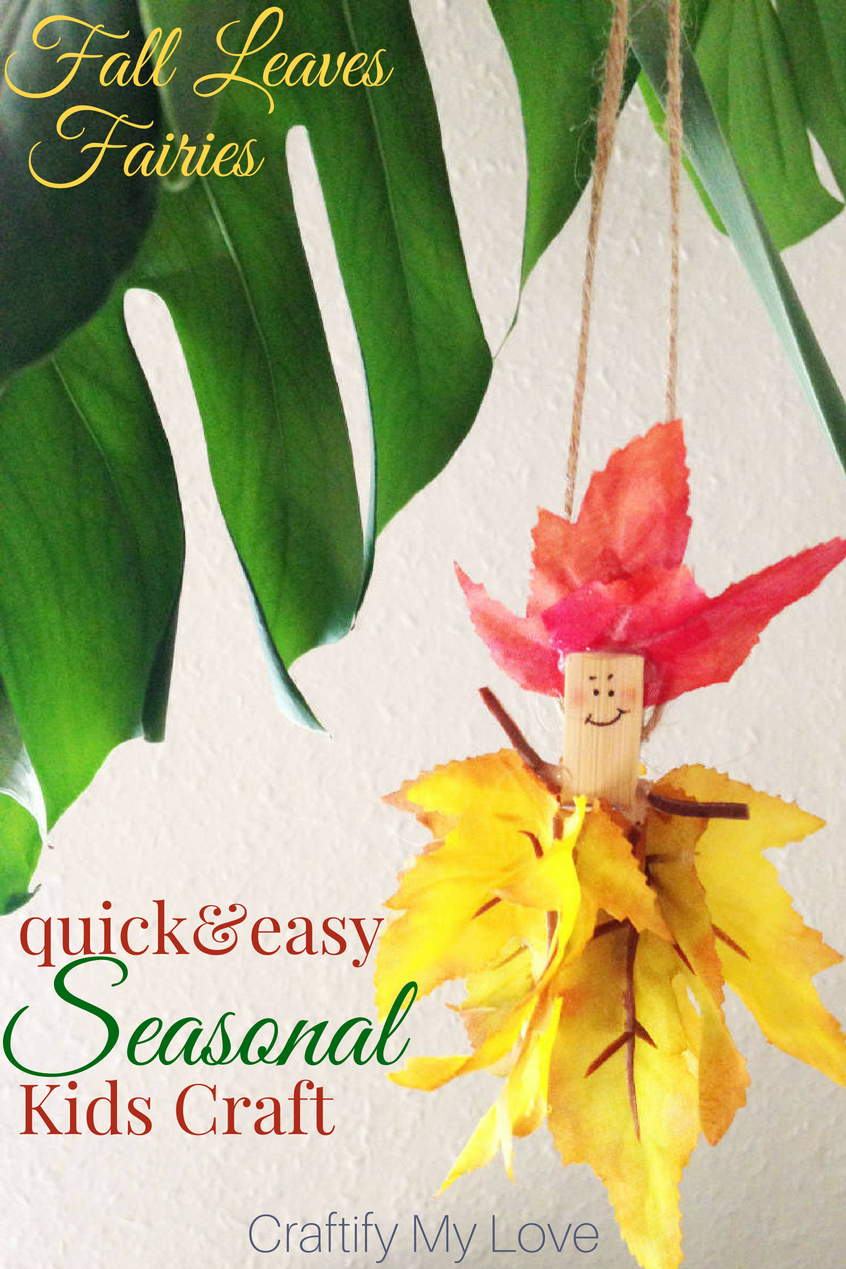 Supplies To Make A Fall Fairy Garland
1 – Give your Autumn Fairy some Clothes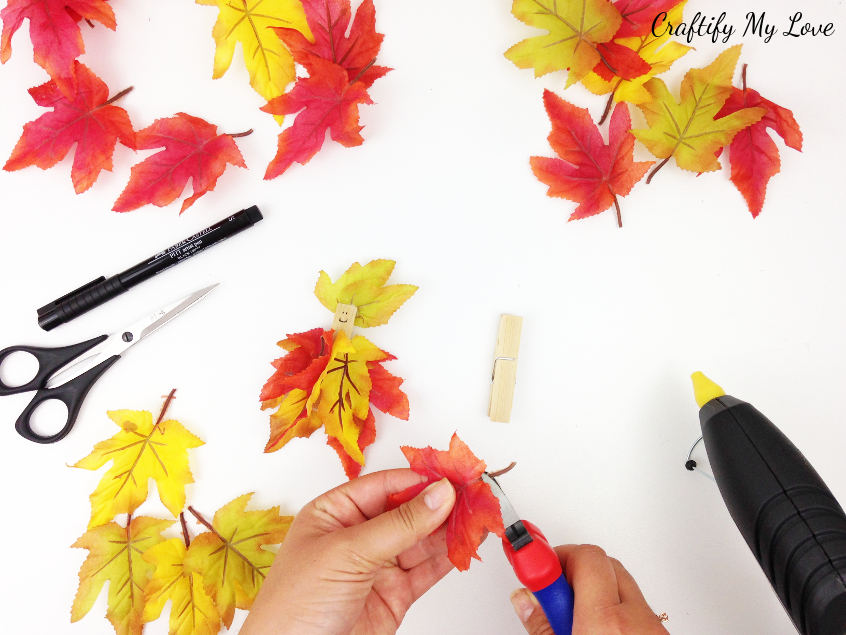 Clip of the stems of four faux fall leaves. Note: Save those little plastic stems, you might need them later on.
I chose two different colors for each fairies dress.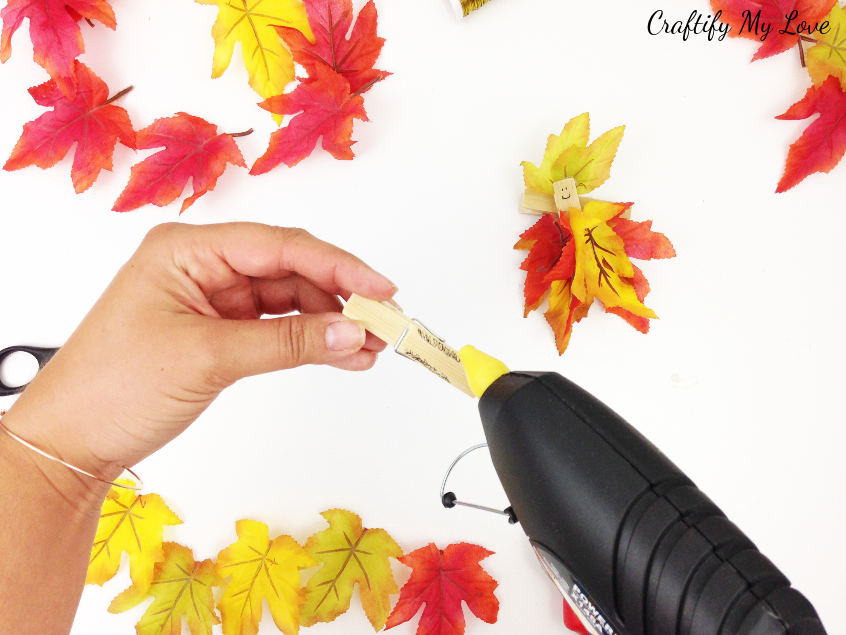 For this step you'll need to decide if you want your fairies hanging from something (from a garland or as an ornament) or if you want to clip them on top of something.
In my case I wanted them to hang from my garland and thus I added hot glue to the lower part of the clothes pin (see markings in the image above). I am holding the part that will open in my hand.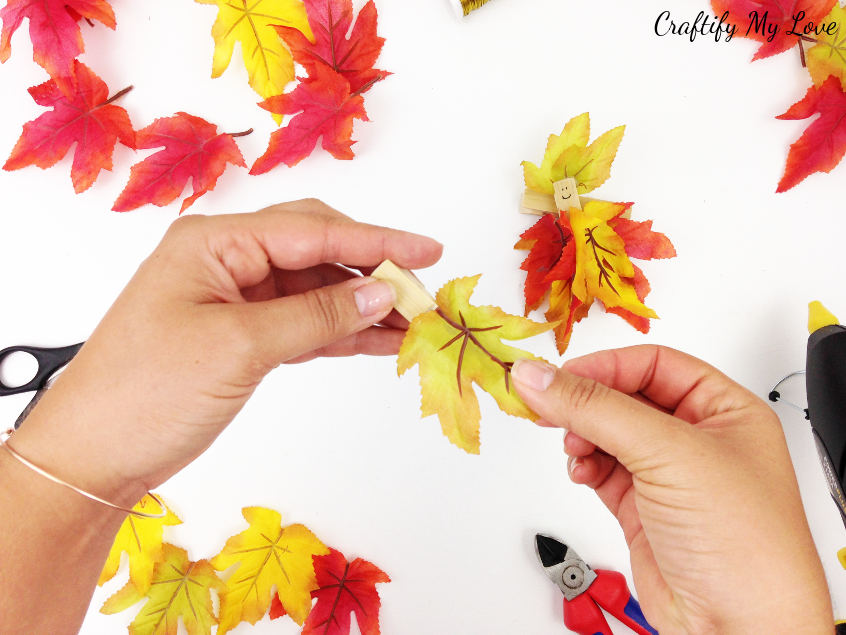 Glue one fall leaf on each corner. You will probably have to hold up the sides of the previously glued on leaf to make room for the next. And so on. This way the dress will have a darling fluff look to it. All the pointy ends standing out.
2 – How To Make A Hairdo or Hat For Your Flower Child
For the hair or hat I used a color I haven't used in the dress before. E. g. dress in red and yellow. Hat in green.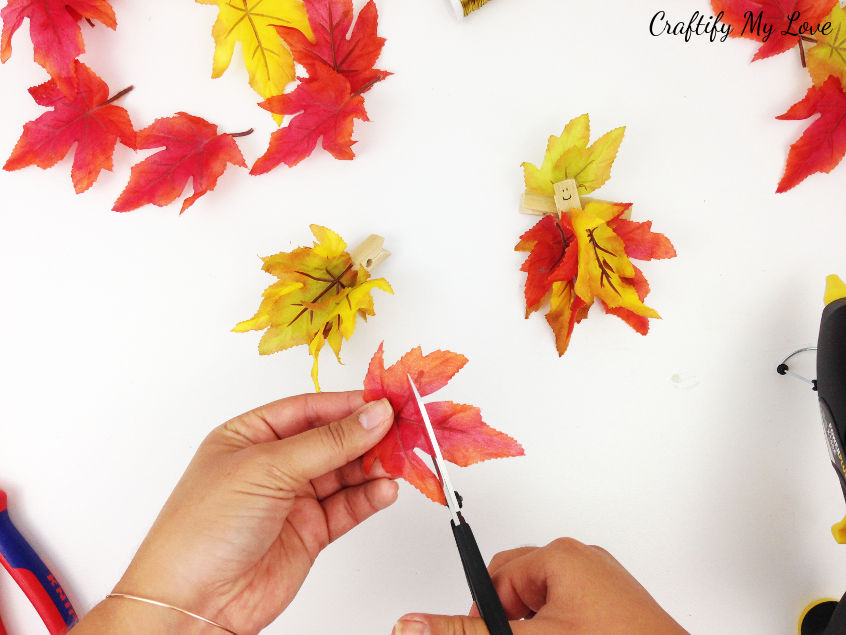 Cut the faux autumn leaf into three parts.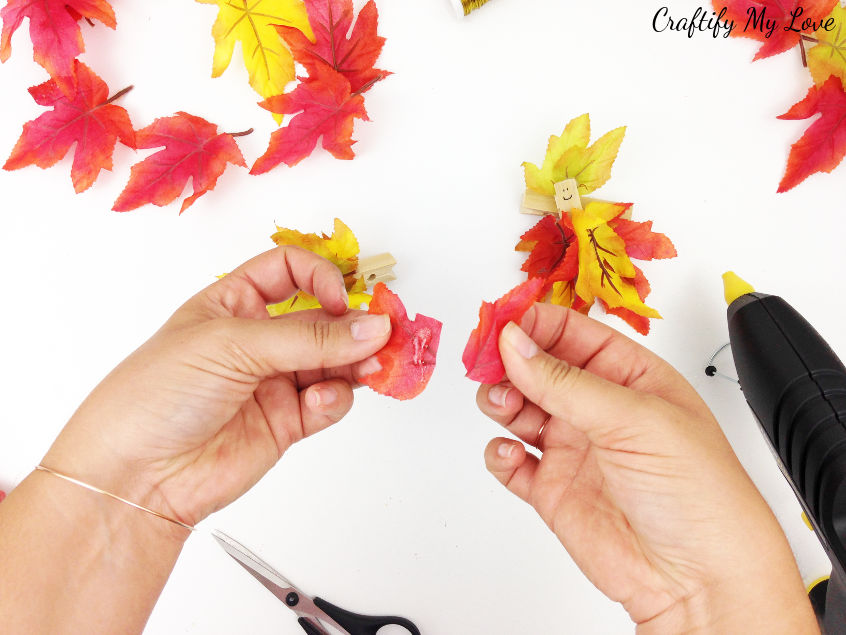 And glue two of them together.
Please be careful
as to not burn yourself! Those faux leaves are pretty thin and the glue will be super hot to touch. I recommend you add the glue and wait a view seconds before sticking the elements together.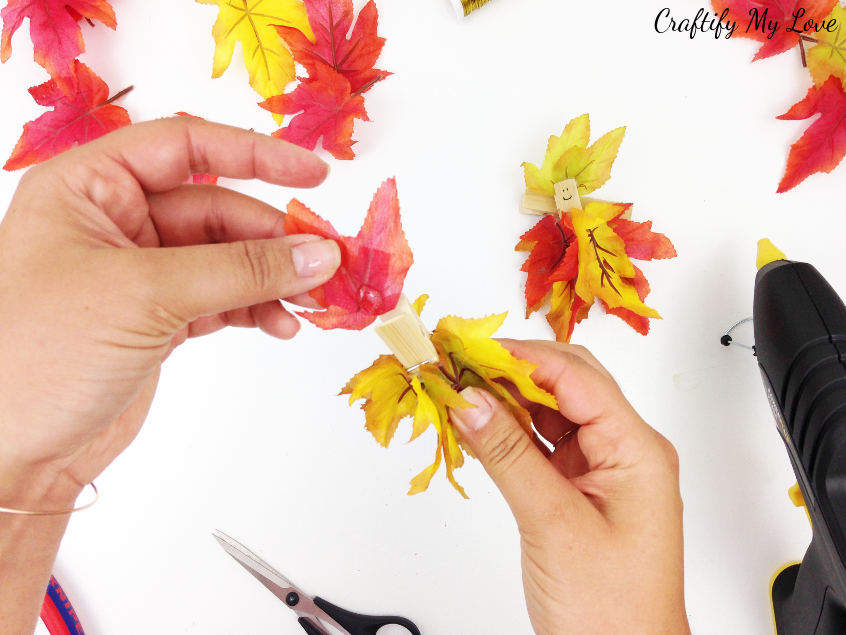 Add another blob of hot glue and stick it between the opening of your clothes pin. Pay attention to not accidentally glue the clothing shut! Yep. Almost happened here… Hold it open till the glue has cooled down.
3 – A Friendly Face Makes For A Welcoming Home Decor
Smily faces are my favorite. Try to hand draw three different expressions.
I am curious as to what emotions you'll draw onto your little fairy friends. Send me an image?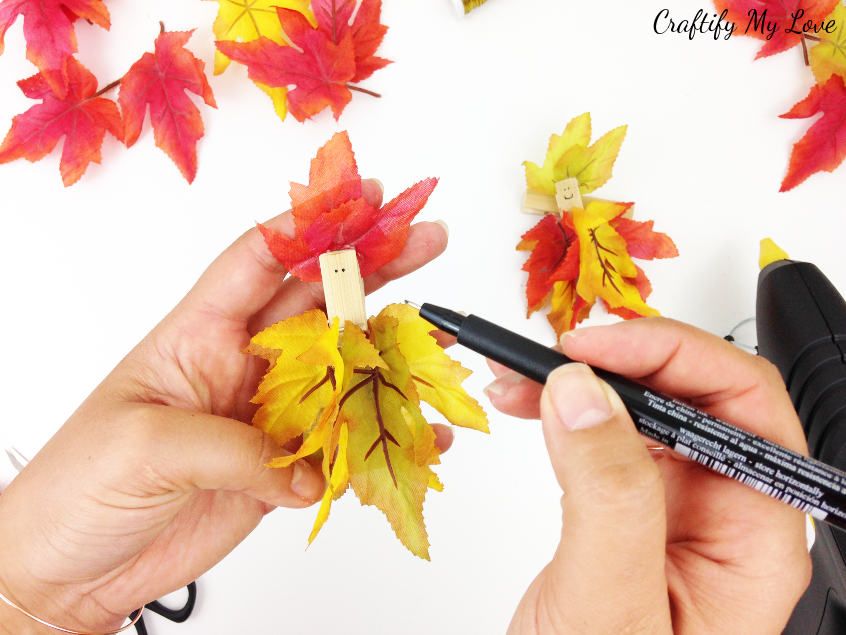 I learned that a very thin felt tip pen works best. I have this set and use it all the time! Start small – you can go bigger at anytime, but not vice versa, lol.
A little blush finishes off everyone make-up. Even a seasonal fairy crafts ones.
Use a q-tip and a soft pastel in some shade of red. There. Much better!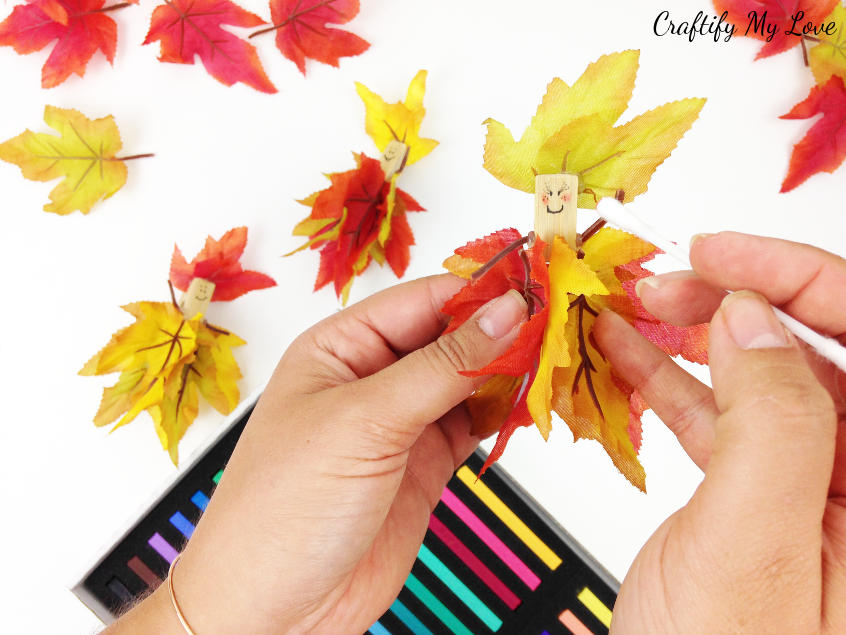 I hope you saved the stem clippings from step 1 (I have to go back up in the post and make a note for you, lol).
Add a small amount of hot glue at one side,
let it sit for several seconds,
hold it to the torso of your little garden fairy until completely dry.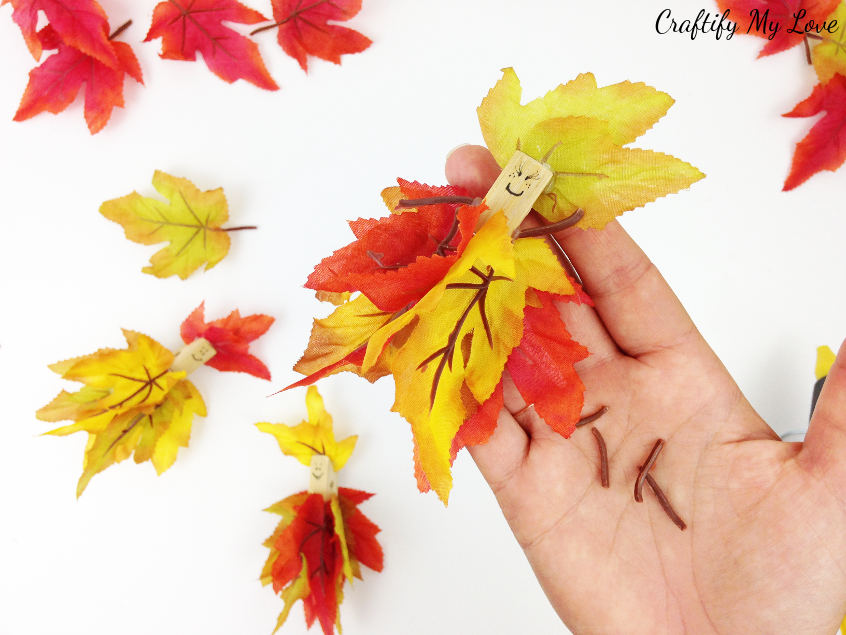 Can you tell I love recycling projects? Saves a lot of money craft supplies wise, too!
Subscribe to my newsletter today and instantly download my Guide to Craft Supplies For LOW or NO Money for FREE as a little thank you!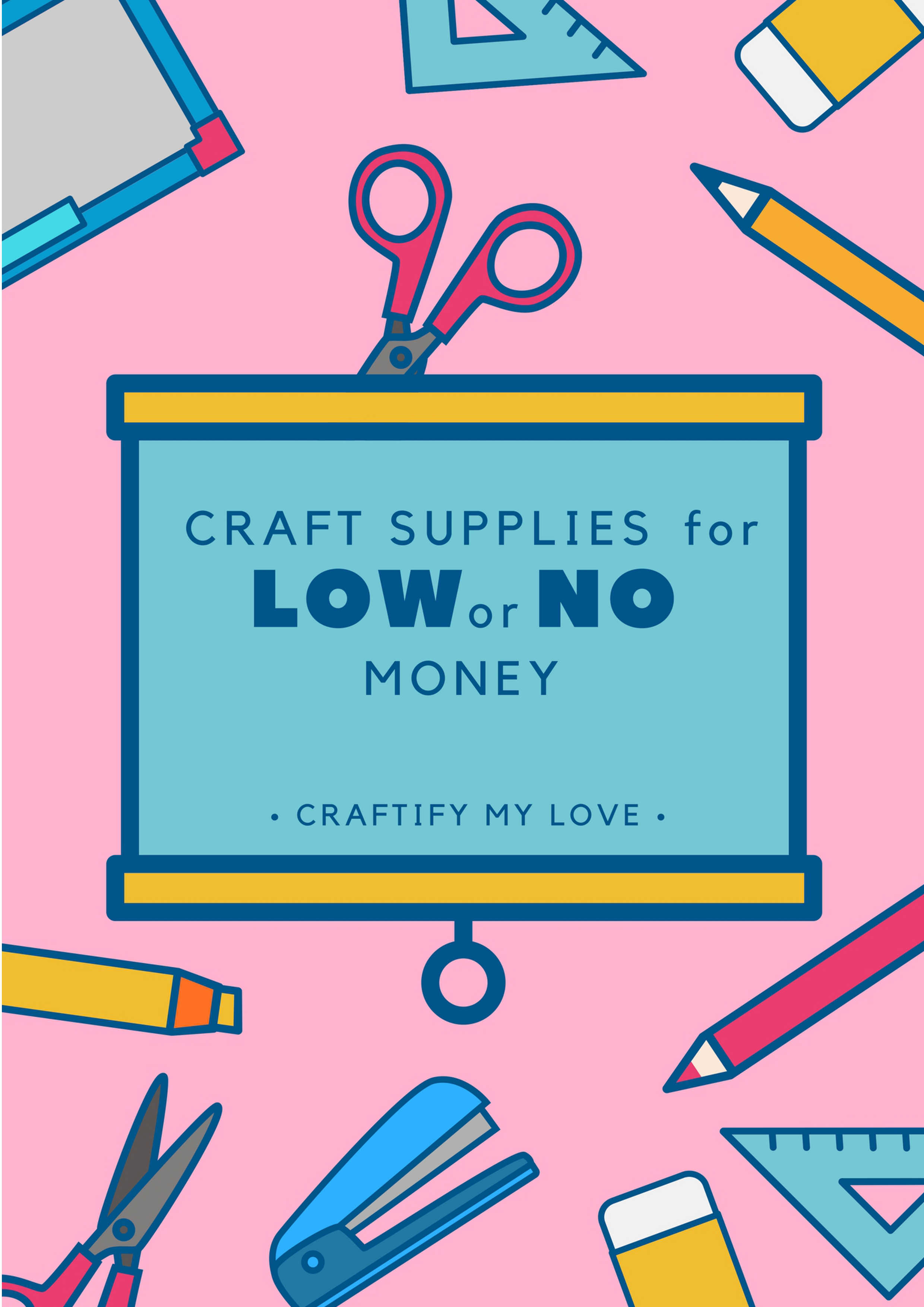 4 – Decide On A Happy Home For Your Fall DIY Home Decor
If you have repeated steps 1 to 3 as often as you want fairies hanging from your garland, go find a rustic looking wool, yarn, or twine.
Make a loop at each side. Stick left-over leaves in various autumn colors into the knot and clip your fairies onto the twine. Congratulation! You've created an awesome fall DIY for your home.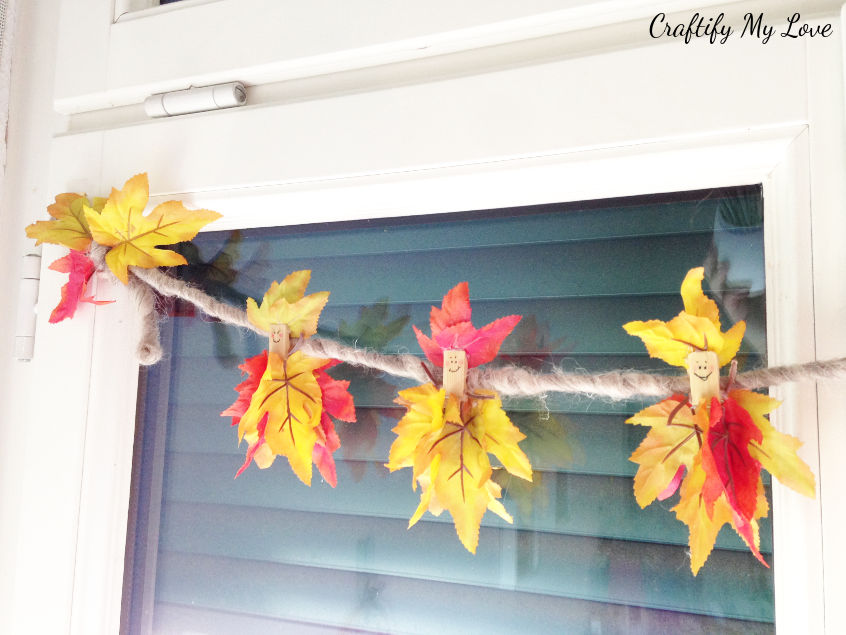 Places to decorate with
mantel
window
mirror
front door
can you come up with other ideas?
Other Seasonal Home Decor DIY's You Might Enjoy
Bring on the Crafts – A Craft & DIY Blog Hop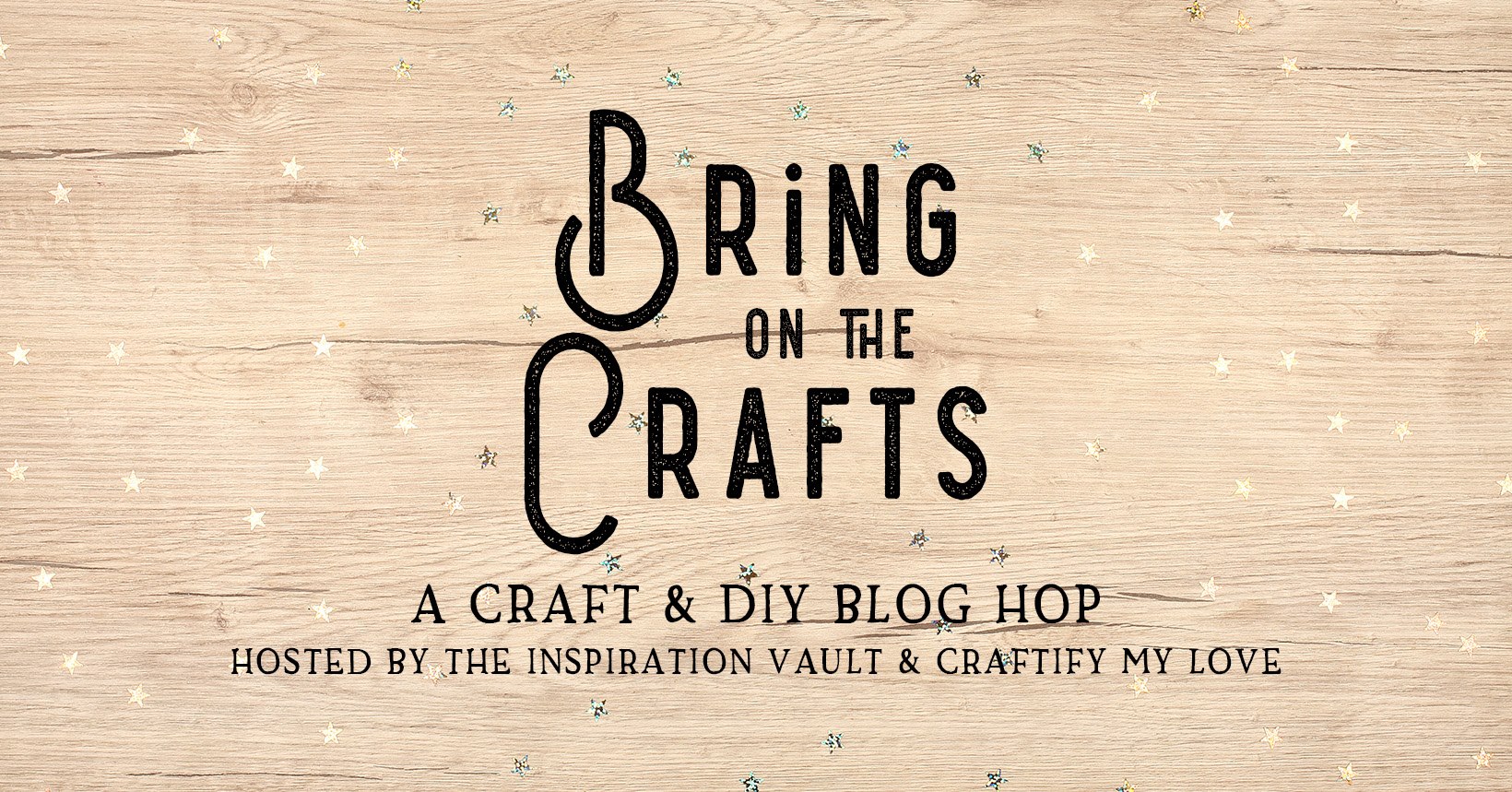 On the first Wednesday of each month, a group of DIY and crafty bloggers join forces. Together with their hosts Marie & Aleisha from The Inspiration Vault and Habiba from Craftify My Love they bring you the #BringontheCrafts blog hop. Each blogger creates a fun craft or DIY project to share that goes with a monthly theme.
August's theme is Fall. Each blogger chooses their own craft to make as long as they love it and it's autumn themed.
Join in on the fun!
If you'd like to participate next month, you can request to join our Bring on the Crafts Facebook group. Next month's theme is Halloween!
Not a blogger? But a creative mind none the less! Don't worry. Share your awesome creations in our Craft Cult Facebook group. This is also a great place to ask craft & DIY related questions and find inspiration for your next project.
Now let's see all of those amazing craft and DIY projects!
Which project will make it onto your crafty to-do list? Let me know in the comments.
For even more craft ideas for fall and Thanksgiving, you can hop on over to Favecrafts.com.
Love,

PS: Don't forget to PIN this to make it later.