Today I made this super easy fall leaves wreath, even though I am not a big lover of seasonal decorating. Gasp…yes, I said just that. I simply don't see the point in getting everything up and running, to only put it back into storage a couple of weeks later. BUT, I do enjoy a happy wreath on my front door.
I made some wreaths so far, and in the beginning I tried to make them out of fresh plants, leaves, and flowers I brought home from walks. It was a lot of work and after only a couple of days they looked really really sad (some even plain ugly), so I quit! Until I decided I'll be making wreaths to last! The secret is finding either dried nature goodies that won't wither and die or good quality fake material to create wonderful seasonal wreaths.
Why don't you take a look at this lovely spring wreath I've made last year.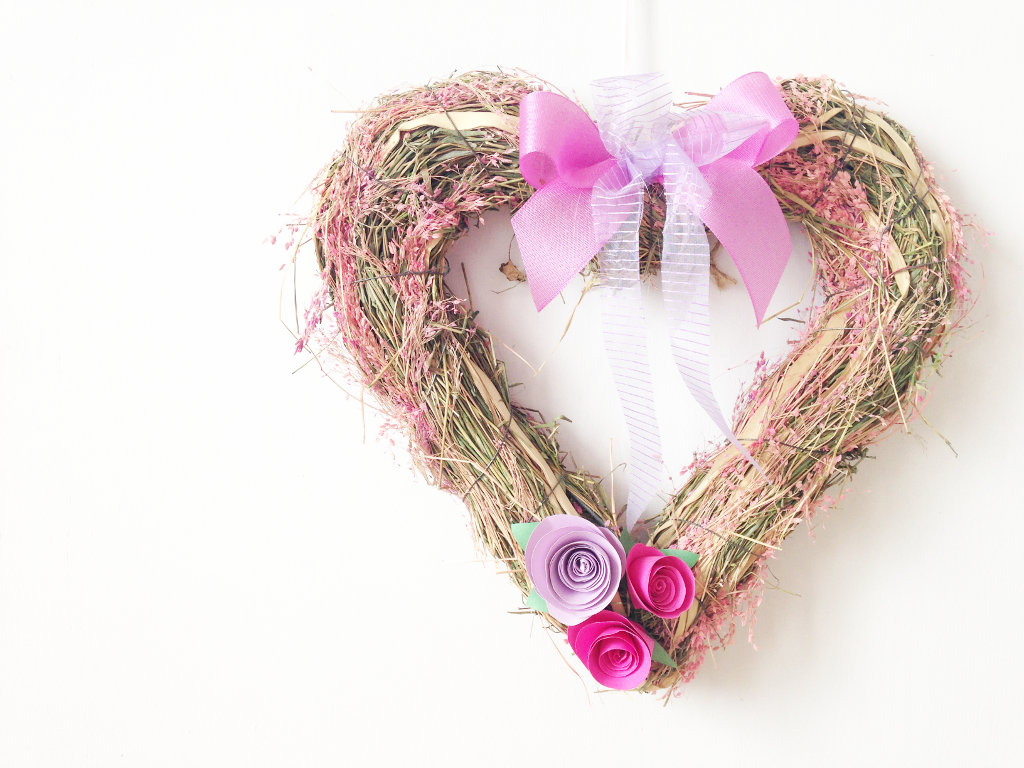 Many years ago I made an impressive Christmas wreath out of gazillion Christmas ball ornaments. It's so gorgeous, but let me tell you one thing: If you buy the straw wreath too big (which obviously I did), you end up spending big Dollars on filling every gap with those wonderful colourful ball ornaments.
To cut a long story short:
If you're looking for a quick and easy tutorial on how to make a fall leaves wreath, you're at the right place.
Also, scroll all the way down for my FIRST EVER video tutorial.
How to Make the Easiest Fall Leaves Wreath, Ever!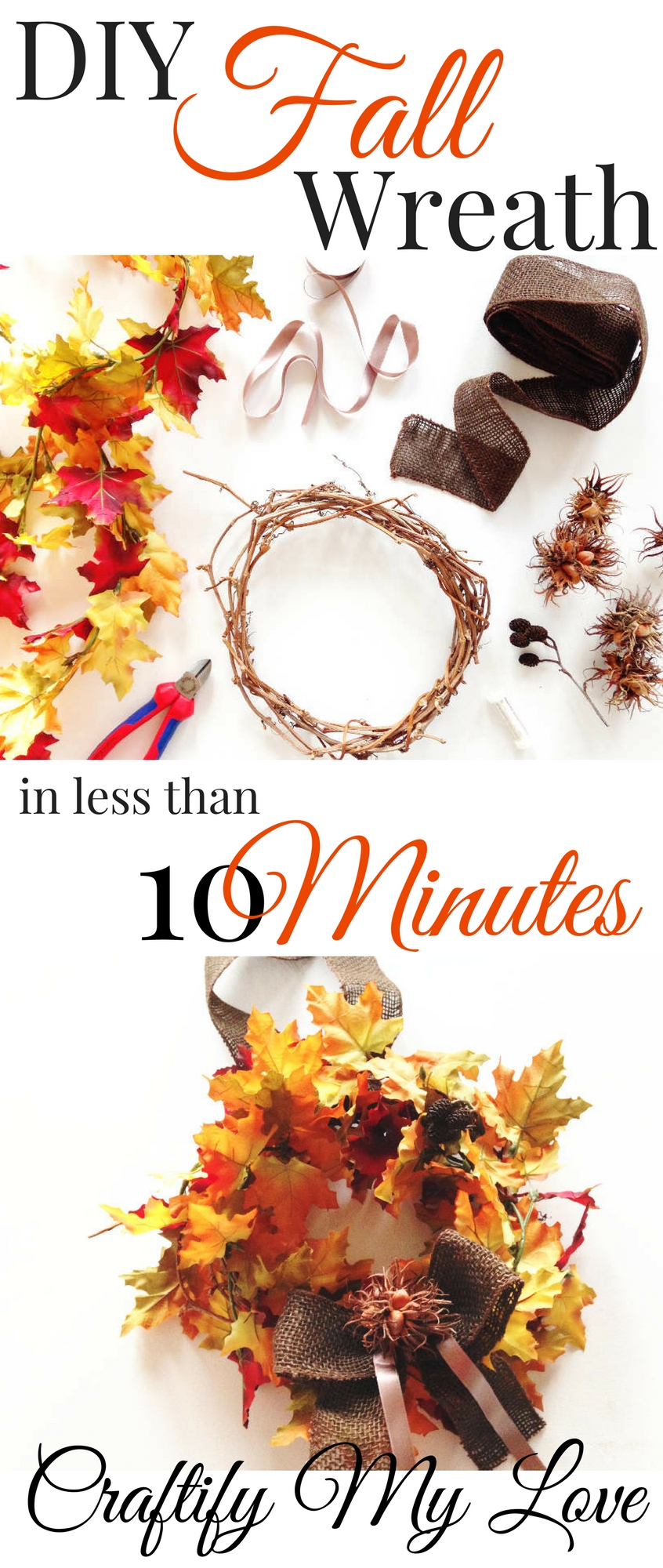 Supplies
vine wreath (a friend made mine from fresh garden cuts, you could also use willow or other bendable twigs, or simply buy one)
fall leaves garland (I found mine in the thrift store for 3 Euro)
hazel nut nests (help me out? what are they called?)
burlap
ribbon
wire
pliers
scissors
3 Simple Steps to your Fall Leaves Wreath
Step 1 – Install Hanger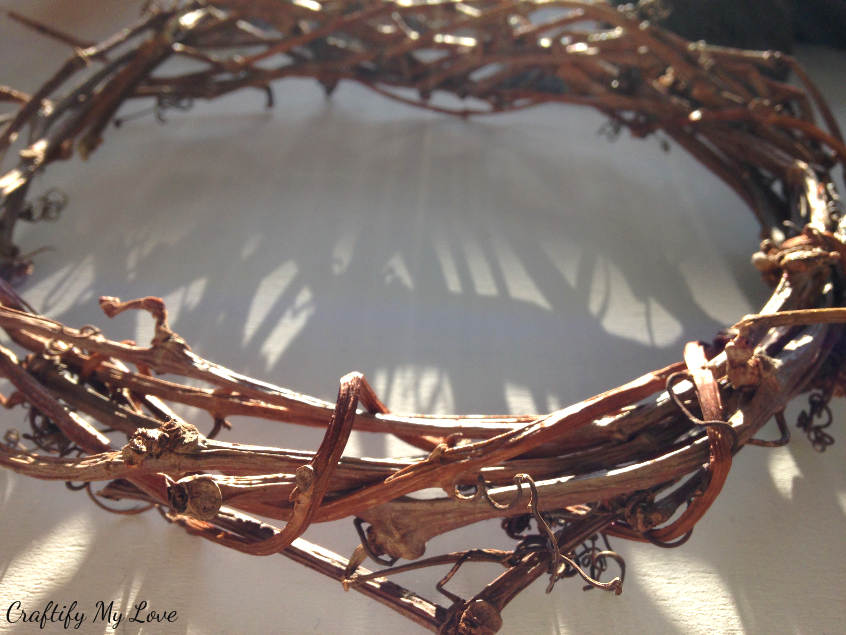 Don't you love the curly bits of this vine wreath?
Tie a piece of burlap to the wreath. Make sure it is long enough, so you'll be able to hang your lovely fall wreath from your door. It's easier to cut excess material than make it longer, once the wreath is done.
You need to decide if you want it to be a sling or just one length of burlap. I have a nail on the top of my front door, so I can simply hook the nail through the burlap. No sling needed.
Step 2 – Add Fall Leaves Garland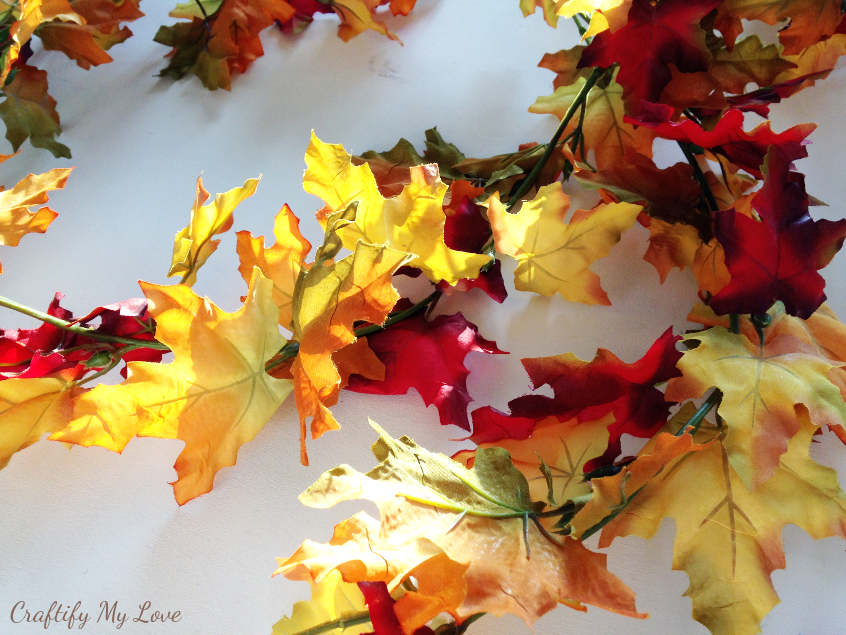 Will you take a look at these colours?!
Push one end of your fall leave garland through the vine wreath. This should be enough to fix it. If you feel the need to secure it really good, use some wire. Now start wrapping the fall leave garland around the vine wreath.
Pay attention that you work somewhat evenly…you don't want to end up with empty patches. Push the end of the garland through the vine wreath. If need be, arrange the leaves until you're happy with the outcome.
Step 3 – Decorate with a Bow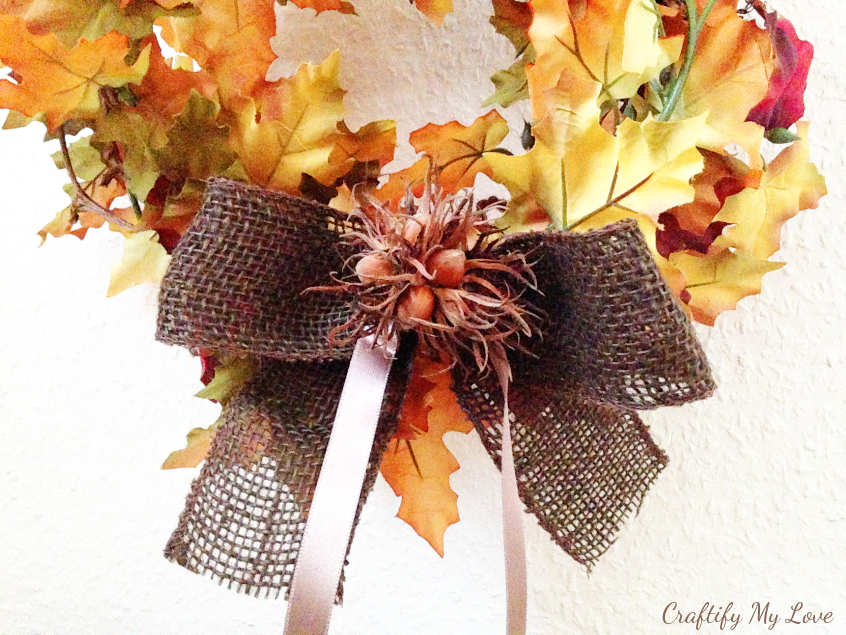 Make a bow from the burlap. Use a piece of ribbon to do so. Apply some wire to one of those crazy looking hazel nut nests (do you know how they are really called?) and tie it to the bow. Make sure the wire is long enough to tie the bow to your fall wreath.
Now go ahead and watch the video tutorial
and make sure to hit "like" and subscribe, will you?
Done! Now go, put your lovely Fall Leaves Wreath up on your door.
Have you ever DIYed a wreath before? For what season? And what material did you use?
Love,

You might also like…
…the following Fall Themed Crafts and Recipes:
Heather Fall Basket that will last all Winter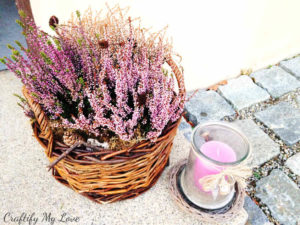 How to press flowers and fall leaves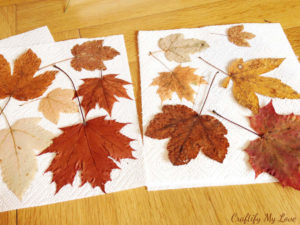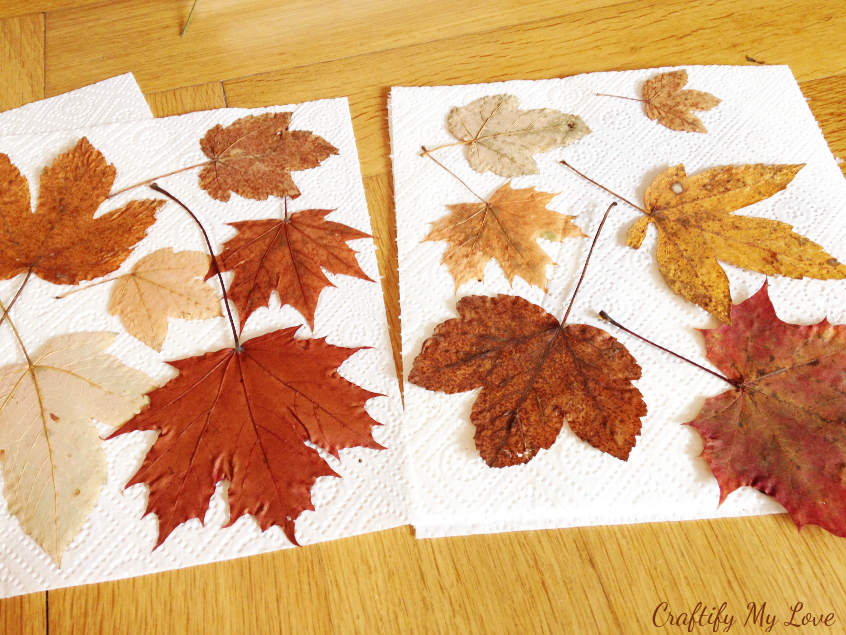 Easy No-Sew Halloween Butterfly Costume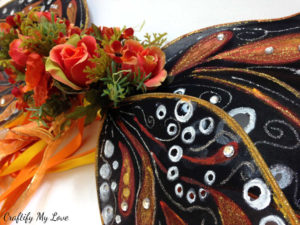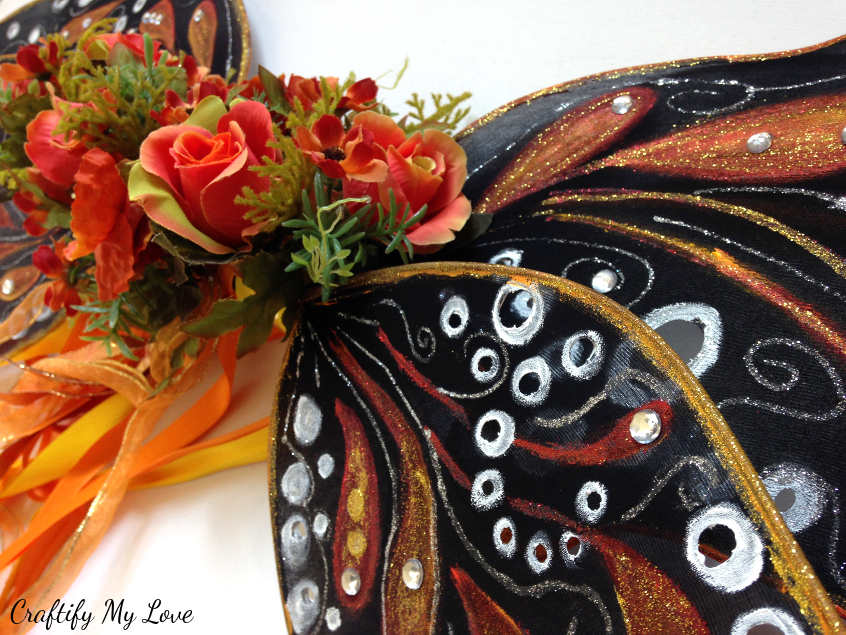 Feather Boa Halloween Wreath – by The Inspiration Vault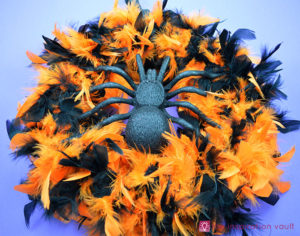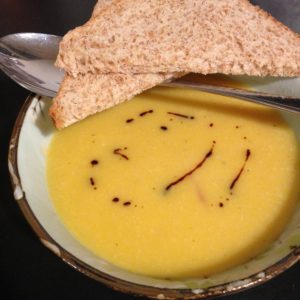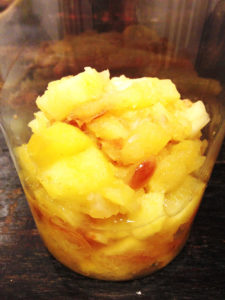 Don't have Time or Money to craft a Wreath?
No problemo! I've got you covered: Participate in the $300 Cash for Christmas Giveaway now!
With a little luck you'll be able to afford all the sparkly craft supplies in no time or simply go buy yourself a wonderful pre-made wreath for the upcoming Christmas season.
We are so excited to be giving away $300 in cash prizes for you to use starting this Thanksgiving weekend. Here are the prizes:
1 – $100 Amazon Gift Card
1 – $75 Target Gift Card
2 – $50 Walmart Gift Card
1 – $25 Kohls Gift Card
And a $20 Starbucks gift card as an extra bonus winner!!
There will be 6 winners in this giveaway. Each winner will receive a gift card code to use on the online store or in the actual store. Now its time to meet our wonderful co-hosts who have made this giveaway possible.
Starting at the top row we have:
Sinea Pies – Ducks 'n a Row, Susan Renker – Culinary Envy, Linda Cassidy – A Labour of Life, Sarah Louderback – Devastate Boredom, Melissa Russo – The Farm Girl Gabs, Monica Geglio – Mommy & Love, Tammy Doiel – Creative K Kids, Kim Purvis – Made in a Day, Meredith Spidel – The Mom of the Year, Audrey Humaciu – That Recipe, Michelle James – Our Crafty Mom, Christine Luken – Your Strong Tower, Kari Carter (Jonard) – Keep it Simple, DIY, Trish Sutton – By Trish Sutton, Marie Dabbs – The Inspiration Vault, Marcy Lautanen-Raleigh – Backyard Patch Herbal Blog, Carrie Albrecht – Curly Crafty Mom, Whitney Johnson – Beauty, Baby, and a Budget, Lauren Becker – Shooting Stars Mag, Lauren Kim – Mom Home Guide, Leslie Clingan – Once Upon a Time & Happily Ever After, Carol Bray – The Red Painted Cottage, Emily Fish – Domestic Deadline, Kenyatta Harris – My Design Rules, Dana Lardner – Goods Giving Back & How In The World, Habiba Elkaihel – Craftify My Love, Tammy Adams – My Life Abundant, Pam Lamore – P.S. I Love You Crafts, Erlene Amat – My Pinterventures
Please stop by and say hi to these wonderful ladies and their blogs. The giveaway will end midnight on Wednesday, November 22nd, the night before Thanksgiving. You will have 48 hours to respond to the email claiming the prize. If you respond right away, we will get you the gift card code promptly so that you can shop with it on Black Friday! If we don't hear in 48 hours, we will choose another winner.
**Sorry – This Giveaway is already closed**
Subscribe now, to get notified of the next giveaway, and grab yourself a free welcome gift while waiting.