My biggest dream 'housewise' is: I want a porch! One day, I want to own a house with a wonderful peaceful porch. I keep collecting ideas on how to decorate it & the garden area on my inspiration board on Pinterest in forever, lol. I already am collecting treasures and crafting DIY's such as these cute DIY lace candle holders to decorate it with.
Did you ever hear of the concept of visualizing something in order to make it happen? Yep! I guess that's what I am doing.
This post contains affiliate links. That means if you make a purchase through these links, I may receive a small commission at no extra cost to you! You can click here to read my full disclosure.
Repurposing Crafts & DIY's Are My Favorite!
As always I enjoyed creating something new from trash and objects I already had at home. I am a frugal crafter that way and I love participating in Megans monthly Craft Room De-Stash Challenge. Read more about that further down.
Basically, almost all my projects would fit this challenge as my tactic is
to buy supplies whenever I stumble over something I really adore and come up with an idea on how to use it later.
Or I buy stuff that I know I'll eventually use when it is on sale (like these adorable stencils).
And don't let me even get started on all the treasures I find outside for free.
Related:
On the downside, I have a lot of things and they all need to be tucked away somehow in my home. Learn how I am mastering this task in my small-space craft room challenge.
How To Make Recycled DIY Lace Candle Holders
Now, this is again a super simple 2-step upcycling home decor project that will add a little romantic touch to your home in no time.
If you have to spray paint your candle sticks, that is what will probably take up the most time of this cute ambient lighting project.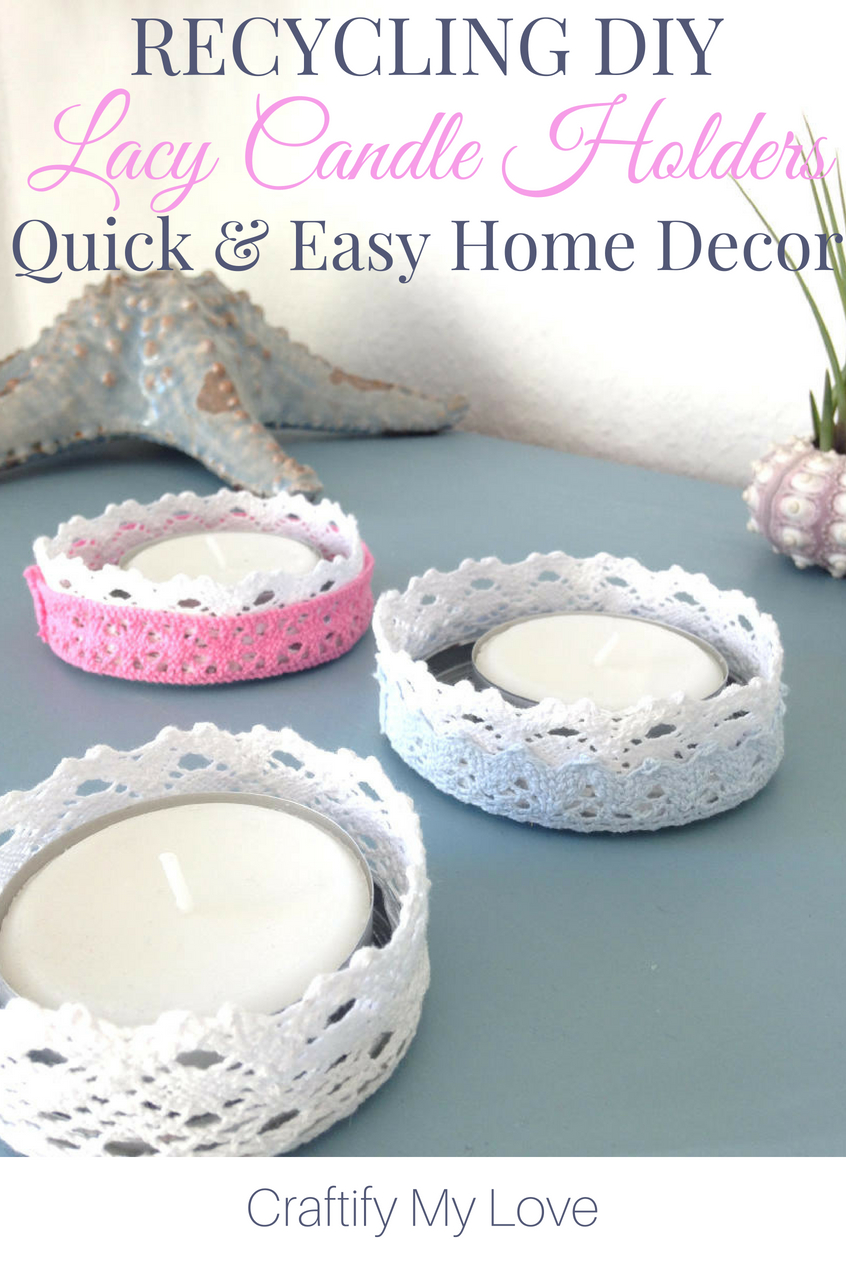 Related:
For now, I placed my candle holders on top of my Anthropologie inspired dresser. I painted it with my DIY chalk paint and stenciled it with a darling floral pattern.
Supplies For Shabby Chique Candle Holders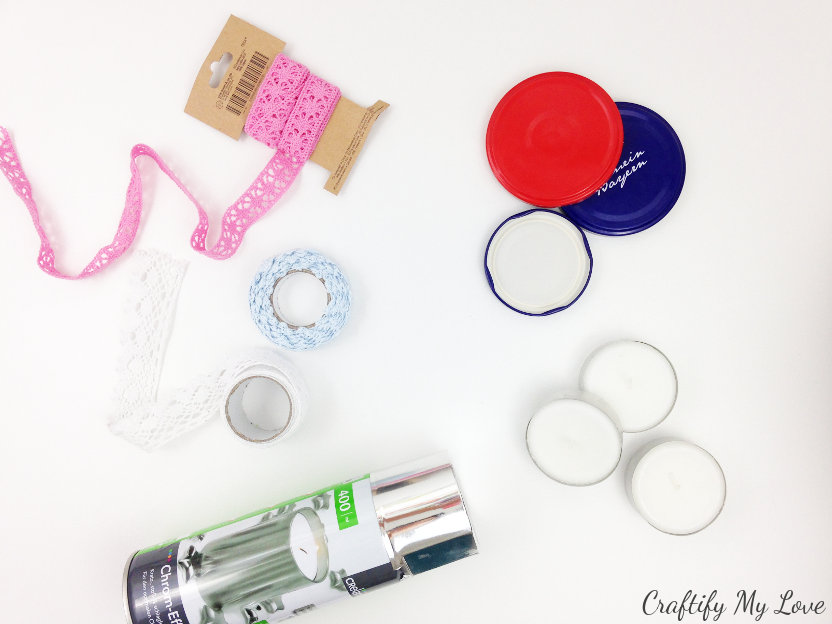 1 – Spray Painting The Lids
If you have lids that are already in a nice calm color such as silver, gold or white, then I'd leave them as are.
Mines were in dark blue and red and thus not at all matching the summery white, baby blue and rose lace I chose. So I spray painted them. Of course, I was out on white spray paint, so I used chrome. That was what I had at hand and it worked just fine.
Let the spray painted lids dry properly.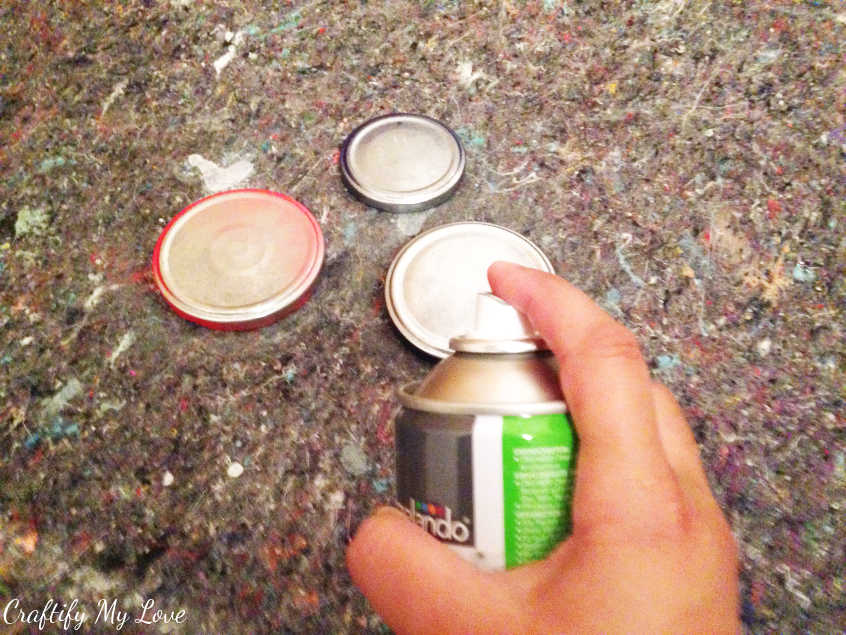 2 – Adding The Lace
Heat up your hot glue gun and start gluing the lace around your lids. Pay attention, the hot glue will seep through the lace (probably not as much with this one). Don't burn your fingers!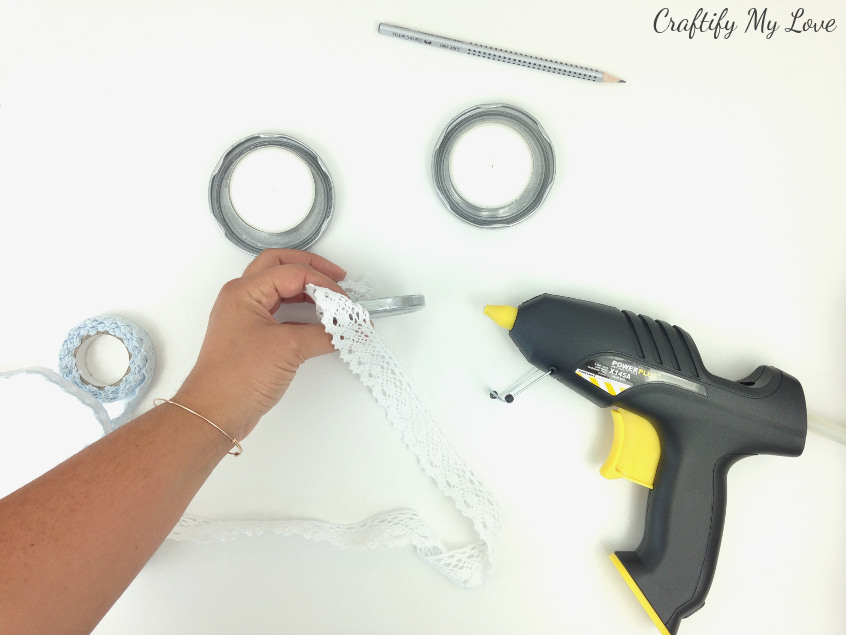 Cut the lace a little overlapping (this way you won't be having an opening showing at the upper side) and add a little more hot glue to stick it to the lid.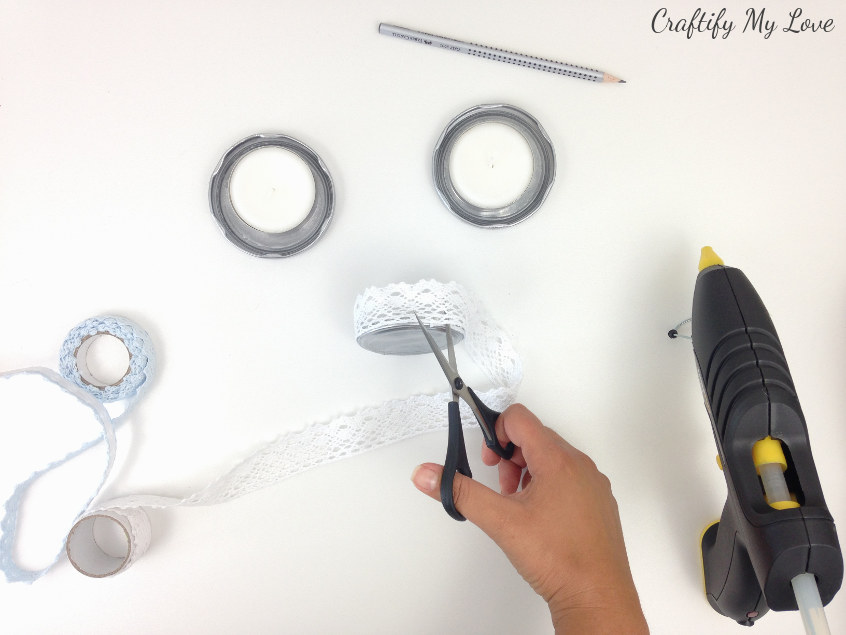 I think layering different colors or styles of lace looks absolutely gorgeous, don't you think?
You could use left-overs from previous projects or snippets you've found at yard sales or at the thrift store.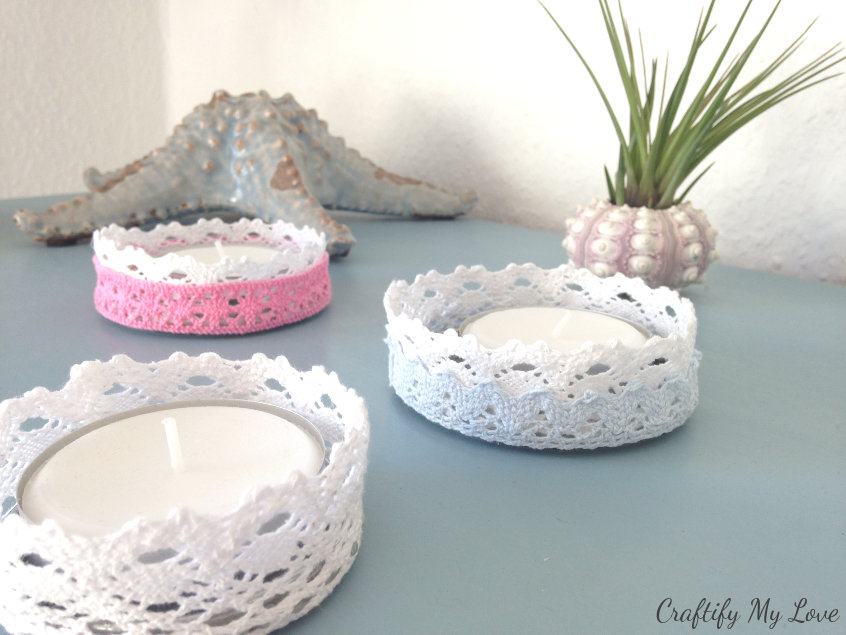 Looking at these I think they would also look stunning
at a summer picnic. Nothing beats an airy and romantic garden decor. Don't you think?
How about a boho wedding table setting?
But I can also picture myself with these beauties on a nice fall evening on my porch. Maybe snuggled up in a crocheted blanket?!
Where would you place them in your home or garden?
Other Repurposing Home Decor Projects You Might Like
Craft Room De-Stash Challenge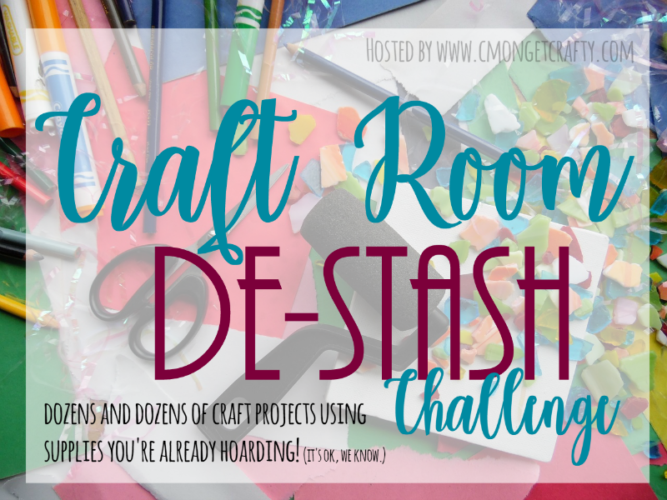 Every month a group of bloggers are challenged by me to create a new craft or project from their own stash of goodies! Everyone is allowed a $10 allowance for necessities to complete their project, but the bulk of it must be created from their own stash of goodies. Check out some awesome creations you might be able to make from your own stash! #CraftRoomDestashChallenge
Meet Your Hosts
Craftify My Love | Shoppe No. 5 | Purple Hues and Me
C'mon Get Crafty | Domestic Deadline | Across the Blvd | This Autoimmune Life
Modern on Monticello | The Inspiration Vault | My Family Thyme | Stone Cottage Adventures
Love,

PS: Don't forget to PIN this for later.