Today you will learn how to make Mr. Penguin, a 3D felt bookmark, from scratch. But not only can you make a penguin bookmark after you've read this tutorial.
No! I've created a fun mix & match template for you, so you can create a fun felt owl or bird armada, too.
Use them as bookmarks or as mere decorative elements for your home.
The best thing:
You will be the designer in this crafts project and will decide on color, hairdo, and accessories.
Inspiration can be found everywhere
Funny enough, I found inspiration for this little penguin while reading an old school book at the beach in Florida. A little girl was wearing an adorable life west like this one and the idea for this 3D felt bookmark was born.
Other projects I've found inspiration for on this trip: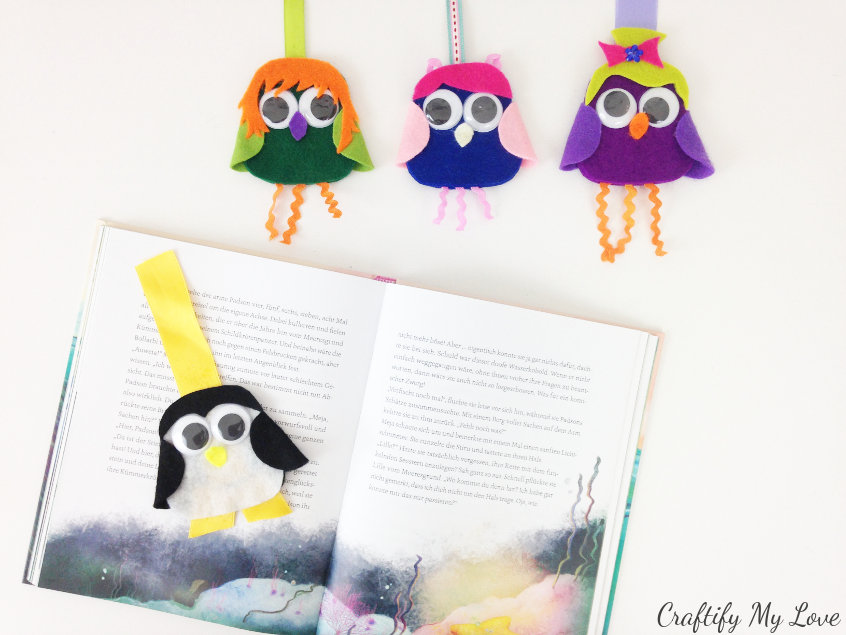 Penguin 3D Felt Bookmark Supplies
This post contains affiliate links. That means if you make a purchase through these links, I may receive a small commission at no extra cost to you! You can click here to read my full disclosure.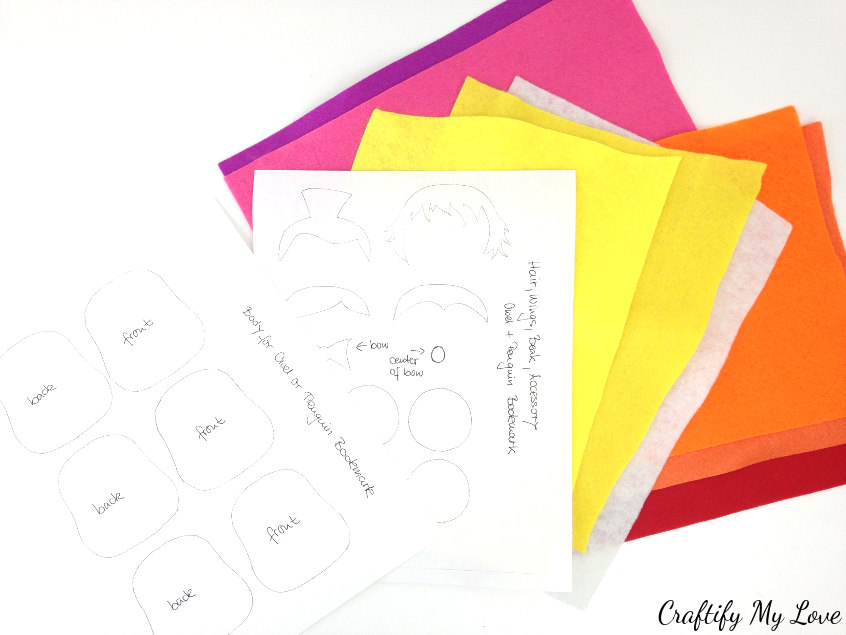 Felt sheets in black, white, and yellow
If you have felt at home, great! Use it doesn't matter how thick it is, it will work anyways. I've tried! The thinner the felt, the more see through the white, though.
Yellow ribbon (again I used what I've already had at home)
Embellishments such as rhinestones, glitter or mini ribbon roses (optional)
Scissors
Hot Glue or Crafting Glue
Spray Adhesive
I've used this from a previous quilting project, it is temporary, but I won't wash those bookmarks, so it's going to be ok. It's a bit pricey, you could easily use something like this, too.
Freezer Paper or regular paper
Printer for your mix and match template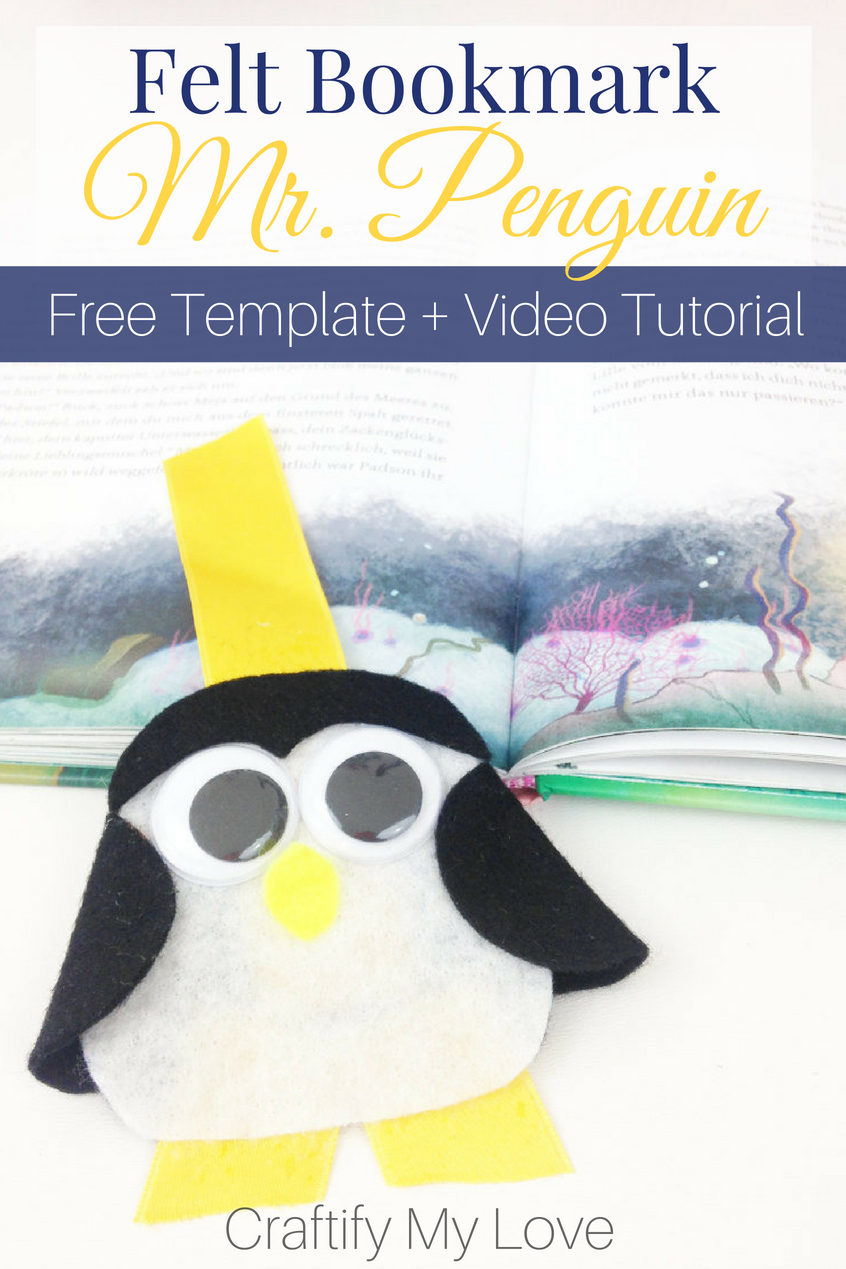 How to Make a Penguin 3D Felt Bookmark
In both, the following photo + video tutorial you'll learn how to make a 3D felt bookmark using my preferred technique.
Over at my friend Pam's blog P. S. I Love You Crafts I am explaining another way to use the bookmark template without freezer paper.
Preparations for your 3D Felt Bookmark
Sign up for my newsletter and download the free mix&match template for this craft as one out of many free welcome gifts.
A little behind the scenes:
The following pic shows you my creating process of this pattern. I made sketches of the different hairdo, the body, wings, beak, and bow on paper and cut them out. When I was happy with the end result, I traced it back on a piece of paper, scanned it and am providing it now for you to use for our hobby crafts.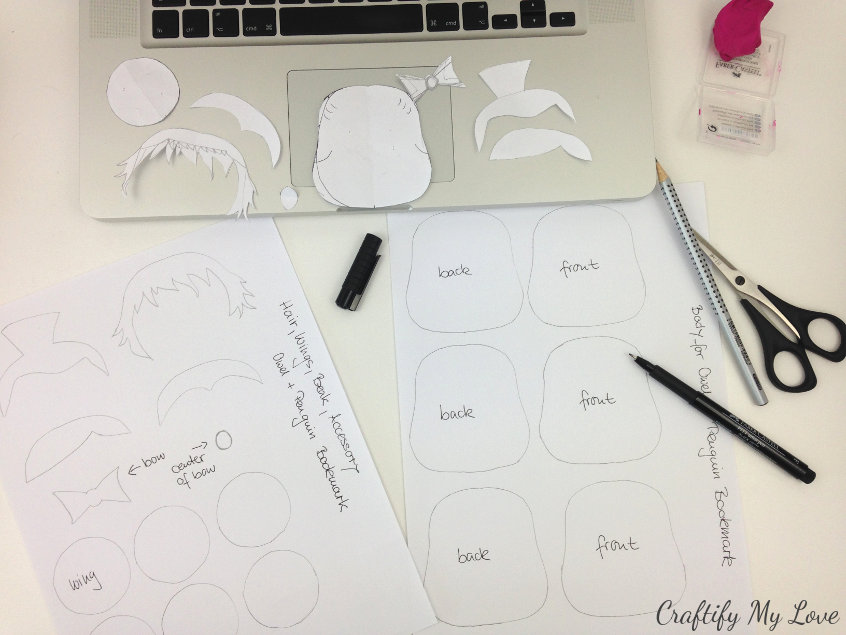 Print your template on freezer paper according to the package's directions (print on the blunt side), cut it to size and match with according color of felt.
2x body (1x white, 1x black)
2x wings (black)
1x beak (yellow)
1x hairdo (black, or be creative – even your penguin can have a fun hairdo, so choose from one of the 4 style options)
Frugal-Tip:
The closer you cut around the lines, the less felt you will waste with this project.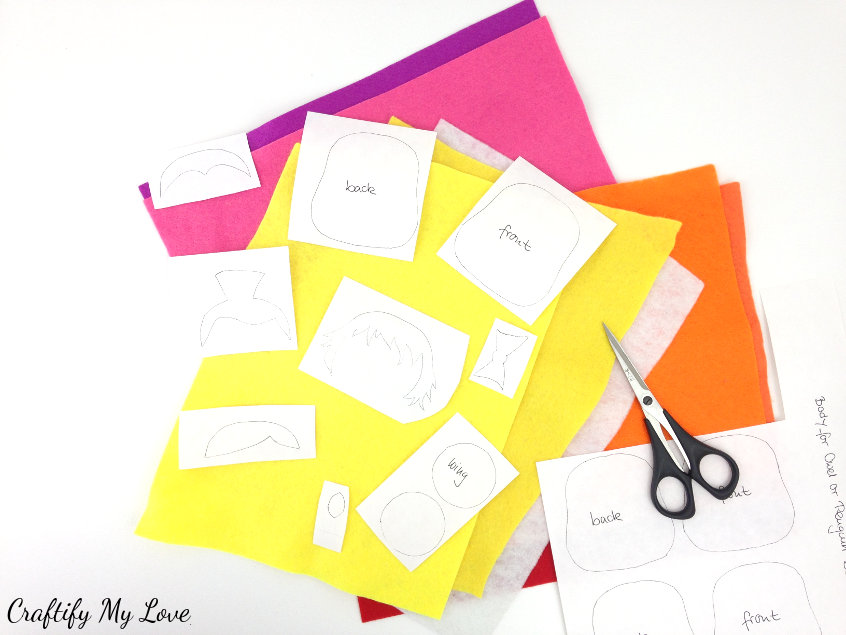 Iron freezer paper snippets onto felt, shiny side down. A short press with a medium heated iron (no steam!) will do.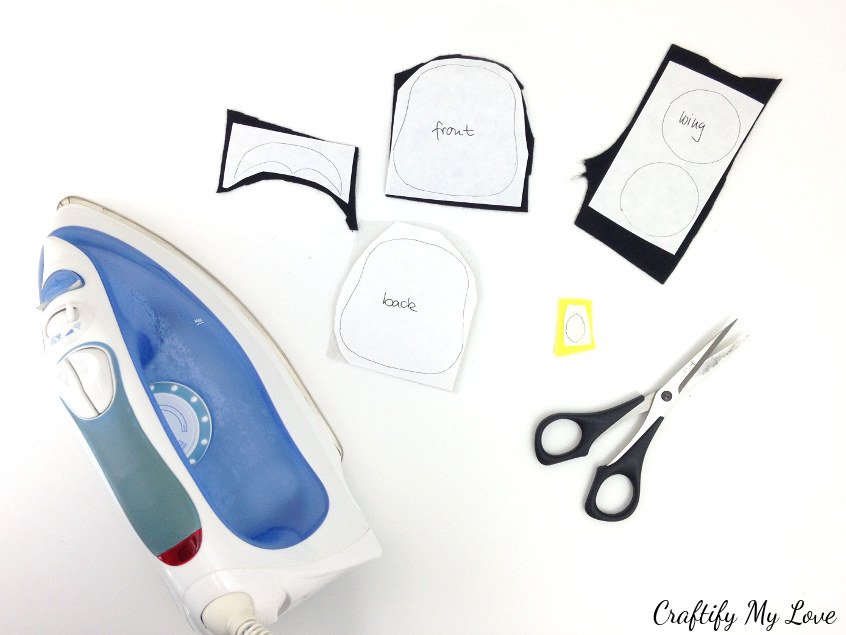 Cut along the lines of your templates.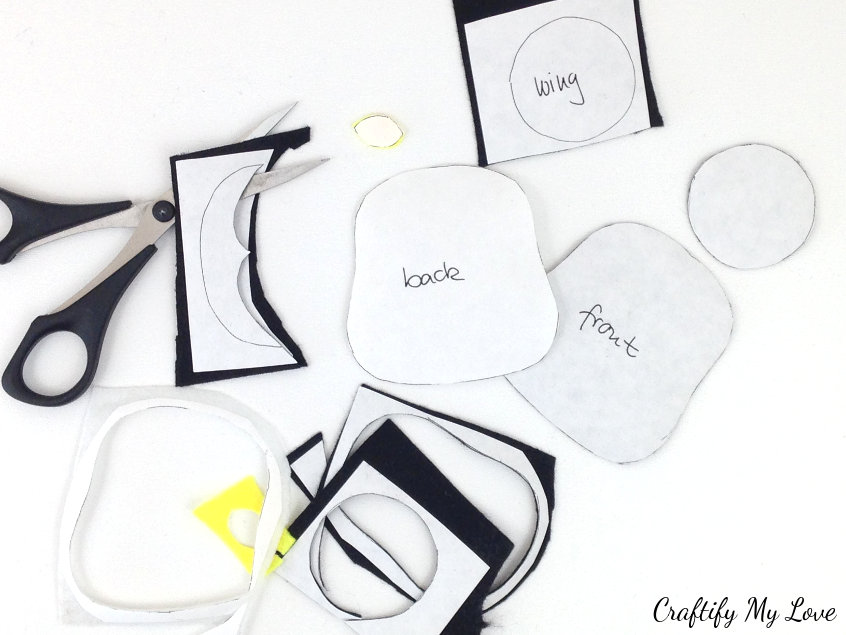 Peel the freezer paper off. Now if you were using a fairly thin sheet of felt your element might change shape a little. Don't fret, when you are gluing your penguin 3D felt bookmark together this won't be noticeable anymore.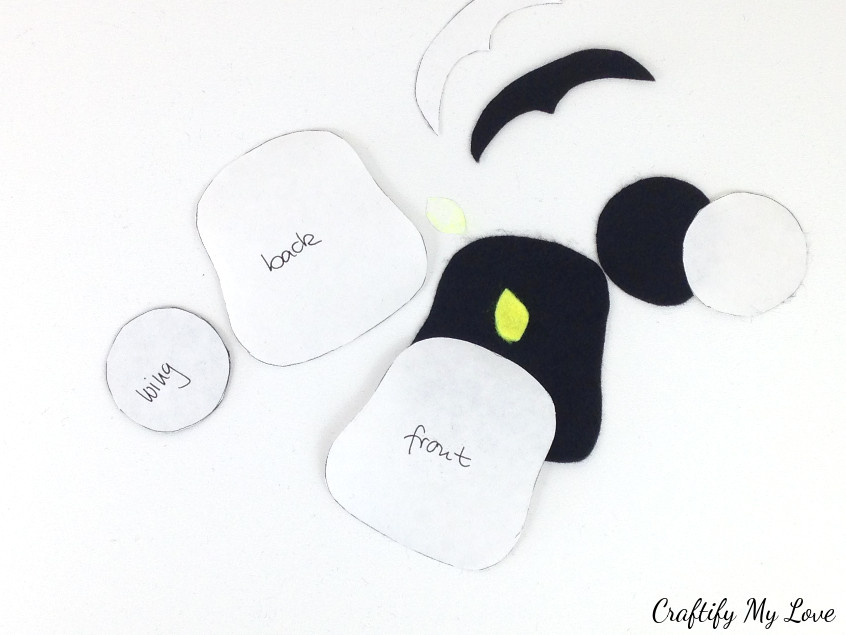 Cut a piece of ribbon, that will be the actual marker for your book!
I suggest you leave it super long. The ribbon will then mark your page inside of the book. This way the penguin can lie on your books cover and be a visual element and not be hidden & squeezed inside the book.
Use shorter pieces of the same yellow ribbon for the penguin's feet.
Now, assemble your Mr. Penguin bookmark
In preparation for the gluing process, I like to put all the pieces together to see if I am happy with the result.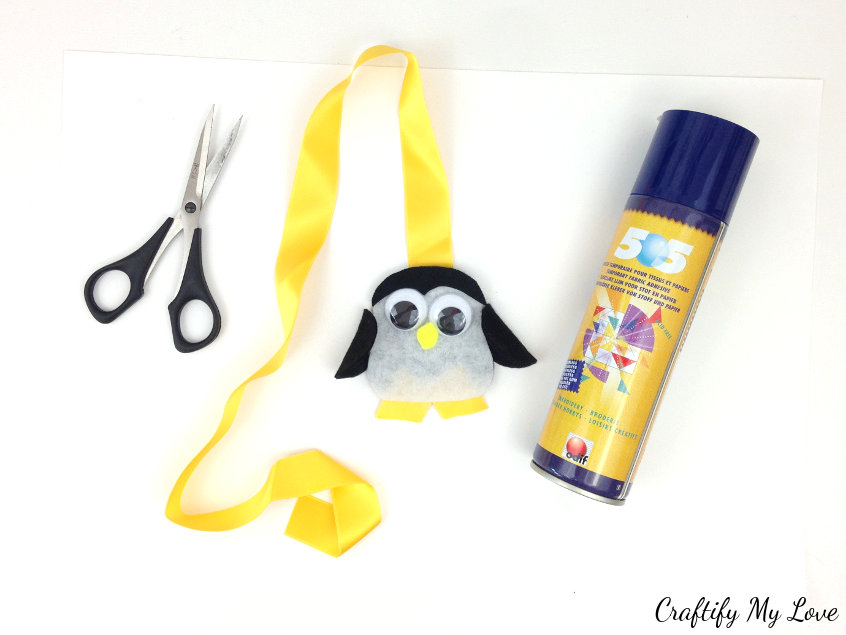 Spray the black side of your penguin's body with spray adhesive. Please be careful as to not use too much, else the tacky stuff will leak through to the other side.
Place the ribbon on the felt and add some more tacky spray on the ribbon.
Related: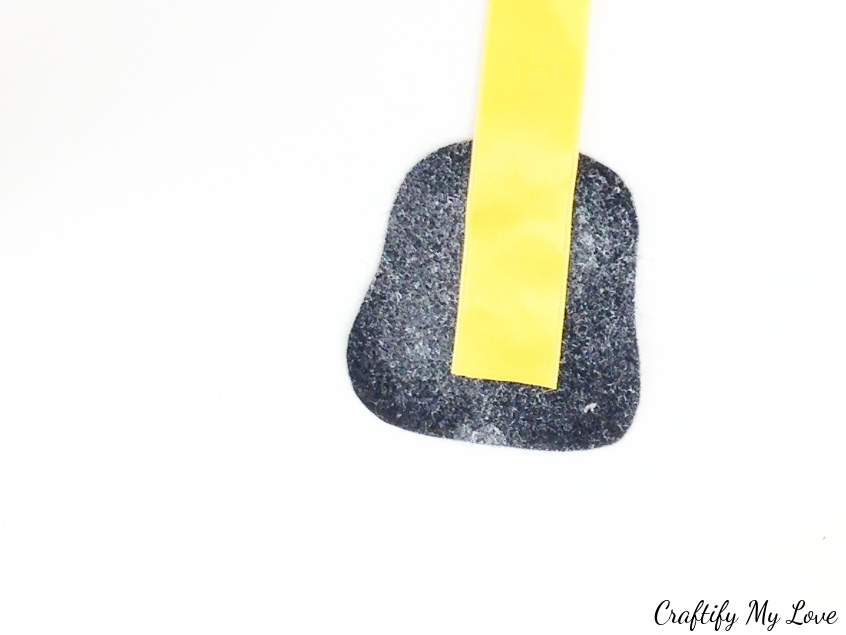 Place the white body element on top of the black one.
Spray the hairdo with tacky glue and add it to your 3D bookmark.
You can use crafting glue or hot glue (dries way faster) to add the wiggle eyes.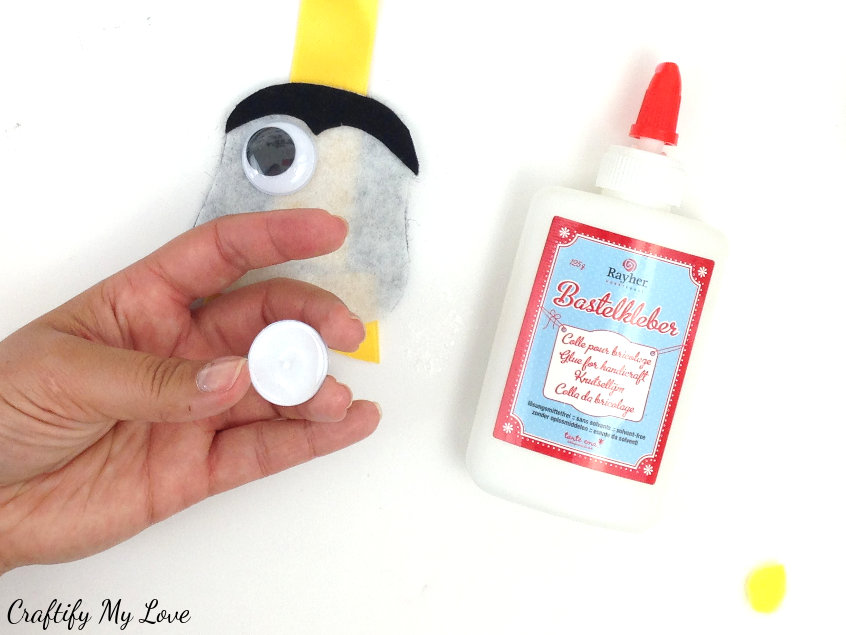 Fold the beak in half and cover one half with glue. Press it down between and under the wiggle eyes.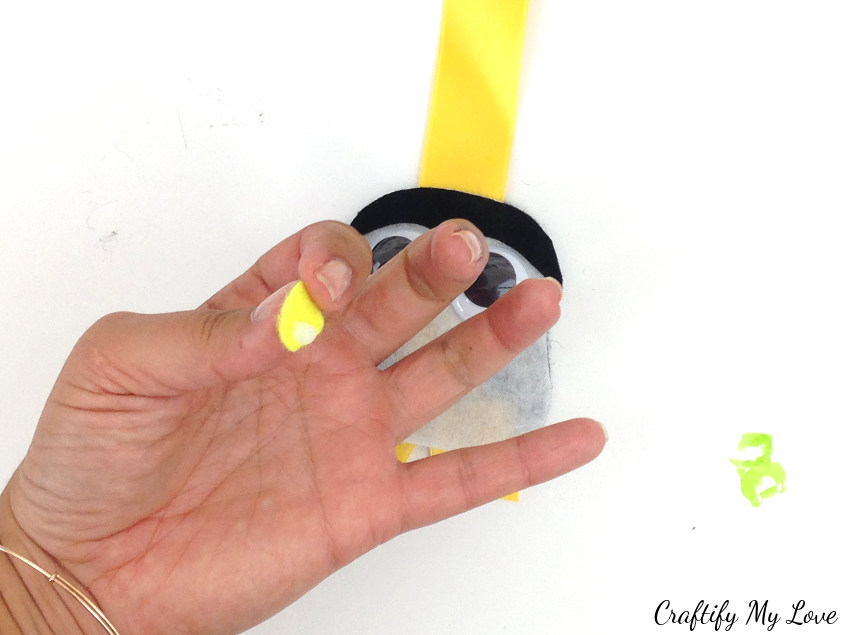 Now, for the wings:
Fold them in half and spray your glue to the top part.
Place the penguin between the wing and press together for a couple of seconds.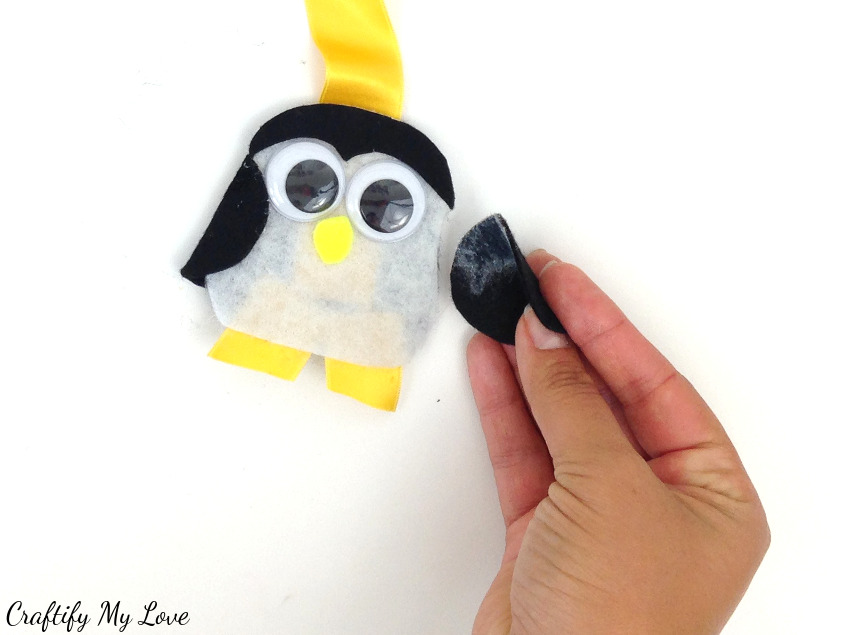 And there you have it! A cute little Mr. Penguin 3D felt bookmark.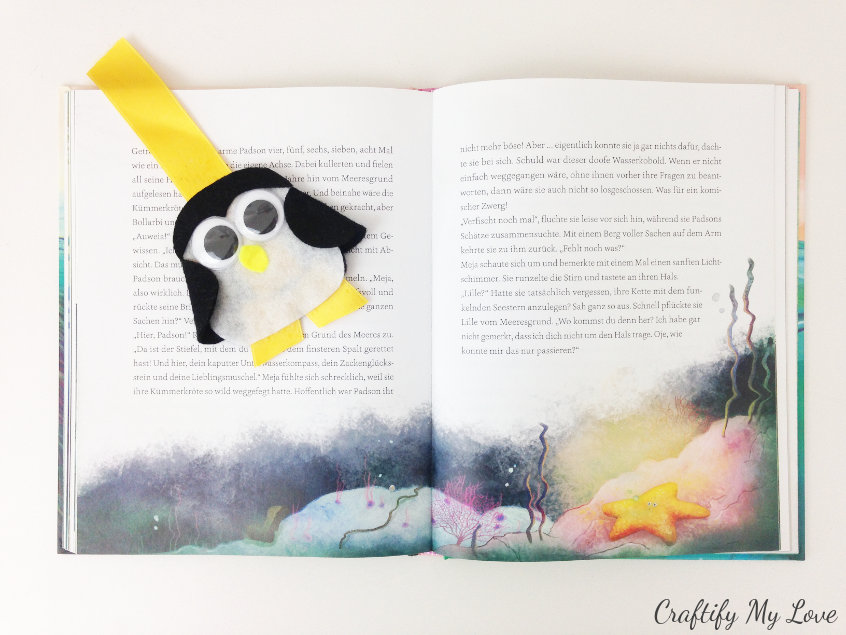 Variations:
Add the little bow from your template or a mini ribbon rose to your penguin you would have created Girly Penguin.
Mix things up with other color felt sheets and create an owl instead (see next photo for examples).
Get creative with all sorts of accessories: add sequins, ricrac trim, rhinestone flowers or glitter glue.
Over at Favecrafts.com, you will find many other felt crafts, too.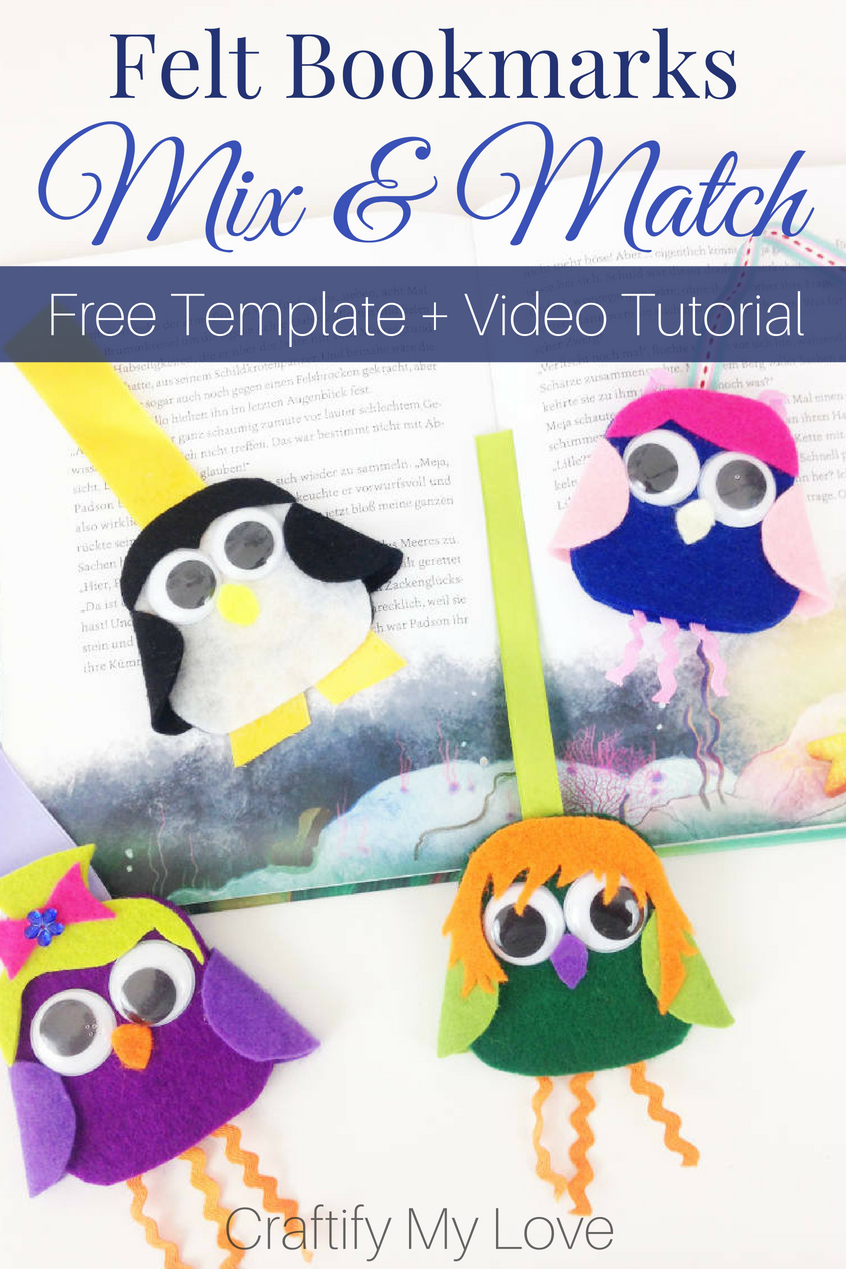 I think the fellow with the orange hair has quite some similarity to John Lennon, don't you think?

Maybe I should make him little glasses from crafting wire, lol.
What do you say? Will you make yourself a Mr. Penguin bookmark or go crazy and make several? I think they'd make great gifts to a bookworm.
Love,

PS: Don't forget to PIN this to Pinterest.