You are probably starting to think about Mother's Day Gift Ideas, right? For some people, it's really hard to come up with gift ideas. For me not so much.
So, I thought I'd write things down, that popped into my mind for this year's Mother's Day. And it would really make me happy if this Mother's Day gift guide is of any help to you!
Maybe you'll
find THE PERFECT gift to show your Mom that you care,
finally sit down and make something with your hands aka DIY, or
you'll try your luck in the $250 Mother's Day Giveaway at the end of this post and might even win!
I even added a couple store-bought Mother's Day gift ideas you can make happen with (or without) this extra money!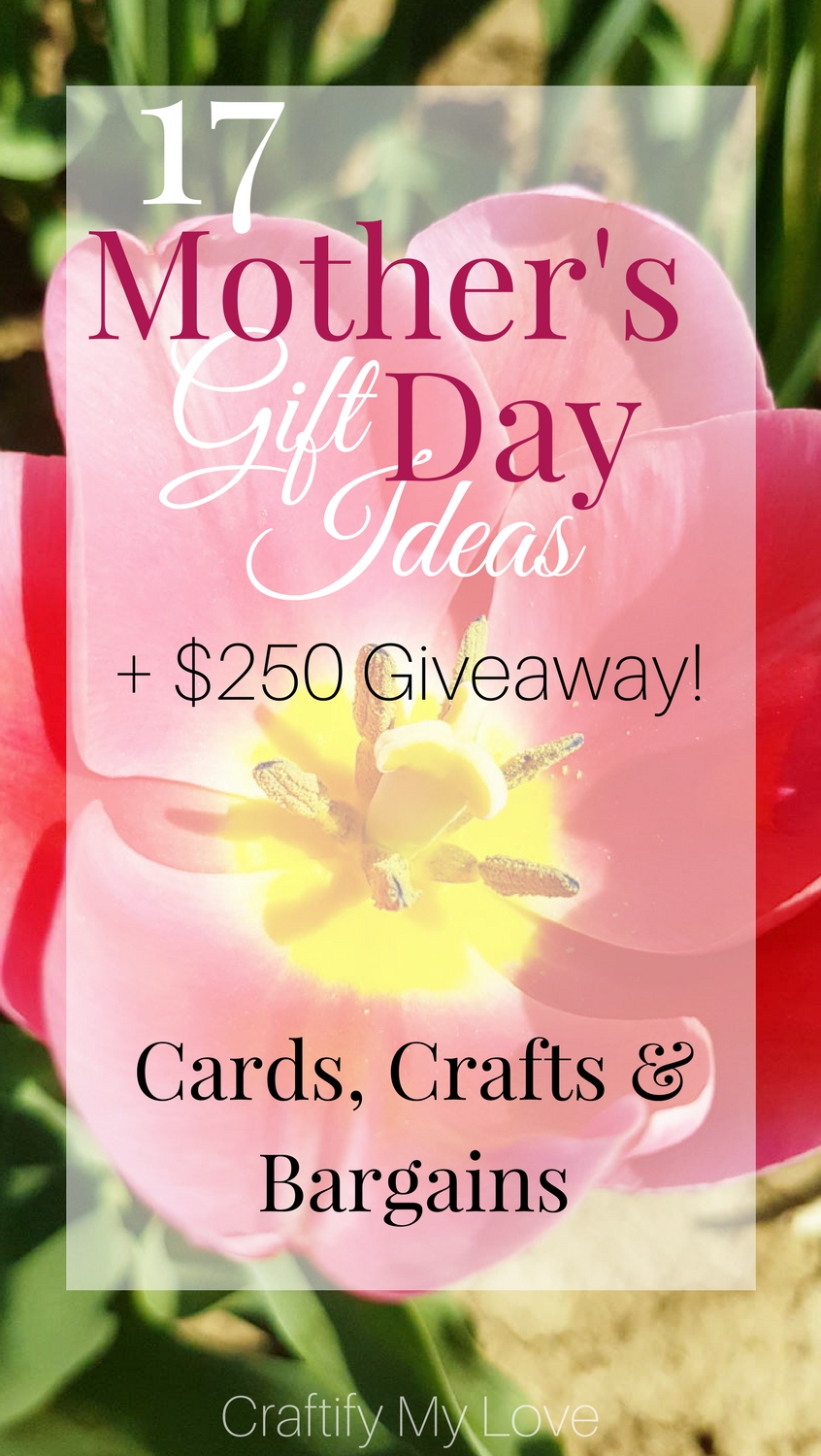 1 – DIY Mother's Day Cards + Envelope
Nothing can beat a handmade card with a personal note inside, don't you think?
My Mums greatest hobby is writing postcards and letters to friends and family.
I can remember a time (as those dang hormones made me a super cranky teenager) when I totally hated it that she made me send a gazillion postcards whenever we were on vacation.
Now, as a grown-up, I can see all the LOVE in this process: It makes her happy to send the cards and it makes us happy to receive them and even respond. As this makes her happy again, lol. See?
Sending one postcard can create a cycle of happiness
This year's Mother's Day card for my Mum and she absolutely loved it! I know, it's not Mother's Day already, but I'll be on a three-week vacation in May, visiting friends in the US.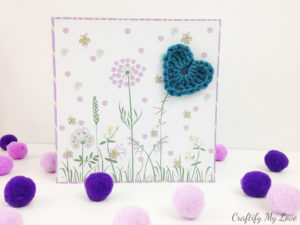 Hearts & flowers, what's not to love on this card?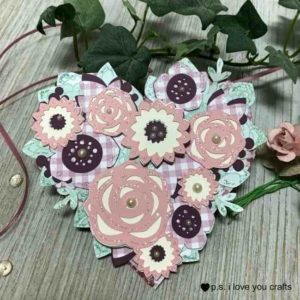 So much detail and even gold in this one. I love it!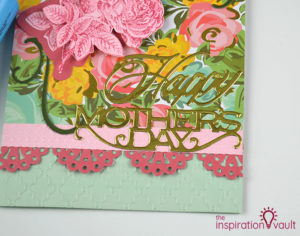 DIY Cards never come with envelopes. Learn in this post the ultimate recipe on how to make one in any size you want!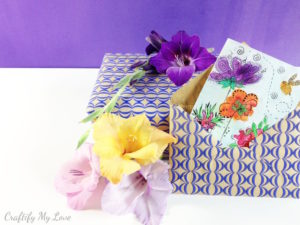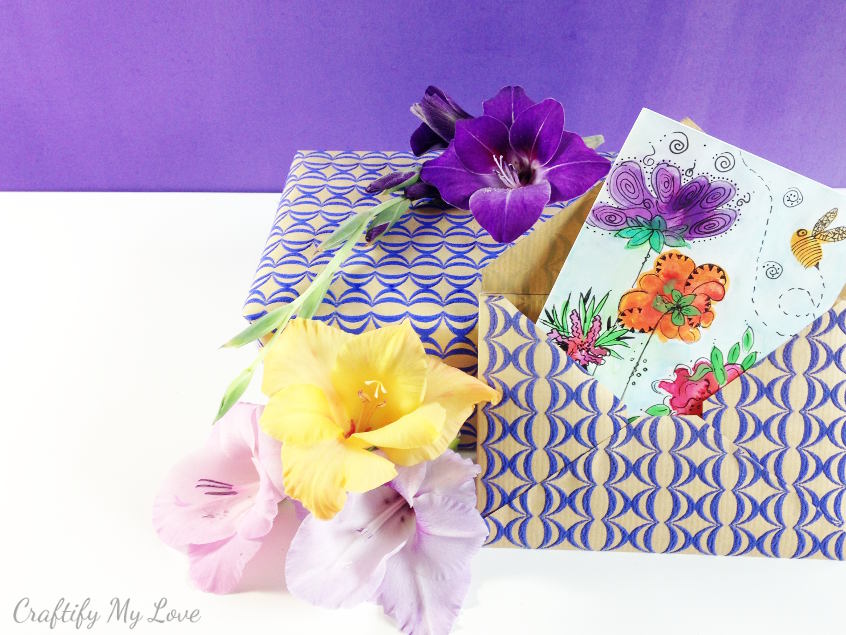 2 – Handmade Mother's Day Gifts
It's always a great gift idea to make something by yourself, with your own hands. This will show your Mother that you truly care!
When DIY-ing a gift you are giving away your most precious good: your time!
Your Mother won't care if you spend 10 bucks or 100, she won't ever want to part with that gift made by her own flesh and blood.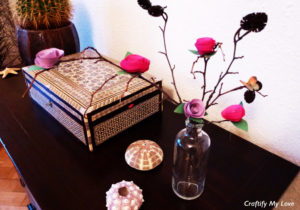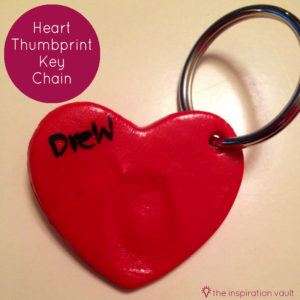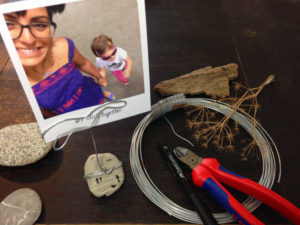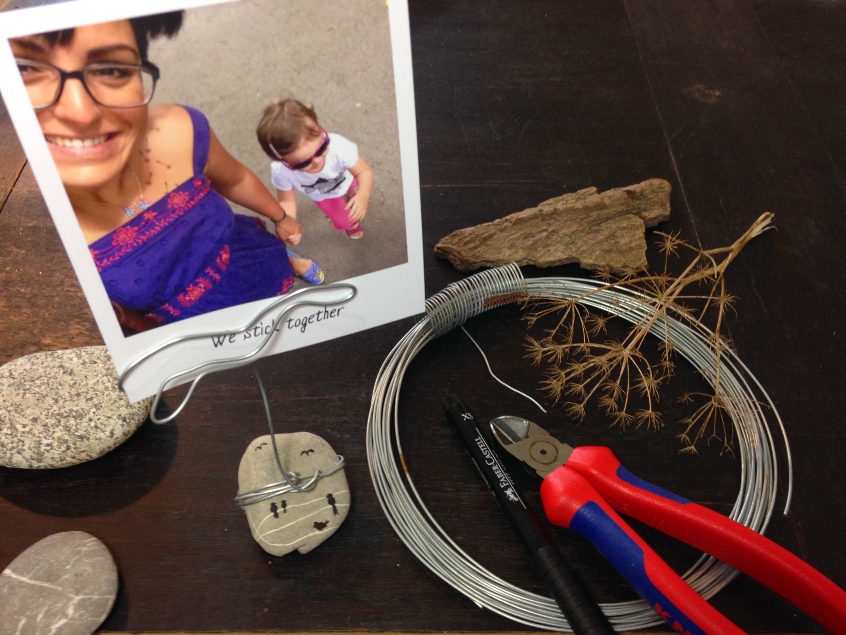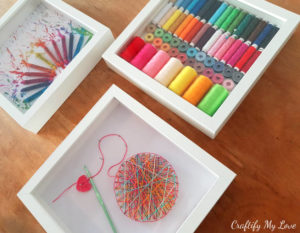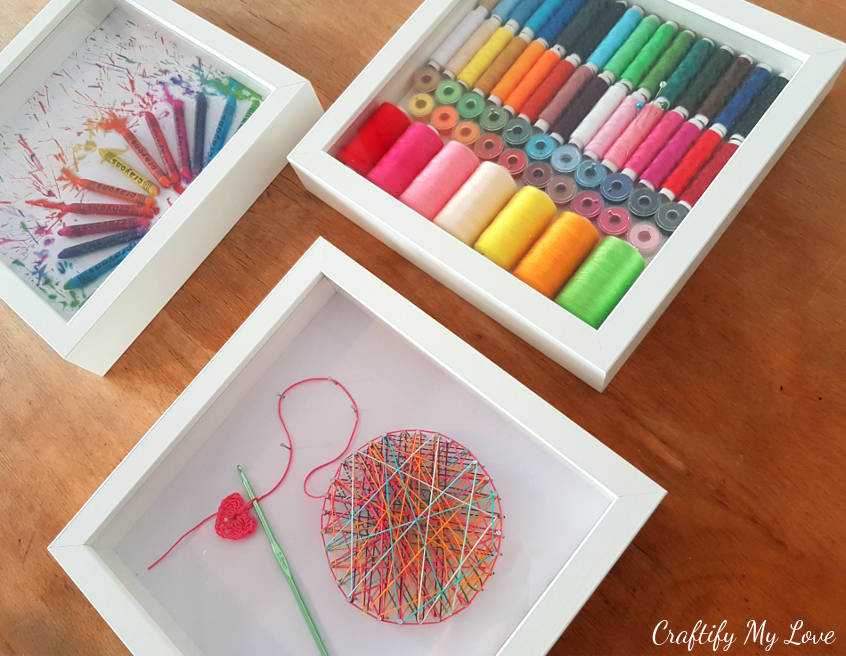 Is your Mom into
3 – Even More Mother's Day Gift Ideas…
This post contains affiliate links. For more information, please see my disclosure here.
Do you remember the $250 Mother's Day Giveaway I mentioned above? Here are some great Mother's Day gift ideas you could spend that money on. Make sure to participate at the end of this post!!!
Take Your Mom on a Staycation
My Mum and I share the love for musicals, a good show or the circus. You could plan a fun night out together and to top things off, you could book a hotel for the night.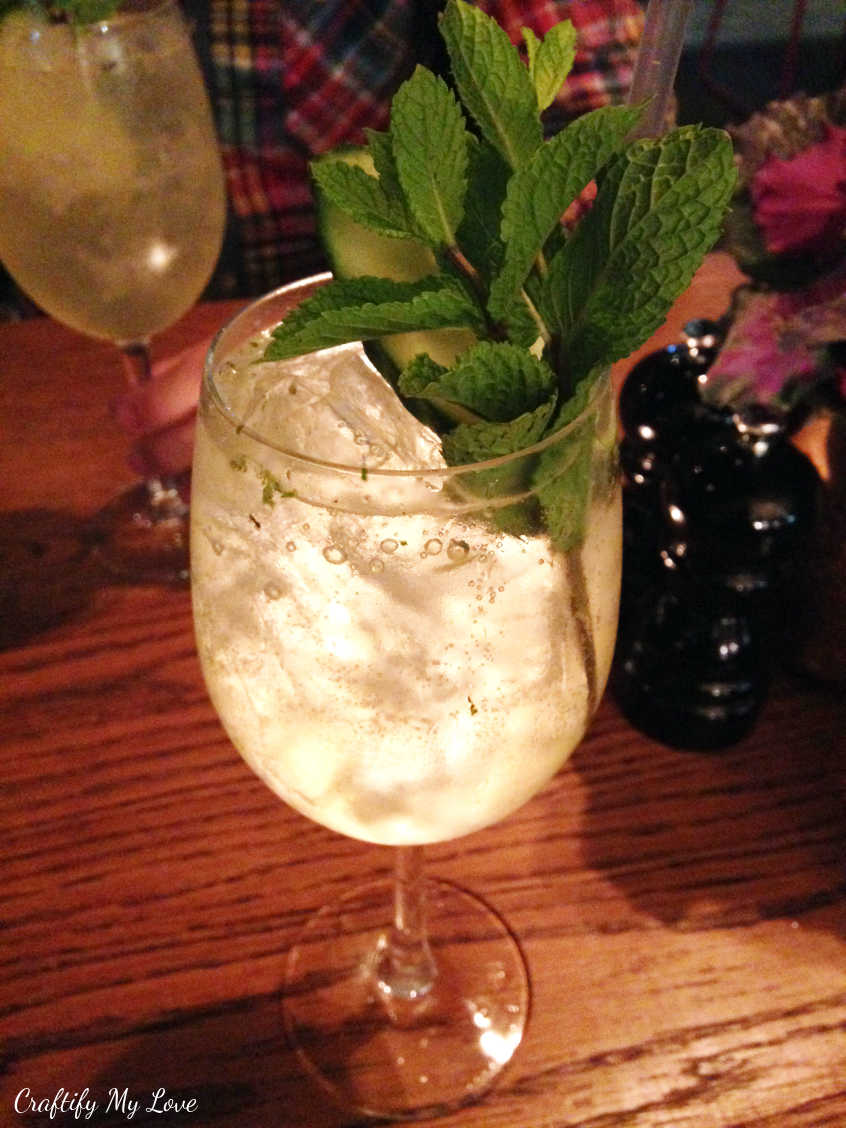 Wouldn't it be great to reside in a darling little hotel after a fun night in the city? Sipping cocktails at the bar and chatting before a good nights sleep and a wonderful breakfast together. Ahhhh that sounds like BLISS!
Book a Staycation Now & Save $15:
I've booked the hotels for my last trip to London (to get my flower tattoo on my right arm) and to Dublin, this March (mostly I'm traveling over my birthday) over at booking.com and have been suuuuuper happy with my finds.
Have you ever tried that booking platform? I scored excellent prices, even for a staycation in Munich this spring, that I kinda booked very much last minute.
Gosh, this post is long. Too much personal info? Basically, what I am trying to say with all that is, another Mother's Day gift idea could be for you to book a staycation today + save another $15 on top of any special offer when using this link: booking.com.
Dress your Mom in Style
My Mum is a very special person. She has managed to preserve her inner child and I love her all the more for that fact! My Mum loves to dress in comfy sweatshirts and bright colors. She doesn't do make-up and is a very natural person.
I often make her unique t-shirts and sweatshirts to match her personality and she wears them all the time!! 💕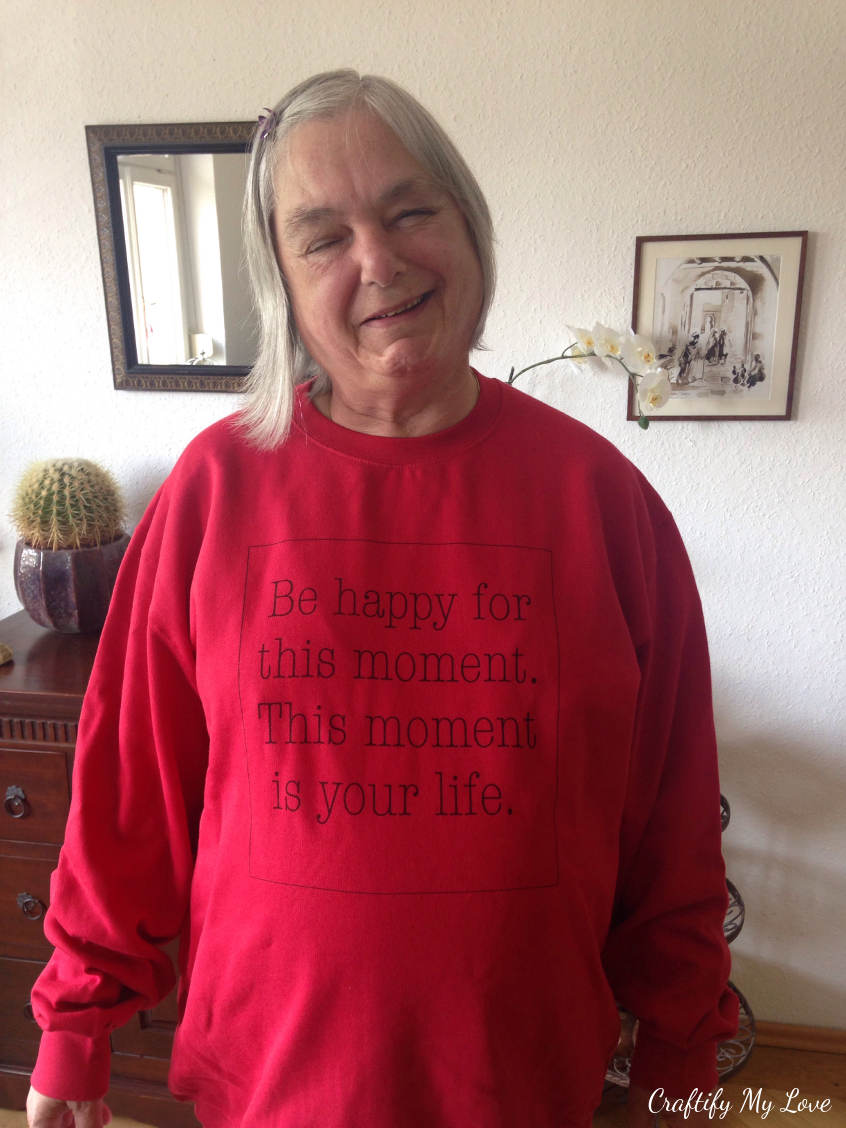 Last year, I made her this sweatshirt reading Be happy for this moment. This moment is your life. and I am now selling it on Merch by Amazon. It's my first t-shirt design I've made available for my readers to purchase.
Please, tell me if you like it and would love to see more!
I know for a fact that this Less Bitter, More Glitter Shirt by my friend Pam from P. S. I Love You Crafts was made with the same love at heart as I make the shirts and sweaters for my Mum. And as all Mothers strive for harmony & happiness I am totally convinced that your Mum will absolutely adore this! Order it today, it's only $ 17.99.
Electronics Update
I don't know about your Mother, but mine will always make sure everyone else has everything they need before she invests one Cent on herself.
The other weekend she asked me if I could help her find a certain channel on her TV. I tried but even if I were a rocket scientist it wouldn't have been possible as her super old box TV simply won't support that channel.
My Mum would rather not watch that channel instead of buying a new TV because "this one is working perfectly fine". So I simply went online and found her a new TV that was also on sale. And guess what, she likes it a lot!
If your Mum's TV is just fine, think about other possibilities to up her electronics game:

Need some more inspiration? All Free Holliday Crafts or Country Living have quite a big selection of Mother's Day Gift Ideas.
Now on to the giveaway!
We are so excited to be giving away $250 in cash prizes for Mother's Day to two lucky readers.
The prize will consist of 2 – $125 gift cards. Each winner will choose the gift card you want. Please choose a gift card which comes from an online store and can be paid by US dollars. EX: Amazon, Target, Walmart, Macy's, Kohls, etc. You may ask for more than one gift card but must add up to $125.
Now its time to meet our wonderful co-hosts who have made this giveaway possible.
Kenyatta at My Design Rules | Kim at Shopping Kim | Carrie at Curly Crafty Mom | Jeanne at Home Garden Joy | Holly at Pink Fortitude | Dana at Create to Donate | Trish at By Trish Sutton | Tammy at Creative K Kids | Susan at Culinary Envy | Meredith at The Mom of the Year | Audrey at That Recipe | Linda at A Labour of Life | Leslie at Once Upon a Time & Happily Ever After | Sinea at Ducks 'n a Row | Penny at Penny's Passion | Habiba at Craftify My Love | Gladys at Moms to Grandmas | Mitch at Gay NYC Dad | Emily at Domestic Deadline | Kristin at White Arrows Home | Michelle at Our Crafty Mom | Beverly at Eclectic Red Barn | Marie at The Inspiration Vault | Melissa at Deliciously Savvy | Pam at P.S. I Love You Crafts| Tammy at My Life Abundant
Please stop by and say hi to these wonderful ladies and their blogs.
The giveaway will end midnight on Friday, May 11th, a few days before Mother's Day. You will have 48 hours to respond to the email claiming the prize. If we don't hear in 48 hours, we will choose another winner. The giveaway is open to anyone over 18 years of age and able to receive e-gift cards from the U.S.
a Rafflecopter giveaway