Hello Lovely, today I have two exciting things to share with you: 1. This super easy recycling craft tutorial that'll teach you how to DIY Upcycled Painted Glass Bottles in no time and 2. This years Mothers Day Giveaway! Enter for your chance to win gift cards totalling $410! Read more on that at the end of this post.
If you want to learn how to make those Pretty Little Lace Candle Holders from the picture above (also a frugal recycling project), you'll find the tutorial HERE. The photo in the matching frame shows my Mum and I in front of the stage as we went to the show Hair in Munich. We like to do something special each year for Mother's Day. I even wore a tunic my Mom bought in the 70's in London. Quite matching, don't you think?
I am sure you and I share the love for quick & easy DIY projects, a nicely decorated home, and a craft that costs literally next to nothing, right?
I am also sure that you'll probably have some cute little bottles in your recycling bin. Go and grab them now! There will also be some left-over paint in your home, right? Be it a store-bought chalk paint or a DIY home mixed paint you made yourself. Excellent. Then you're ready to go!
Supplies to DIY Upcycled Painted Glass Bottles

Empty white-ish glass bottles
Think little juice or Sanbitter Tonic bottles, or go big and think wine bottles. Whichever you prefer or what kind of vase you are in need of. I think bottles with different shapes make for a good combination. Don't forget to check your local thrift store, too!
Paint
I used some of my own DIY Chalk Paint that was left from my DIY Stenciled Anthropologie Dresser Knock-Off. But really, you can use any paint you have at home!
Drying Time
Recycling Craft: How to DIY Painted Glass Vases
This is probably the easiest tutorial I am sharing on my blog, next to my DIY Butterfly Antennae Headband. And yet, I am loving it!
Being creative doesn't need to be rocket science, you know?!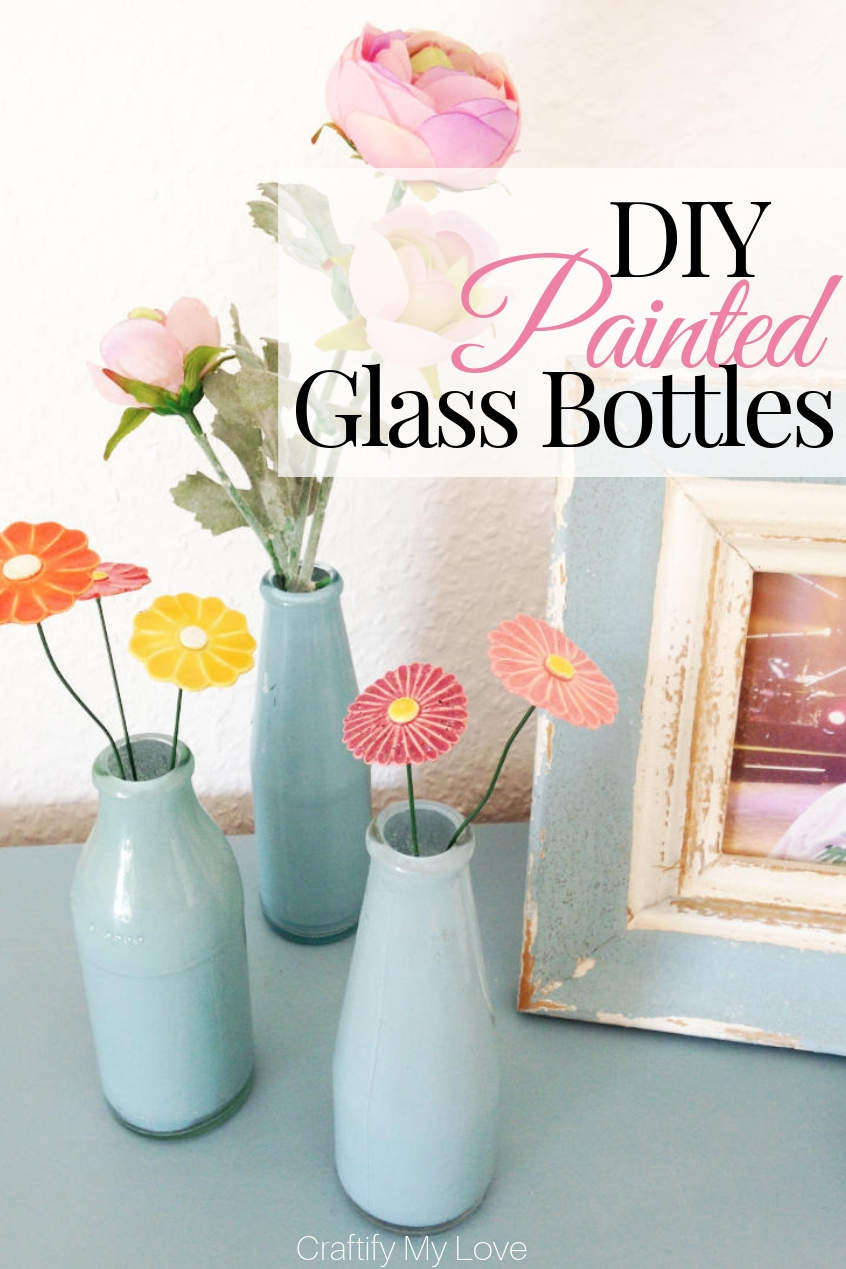 Extra-Knowledge: How to Mix any Colour Paint You Like
Isn't it fun how well the colour of that picture frame matches my DIY mixed chalk paint I've used for my Anthropology inspired dresser and these adorable little vases? Actually, it's not a coincidence!
Learn how to use a colour wheel to mix your own paint like a boss!
If you want to learn how to achieve a certain colour tone you have in mind, but can't find in the shops (or are not willing to pay for), check out the video tutorial on my DIY ombre stenciled pillow covers.
Oh, and if you enjoy Video Tutorials, make sure to sign up to my YouTube channel HERE.
3 Simple Steps to Your Frugal Home Decor Recycled Vases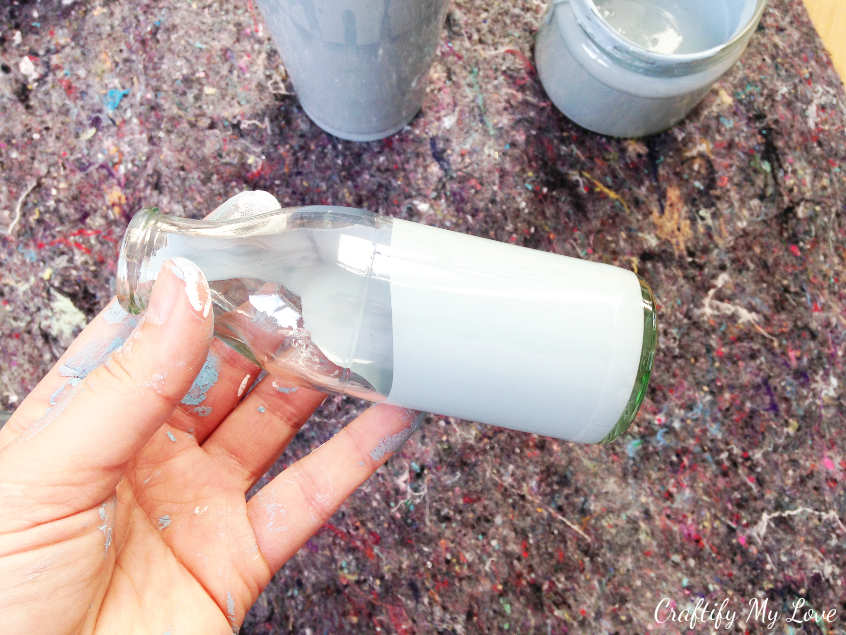 Step 1 – Pour some of your paint into your recycled bottle and twist and turn your bottle until it is covered completely from the inside.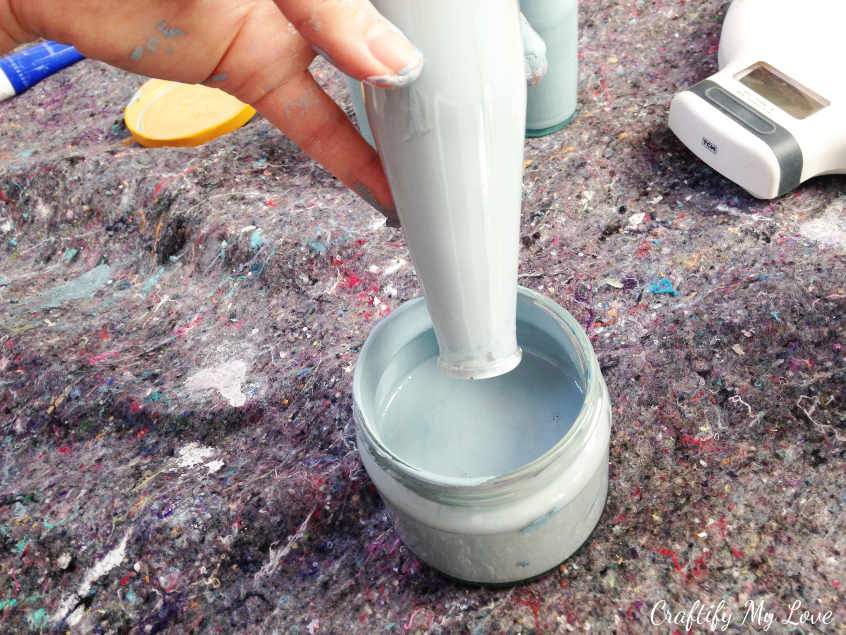 Step 2 – Turn your now already painted glass vase upside down and let all the excess paint drip out.
Time-Saving Tip: If you are making several upcycled vases you can let the excess paint drip right into the next empty glass bottle.
Step 3 – Let the paint in your bottles dry completely before adding your flowers.
And YESSSS! You can actually use these vases to display real flowers that need water.
I tried and it worked. I had beautiful cut flowers (Tulips – my favourites) in my home for about a week. Given, I added some decorative twigs and moving them around scraped a little of the paint off.
Multiple Uses, too!
Now, wouldn't these cute little vases look very pretty on your Mother's Day table setting? Or you could cut some flowers in your garden and voilà you'll have made a wonderful DIY gift idea! How do you spend this day in your family?
Love,

PS: Don't forget to PIN this to Pinterest.
PPS: If you are looking for more ideas to decorate with DIY vases you'll find inspiration on FaveCrafts.com.
Now on to the giveaway!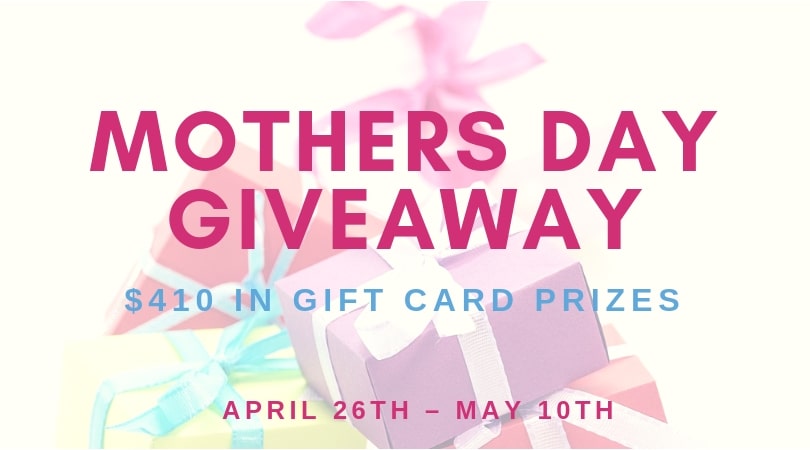 We are so excited to be giving away $410 in gift cards for Mother's Day to three lucky readers. The giveaway will run from April 26th – May 10th.
The prizes are each one:
$200 gift card

$105 gift card

$105 gift card
Each winner will choose the gift card you want. Please choose a gift card which comes from an online store and can be paid by US dollars. EX: Amazon, Target, Walmart, Macy's, Kohls, etc. You may ask for more than one gift card but must add up to your prize amount.
Please stop by and say hi to these wonderful co-hosts and their blogs.
The giveaway will end midnight on Friday, May 10th, a few days before Mother's Day. The winner will have 48 hours to respond to the email claiming their prize. If we don't hear in 48 hours, we will choose another winner. The giveaway is open to anyone over 18 years of age and able to receive e-gift cards from the U.S.
a Rafflecopter giveaway