I gave Markus his anniversary present last November covered in hand-printed recyclable gift wrapping paper. If you are interested to learn how to DIY unique wrapping paper, then continue reading.
I promise you'll find that it is super easy to make (less than 10 minutes) and very prone to be altered by your own creative ideas. In order to trigger your creative juices, I added some tips here and there. See if you can find them 😉
Related: Find even more creative gift wrapping ideas HERE. You'll find ideas for any occasion and season!
Supplies To Hand Print Gift Wrapping Paper
This post contains affiliate links. That means if you make a purchase through these links, I may receive a small commission at no extra cost to you! You can click here to read my full disclosure.
What I like most about this tutorial is that the wrapping paper is recyclable, it can be made by kids & adults alike, and that you can probably make it from things you already have at home.
Scissors to cut your paper to size
Miscellaneous objects to hold the paper down
Empty toilet paper roll to DIY the stamp from
Paint – varnish, acrylic paint, chalk paint (did you know you can DIY that?) ink stamp pad, …
Bring on the Crafts – A Craft & DIY Blog Hop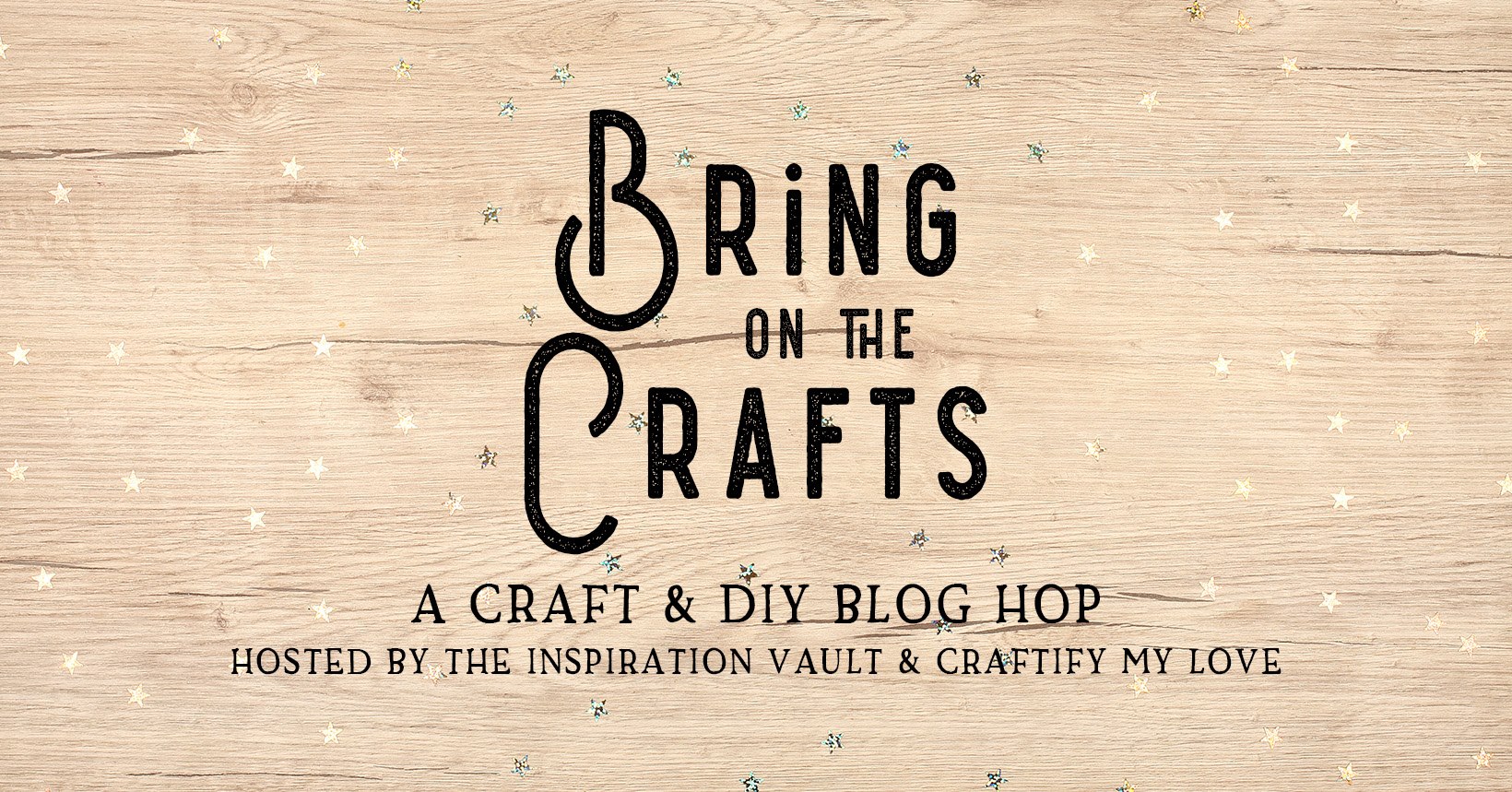 This post is part of my monthly blog hop where a group of DIY and crafty bloggers join forces every first Wednesday. Together with Marie & Aleisha from The Inspiration Vault I bring you the #BringontheCrafts blog hop. Each blogger creates a fun craft or DIY project to share that goes with a monthly theme.
January's theme is GLITTER. Each blogger chooses their own craft to make as long as they love it and it's glitter themed. Make sure to check them out at the end of this post!
Join in on the fun!
If you'd like to participate next month, you can request to join our Bring on the Crafts Facebook group. Next month's theme is paper!
Not a blogger?
But a creative mind none the less! Don't worry. Share your awesome creations in our Craft Cult Facebook group. This is also a great place to ask craft & DIY related questions and find inspiration for your next project.
How to Glitter Up your DIY Gift Wrap Paper
So, in order to make this project work for the glitter themed challenge ;-), I am sharing with you 4 ideas on how to add glitter to your hand-printed gift wrapping paper.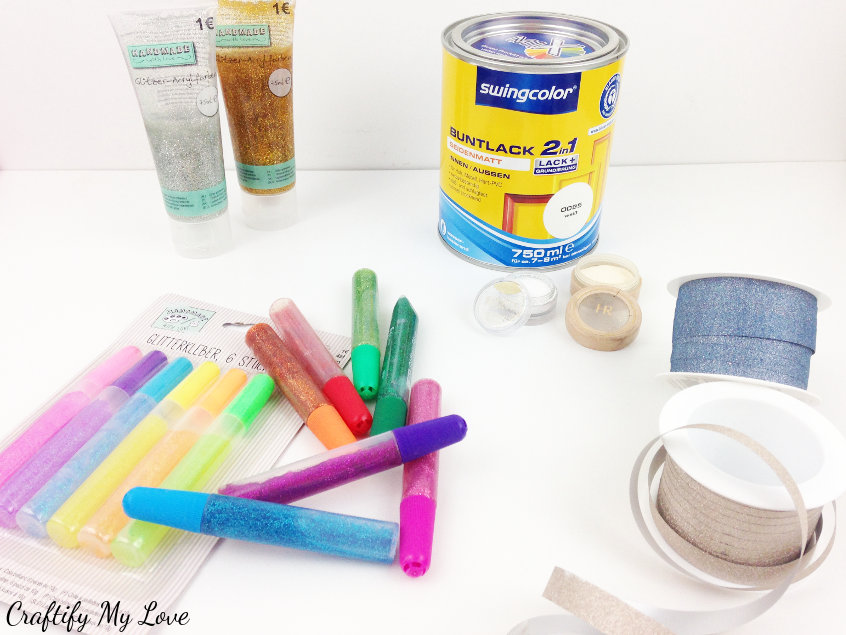 How to Make Hand-Printed Recyclable Valentine's Day Gift Wrapping Paper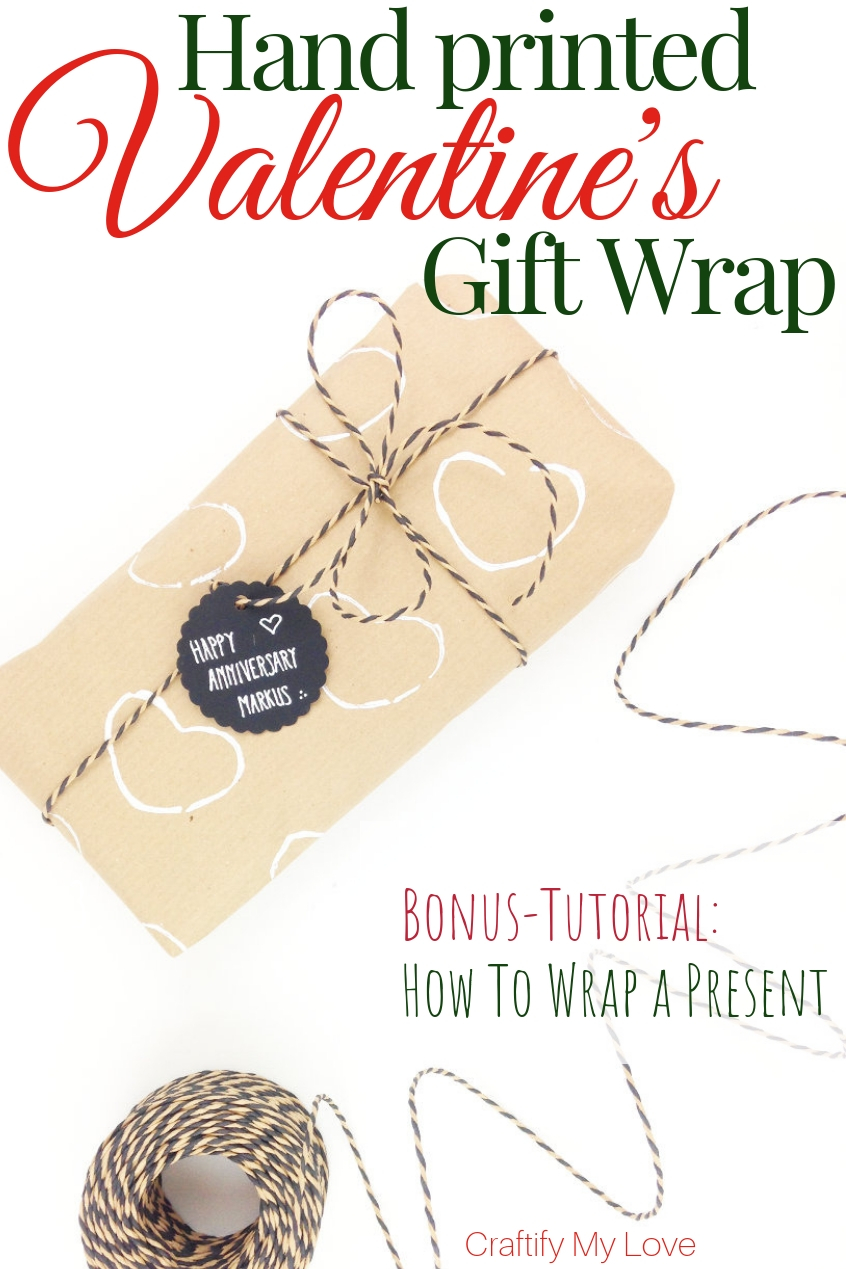 1 – Preparations to DIY Hand-Painted Wrapping Paper
If you want to give stamping on fabric a try, you'll find a cute project HERE.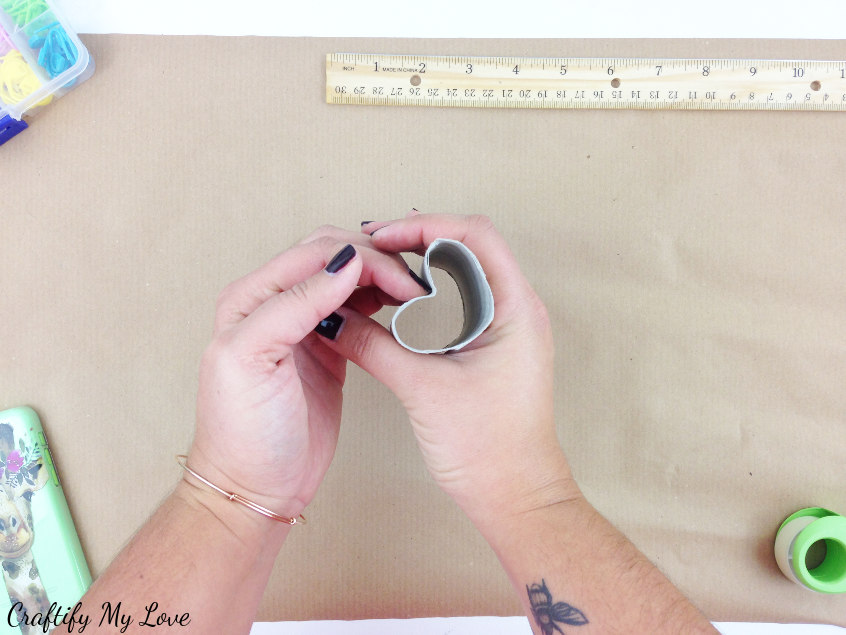 Spread the shipping paper or brown paper out on your workspace.
Place random items at the corners to weigh the paper down.
Using an empty tp roll, you'll be hand-shaping now the heart shaped stamp:
Place the tp roll into your right hand and, using your left hand's index, middle, ring, and pinky finger, push the tp roll in to create the inward pointy part of a heart.
Possible Variations:
Use white paper (e.g. from a Sketchbook) or black crafting paper and a contrasting color paint to achieve an altogether different look.
Use cookie cutters or a jar for a different stamp motive.
If you want, you can easily add a little glitter to your paint!
Advanced: You'll even find tutorials on how to MAKE paper from scratch over at AllFreePaperCrafts.com
2 – Start The Stamping Process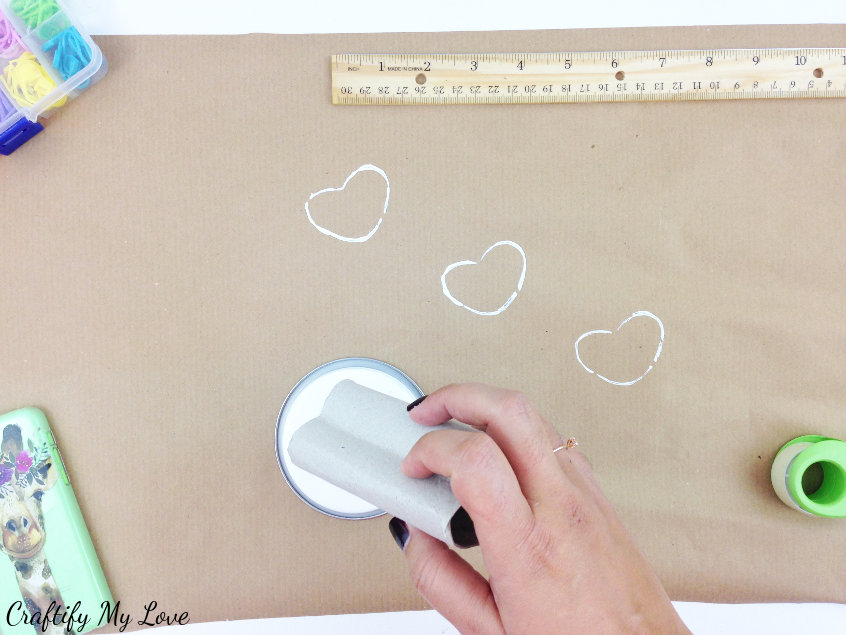 I placed only the lid of my paint on my work surface. That amount of paint should easily be enough. If you are using acrylic paint from a tube, you can use a paper plate, a little cling film or tin foil to hold your paint.
Now, dip the tp roll stencil into the paint and start stenciling from the inside out.
Related:
You can use your stamp several times after covering it with paint. I mostly did three repeats. This way your hearts will each look a little different.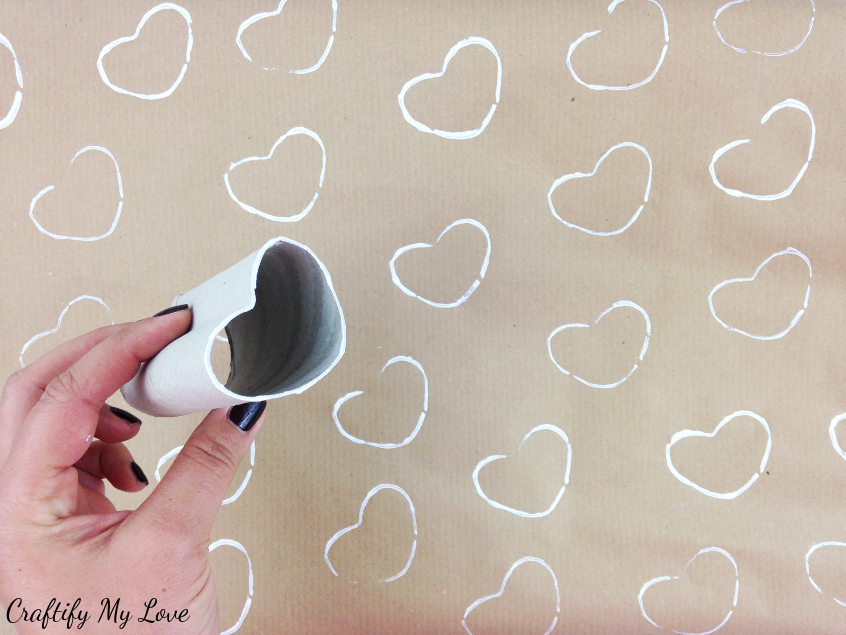 3 – Build Up Your Pattern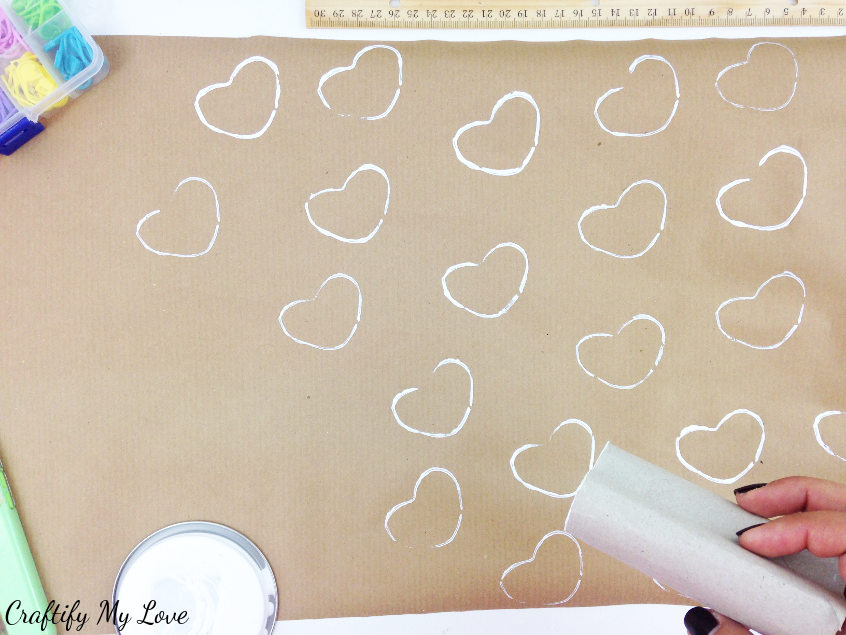 If you are a sucker for symmetry, you could perfection the pattern of course. As I tend to #HeartThoseImperfections (I even made myself a t-shirt with that message) I tend to eyeball it.
4 – Finishing Touches
Your hand-printed recyclable Valentine's Day gift wrapping paper is almost done.
Occasions to DIY hand-stamped wrapping paper for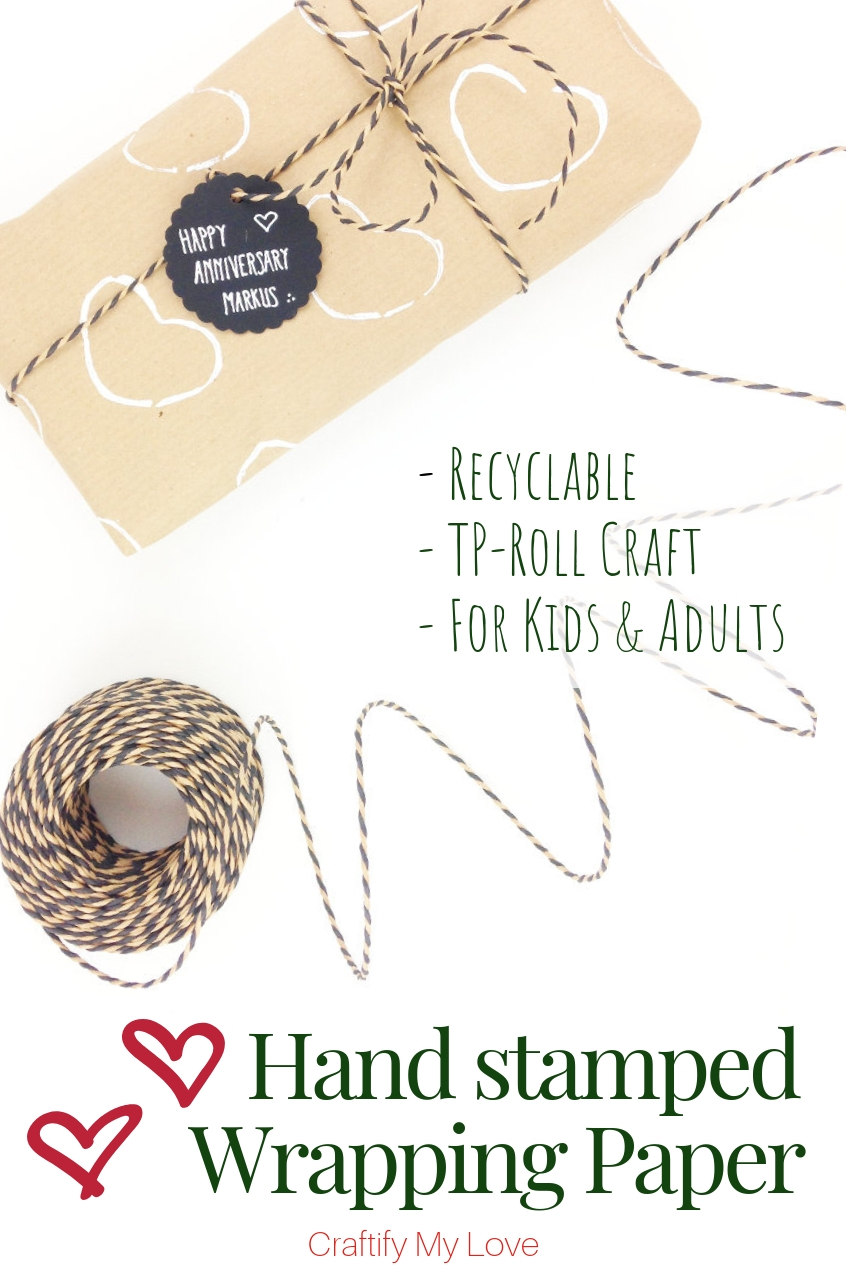 Of course your DIY wrapping paper can be used for other occasions as well and not just for Valentine's Day. I used it for Markus and my Anniversary. Mother's Day, even Father's Day and of course Birthdays are a good occasion to get crafty, too. If you change the stamp motive you can even make Christmas wrapping paper yourself.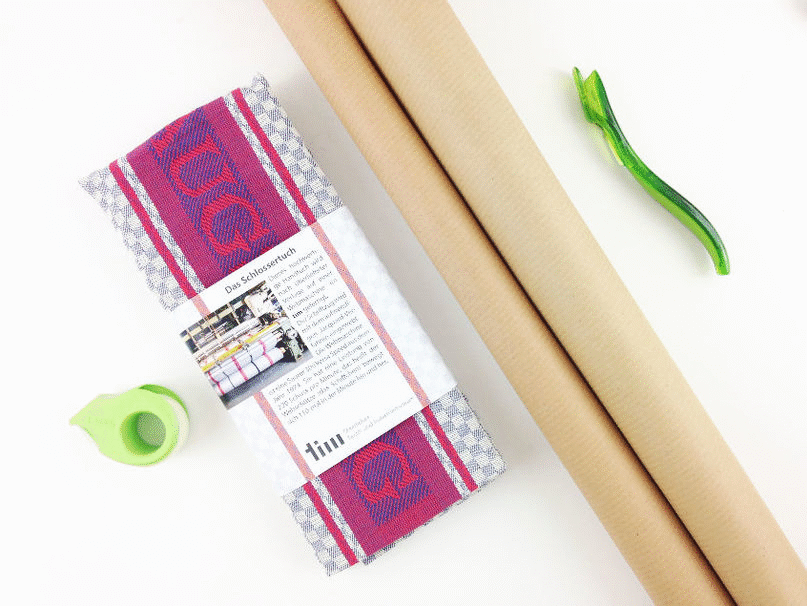 If you enjoy Video Tutorials, make sure to sign up to my YouTube channel HERE.
(DIY) Gift Ideas To Inspire Your Creativity
Handmade gifts are something very special. If you are into crafting and want to make something special, check out all these amazing DIY Gift Ideas HERE.
If you prefer to buy a thoughtful gift, that is totally ok, too. You'll find handy Gift Guides HERE.
Tell me in the comments: Have you already decided what to get for your loved one this Valentine's Day?
Love,

PS: Don't forget to PIN this to Pinterest
PPS: Now let's see all of those amazing craft and DIY projects from the Bring on the Crafts Blog Hop!