I am not the best gift wrapper on this planet. Why? Because I lack patience and honestly, don't enjoy it very much. But, I am a clever person and I know my super power: Whenever I get to DIY something, my creative juices will start to flow and passion will take over. This way I can trick myself into doing things I don't enjoy. Simply add a crafty project into the mix and I am all game. So, making these darling Upcycled DIY Gift Tags In Red & Green totally did the trick for this years Christmas gift wrapping you guys. Can you relate?
Did you know that I have teamed up with 50 plus bloggers to bring you lots of DIY Ideas and Recipes to make your holiday season merrier? There are 12 different topics posts in the series (but I only participate in 5 for sanity reasons, lol) and we have spread them out over a four-week period with three posts per week. Now is the time to subscribe!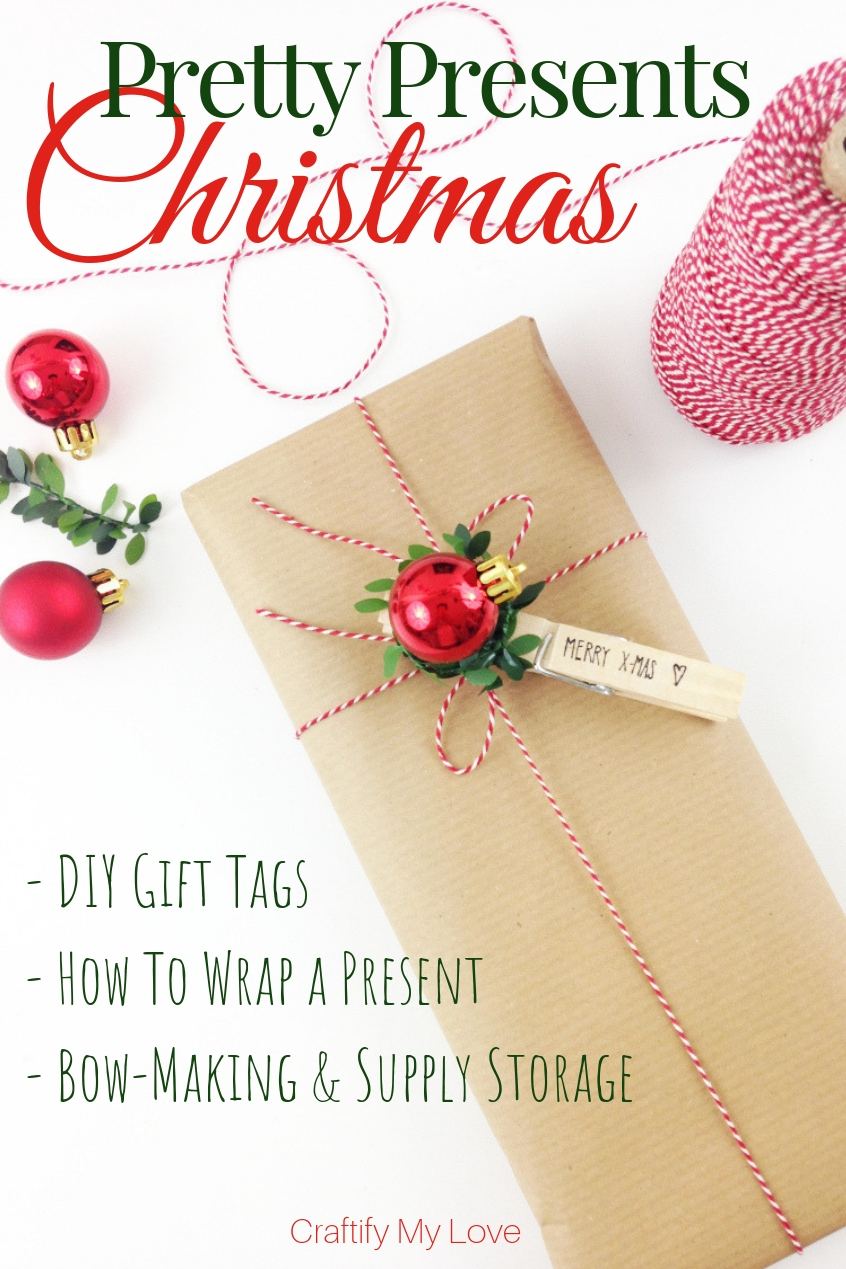 Welcome to Day 9 of the Fourth Annual 12 Days of Christmas Series!
Check out my 5 Contributions:
Pretty Presents (which you are currently reading)
GO HERE for the complete list of Dates and Topics plus a collection of most popular holiday ideas including ornaments, games, recipes and more from all 50 plus talented bloggers!
It's Day 9 and we are sharing Pretty Gift Wrapping Ideas! At the very bottom of this post you'll find lots of awesome inspiration…
---
Supplies to DIY Gift Tags for Christmas
This post contains affiliate links. That means if you make a purchase through these links, I may receive a small commission at no extra cost to you! You can click here to read my full disclosure.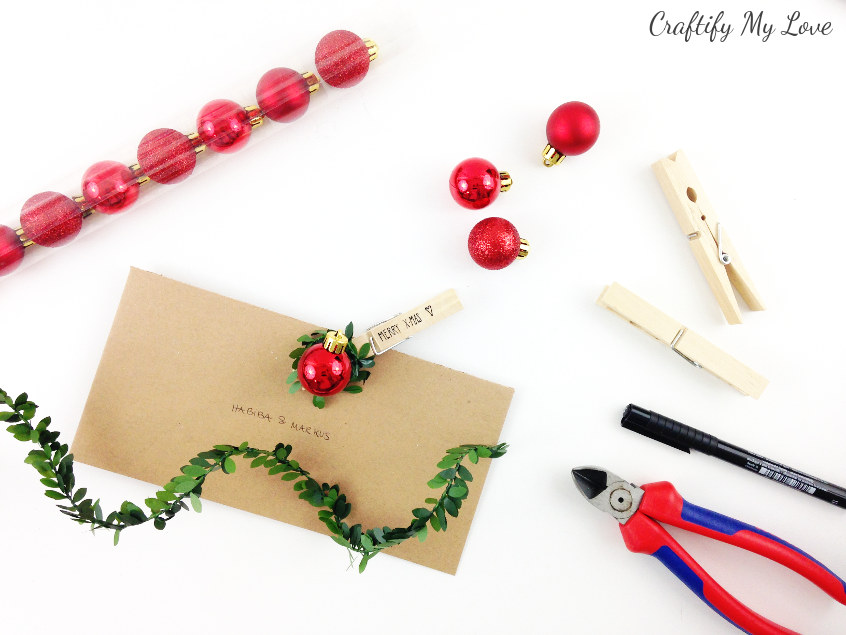 How To Make Personalised Traditional Red & Green Gift Tags
I've put a short video for you together. I hope you like it?!
If you enjoy Video Tutorials, make sure to sign up to my YouTube channel HERE.
More Upcycling & Recycling Christmas Crafts:
How To Store Your Upcycled Clothespins Gift Tags Until Christmas
Now that you've made the number of gift tags you'll need for Christmas, what to do with them, right? I don't know about you, but in the last couple of weeks before Christmas, my Craft Room is a total and complete mess. I guess it will be time for another Craft-Room Clean-Up Challenge in January.
But for now, I try to do my best simply not to drown in the results of my creativity by applying simple methods, such as this: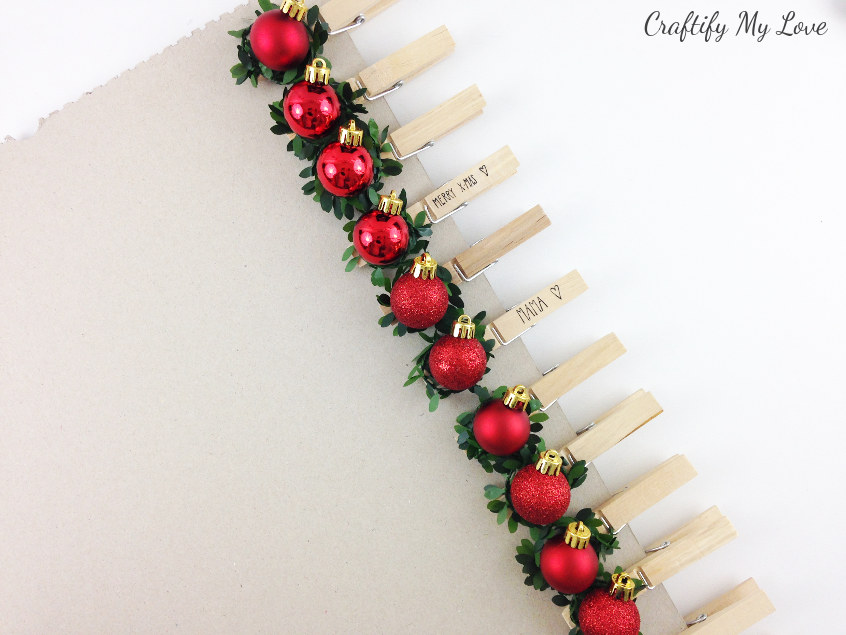 I grabbed a big piece of cardboard I saved from an old calendar.
Did you know that you can save a lot of money on craft supplies? >> Read all about that in my FREE Guide to Craft Supplies for LOW or NO Money HERE – it's a thank you for subscribing to my newsletter.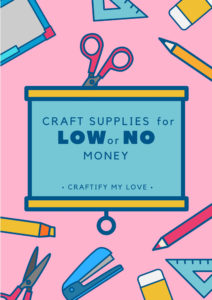 I simply pinned the gift tags to it and placed it in that corner of my Craft Room where I store cardboard and all my photo backdrops – DIYs and store-bought. Now they are ready to go when it's time to wrap all those pretty presents.
Traditional Brown Paper Gift-Wrapping Idea for Christmas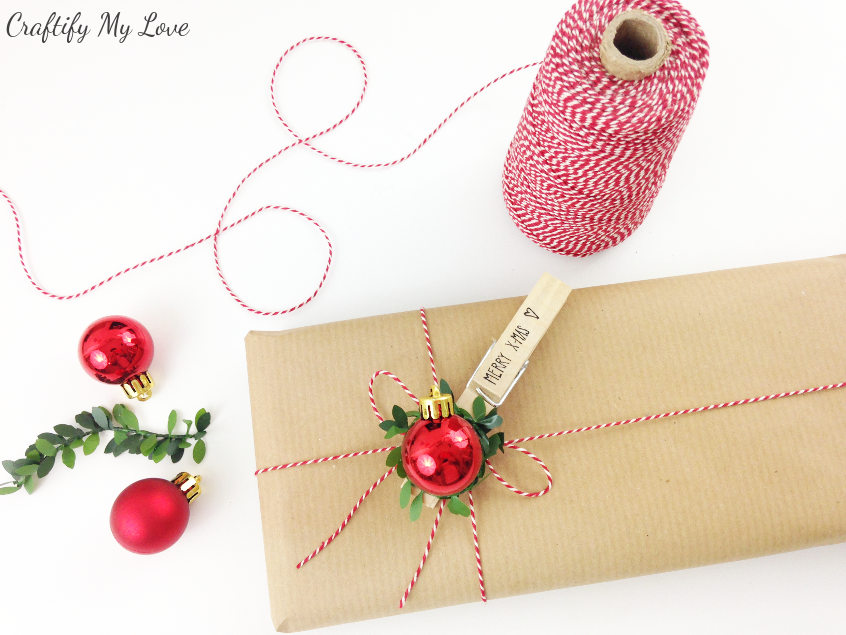 Click HERE to learn more about:
How To Wrap A Present
Tips&Tricks on Bow-Making &
Gift Wrapping Supply Storage.
Click HERE if you want to learn how to DIY hand-printed gift wrapping paper.
Here, you'll find all my creative gift wrapping ideas for any occasion.
Do you know what I hope for? That the recipients of my DIY gift tags will keep them. That's right! And re-use them to tag notes to their Memo Boards like this one I made from bent wire.
What would you be writing on your gift tags? The name, a cute message, or both?
Love,

PS: Don't forget to PIN this to Pinterest.
PPS: Scroll down for many more Pretty Gift Wrapping Ideas!
PPS: Even more creative Christmas crafts: AllFreeChristmasCrafts.com