I love books and I love Christmas. So this Paper Christmas Tree from an old book is a kind of a "duh"-project for me, right?
If I am being honest, I don't enjoy seasonal decorating very much. But this year is different somehow. I seem to have caught the Christmas-Decoration-Bug and I hardly can't sit still for a moment because I am in full on creation mode.
Maybe this is so because, since I started my blog Craftify My Love about a year ago, I get to show you how to make these simple crafts and hopefully motivate you getting your craft on as well.
Supplies for your Paper Christmas Tree project
You'll obviously need an old book. Now please DON'T go and find a 1st edition classic and start cutting it apart. I found my book at a thrift store for 1 Euro (which is about the same as $1).
You can use one book for many projects!
Just pay attention that the book pages will be somewhat sturdy and maybe a bit yellowish. You'll get an extra point for finding a book with an old font.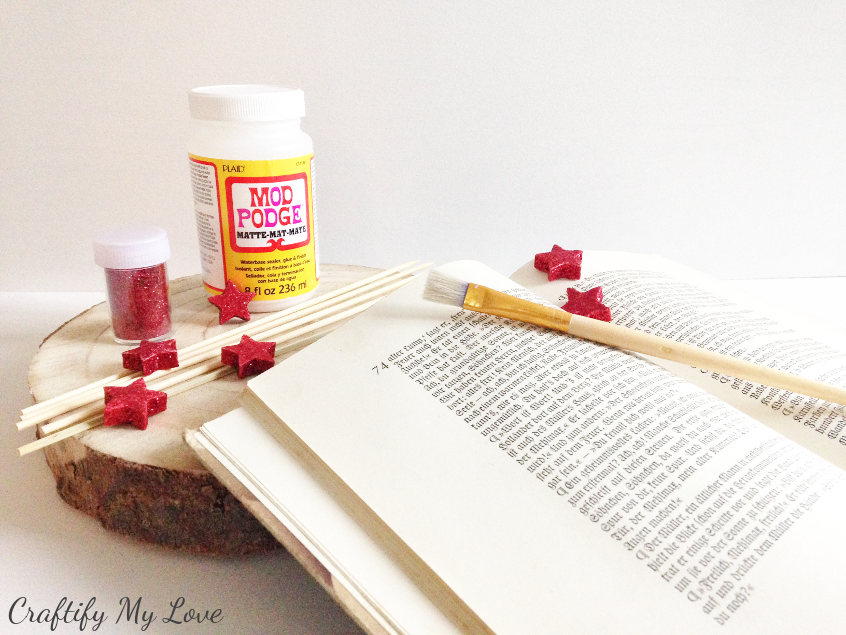 Vintage book
shashlik sticks (you can buy them as a Plus Product on Amazon with your next order)
glitter glue (for example this one)
wood slice (even those you can get online, amazing, right?)
Exacto Knife (this is the one I use and love)
wood glue (this is a fast drying one I kinda like)
scissors
ruler
pencil
drilling machine (it doesn't need to be a big daddy machine you're afraid to use, this one will do the trick just fine. I got mine for Valentine's Day 💕 )
How to make Paper Christmas Trees from vintage book pages
It's a simple and very versatile project, really. You can use any kind of paper (old book pages, scrapbooking paper or thicker wrapping paper. You can vary the size of your trees and create a little paper tree forest.
Let your mind wander and get creative…
I added a VIDEO TUTORIAL for you at the end of this post. So if you'd rather watch than read how to make this paper Christmas tree, then make sure to scroll Aaaaaaaall the way down and please …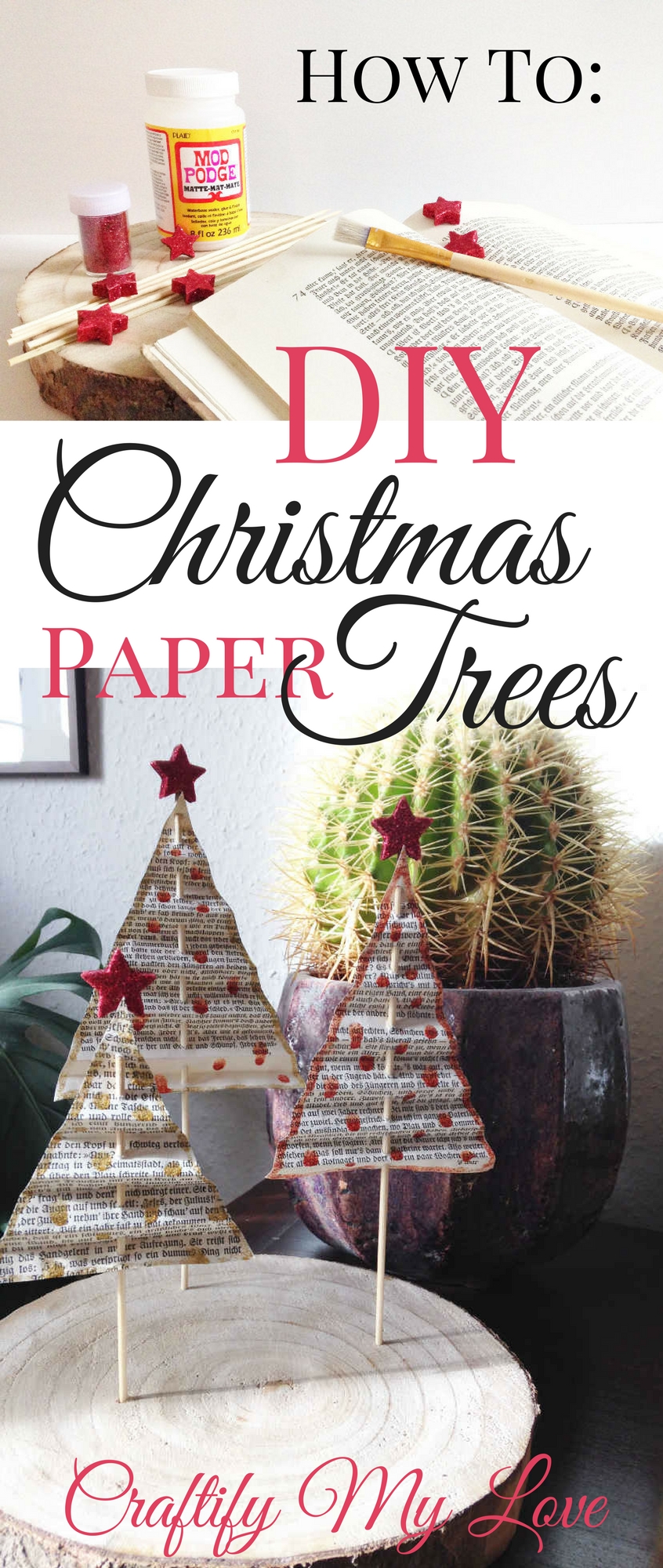 Step 1 – Prepare triangles for Paper Christmas Tree
Using an Exacto knife, you'll be cutting a page from your vintage book.
Trace a triangle on the paper. For my little paper Christmas tree forest, I cut out these three sizes 9,5 x 15 cm, 10 x 17 cm, 12 x 18 cm.
First, you'll draw the base (e. g. 9,5 cm) with a ruler and pencil. Then you'll mark the middle at 4,75 cm. Measure 15 cm up from that point and make a little dot marking. Then you'll be connecting the dot mark to the left and right side of your previously drawn base.
Tip: You can see how this step is done in the video tutorial at the end of this post.
Cut out the triangle.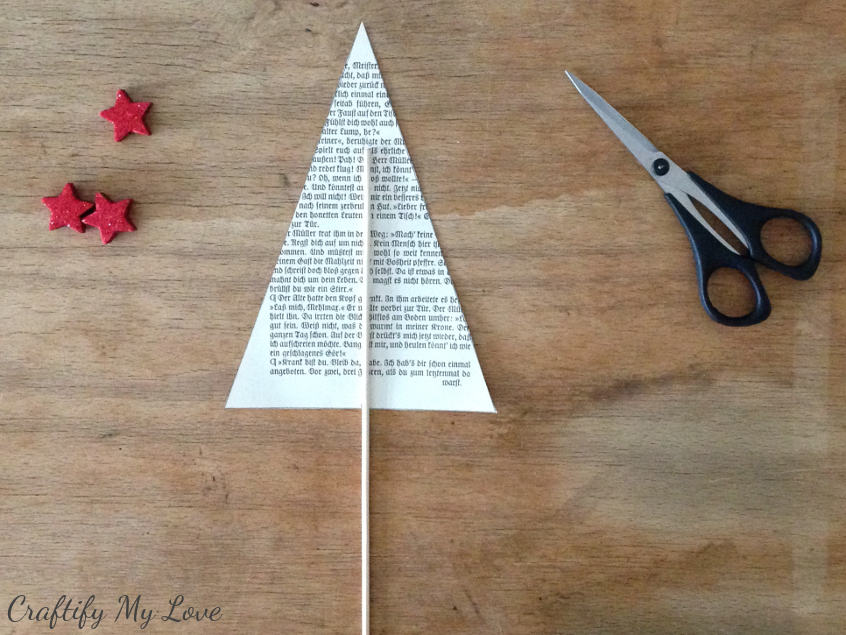 Step 2 – Give your paper Christmas tree dimension
Using the accordion fold, you'll zig zac fold your previously prepped paper triangles.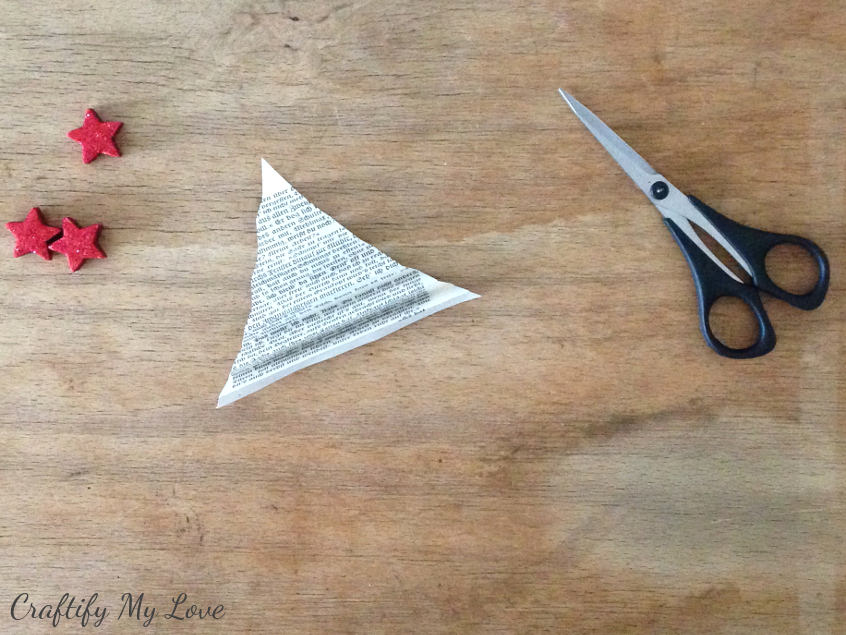 Step 3 – Make a hole for your paper Christmas tree's stem
Mark the middle of your folded triangle book page. And make a hole for the shashlik skewer aka tree trunk. Use the point of your Exacto knife and carefully make a hole twisting and turning the knife.
Please be very careful not to hurt yourself. Those knives are very sharp!!!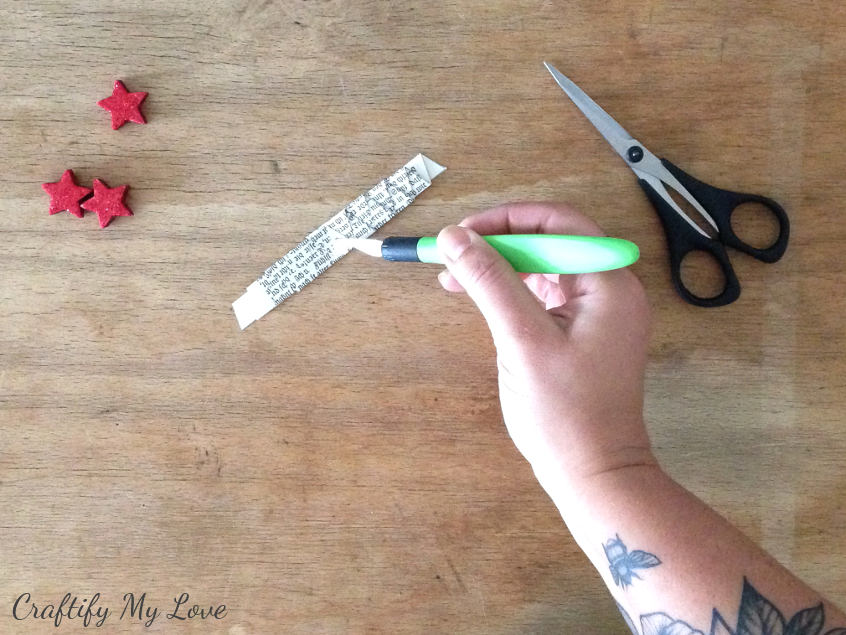 Step 4 – Adding the stem and glitter
…lots of glitter, lol! It's Christmas after all 😉 and this is a post I dedicated to this month "Bling on the Holidays Blog" Hop. If you want to make sure what my blogging friends came up with, make sure to go find their tutorials at the end of this post!
Push the wooden skewer carefully through the hole you've just made. Again twisting and turning is the way to go so you won't rip the paper Christmas tree's base.
Once you've reached, say, the middle of the skewer, carefully start unfolding the accordion fold prepared paper towards the top. Shape your trees until you're happy with the outcome.
This step is again better explained in motion than using photos & words. So make sure to check the video tutorial further down.
Decorate your little trees using glitter glue and add a tree topper (I used a foamy glitter star).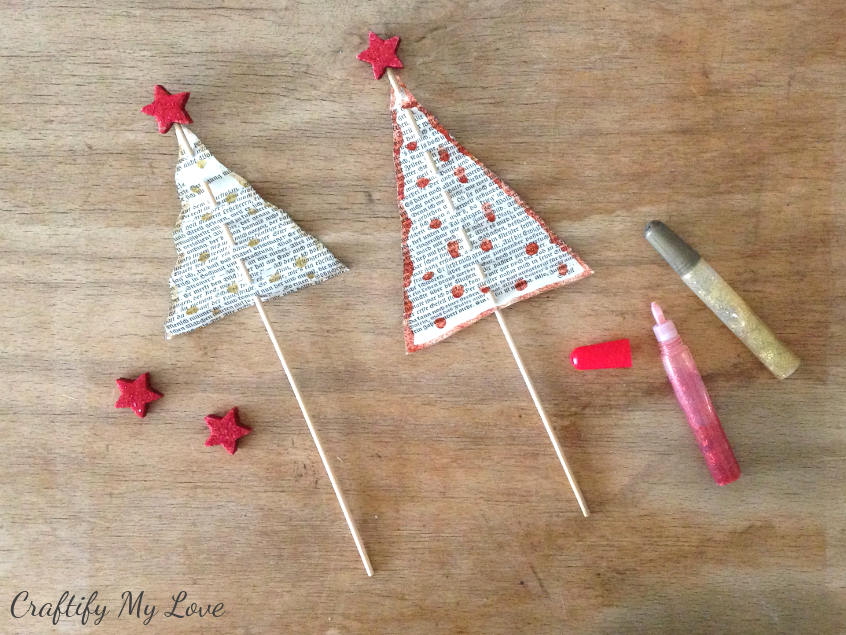 Step 5 – Let the glitter glue dry
Now, this step is also called "patience training" for me. Do you have any tips? What do you do while waiting for your crafty projects to dry?
I decorated the front and back of my paper trees in one setting and let them dry in an upright position. Some of the glitter glue blobs would start running downwards a bit.
But honestly, I don't care. #HeartThoseImperfections
If you want to prevent this, though, you'll have to be even more patient and decorate each side separately, and let them dry lying flat.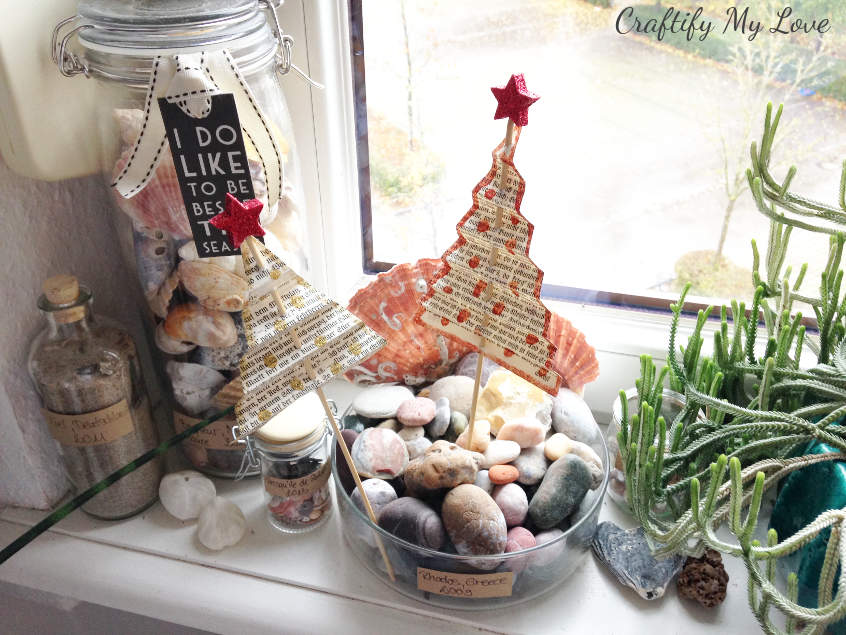 Step 6 – Assembly of your little Christmas tree forest
Decide where you want your trees to go and make a mark using a pencil or pen.
Pro-Tip:
An uneven number looks better most of the times.
Find your drilling machine and a drill that has the same circumference than your shashlik sticks or is just slightly bigger. Drill a hole in each mark you've made.
Maybeeeeee you'll want to pay attention as to not drill through the wood slice if you really like your desk. If you have your eye on a new desk anyways and need an excuse…then work that drilling machine, Girl!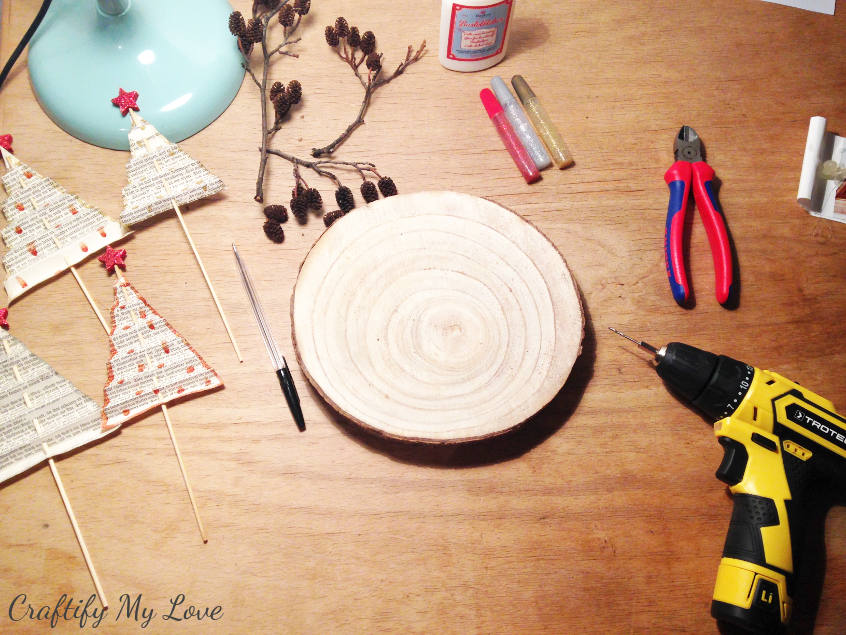 Check if the trees fit easily into the holes. If so, then insert a little crafting glue or wood glue into the holes and secure your paper Christmas trees into the wood slice.
And, you're done!
How do you like this Christmasy sparkly paper crafts project? I really like the outcome!
As I am writing this post and editing the photos I realize that there is so much room on the wooden slice that I'll be adding some greens (maybe some fir twigs) and go find my little wax baby Jesus in my decor stash for even more Christmas spirit!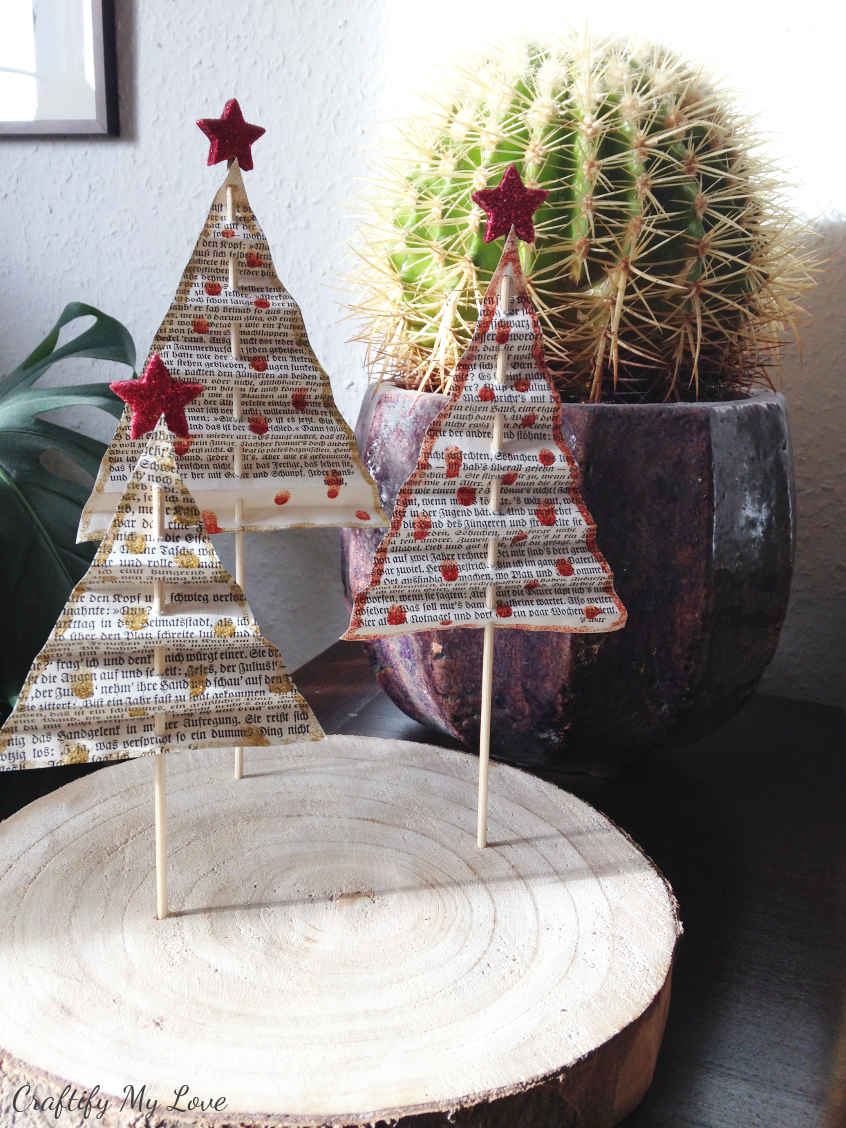 Video Tutorial – How to make A Paper Christmas Tree Forest
If you like this video, I'd be absolutely thrilled if you give it a THUMBS UP and SUBSCRIBE to my channel for more crafty videos to come.
Love,

PS: I think you might like this other seasonal crafts, too:
Recycled Wrapping Paper Christmas Tree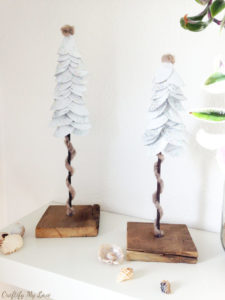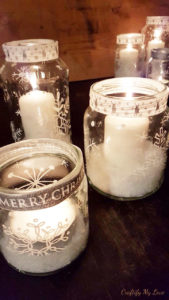 Advent Wreath from recycled Tin Cans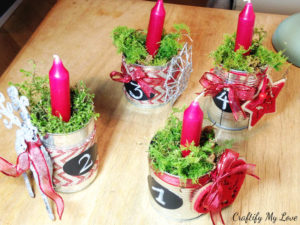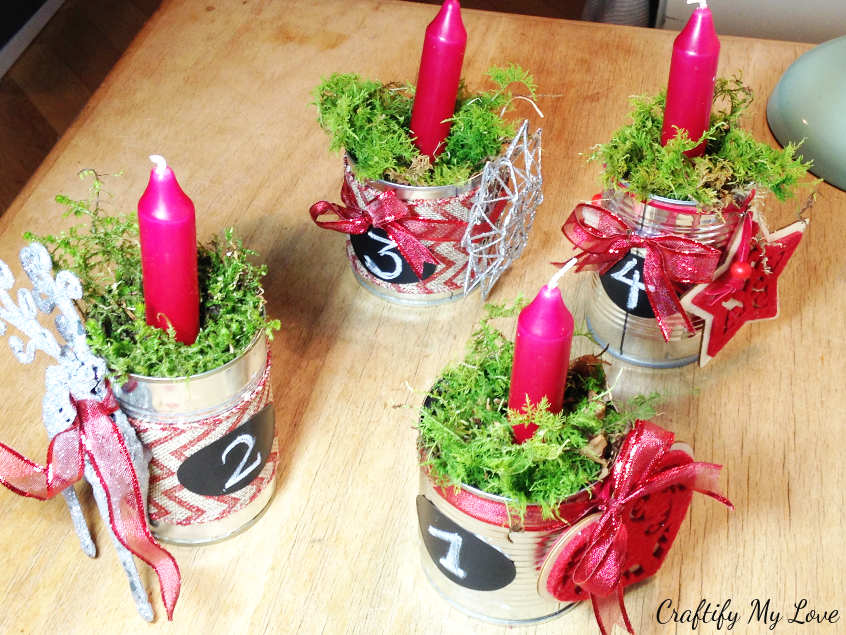 A Very Sparkly Craft Blog Hop

On the first Monday of each month, a group of DIY and crafty bloggers join forces to bring you the #BlingontheCrafts blog hop. Each blogger creates a glittery, sparkly, shiny, shimmery, sequined, or "blingy" craft to share that goes with a monthly theme.
December's theme is Holidays.
Each blogger chooses their own craft to make as long as it shines and is holiday themed.
If you'd like to participate next month, you can request to join our Bling on the Crafts Facebook group.
Are you ready to see all of the sparkly crafts our bloggers have made for this month's #BlingontheCrafts hop!?