Let me introduce to you 3 fun & adorable ideas to decorate your home for Christmas In A Jar. I got challenged by my friend Shirley who is the mastermind behind the fourth annual 12 Days of Christmas Blog Hop:
Today is day 8 and we're talking Christmas In A Jar ideas. Those can be anything, of course, even food and other things. If you want to know what my friends came up with, you'll find their creative goodness at the end of this post.
But first let me show you what I came up with, ok?
3 Ideas for Minimalist Christmas Decor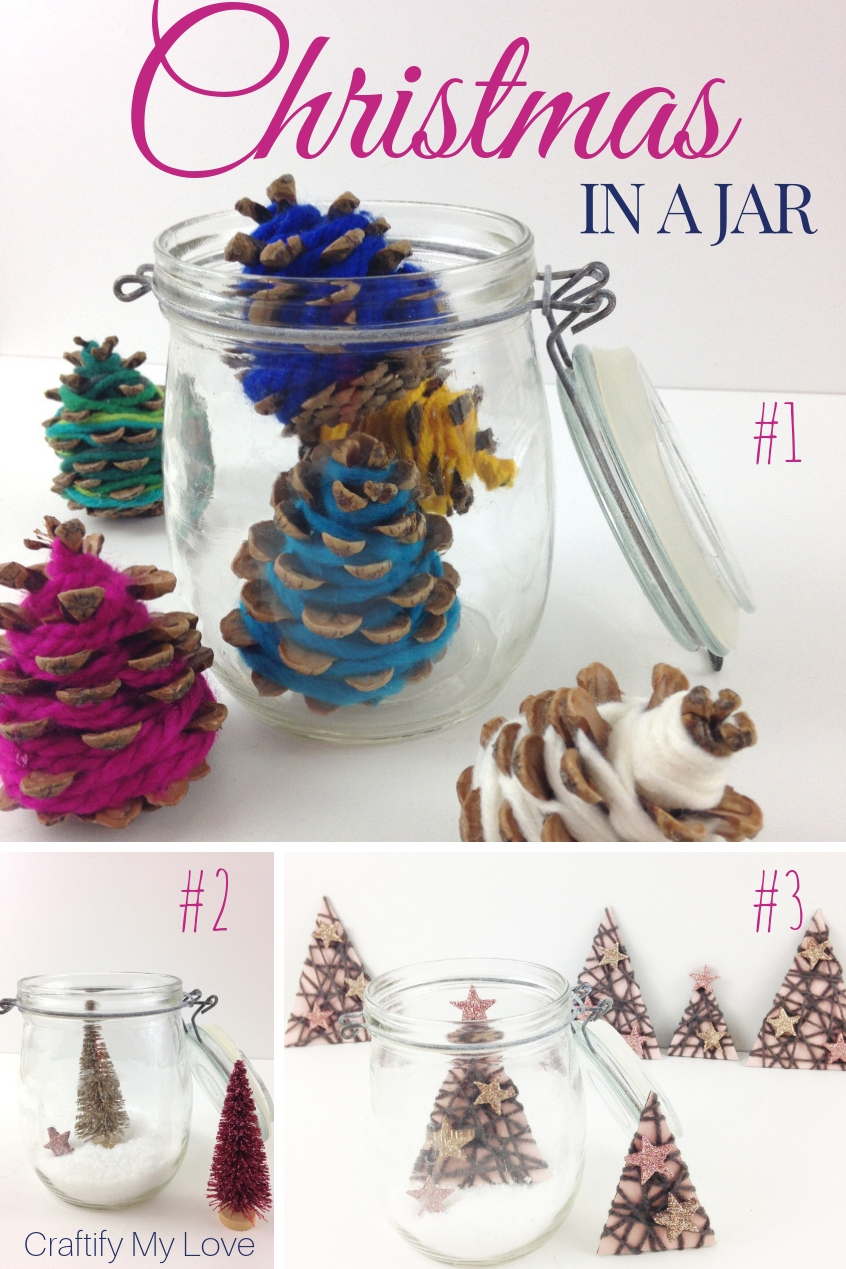 I am by no means a minimalist. If you were to visit my home, you'd probably be overwhelmed by all the things I own. I try to be open-minded and to view things from a different perspective at times. So right now, I am thinking about the extreme opposite of my personal home decor style and am picturing a minimalist home.
Can you see one Christmasy decorated jar standing on a lean & clean side table? Bringing all the festivity into that home, that's necessary? I totally can!
Basic Supplies For A Christmas In A Jar Project
This post contains affiliate links. That means if you make a purchase through these links, I may receive a small commission at no extra cost to you! You can click here to read my full disclosure.
Obviously, a jar. You could buy a really pretty one or simply recycle a jar you already have at home.
Faux Snow (at least for the 3 decor ideas that are being addressed in this post)
The decor you are opting for. Keep on reading for some great ideas, supplies, and tutorials.
1 – Sparkly Bottle Brush Christmas Trees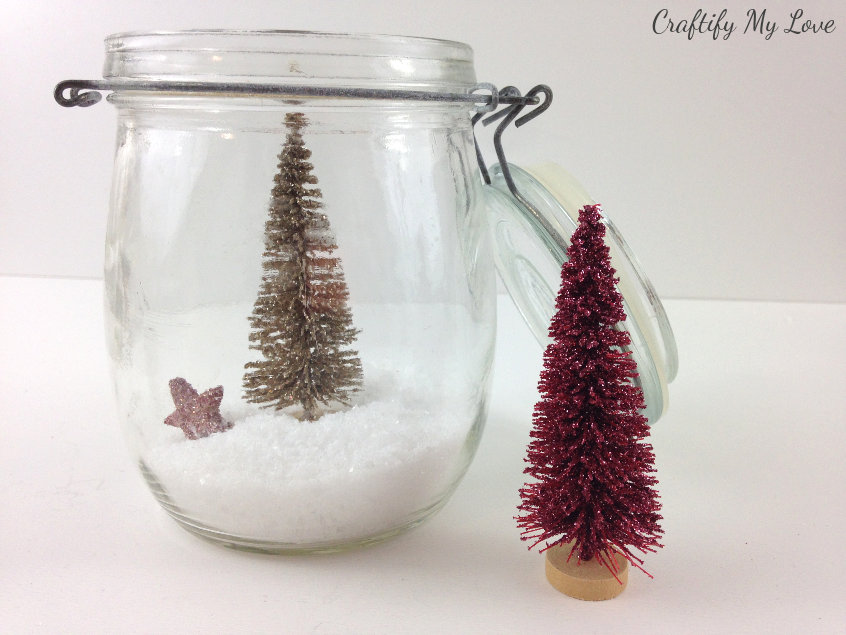 At first, I only had this Christmas In A Jar decor in mind using store-bought Christmas elements. I pictured a winter wonderland scenery. A tree, decorated in sparkly ornaments standing in a snow-covered landscape.
How to? Well, this is as simple as it gets!
It's pretty obvious, right? You spoon a couple of inches of faux snow into your jars and place the Christmas decor elements you love into the jar. Done.
Tip: I really recommend using a spoon and not pouring the snow into the jar. You'll have it everywhere!!! See, I don't mind sparkle being all over, but when I (at first) poured the snow into my magical snowflake candle holders, the mess was even too much for me to handle, lol.
More goodness to come…
Because, once I sat down and started taking the pics of my first Christmas In A Jar scenery, my eyes fell on those just previously crafted cute Christmas trees and I started to play around a little.
Don't they look cute in a jar as well? I knew they would serve several purposes (find out what else you can do with them HERE) this year 🙂
2 – Recycled Paper Christmas Trees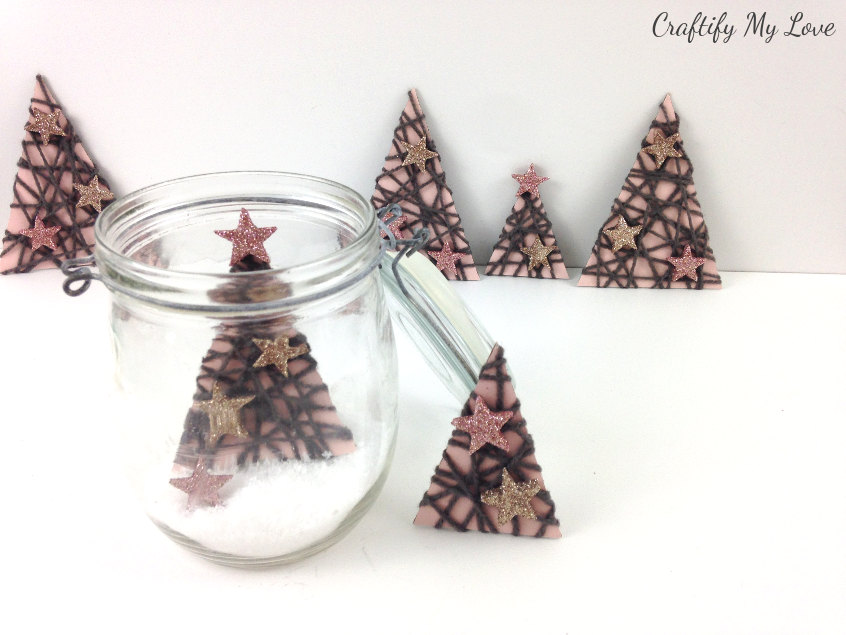 The Supplies You'll Need
Cardboard (I saved this lovely rose shoe box from the trash. Alternately, use any style cardboard and paint it in the color you want or layer it with cardstock, scrapbook paper, newspaper or whatever comes to mind – be creative!)
Yarn (This one is similar to what I used. But I guess you could achieve fun effects with other types of yarn, too.)
Glitter stars (I can't find the same exact ones, but those will work, too! And they give you more flexibility colorwise)
Double-sided tape (this one is actually meant for crafting and hence not a troublemaker like the carpet tape I used, lol)
X-Acto Knife + cutting mat to protect your work surface
Pencil
Step-by-Step Instructions – Video Tutorial:
Find the written tutorial HERE or simply watch the following short video:
Those fellows were sitting on my Anthropologie Knock-Off Painted Dresser and wanted to join in on the fun. So I let them, of course 😉
3 – Little Pine Cones Wearing Their Christmas Sweaters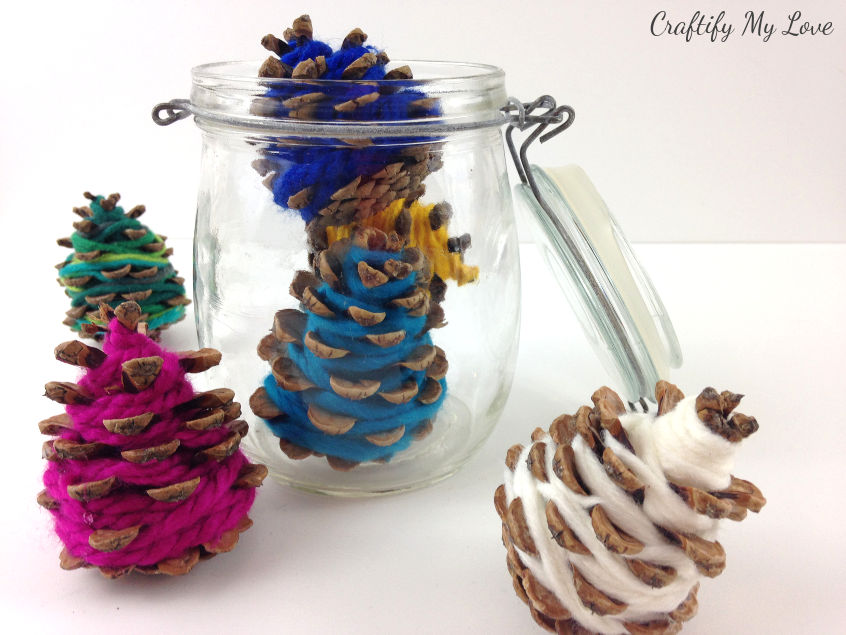 Those are probably my favorite as I love love love everything super bright and colorful. But I also love sparkly things. Hmmm, do I really need to decide on a favorite? Could you?
List of Supplies
What yarn to use?
I found that the turquoise one (it's sort of felted wool – if you pull too hard it will come undone easily) and the white MY BOSHI No. 1 yarn I used for my crocheted basket look the best for my taste.
I didn't quite enjoy working with the super thin yellow yarn. Why? Because it took forever, lol. And it doesn't look as cozy as the thicker yarns.
The ombre green yarn was fun to work with. And come to think of it, twine could look awesome, too.
Detailed Instructions – Video:
You'll find the written tutorial HERE. If you're a visual learner, you'll probably enjoy watching the video I've made for you:
And you're done!
Here they are again: 3 fun & easy ways I've come up with today to decorate your home in a minimalist way for Christmas.
Can I ask a favor?
Please, hover over the image you like best (or use them all ?), click on the PIN-it-Button, and spread the love.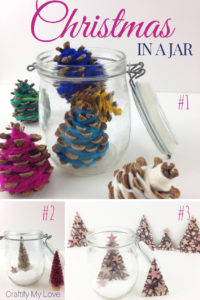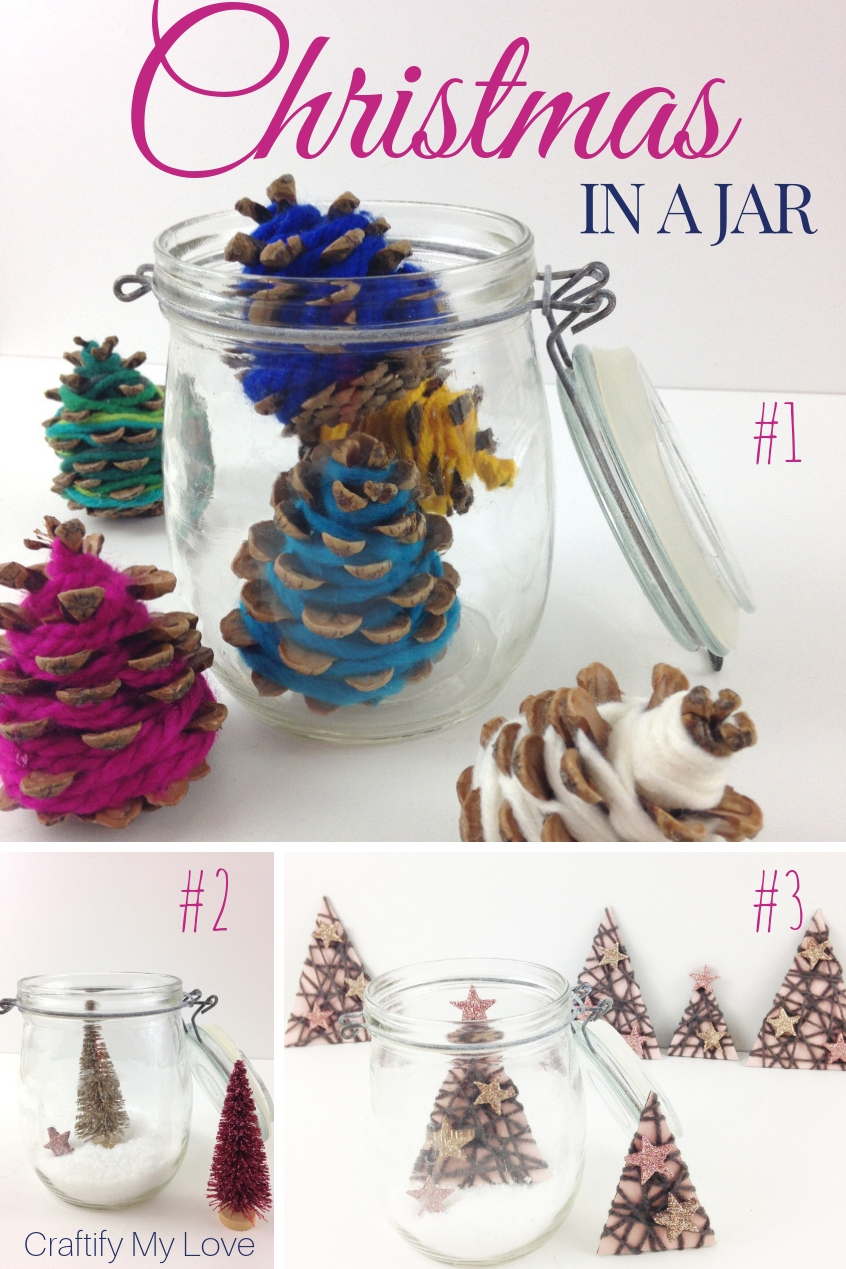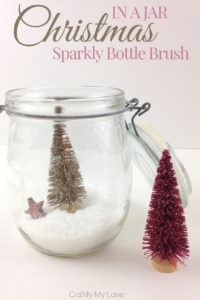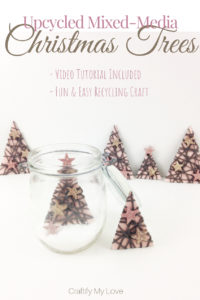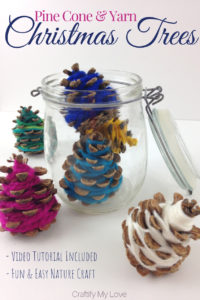 Thanks a ton!
Other Christmas crafts you might enjoy:
Love,

Now, it's time for the additional goodness of…
12 Days of Christmas
Remember, I have teamed up with 50 plus bloggers to bring you a fast amount of DIY Ideas and Recipes to recreate for you this holiday season? There are 12 different posts (you'll see only 5 by me, though) in the series and we have spread them out over a four-week period with three posts per week. Now is the time to subscribe so you don't miss out on any!
GO HERE for the complete list of Dates and Topics plus a collection of most popular holiday ideas including ornaments, games, recipes and more from ALL of us 50 plus talented bloggers!
Check out my 5 Contributions:
Christmas in a Jar (which you are currently reading)