How to make an ombre photo backdrop
When I started blogging I realized pretty quickly that I can improve my photography. Being a creative person doesn't mean you automatically rock at all things creative… I needed to learn how to use a photo editing program (man, that was and still is tricky!) and to make better pics. Some things I tought myself and other things I was taught by very dear friends: My darling friend Julia from Chestnut & Sage for example, and MyMarkus of course. Thank you both for being so supportive <3
Now, I am a good observer, and looking at photography I liked, taught me a lot of things. The most important being to work with nice backgrounds. Creative me found many things in my apartment I could use for this task. Crafty me started making my own photo backdrop.
The task at hand:
I wanted to create two kinds of photo backdrop:
clean and crisp white
popping bright in color
I bought two boards of plywood and painted one side of each white. This way I can use an all white background if I want to.
The other sides I wanted to be colorful! I figured some structure might be cool, so I decided to try an ombre look. You know, slowly transitioning from a darker to a lighter color tone. I never painted this way before and thus I tried two different ways. I think both ways worked out well, but achieved of course two different end results. So read up and decide for yourself which one you like best!
What you'll need: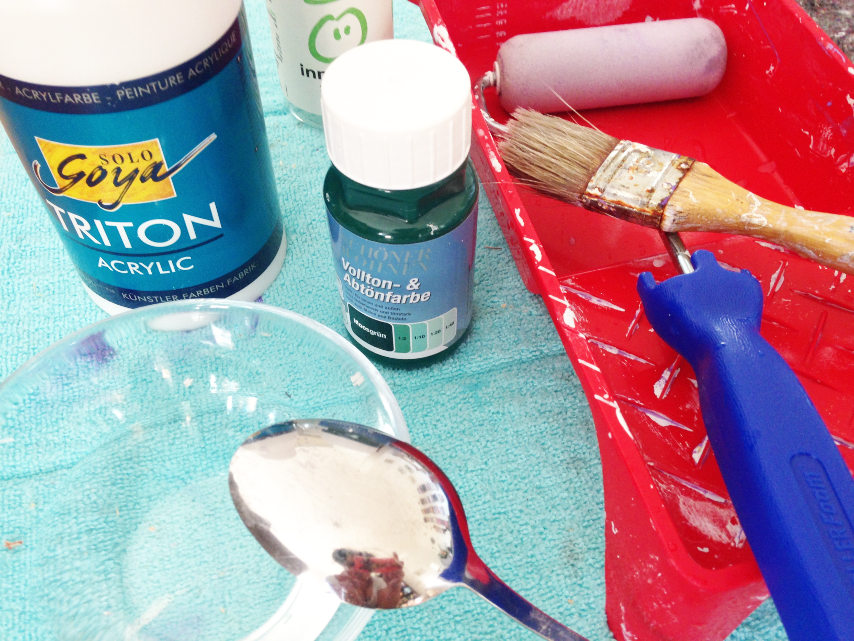 Wooden boards (I bought plywood in beech – the size depends on what you want to use it for)
painters tray
brush
foam roller
white acrylic paint
acrylic paint in a color of your choice (in my case green and purple)
jar for leftover paint
water
drop cloth
rubber gloves
How to paint an ombre photo backdrop
Experiment 1 – purple – from dark to light:
That was my first try and I though it will be easier to start with a very dark tone and by adding more white each time I'll be achieving the ombre look. I wasn't sure about the amount of water to add so I simply started experimenting.
Turns out as I was using more and more paint (to get to the lighter violet), it became harder to achieve those flawless transitions that are typical for the ombre look. Whenever I wanted to defuse the transition I ended up having these hard cuts.
I came to the conclusion I didn't use enough water!
Once I added more water it worked perfectly fine. As by now my plain board that should end up being my grand photo backdrop was almost completely lavender I simply started adding more purple and worked backwards again.
In this version of my experiment you can't really see the pattern of the wood shining through. The paint heavy mix with not very much water resulted in full coverage.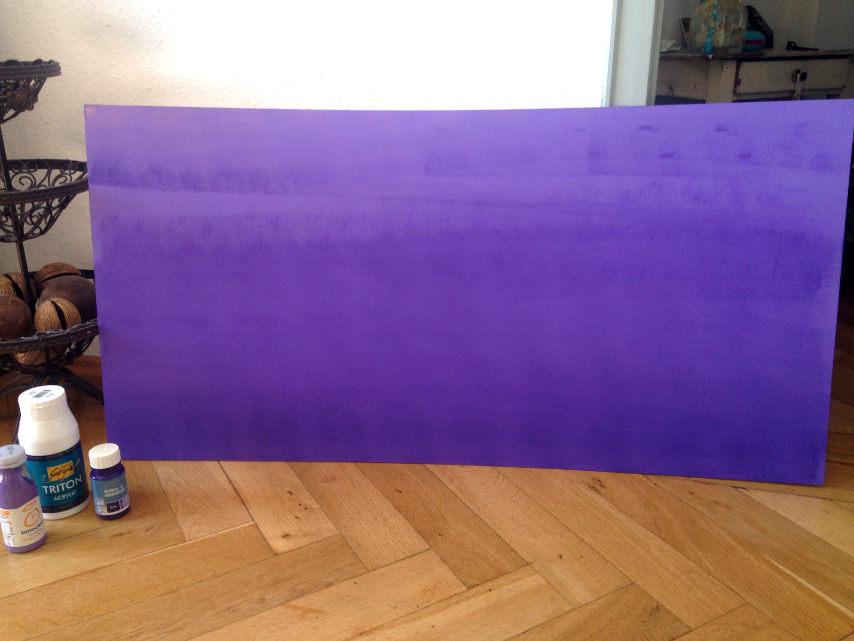 Experiment 2 – green – from light to dark:
This time I knew I needed to really water my paint down. So I started of with a very watery (after stirring paint and water well, you could see lots of bubbles) light turquoise tone (lots of water and white + very little green). You won't need much paint, quantity wise, as the watery paint will be easily spread over the board.
I started off with a blob of white that was a little smaller than the palm of my hand and a blob of green that was about the size of my thumb nail and three to four tablespoons of water.
If you look closely you can see the wood pattern shining through the paint. But actually I do like that a lot! I think this gives even more structure to my green photo backdrop.
After doing one-third of your board with the lightest tone, you add a little bit more green to your painters tray – stir well and do the middle part of the wooden board (I used beech plywood by the way). With very little pressure on your roller, you'll be going over parts of the previously painted lower third to create those soft transitions. Add a little bit more green and some water (so the paint won't become too thick again) and do the last third. I rolled with my foam roller over the top part of the board a couple of times to get it even darker and achieve more coverage.
If you're happy with the outcome – perfect, then you're done! If not – continue experimenting and either add paint or water.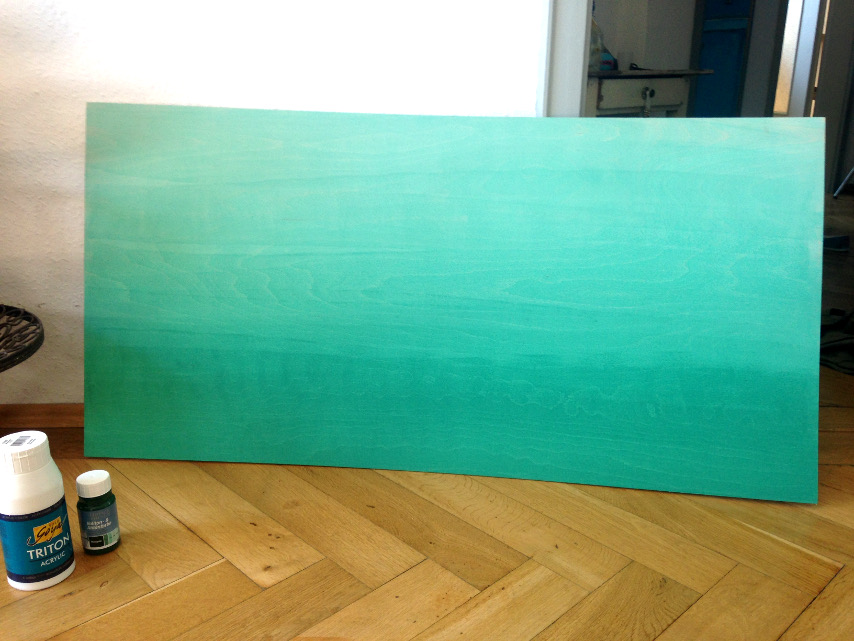 My photo backdrops in action
Now let me show you the end result of my little paint job. I think both – or actually all three versions, if you count the basic white ones, too, – of my photo backdrops turned out pretty good!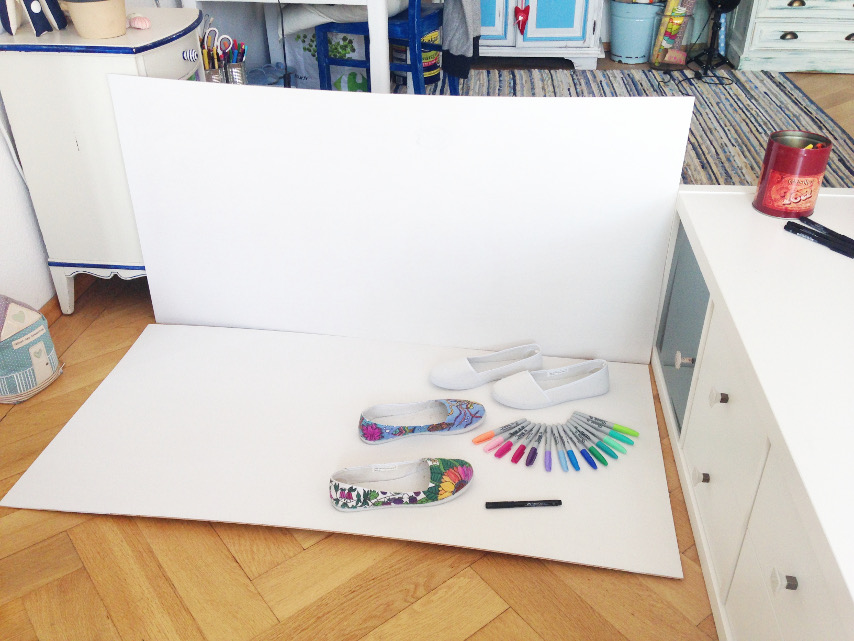 Want to know how I did those fab Sharpie Shoes? Click the link and you'll find a full tutorial AND can check out the edited pic. I am absolutely in LOVE with my new backdrops. I used it also for my spring wreath tutorial.
Of course the bright popping ones don't always match my art work. I want my project to be the star of the photo and not the background. But a couple of weeks ago I crafted violet and pink sparkly butterfly wings that really went well with the purple backdrop, don't you think?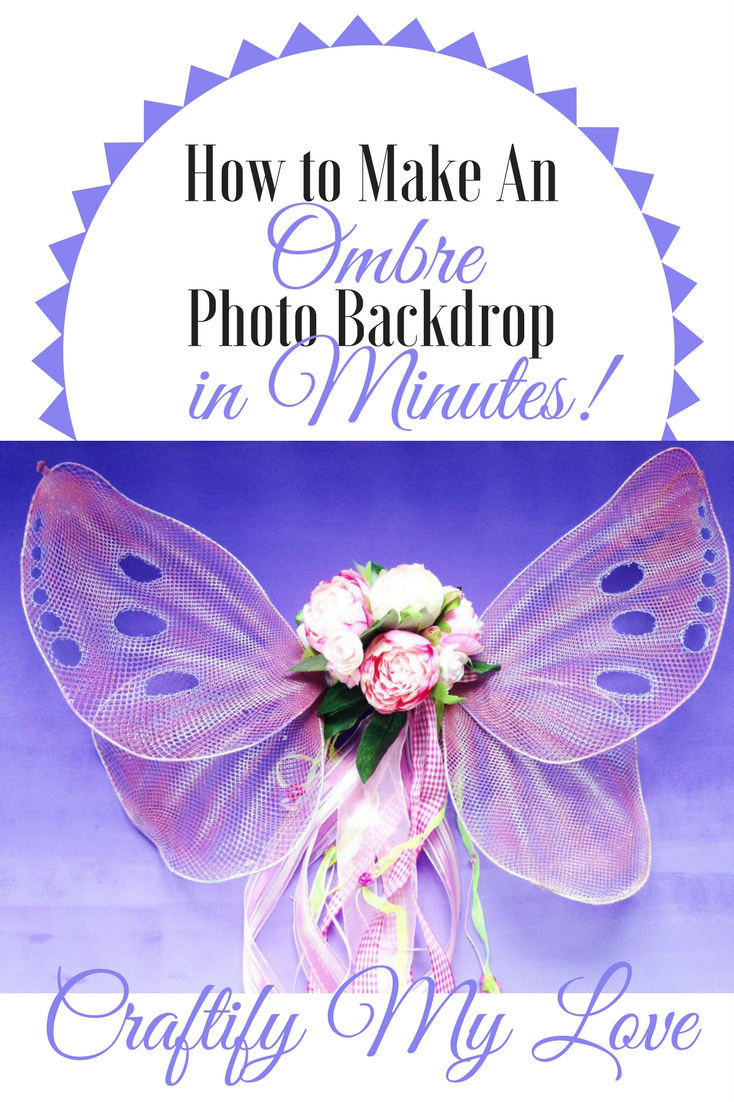 Lets talk about it, shall we?
How did you like this little tutorial,
do you need more info and
will you try to make your own photo backdrops?
Please share my post, so you find it when in a crafty mood or other hobby photographers can find it, too!
Love,