DIY Sharpie Shoes – Free Tutorial
Last time I visited my friends in the south of England I sort of "accidentally" got myself a set of Sharpies. At that moment I never would have thought that this lucky moment would lead to my wonderful pair of Sharpie Shoes I am wearing day in and day out ever since I made them…
Huh, you say? How can someone buy something by accident?
Well, let me tell you: You all know those "buy 2, get one free"- kind of deals, right? So I bought some things in a stationery shop (I can't even remember what it was, but I can tell you that I go mad when in foreign shops.) and accidentally bought two pieces out of this promo. The lady at the cash register asked me if I want to get one other thing for free. I think that was suuuuuper nice of her, don't you think?! #EmployeeOfTheMonth. Right next to the check-out was a booth with Sharpies and I quickly grabbed a package in order to not make the line wait.
How to brainstorm a crafts project when getting the supplies first
As I was now a proud owner of Sharpie pens, I needed to start thinking about ways to use them in my crafty projects. I am sure, every one of you knows Pinterest, right? If not, you're really missing out! Officially it's a social network. But really it is a digital pin board where you can store all your ideas, motivational quotes, start a mood board for your new room make over, brainstorm whatever basically. If you're interested, go check out my huge collection of pins and follow me on Craftify My Love on Pinterest.
I love Pinterest! And so will you!
Being on a mission, off to Pinterest I went: Once I typed "Sharpie" into the search form, I was literally flooded with wonderful craft ideas! Now I had the problem of selecting ONE! #TheStruggleIsReal. I started pinning several ideas and inspirations and left it at that for the moment. A couple of weeks later I stumbled over a pair of white canvas shoes for only 5 Euro (which is less than 6 Dollars) in the super marked and I figured "no harm done" when this project won't work out.
On a lazy Sunday afternoon on my couch I decided on a style for my Sharpie Shoes and got to work…
Supplies and time needed

The outlines for both shoes and the coloring part of one where done in one afternoon. It's addictive – beware!
How to make DIY Sharpie Shoes – 3 simple steps
For inspiration I found an image of a pair of Sharpie Shoes I liked on Pinterest (try if you can find them on my board TieDye and Sharpie Stuff) and my two coloring books for adults by Johanna Basford (Secret Garden and Lost Ocean).
And after only a nano second of pressure to perform – yay me – I let my creative juices flow…
Do you suffer from pressure to perform, too? You guys, I hate it!!! I totally do. And I suffer from this a lot. Sometimes it takes me ages to start with a craft project because I don't want to mess things up and waste time and money. Madness really, because messing up hardly ever happens. But creativity happens a lot and that gives me soooooo much energy!
1. Motive
I decided to make two different shoes, as I love being surrounded by flowers and I love spending time at the beach: #DareToBeDifferent.
2. Outlines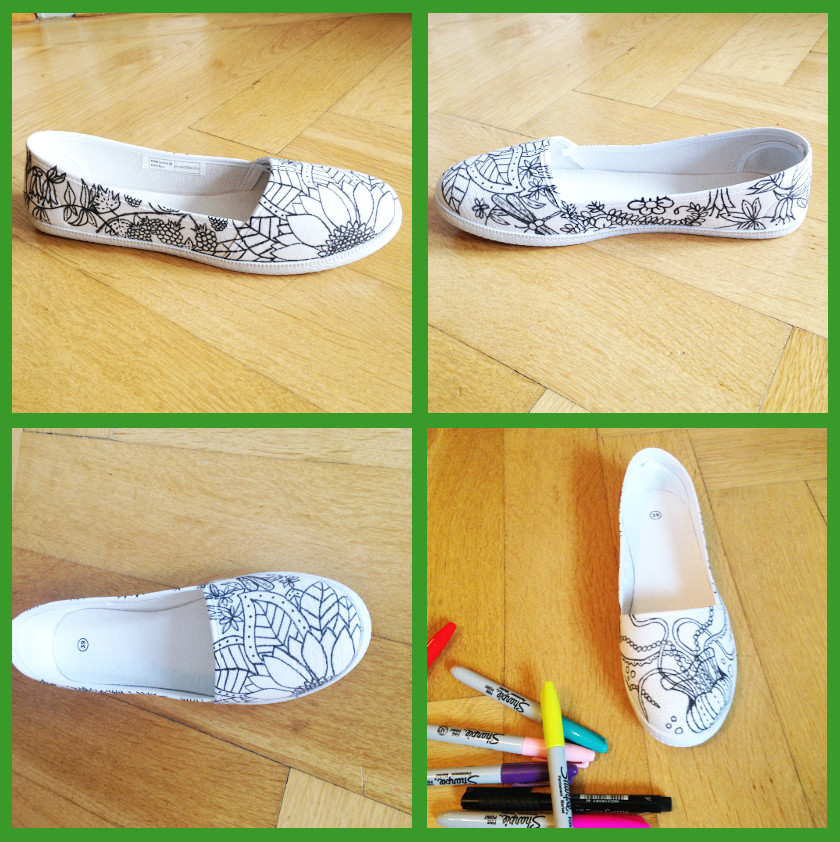 Using my artist pen in M, I started with the flower-themed shoe. I found it easiest to almost copy the first flower from my inspo photo I found on Pinterest. After that my blockage was gone and the design began growing in my head. A glimpse every now and then into my coloring book for adults "Secret Garden" by Johanna Bamford, helped, too.
Just wait till the energy rush from creating stuff that actually rocks kicks in!
When you start seeing your vague idea turning into something BOOOOM, this is the moment when you get rewarded with a big energy rush! And after that, your art will become even better and you won't stop, ever!
Off to the second shoe – ocean-themed – I went. Literally the same procedure. I started off transferring my inspirational motive (the big jelly fish) on the pointy end of my left shoe and let my imagination run wild for the rest.
3. Coloring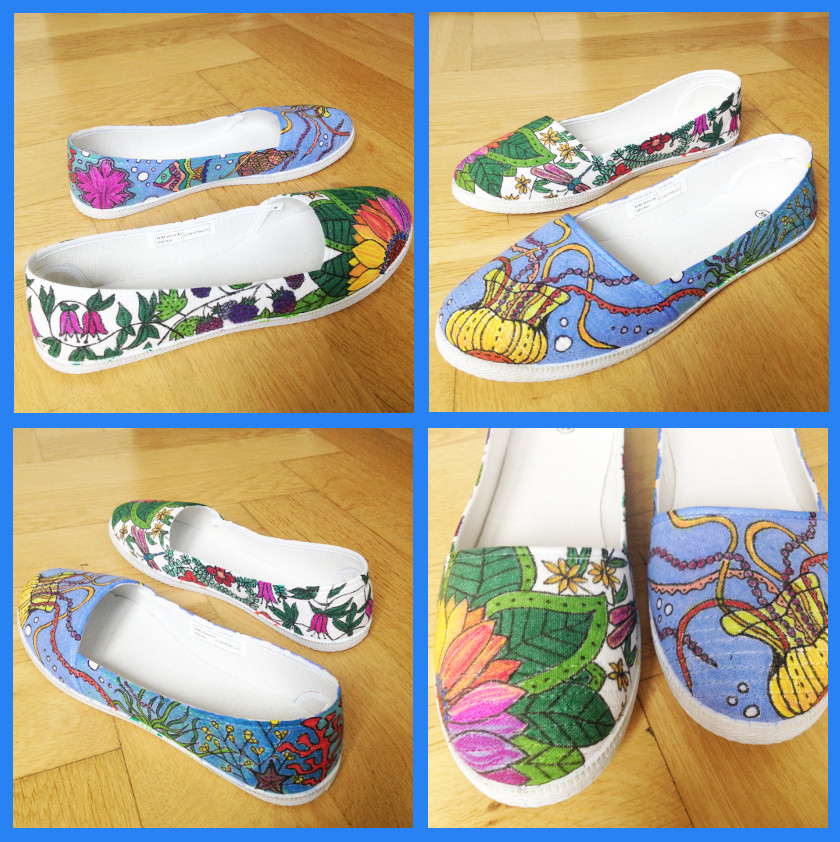 Now find your lovely Sharpie markers and get to work. Be creative. Choose whatever colors you like! Who is going to stop you, anyways? 😉
ProTip by Habiba:
The color tends to bleed. That means if you start coloring right at the edges of your outlines, you might end up having shoes that look as if a toddler made them, who doesn't yet know how to color within the lines. And we don't want that, right?
The solution:
Try starting coloring from the center of your motive (say one flower) and give the color a couple of seconds to run. You'll get a feeling very quickly on where to stop, so the color will stay within your outlines.
Spread the love
What do you say? Will you make yourself a pair of Sharpie Shoes? Do you already have a motive in mind? I already stocked up and bought two more pairs of canvas shoes 😉
If you liked this tutorial, please share it with your friends!