Learn how to make DIY Dragonflies in 3 Easy Steps!
Want to make yourself a painted flower-pot like in the image above? You'll find a tutorial over here.
I love the beauty of nature! Dragonflies make me go all: Awwwwww! Wooooonderfuuuuuul! And Eeeeeek at the same time (because in real life they can also be a little scary – especially the big ones 😉 ). Have you ever took a close look at the delicacy and perfection of dragonfly wings? The rare finely webbed, somewhat sparkly and see-through – basically they are MAGIC!
Once I had a giant dragonfly in my apartment and she got me all nervous and impressed at the same time. I don't even know where she came from, because there was no water close to my house at that time. But never mind! After googling if dragonflies can sting or whatever (No, they don't! They are absolutely harmless!!!) I remember her visit fondly. Animals belong into the nature, though. So I figured I will DIY myself some dragonflies…
Most of the times I decide on crafting projects on the whim. Believe it or not, I am not always in the mood for crafting. But when lightning struck, I want to start here and now! I guess that is why I started a ridiculously insane collection of crafty stash. Mostly I can make a craft without having to shop prior. If I don't have something particular at home, I manage to swap it with something or other and by that giving my project a very personal note. A plus, don't you think?
So this time, I didn't need to buy anything extra to make my darling DIY dragonflies, as I had most of the material from jewelry crafts years ago!
Learn how to make decorative dragonflies for your home


Supplies
Make your own dragonfly in 3 easy steps
1 – The body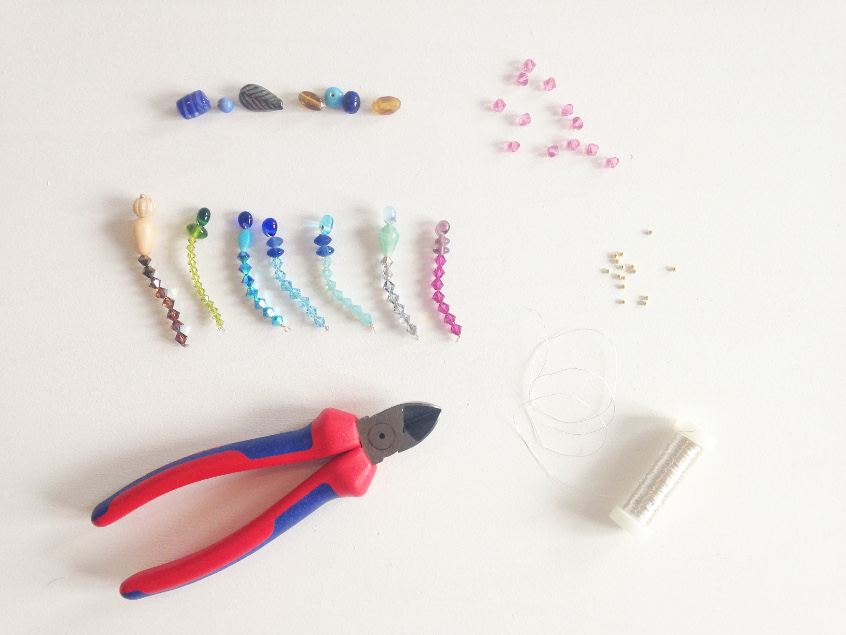 First of all you have to make up your mind, about the color you want your dragonfly to be. If you don't want to choose just one color, your can either make your dragonfly from several colors or simply make a whole family of dragonflies – that's what I did 😉
Find one to three oval-shaped beads for the body and use smaller beads for the tail (I used the sparkly Swarovski beads). Depending on the beads you might have to start off with a teeny tiny bead. Loop your silver wire through – this way you have created a "head", so the beads won't slip off the wire. Thread both strands of wire through all the other beads and make a knot (if need be – finish off with another of those very small beads).
Because you've used wire to make the body, you can bend it in shape later. If you ever observed real life dragonflies you'll have noticed that the tail is sometimes bend upwards. You can easily create this angle and make your DIY dragonfly look more authentic.
2 – The wings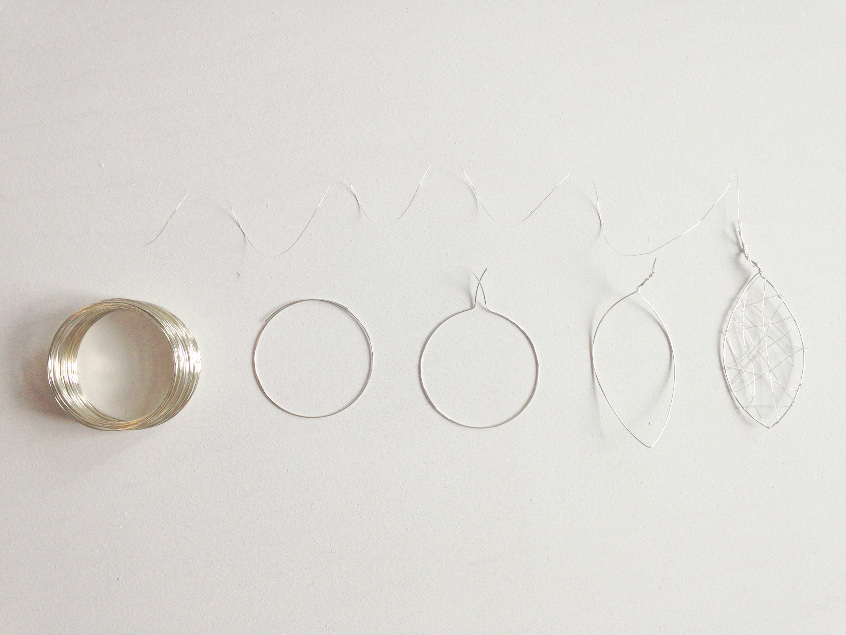 Your dragonfly will have four wings. So start off by cutting four circles of your memory wire. Clip it off so that the ends will overlap by about 1 cm. This way you will have enough material to twist and turn the opening shut.
Now apply pressure with your thumb and index finger to the opposite side of the twisted ends to form the pointy tip. You can straighten the wing if you want to or leave it in the curly shape for a more natural look.
Find the silver wire and start webbing through the wings. Start by wrapping the wire a couple of times around the twisted ends and simply go back and forth until your happy with the outcome. There is no right or wrong! Remember, every living being on this planet is unique!
3 – The assembly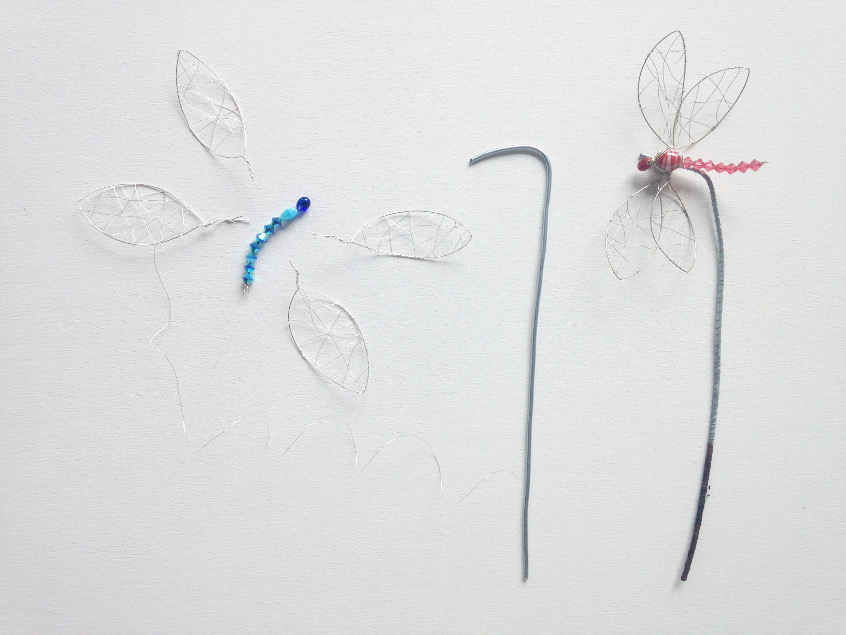 Cut the twisted ends of so they are about half a centimeter wide. Now find the two left wings and combine them by wrapping the wire around a couple of times. Now add the third wing and the fourth.
Once you're satisfied that your wings are connected firmly, place the dragonfly body on top. Repeat the process of wrapping the silver wire around.
After a couple of rounds, you can place a piece of the galvanized wire (about 20 cm) under the dragonfly. You might want to bend it to a kind of L-shape first – so the dragonfly can sit on the short horizontal part of it. And continue wrapping the wire around it. When you run out of wire, simply cut a new peace and start again.
I find that twisting the silver wire around the stem makes for a lovely finish.
If you find your dragonflies flopping down from the stem and dangling tummy up, a blob of hot glue will work wonders!
Now go find your dragonflies a happy place to stay
My dragonflies told me that they enjoy a lush green place with lots of sunshine so that they can happily sparkle away! They love the smell of basil and mint, too. Why not sit them in your herb garden on your window sill, hey? In summertime you could place them outside in your garden, too. After a couple of rainy days, this might affect the brightness of the wire, though. But you could make them a new set of wings any day, couldn't you?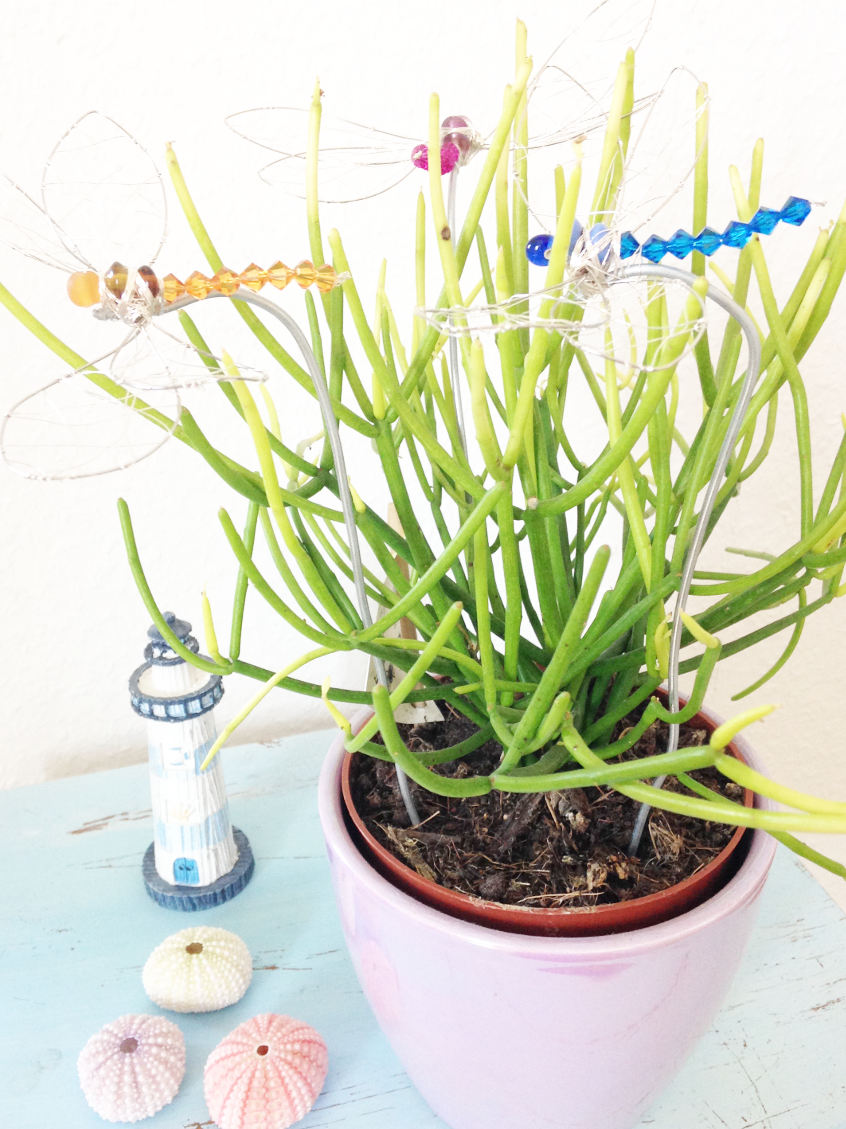 I hope you enjoyed this little tutorial and are mighty inspired to start bending some wire soon!?! It would be awesome if you could spread the word and share it in your social media.
Check out more awesome projects from my blogging friends:
It's time for the monthly Craft Room De-Stash Challenge hosted by c'mon get crafty!
Every month, a group of bloggers challenge each other to create a new craft or project from their own stash of goodies! Check out some awesome creations you might be able to make from your own stash! #CraftRoomDestashChallenge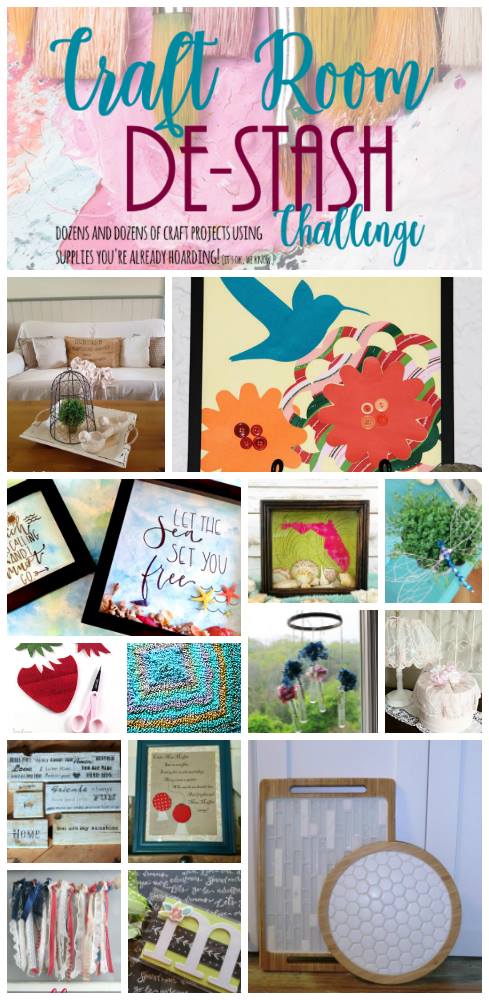 Good news! If you'd like to join in the Craft Room De-Stash Challenge, you can!
Simply request to join our Facebook group here!

Love,

MerkenMerken
MerkenMerken
MerkenMerken
MerkenMerken
MerkenMerkenMerkenMerken
MerkenMerken
MerkenMerken