Welcome back to part two of my little Felt Flower Series: Today you'll learn how to make a DIY Felt Flower Marguerite Daisy. I'll be sharing the rest of the series over the next view months, so make sure to sign up to my newsletter if you don't want to miss them.
As I managed to use up at least a little of my craft stash, I'll be sharing this tutorial in this months Crafty De-Stash Challenge by my friend Megan from C'mon Get Crafty (but more on that further down).
Same as the Anemone felt flowers we did last time, you'll be able to make these wonderful little felt blossoms
using a cutting machine with my Free SVG Cut File or
by hand downloading and using the free template to make this beautiful felt Marguerite or Daisy.
Ultimately, this felt flower tutorial series will lead into detailed step-by-step instructions on how to DIY Monogram Wood Sign with Felt Flowers. It was a wedding gift for my friend Tobias. Click HERE to see what DIY gift idea I gave the beautiful couple to their housewarming party last year.
How to make a DIY Felt Flower Marguerite Daisy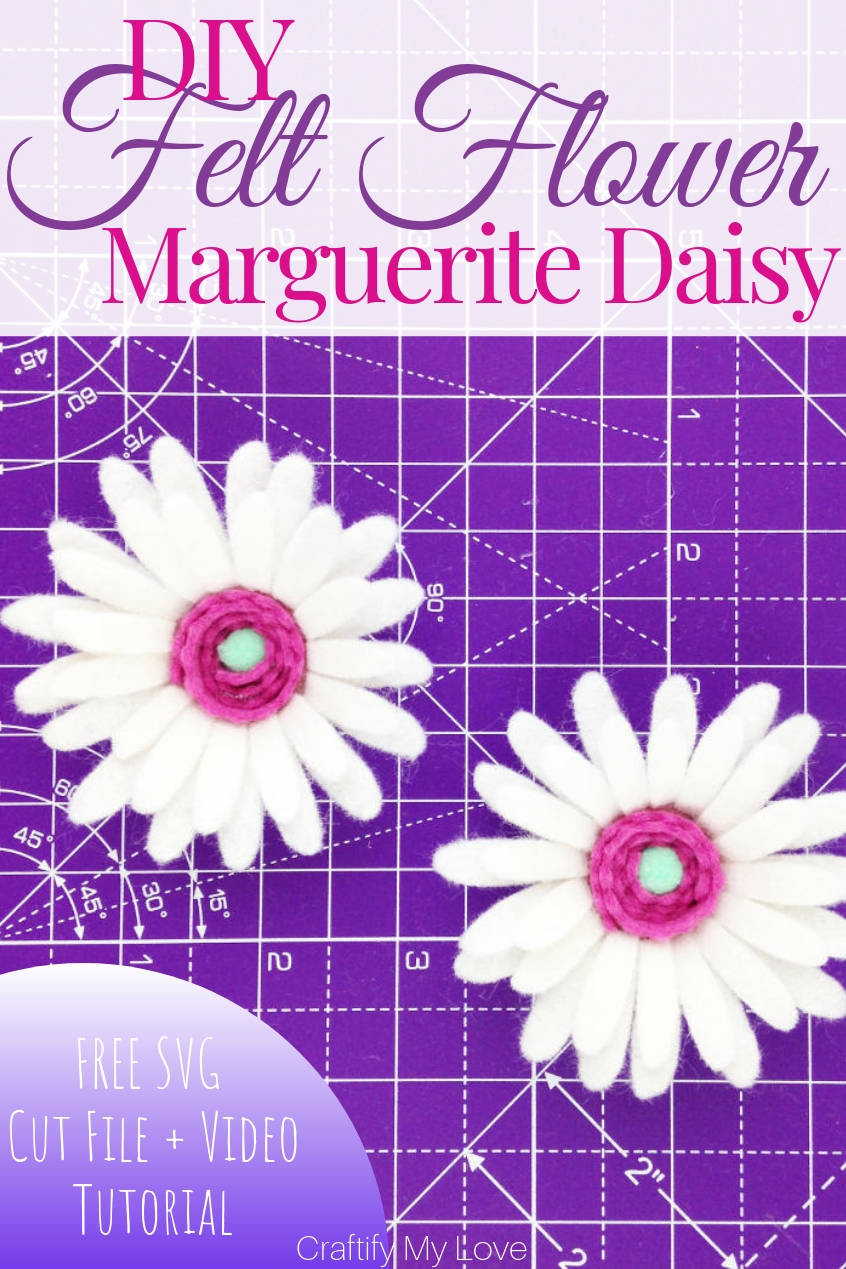 This is what you'll need:
This post contains affiliate links. That means if you make a purchase through these links, I may receive a small commission at no extra cost to you! You can click here to read my full disclosure.
Supplies
Don't forget to download your FREE SVG Cut File or FREE Template for Hand-Cutting your felt flower petals.
Tools
Video Tutorial: How to Make a Felt Marguerite Daisy using a Cutting Machine
If you enjoy Video Tutorials, make sure to sign up to my YouTube channel HERE.
4 Simple Steps to DIY a Felt Flower Marguerite Daisy by Hand
If you don't own a cutting machine you can totally make these darling Marguerite or Daisies by hand, too. Although, I think it is going to take super long to cut all those thin petals by hand…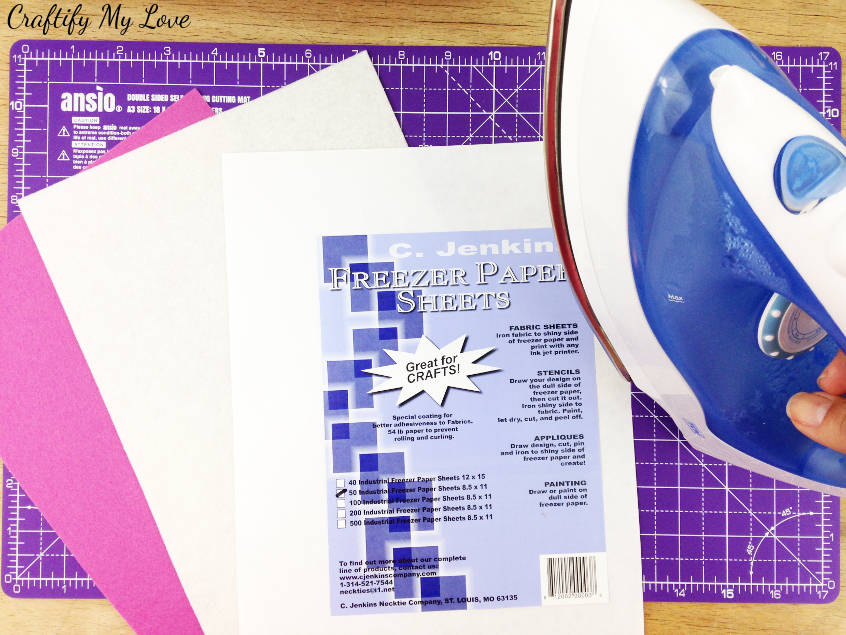 Efficiency Tip: You can download a FREE Template HERE to print on a sheet of freezer paper. Although I recommend cutting them out freestyle if you want to save a lot of time and dare to be brave, lol.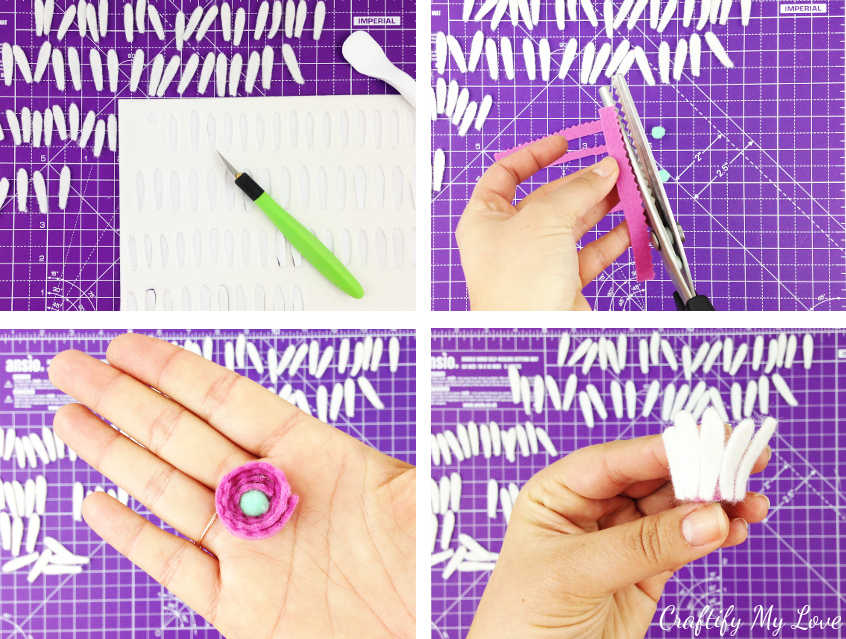 Download and print your FREE Template HERE as a thank you for subscribing to my newsletter.
Cut out 18 large (1,5 inches / 3,8 cm tall) and 18 smaller petals (1,3 inches / 3,4 cm tall) in your main colour and two rectangle stripes (4 inches wide and 0,4 / 0,2 inches tall or 5 cm wide and 1 / 0,5 cm tall) in your secondary colour. To give your Marguerite core more structure use zigzag scissors for one longe edge.
To create your felt flowers center, you'll roll the pre-cut pink rectangles (start with the smaller one) around the pom-pom and fix it using your hot glue gun. Go watch this step in the Video Tutorial HERE

.

Now it is time to build up your flower. Start gluing the first 18 small petals around the flowers base. Once finished, add a second round with the remaining 18 big petals. Don't stress if you have left overs. Simply make a second flower 😉
And, you're done!
Those are my favourite out of this series.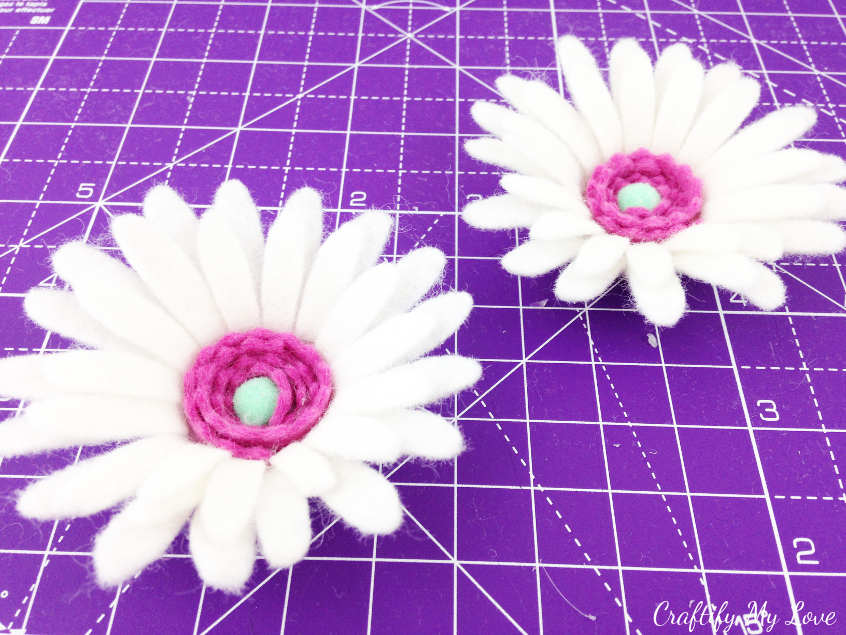 Tip: You could easily add some foliage by cutting out leaves from green felt and gluing them under the flower. If you also want to add a stem you could poke and glue a green sturdy craft wire into your pom-pom right at the start of this project.
DIY Felt Flowers – The Complete SERIES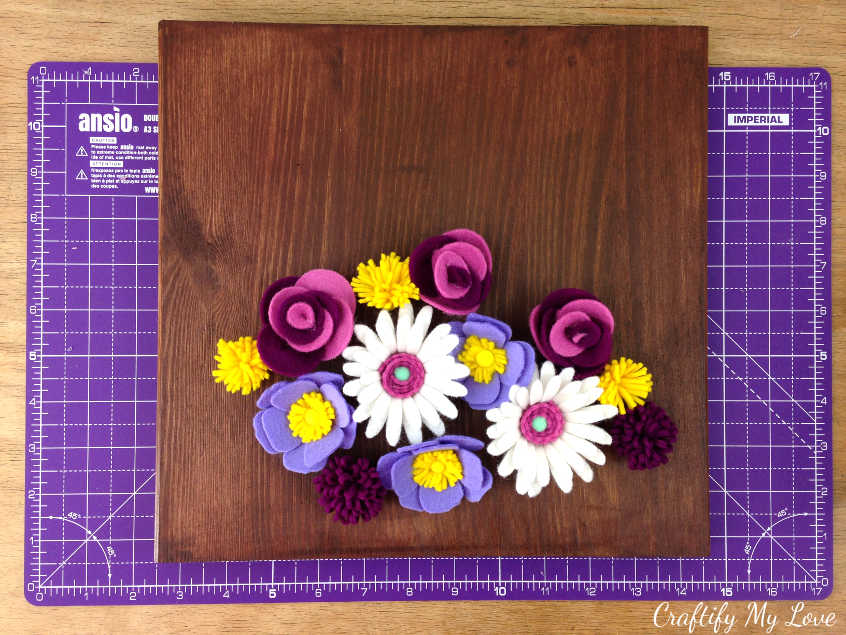 I am sure you'll love to DIY other types of felt flowers, too. Everybody loves a little variation, right?
Marguerite Daisy (this post)
Dandelion
Rose
Aster
Are you a visual learner? Click HERE for the complete playlist.
Now, you could use all of these flowers to DIY a Monogram & Established Floral Wood Sign. CLICK for Tutorial (following soon – subscribe to my newsletter if you want to make sure you don't miss it!).
I think you might like these Flower Crafts of mine, too. And if you need even more inspiration, why not hop on over to FaveCrafts.com and check out their flower section?
Monthly Crafty De-Stash Challenge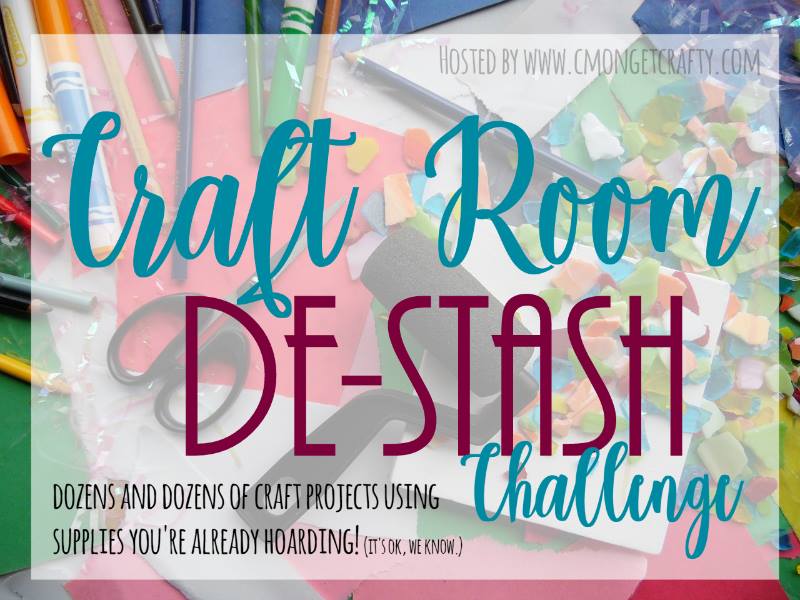 Every month a group of bloggers are challenged by
C'mon Get Crafty
to create a new craft or project from their own stash of goodies! Everyone is allowed a $10 allowance for necessities to complete their project (i.e. paint brushes, glue, etc), but the bulk of it must be created from their own stash of goodies. #CraftRoomDestashChallenge
Let's meet this month's bloggers!!
Here are the creative projects I've put together for this frugal challenge so far:
Anything you like? I sure hope so…
Love,

PS: Don't forget to PIN this for later.
PPS: And now let's see what my fellow de-stashers created for this months challenge:
You are invited to the Inlinkz link party!