I recently bought myself an Amazon Fire Tablet (sans a tablet sleeve – frugal and creative me wanted to make my own), so I can entertain myself while traveling. I love to knit or crochet, too, while on the train but sometimes I just need the company of some zombies or pirates, lol. Can you guess which are my favourite TV series?
So when I packed for my latest trip to London with my Love, I realised last-minute that my tablet wouldn't be protected from all the junk that is flying around in my handbag. Even though I bought this tablet second-hand, I don't want it to get all scratched up in no time, right? So it was time to get to it… Related: Felt Flowers (start here for a series of 5)
Did I mention that I seem to work best under pressure? I made the tablet sleeve on the day of our flight, actually I finished it in the car to the airport. That's how "last-minute" this project was, lol.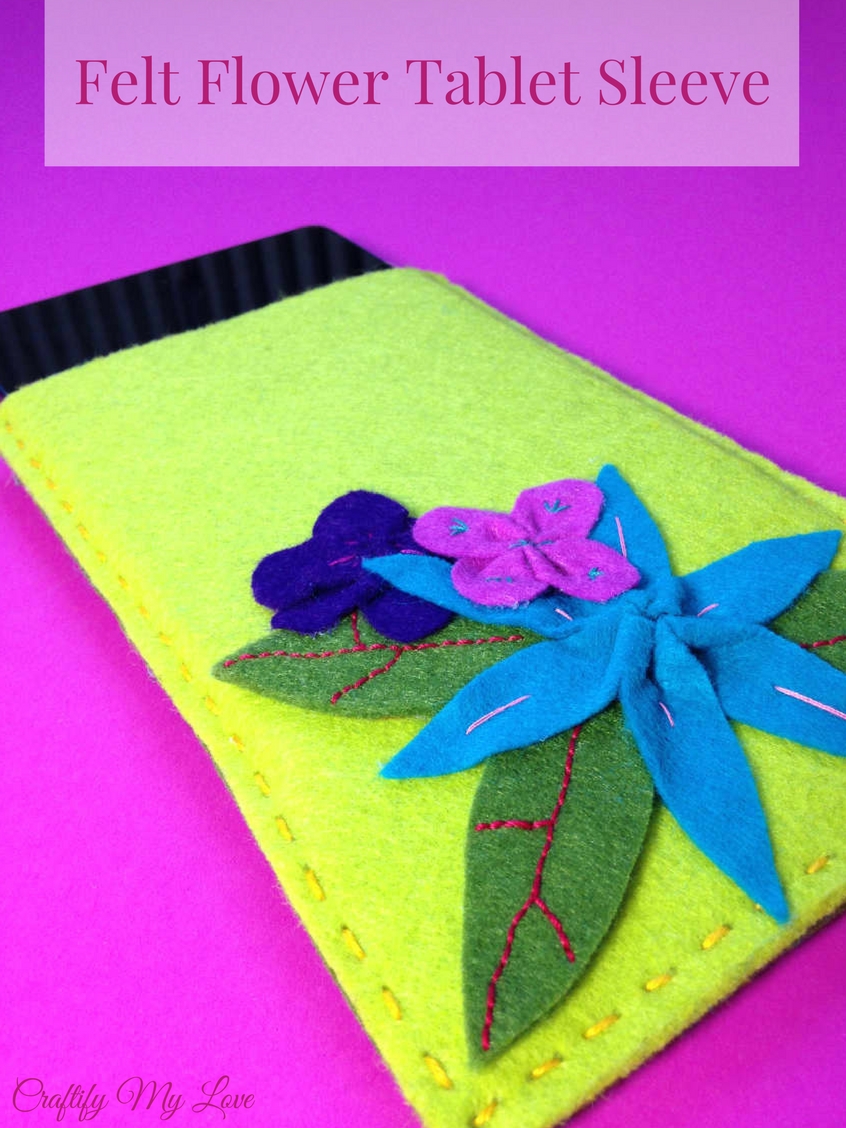 Supplies – Felt Flower Tablet Sleeve
We had a flight in the afternoon and first thing I did when I woke up was hop out of bed, find my stash of felt and sewing tools and get to work. My Love prepared breakfast for us while I was in crafty mode…isn't he perfect?!
Luckily I've had everything at home. But I guess that's not because of luck, but because I am a craft supply hoarder, lol. This is very handy, though. When in a crafty mood, I simply start crafting. And I get to participate in the monthly Crafty Destash Challenge from my friend Megan. Further down you can check out what the other ladies created while trying to reduce their craft supply stash…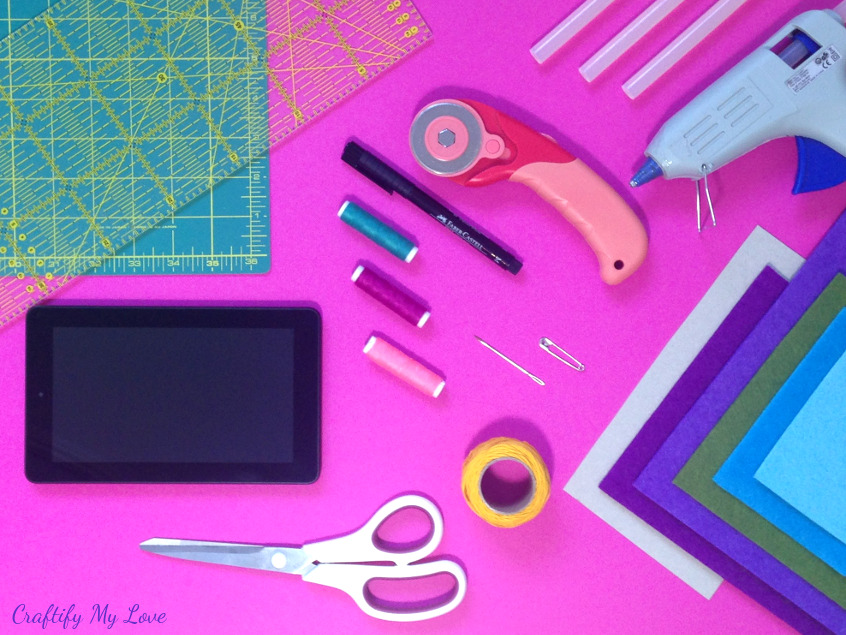 Because of lack of time I traveled with the plain tablet sleeve to London. But I had big plans for decorating it and that's what I did the day we returned. In case you are interested in making the tablet sleeve sans floral decorations, I split the supply list up for you, k?
Supplies for plain tablet sleeve
Your tablet for measurements
cutting mat
rotary cutter
cutting ruler
pen
needle
safety-pins
felt (I chose a thicker felt for better protection)
embroidery thread
scissors
Supplies for felt flower decoration
thread in various colors
felt in various colors
scissors
needle
cardboard
hot glue gun
Step 1 – How to make the tablet sleeve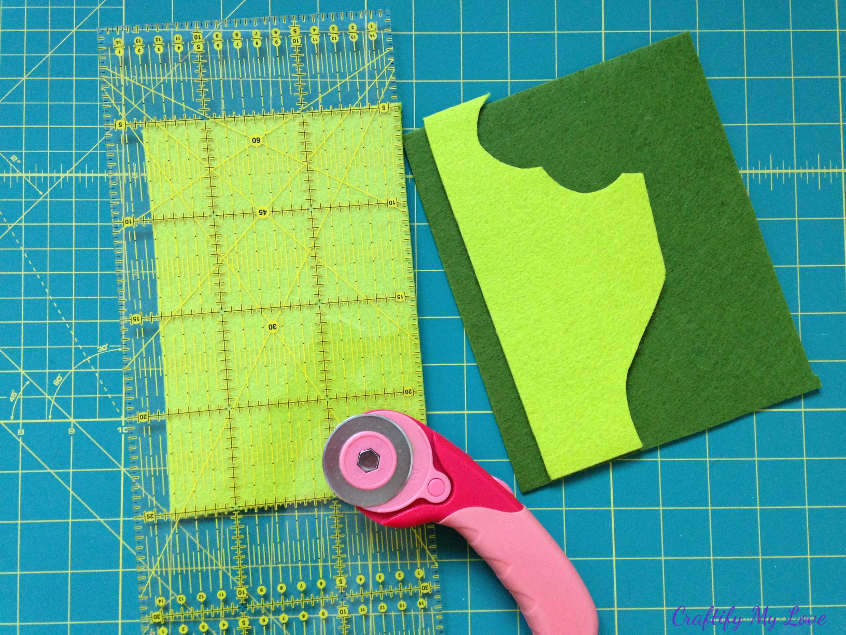 Take the measurements of your tablet and cut your felt to size. I did it the simple way:
Lay tablet on top of your two layers of felt.
Check that you have at least 0,25 inch seam allowance on three sides.
Mark the width necessary.
Cut felt with rotary cutter and cutting ruler.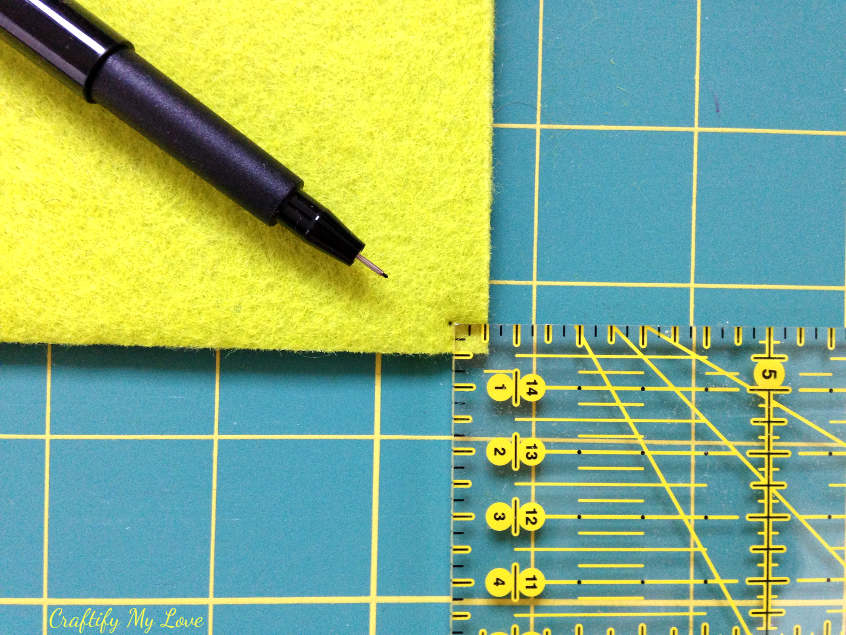 My piece of felt was a tad bit small so I could only work with a 0,20 inches seam allowance. As I chose a thicker felt, I didn't worry about the stitches ripping out when under pressure. And it worked fine.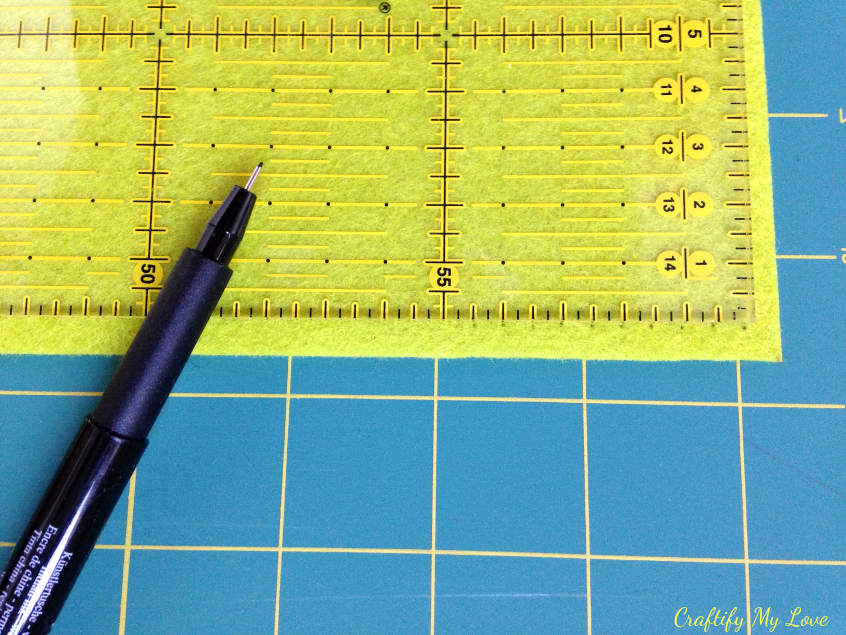 I pre-marked all the stitches so I could sew evenly (or at least try). I am not the best when it comes to hand sewing, I simply lack the patience it takes…
If you love flowers same as I do, you might also like: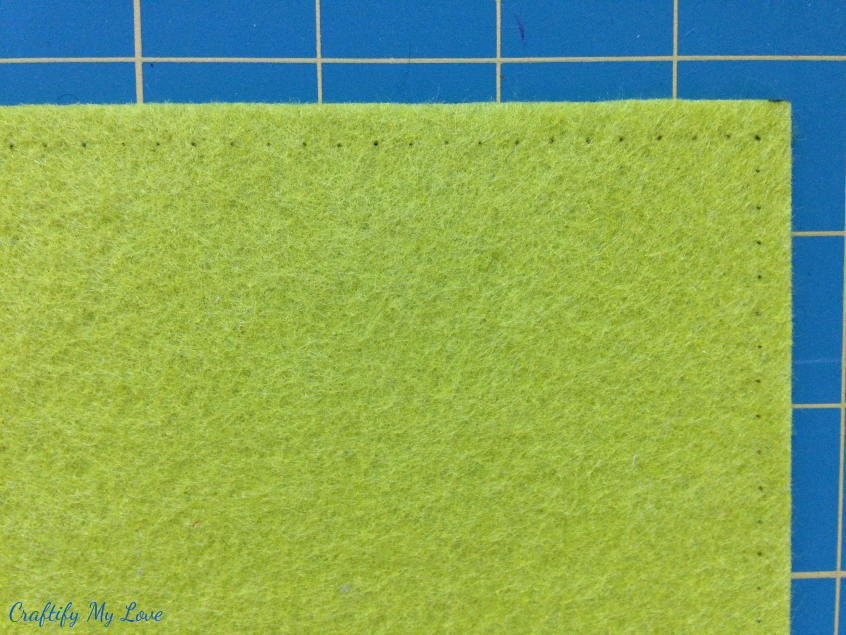 The seam allowance I added was 0,20 inches (0,5 cm) and the distance between stitches was the same.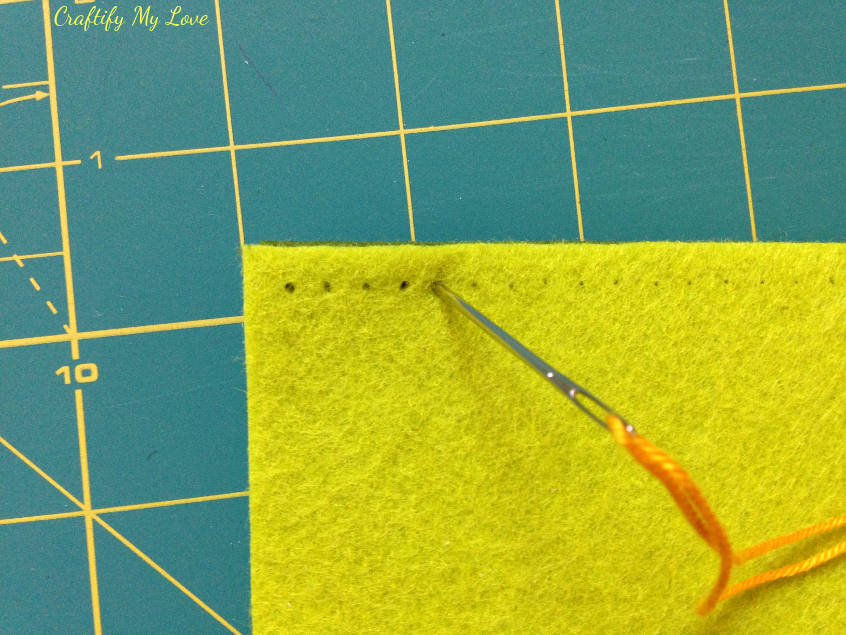 I even went so far as to pre-punch the holes through both layers of felt (you can't see the second layer on all my pictures). Can you tell that I am a horrible hand sewer? I really wanted it to turn out good so I was happy to add this extra steps. You don't have to, though!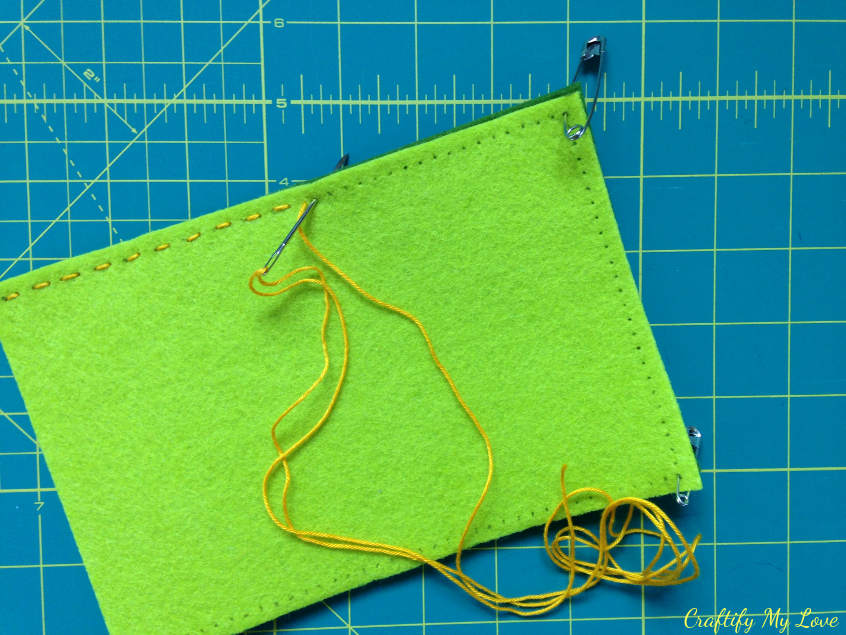 I fixated the two layers of felt at the corners with a safety-pin and started hand sewing the tablet sleeve together with a contrasting embroidery thread.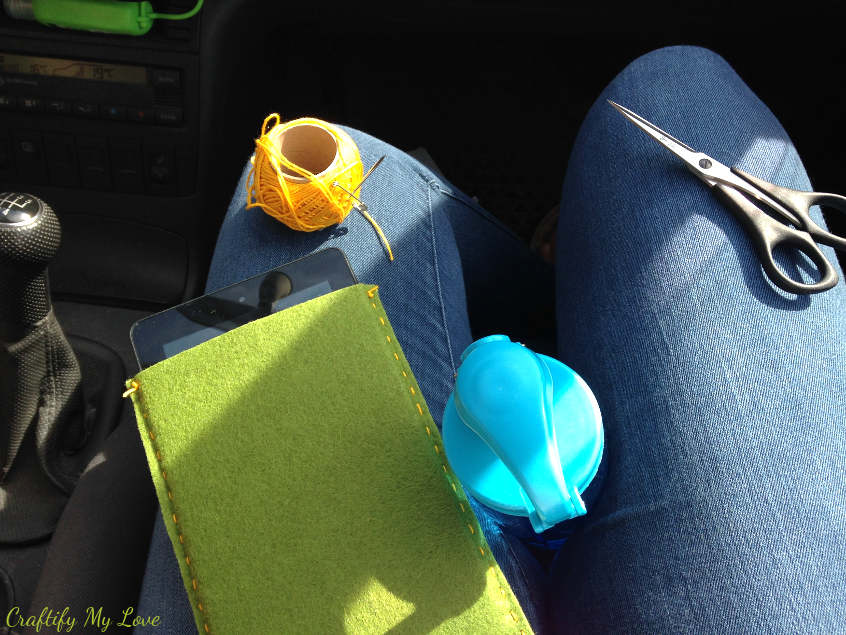 As it was time to catch our plane to London, I finished the stitching in the car while my Love drove me to the airport.
Step 2 – Making colourful felt flowers to decorate your tablet sleeve
As my tablet sleeve looked a bid sad, I started decorating it with lovely felt flowers as soon as I got home from London.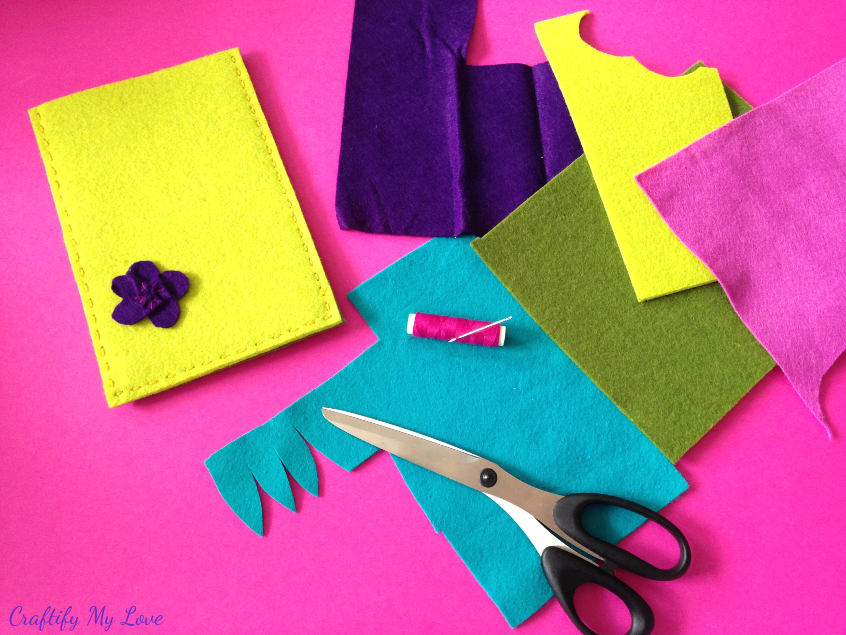 I used a thinner felt for the flowers, and the same green felt from the back of my tablet sleeve for the leaves.
Start cutting pointy petal leaves as shown in the picture above. You could do anything from four to six petals. If you feel better, you can trace the outlines. But you can also freestyle it, like it did. After all there is no flower like the other in nature.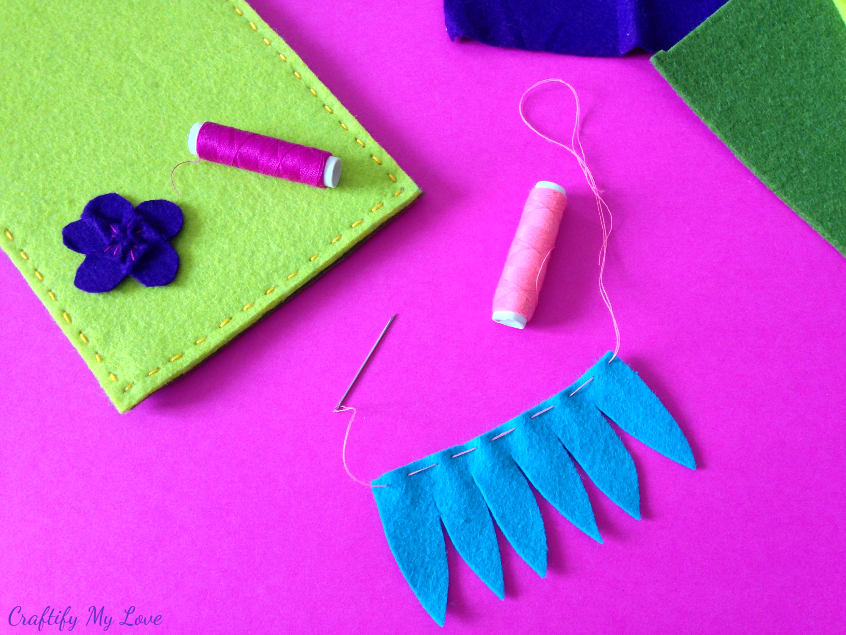 Using a contrasting thread, stitch loosely at the lower border of your felt petals.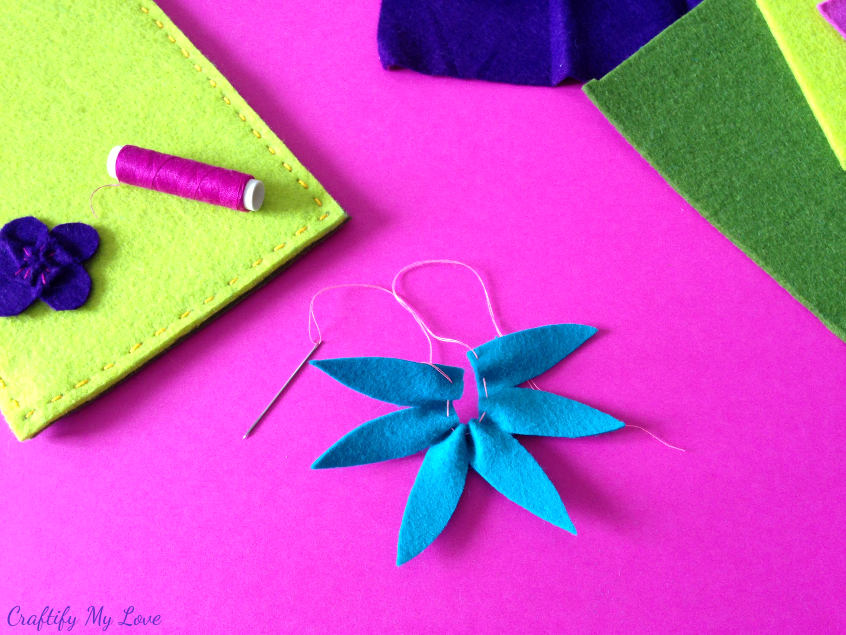 By pushing the petals together along the thread, you create a darling felt flower. I think it looks a lot like a Clematis, don't you think?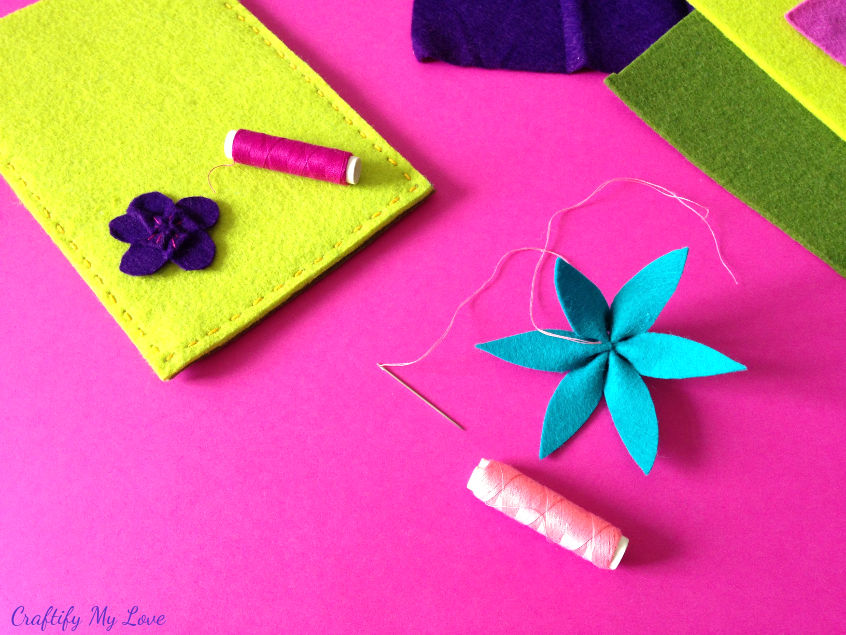 Make a knot so the flower will stay put. Don't cut the thread just yet!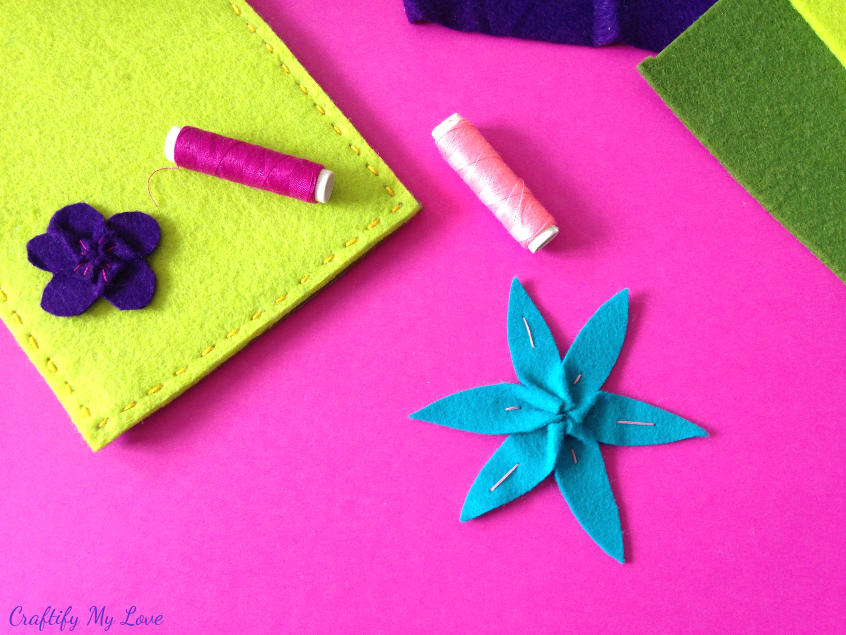 With the remaining thread you can add hand stitched details to your flowers.
Related: Find even more Felt Flower Tutorials HERE.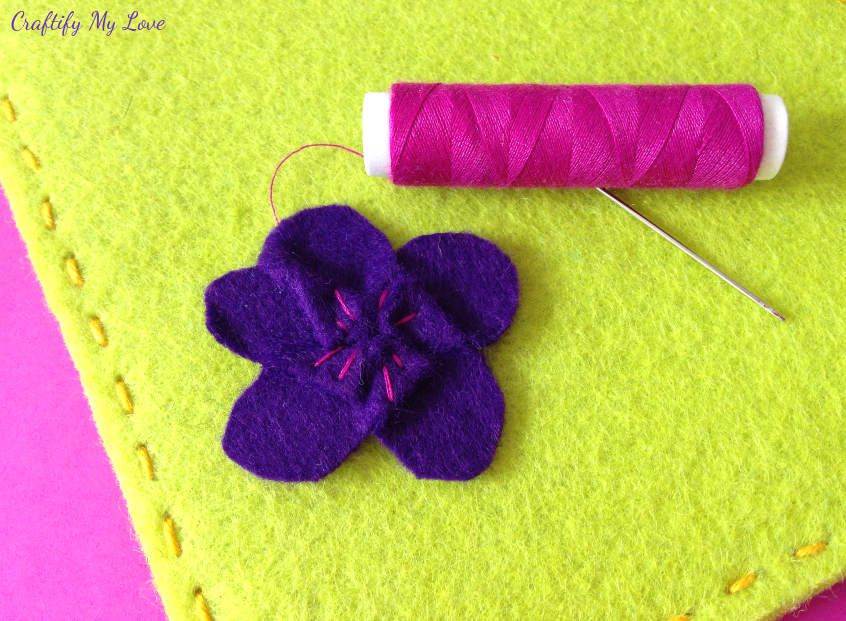 I encourage you to get creative!
For a more roundish flower you simply cut round petals like the ones in the picture below. Again you can experiment with the number of petals and of course the form of them.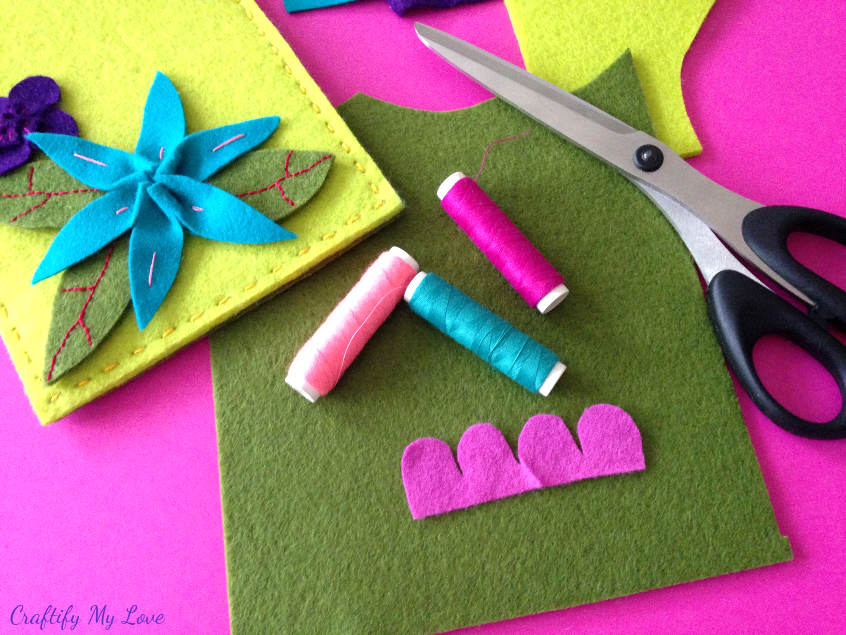 What are flowers without some foliage, right? So, cut some leaves (I did oval-shaped ones) and arrange them with your felt flowers on the tablet sleeve.
Are you happy with what you see so far?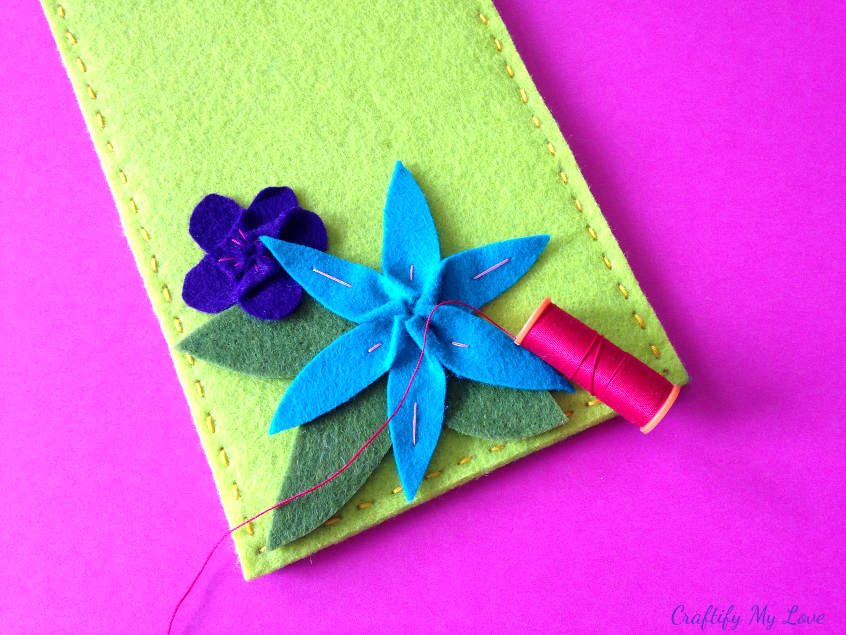 Choose a contrasting thread and start stitching details to the leaves, too.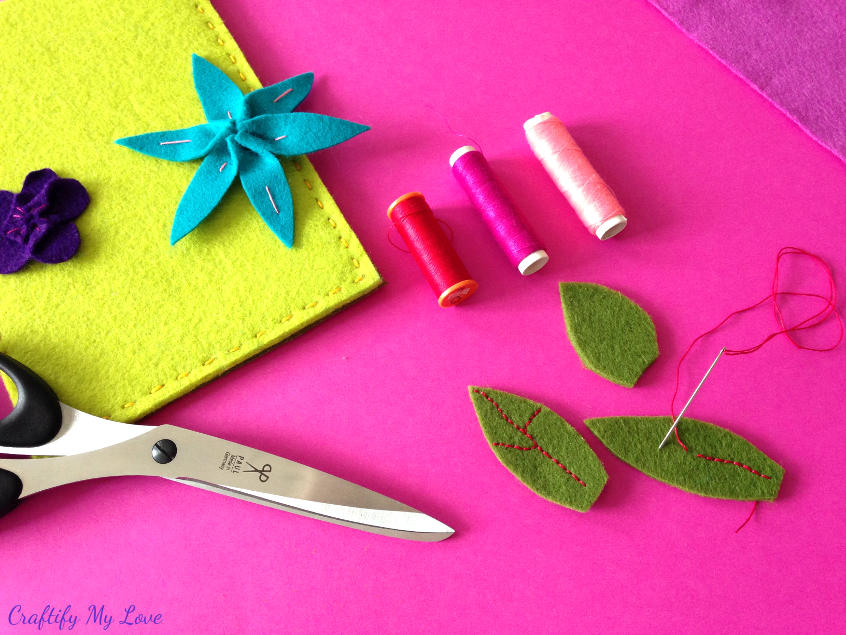 Step 3 – Gluing felt flowers to tablet sleeve
If you arranged your felt flowers and leaves to your liking, it's time to glue them to your tablet sleeve. Use a piece of cardboard to protect your tablet sleeve from being glued shut! Cut it to size and push it all the way down.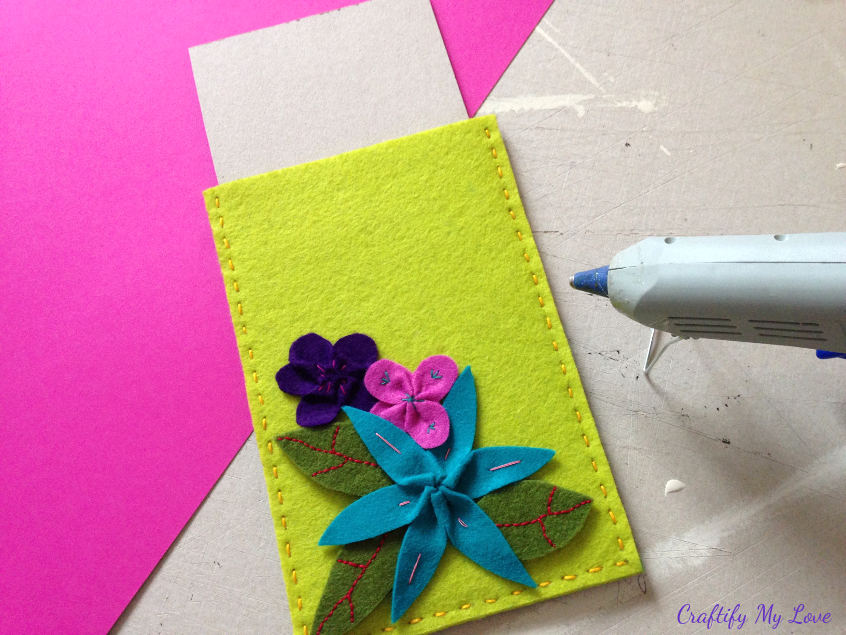 Apply hot glue to all the felt leaves and flowers (one at a time of course) and glue them to your tablet sleeve. Pay attention while you work, hot glue is HOT! Also you don't want hot glue spilling out from under your details, as this won't look very attractive.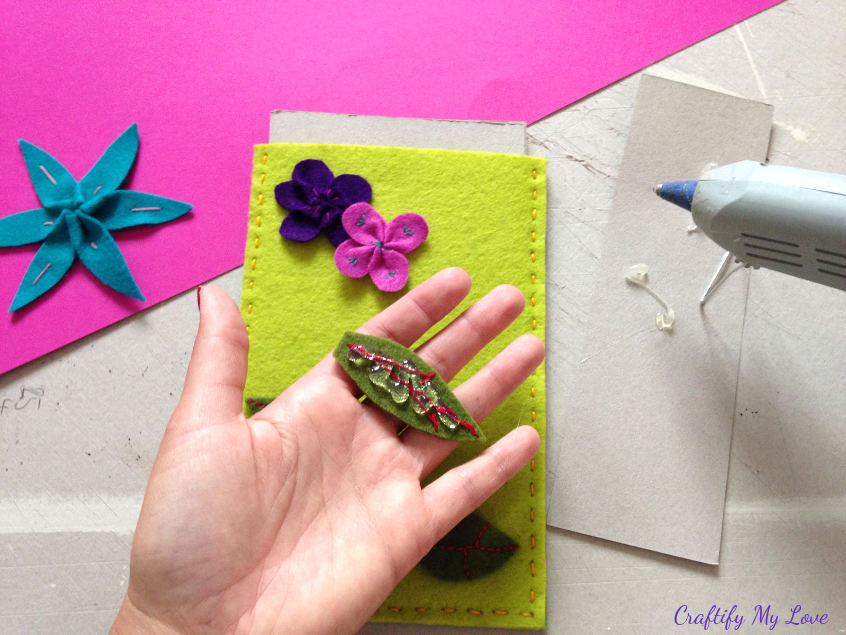 Well done! Now step back and admire your work.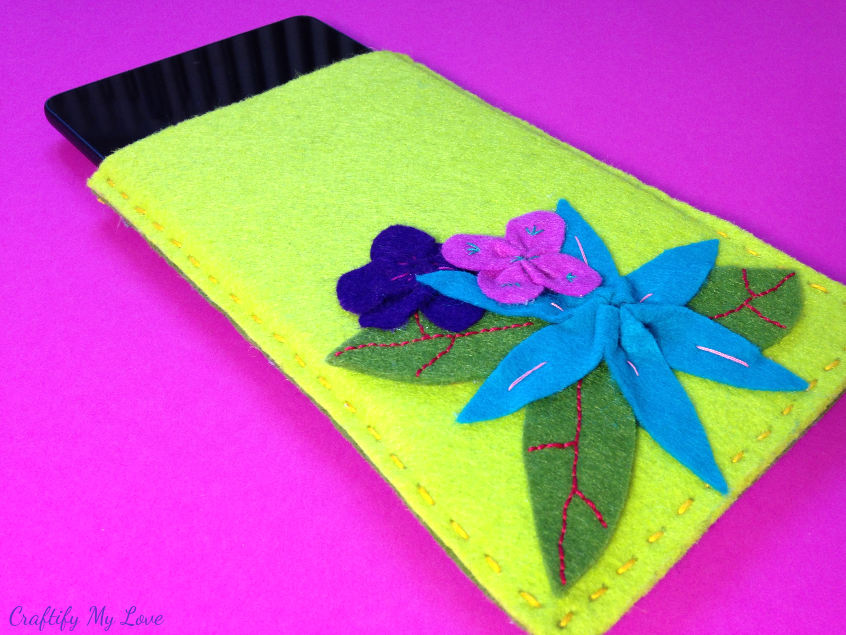 What do you say? Will you give this tutorial a try? This would also make a good gift idea, right?
Love,

Every month a group of bloggers are challenged by
C'mon Get Crafty
to create a new craft or project from their own stash of goodies! Check out some awesome creations you might be able to make from your own stash! #CraftRoomDestashChallenge
INLINKZ:
Are you in for some FLOWER POWER?
Yeah!! Then you might also like my other crafts including flowers!
Crocheted newborn hat with flower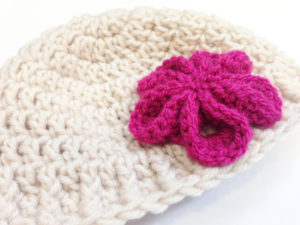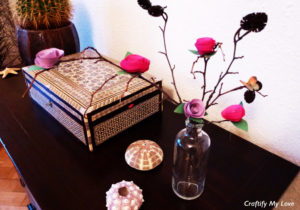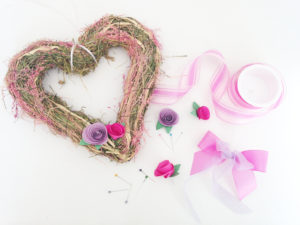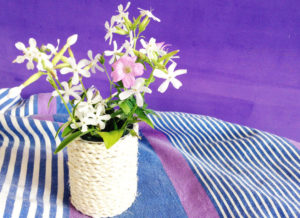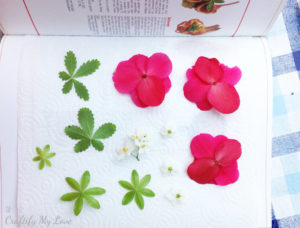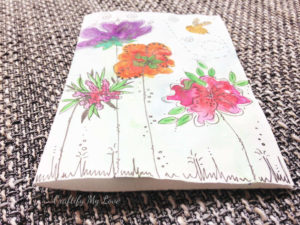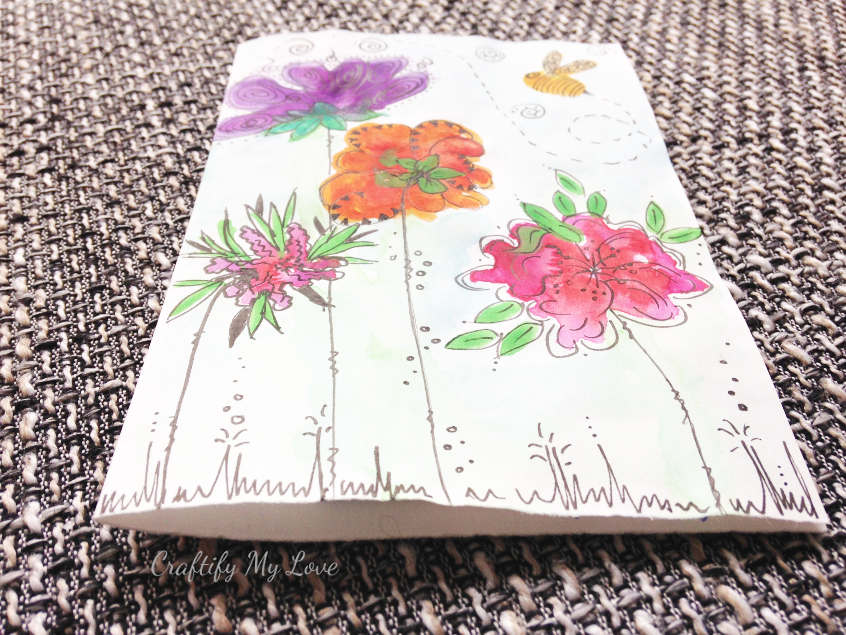 MerkenMerken
MerkenMerken
MerkenMerken
MerkenMerkenMerkenMerken
MerkenMerken
MerkenMerken
MerkenMerken