Can you remember that I told you why I learned to crochet? Yes, it was because my baby god-daughter Nina was born and she most definitely needed the cutest baby flip-flops ever for her first summer. And her mother made sure I made them for her precious little girl. Unfortunately I didn't know how to crochet. But I love myself a good challenge every once in a while and got to work.
Basically I learned crocheting by watching YouTube videos and I made a video collection for you of the ones that helped me a lot!
As I stumbled over photos taken three years ago with my god-daughter sporting her fabulous baby flip-flops, I decided to share the pattern for them. I am sure other cute little angels are in desperate need for the worlds cutest baby flip-flops, too!!!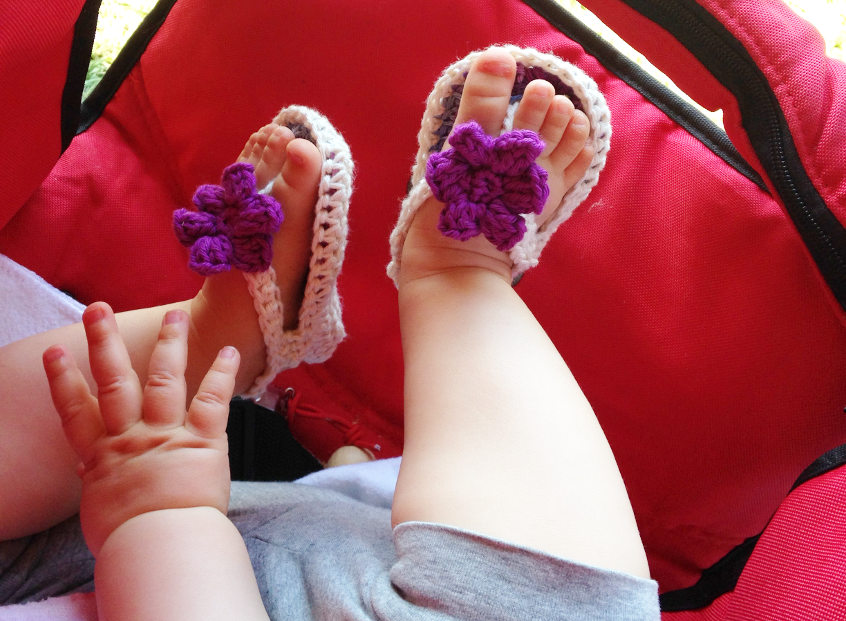 I searched my quadrillion pins on Pinterest for the original pattern but had a hard time finding a link to the original free pattern by Annoo's Crochet World that would actually work #WhatABummer. But after a long time and a little finesse I succeeded!!! So if you want a detailed photo description of the pattern, go visit this artistic ladies website.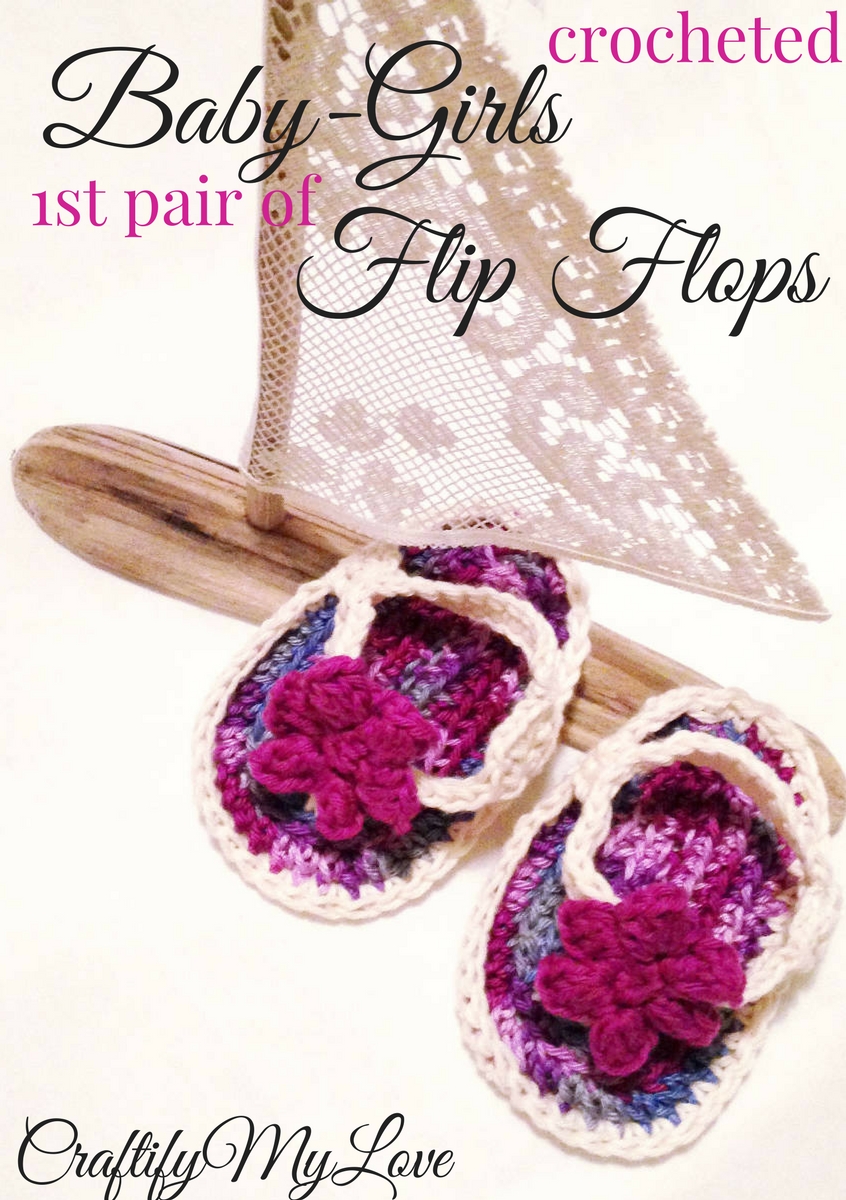 Material needed
Crochet hook : 3.50 mm
Tapestry needle
off-white mercerized cotton yarn (100 % Cotton, 50g, 115 m)
multi-color mercerized cotton yarn – violet, raspberry, grey, purple (100 % Cotton, 50g, 115 m)
raspberry mercerized cotton yarn for the flower (100 % Cotton, 50g, 115 m)
Stitches used
ch: chain
sc: single crochet
hdc: half double crochet
dc: double crochet
st: stitches
sk: skip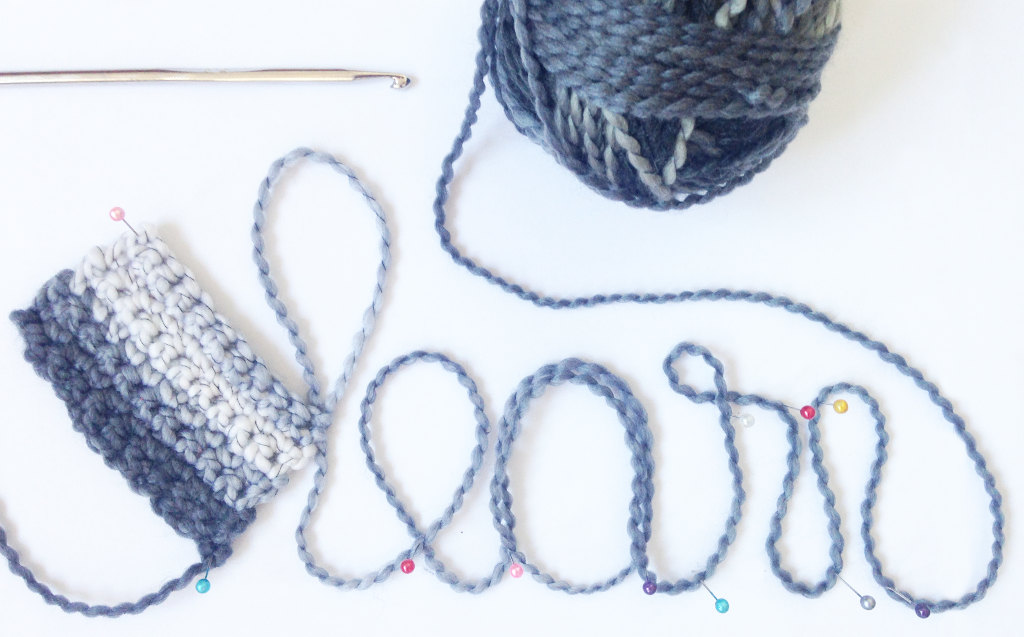 Don't know how to work those stitches? Find video tutorials for each stitch in my crocheting library.
Free Pattern – Baby Flip Flops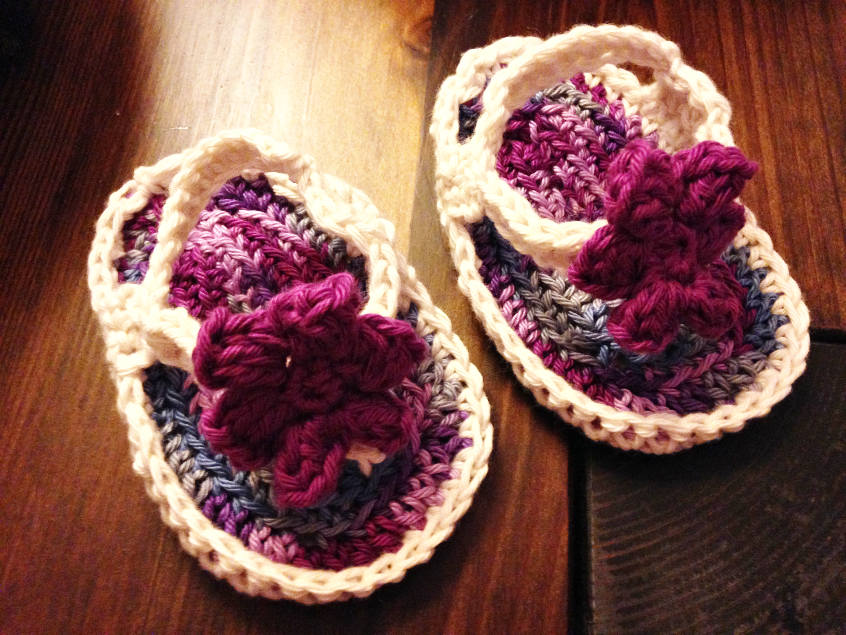 Will fit at age 3 to 6 months.
Soles – make two of each color
Round 1: With Cream Yarn, chain 13, sc in second ch from hook, 6sc, 4hdc, 3 hdc in last st, do not turn, continue on the other side of the ch, 4hdc, 6sc untill the last st, join to first sc with a sl st.
Round 2: ch, 2sc in next st, 5sc, 5hdc, [2 hdc in next st] 4 times, 5 hdc, 5sc, 2sc in next st join to first ch.
Round 3: ch, sc, 2sc in next st, 12 sc, 2sc in next st, 3sc(should be center st), 2sc in next st, 12 sc, 2sc in next st, sc sl st with first ch.
Round 4: ch, 10 sc,5hdc, [2hdc in next st] twice, 3 hdc, [2hdc in next st] twice, 5hdc, 11sc, sl st.
Sew all loose ends in. Done! Repeat once more with the same color and twice with the other color.
Once you have 4 soles, place a cream one and a taupe wrong side facing each other, sl st with white color, through both of the soles, with Taupe sole facing up, sc through both the soles all around
Straps
Place a colored scrap yarn counting 7 stitches from middle bottom of your sole on the right and on the left.
Right Strap – in 7th st, sl st with Cream Yarn, sc in same space, 2sc, turn, sc, hdc,hdc, fasten off.
Left Strap – sl st, sc in same st, 2sc, turn, ch, sc in same st, hdc, hdc, turn, ch2, dc in same st as ch2, hdc, sl st. Do not Fasten off, ch12, sl st through both soles at middle point of top sole, where you see the colored strap. Now, work your way up, sl stitching 3. Then ch9, sl st to the first st of your right strap, sl st in the 2 next st.
Back Strap – ch12, sl st in first st of left strap, and in the 2 next st, hdc in every ch st when you reach one st before the toe strap, hdc2tog (combining the st before and the st after the toe strap). Continue hdc until you reach the first st of your right strap, sl st, and sl st in the next 2 st, sc in to each ch along the back strap, sl st when you reach the strap, fasten off. Sew in all loose ends.
Flower
In a magic ring, ch, 6sc, join to first st with a sl st, ch4, 4dc in same st, drop your crochet, pick up the st at the top of your ch3, pick up the st you just dropped, yarn over and through both loops, you just created a petal, sl st to the next st on your circle base,then ch4 and repeat 6 more times, fasten off. Make another one.
Sew flowers with a tapestry needle just above the strap.
Now it's time to enjoy your creation!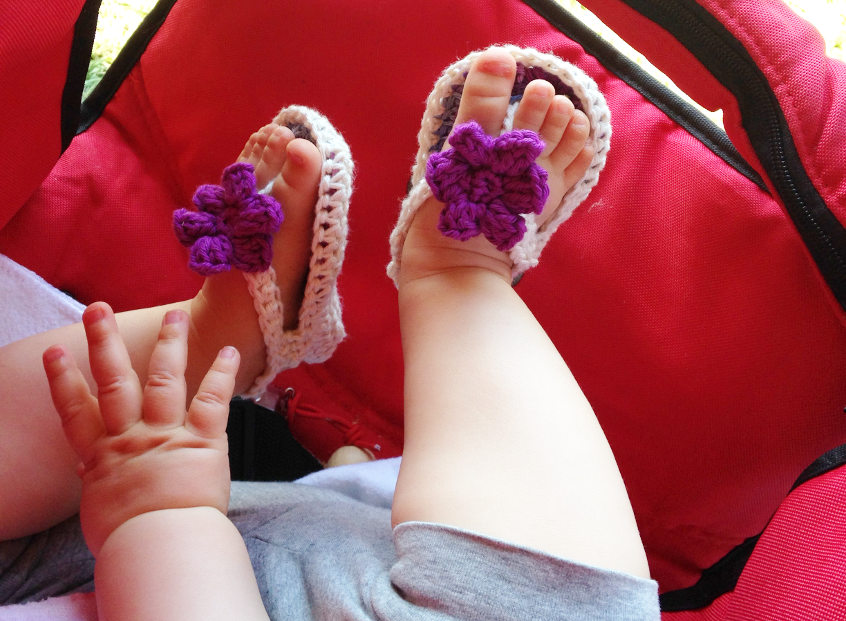 Love,

Tell me, will you make a set of these adorable baby flip-flops?
You might also like…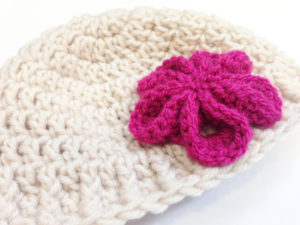 Newborn Hat with Flower Applique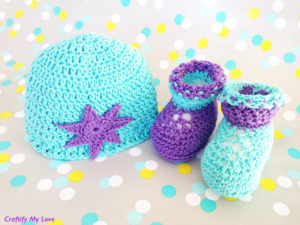 And a couple of projects for grown-ups…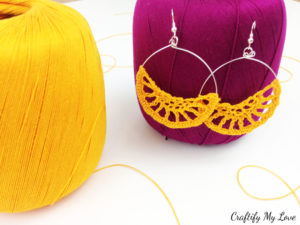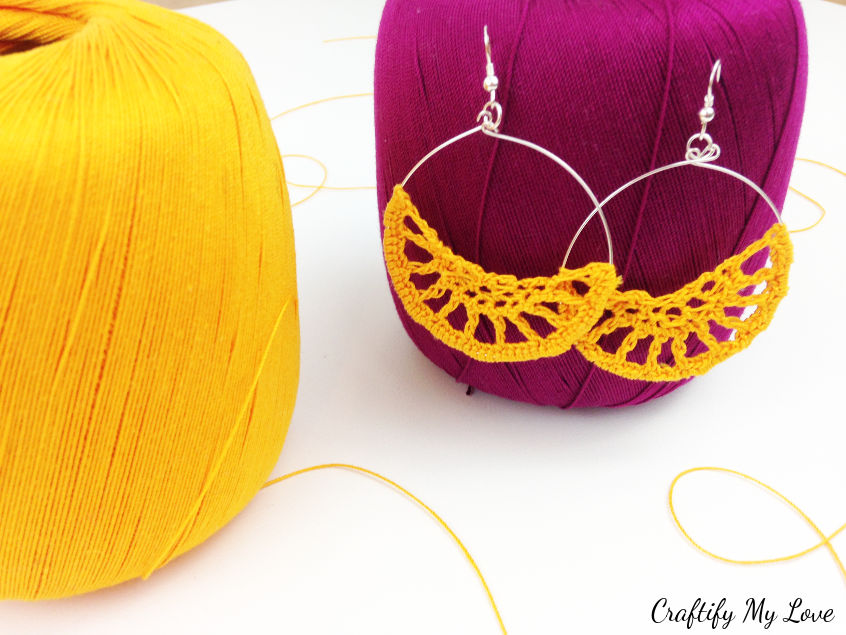 Puff Stitch Beanie and Infinity Scarf