With my Moroccan background I "suffer" from a big bum and big thighs…but I guess "suffering" is not the correct term as I am mighty proud of my curvy body #bootylicious and all that 😉 However I often have the problem with too tight shorts and pants.
When they fit around my bum and thighs, there will be way to much fabric around my waist and vice versa. I am sure many of you know the problem #CurvyGirlsUnite
Just a couple of weeks back I was fed up that my favorite jean shorts would bite into my thighs and ride up all the times. It's in no way stylish when you always have to tuck on your shorts in private places when out and about, duh!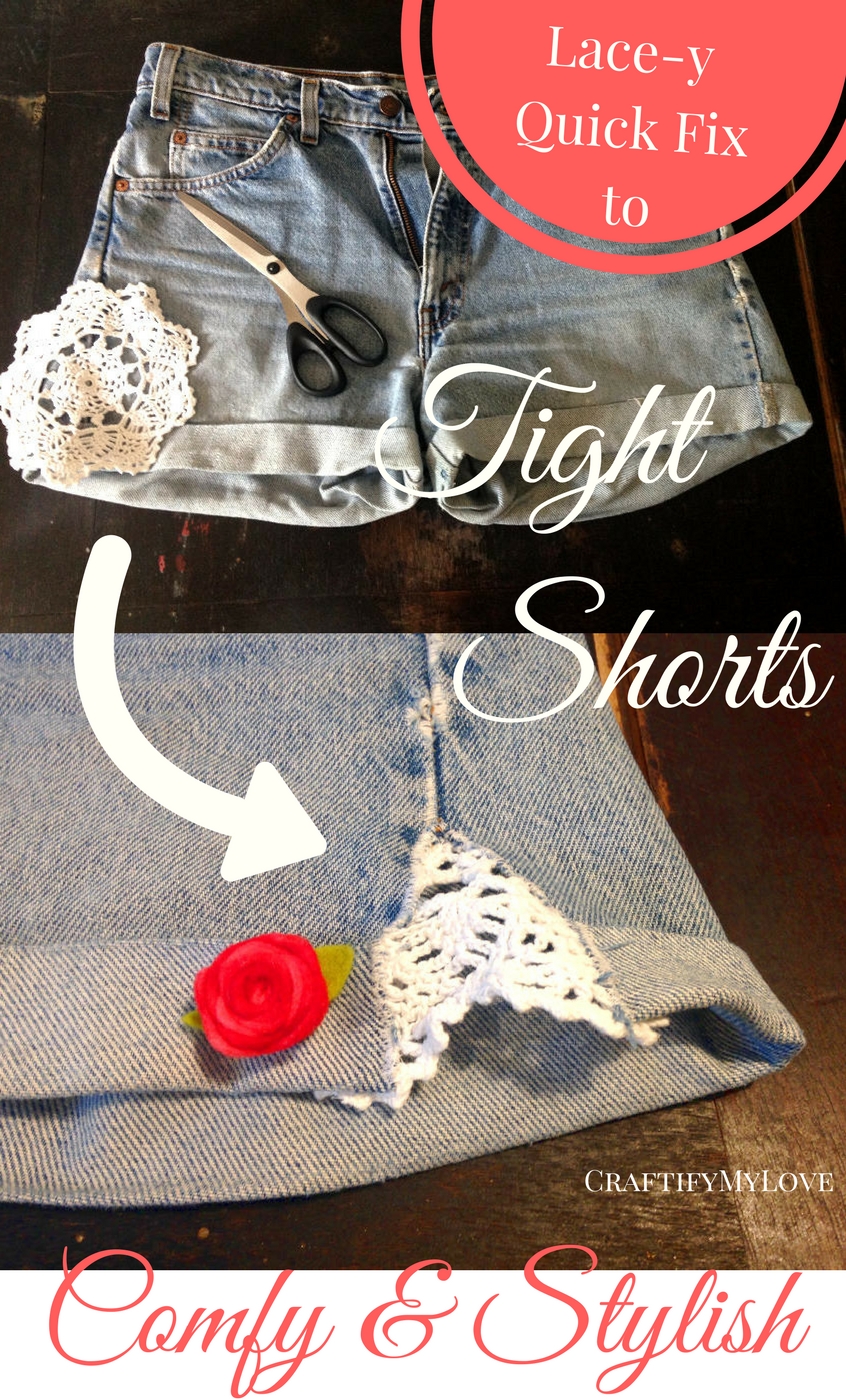 Luckily I am a crafty little bee and found a sexy and stylish yet comfy way to fix the problem at hand. And the best part was, I had everything at home!
While my man prepared our meal, I quick fixed my too tight shorts. It's as easy as prepping a quick-lunch!
What you'll need to quick fix tight shorts
Too tight shorts
Lace (or other fabric) – I used a lace doily I found at a thrift store
matching thread
scissors
pins
sewing machine
How to quick fix too tight shorts
Go find the tight shorts you want to adjust to your curvy body. Mine is a cut off LEVIS I bought second-hand on a trip to London, UK.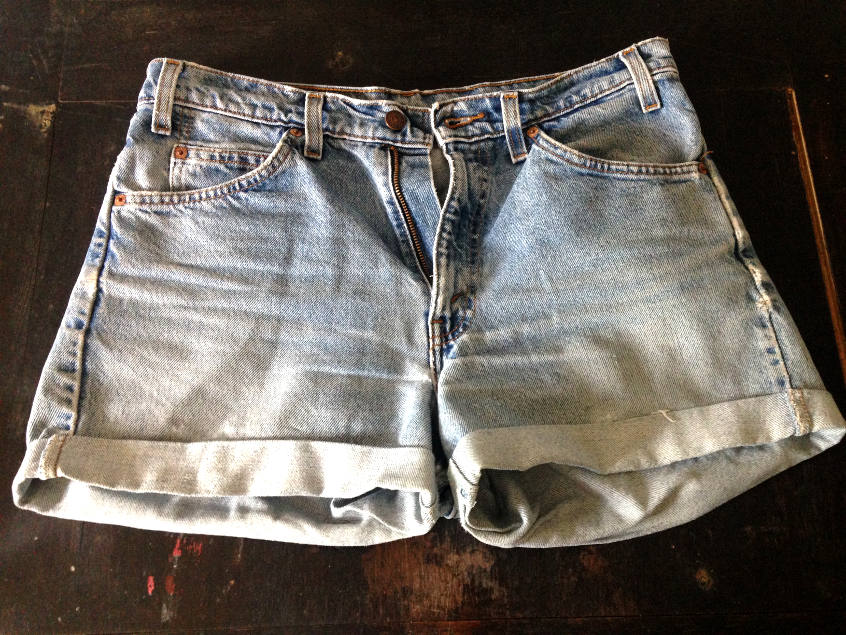 Select a lace doily you like and mark the point up to wich you need to cut into your shorts.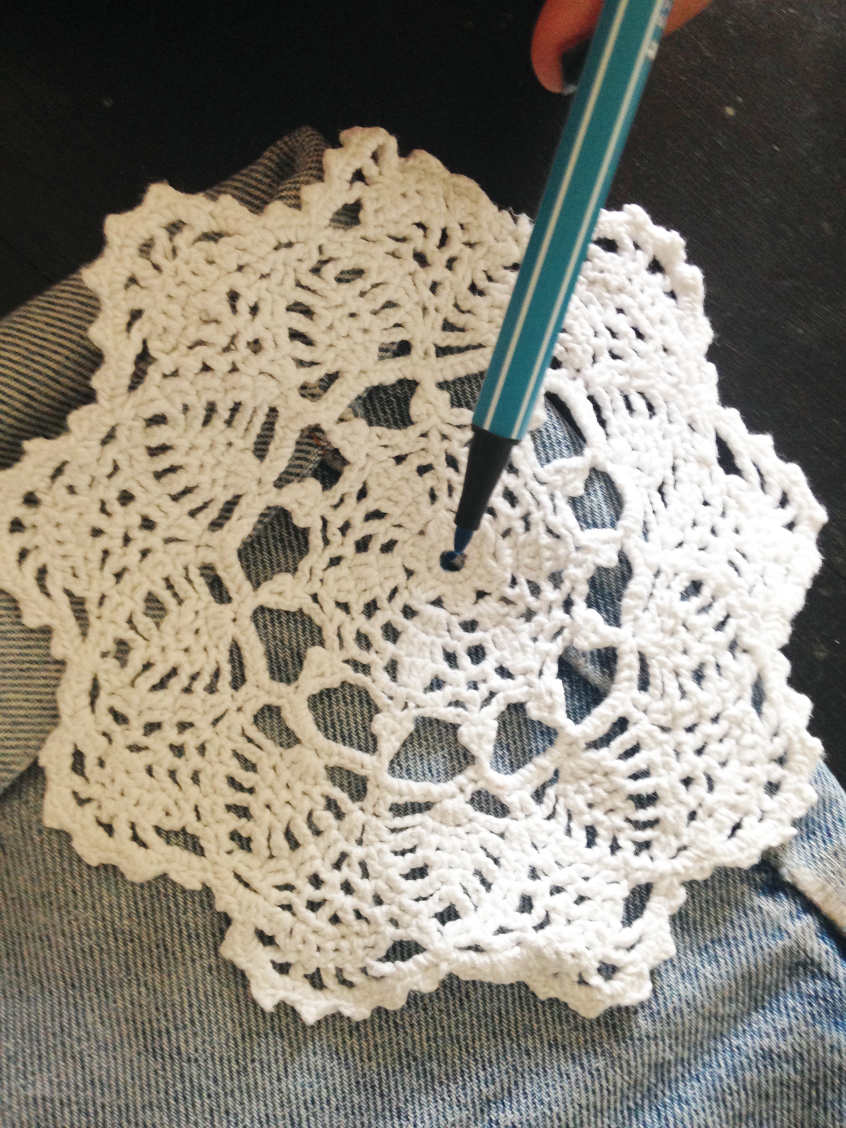 Cut till the previously set marker … (I know!!! This feels a bit scary, but just go for it! You won't regret it.)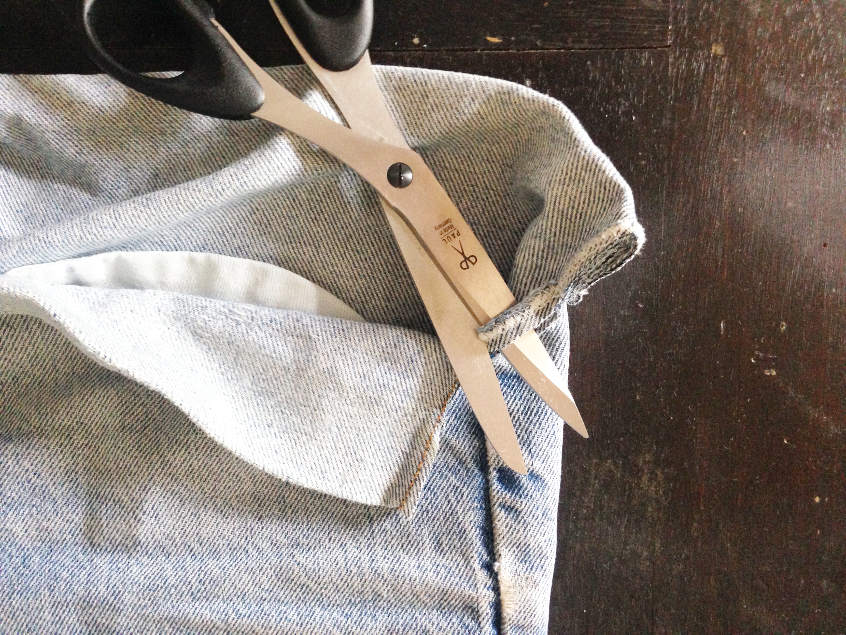 … and remove the bulky seam allowance.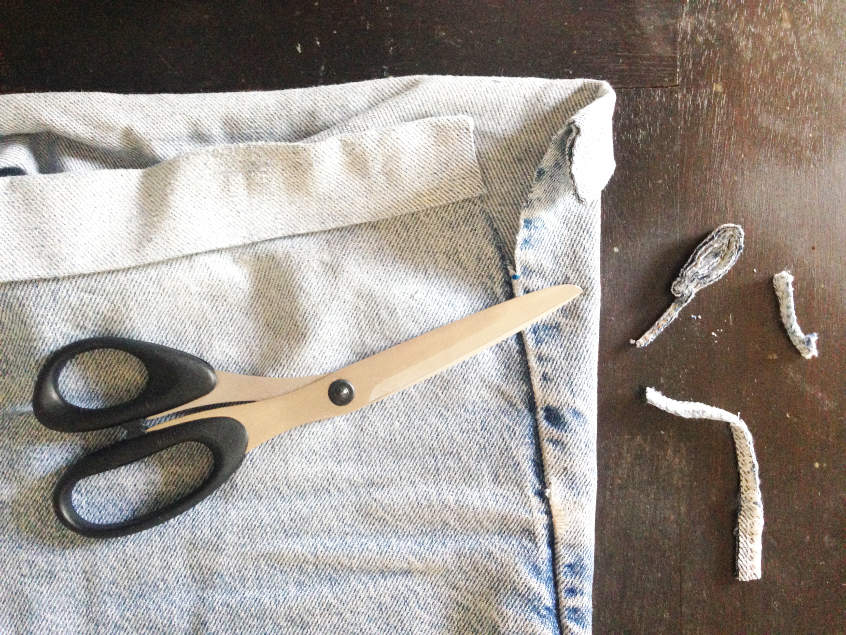 Pin the lace in place and try your pants on. I had to alter the placement once as I pinned too loosely and the lace would stand out like weird wings. It didn't look flattering to say the least 😉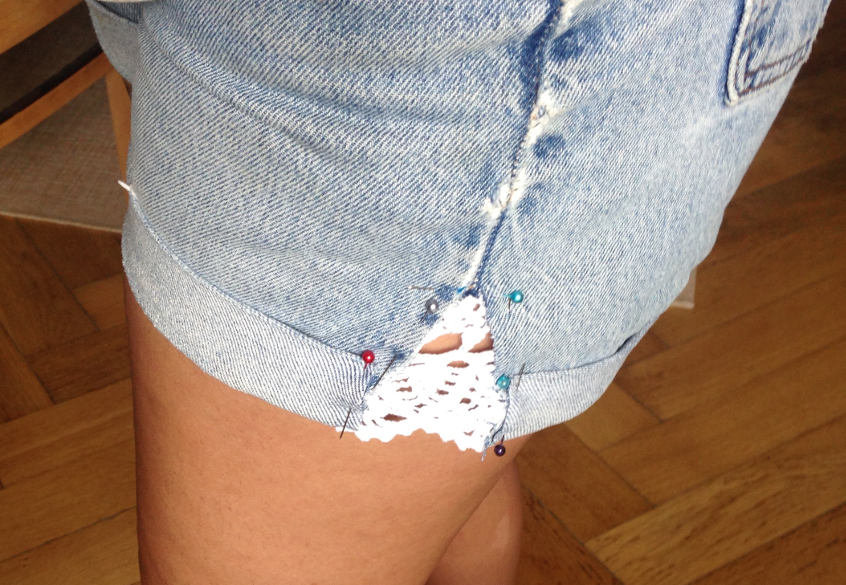 Once you're happy with the placement, sew the lace in place. I used the zig-zag stitch and sewed back and forth a couple of times.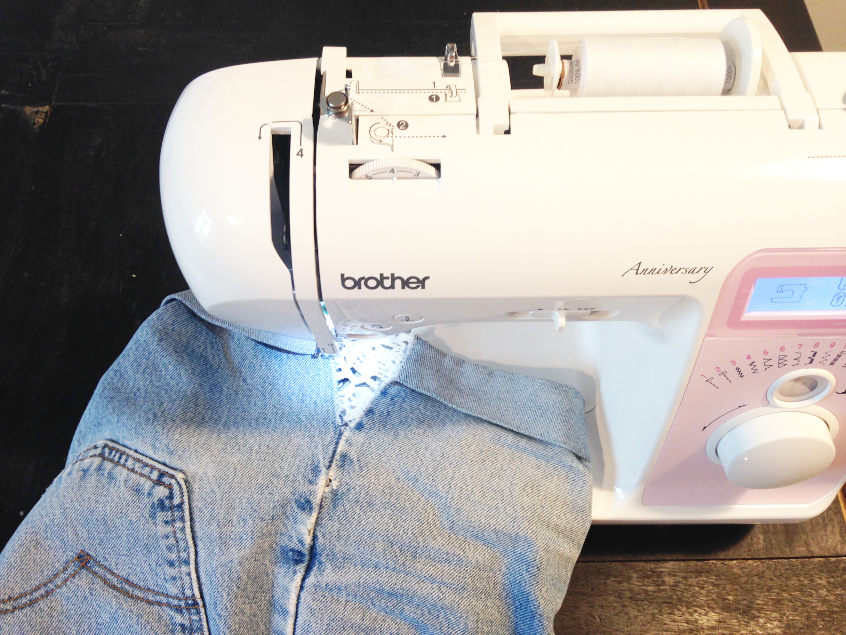 Turn your shorts inside out and make sure that the lace is secured at all places. You don't want the lace to unfurl. Cut off the excess lace.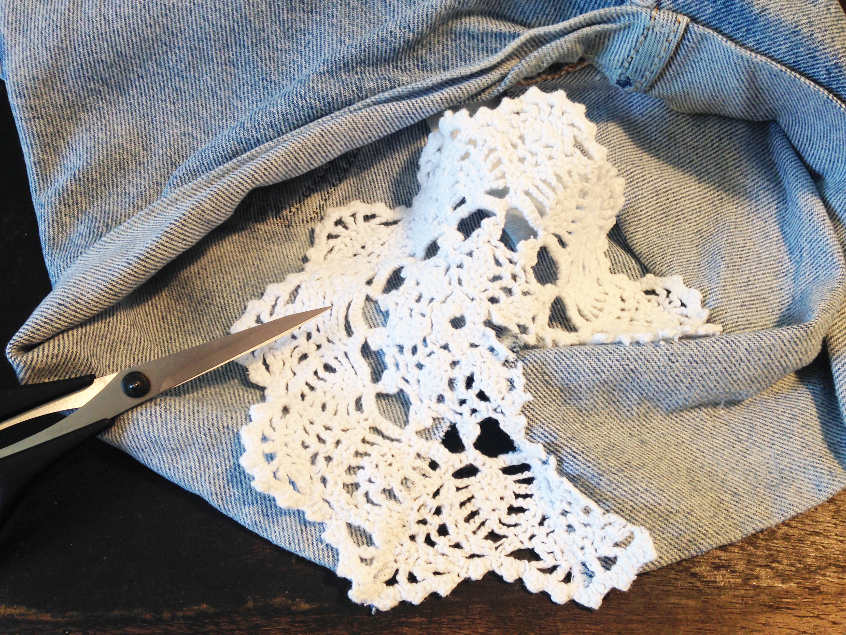 Repeat for the second leg.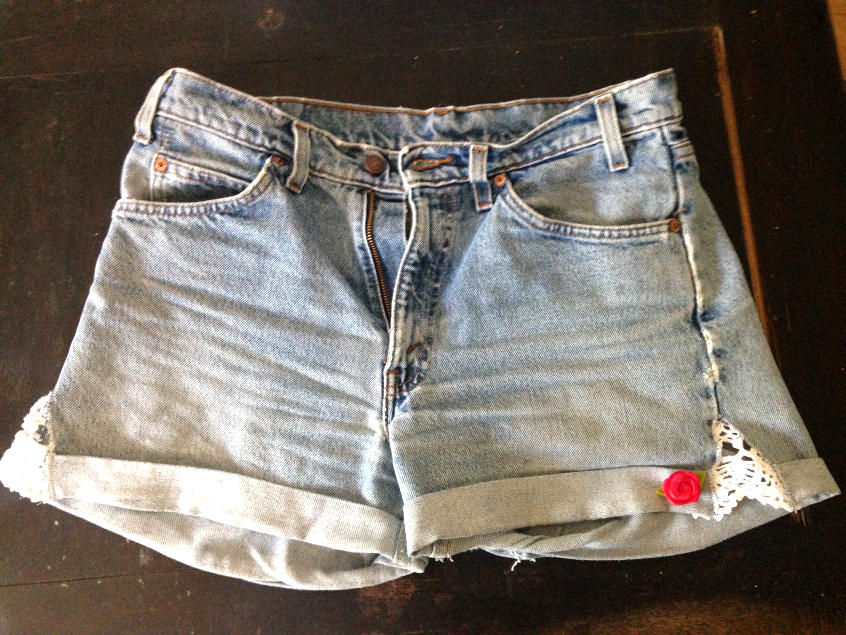 I bought this lovely rose brooch at a wonderful fairy festival I attended this summer. I think it looks lovely with the lace, what do you think? If you want to learn how to make fairy wings, I've written you an easy tutorial.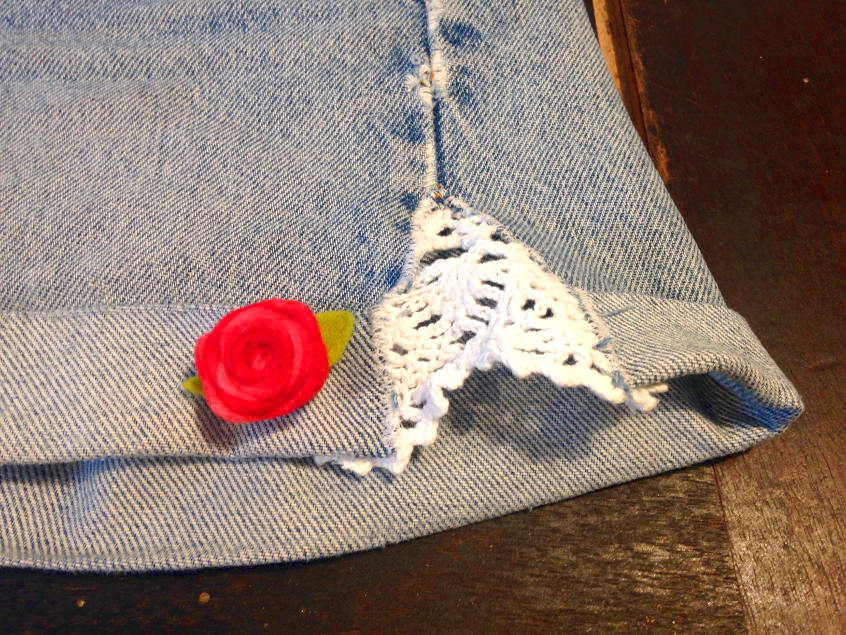 Aaaaand, we're done! This pants won't ever be uncomfortable to wear again. You'll get compliments on how good they look – pinky promise!
What do you say?
Do you have tight shorts that need fixing? Or have you found a special brand that fits us curvy ladies perfectly? If so, tell me, pretty please!!
Love,