YES! You've read that right. As of now there are 54.567.654.312 bloggers PLUS 1 on this planet *of course you realize I am exaggerating here, right?*. The PLUS 1 being me in this case. You might wonder what on earth made this chick start blogging? Why produce even more content for the www which nobody has time to read anyways? You know what? I've had the same exact thoughts every other day for the past 12 months. *add an excessive eye roll here, please*
Truth be told
I kept thinking, wondering and thinking some more *which by the way didn't help me to entangle the usual jungle of thoughts in my head, but made it even messier* will people be interested in MY stories, MY projects, MY life?
Ooohhhh I do soooo much LUUUURVE the crafting itself, and the energy it gives to me, and the joy I feel when giving self made gifts to friends and family. And if you add to all that my God given talent to communicate, I figured …
Why not spread the love? Shout it all out!
So on November 1st I've finally made up my mind! I figured, I've got nothing to loose and told my dear friend Julia from Chestnut & Sage …
My blog needs to be born. Right now!
With my dream constantly in my head I already collected tons of stories, images, and ideas throughout the year. The only thing still missing was a name for my baby.
No name in sight…
Have I mentioned to you my profession as head of marketing and my massive creativity? Yeah, right. You would imagine it's an easy task for me to find a blog name but nope, no single useful idea there. Really! Juuuuuust a blank staring mockingly back at me. I've checked like a gazillion times *insert massive eye roll hear and add a disappointed shake of my head*
Luckily there's friends, right?
And may I just say – it really is true: Once you've made up your mind, the rest is simply falling into place!
The minute I told Julia about my decision and the little problem of mine, she popped out THE perfect blog name for me:
Craftify My Love
Merely five days later the technical necessities were set up. Thanks to Julia and Mr. S., her partner in crime. The rather rough getting to know phase between my blog and me took another week or so and for me to decide on a branding another couple of days. *And I really planned on waiting for the branding to be done – honestly, I am not kidding – but I just can't wait any longer, seeing as it is now friggin December already!!! So you'll have to put up with my blog minus the branding for now. Sorry!*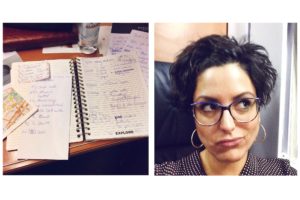 But here I am now, sitting on a train home from a business trip and writing my first post. And you know what?
I love it! And I hope you do, too?
⋅ Habiba ⋅
PS: Whaaaat? You just started a blog recently, too? I'd love to hear about your experiences. Send me a mail or tag @habiba_cml on Instagram, so I can start following you.
PPS: Also make sure to subscribe to my mailing list to receive more stories about my hilarious life right to your inbox!