I suffer from a stiff neck, a lot! And there are many reasons for that. One, being in a car accident when I was in my early twenties, but mostly it's the gazing into the computer at work and the many hours crafting in my spare time. And of course my tendency to be a couch potato. Whenever I am good, fitness wise (which was totally the case in the entire year of 2015 – huh, maybe I should write it on my list of new years resolutions and give it a go in 2017 again), I don't have any problems with my neck at all. But there is only so much hours in a day and I am the CEO of lame excuses when it comes to exercising.
Stiff neck, anyone?
I know I am in deep trouble and have to take action when my shoulders are up to my ears because my muscles are so very tense. Can you believe that sometimes I even wake up in that position? All cramped up and literally no neck in sight anymore. Duh, when this happens it's usually too late, and I am already in big pain. Last month I even thought I could have a heart attack because my left arm hurt so much. I know, a little hypochondriac, right? So, as I am obviously a pro in the tense-neck-department I'd love to share with you these simple remedies that work for me most of the times:
stretching
I have three simple exercises to stretch my neck. And absolutely no clue how to explain them to you using merely words.
getting a massage
I find that that the teeny tiny Thai ladies have the most strength in their hand and do work miracles.
applying heat
This is what I love to do on an almost daily basis! Either taking a bath (which means about 10 cm or 4 inches of hot water and me lying flat on my back in the tub. But mostly I lie on my heating pad for 30 minutes to an hour in the evening while watching some TV.
As I can't bring my electric heating pad to work because of fire safety reasons I simply made myself a non-electric natural heating pad which I can heat up by using the microwave. And you know what? I realized it also is very convenient if you can walk around with the heat on your neck and don't have to lie still for a long time *that is if you are a busy bee as I am*. So I use it at home often, too now. You see, I don't own a microwave myself so I heat up my pad in the oven. Works just as fine. Promise!
Cherry seeds, it is!
This is a really easy project. I will show you in this tutorial how to make a DIY cherry-seed-cushion. You just need to sew a long pouch or use a pouch you already have (like I did). Add cherry seeds (grape seeds or millet works, too), and make four sections so the seeds will stay in place all over your shoulders. Done!
What you'll need
a piece of fabric (48 cm x 50 cm OR 19 inches x 20 inches)
or a pouch (48 cm x 25 cm OR 19 inches x 20 inches)
430 grams OR 15 oz of cherry seeds
sewing machine
pins
thread
siccors
pencil
kitchen scale
measuring tape
joy in crafting
half an hour of your precious time
Let's get going, shall we?
In this following image you'll see my crude plan, which turned out to be my work sheet. I didn't want to sew a pouch so I used one I already had (a gift from my friends husbands work, I think the pouch looks rad and really old fashioned). Also, I enjoy upcycling recently. It's a good feeling if you make something new from something old. #WhatGoesAroundComesAround. The measurements weren't exactly as planned, so I had to alter the width of the four sections from 12 to 11 cm. No biggie here.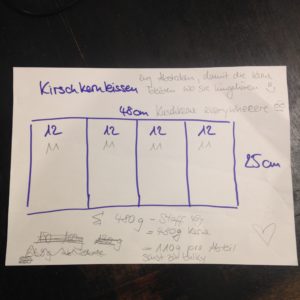 I did a little trial and error and used too many cherry seeds in the beginning *big eye roll here*. The cushion wouldn't feel comfortable on my neck (way too bulgy) so I had to reopen two seams and take out seeds *boy, do I hate when that happens*. You'll find, if you use about 110 grams (or 3,9 oz) of cherry seeds per sections, you'll be just fine.
Weigh and add cherry seeds • pin • sew the section shut • repeat • It's that easy!
A little piece of advice, though: Use enough pins to secure the seeds into their compartment before sewing (pin veeeeery narrow!!) – because I can still find cherry seeds in my craft room aka bead room whenever I look closely. And oh my, does it hurt when I step on them barefoot…arggghhhh.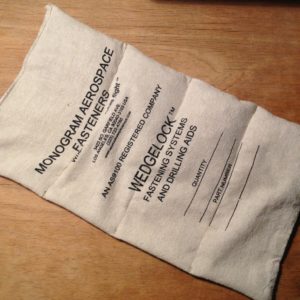 Enjoying the warmth
Using A Microwave
When microwaving the heat pad, don't go over 800 watt and 90 seconds. I do 2 minutes at 600 watt.
Using A Stove
Alternately use the preheated stove at 100 degree Celsius (or 212 degree Fahrenheit) for a maximum of 15 minutes. On a plate on the lowermost rack. I like to throw my cherry-seed-cushion into the stove after I used it anyways. It's a good way to use the left over heat and I feel very green when doing so, instead of cranking the stove up juuuuust for my stiff neck.
A note for your safety
Please do pay attention to not over heat the cushion! You don't want it to smolder or burn your skin! If you reheat it after you just used it you might want to reduce the time or heat.
Enjoy
Place the heating pad on your neck and enjoy. Either lying down, working or bustling about. Reheat if desired.
Don't forget to take good care of yourself!
As this is essential in this hectic world, where we all want to do bigger and better. But remember: If you don't love yourself first you'll loose your shine and won't be able to achieve your goals. Whether they're striving for success, or helping others.
I hope you enjoyed this easy crafting tutorial?
If you did, make sure to subscribe to my mailing list to receive more happy-craft-posts to your inbox! Also please do tag @habiba_cml on Instagram, if you craft something inspired by me. Also you could follow my blog with Bloglovin.
⋅ Habiba ⋅