The Best Ever Sandwiches You'll Taste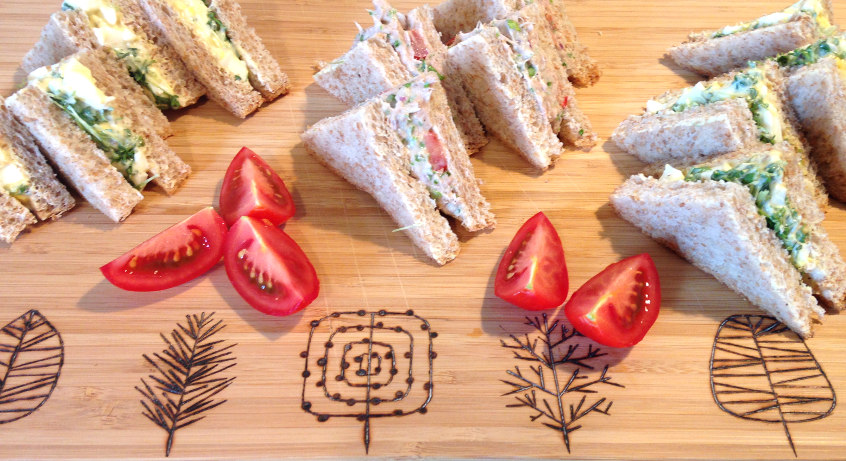 Author:
Habiba from Craftify My Love
14 slices of (whole grain) bread
cress
mustard (I love the one with mustard seeds in it)
margarine (I skip that one mostly)
salad cream (only if I have it at home)
some greens (rocket, cucumber, tomato, lettuce, onion - basically whatever you prefer)
TUNA MIX (4 sandwiches):
can of tuna
zest of lime
3 tablespoons mayonnaise (I always use the light version)
pepper
finely chopped spring onions
parsley
sweet chilly sauce
EGG MAYONNAISE (3 sandwiches):
3 hard boiled eggs
3 tablespoons mayonnaise (I always use the light version)
salt and pepper
For the tuna mix sandwiches you drain the can of tuna. add the zest of lime (this makes such a difference, you guys!!!), mayonnaise, pepper, finely chopped spring onions, parsley and sweet chilly sauce. Stir well, done! The tuna mix sandwiches taste absolutely wonderful with rocket (or arugula), cucumber, tomato, margarine and salad sauce.
The egg mayonnaise sandwiches are similarly easy prepared: boil the eggs and cut them to pieces. I like to use one of them handy egg cutting thingies and cut the eggs each once horizontally and once vertically - you'll end up with nice little cubes and safe so much time! Add the mayonnaise and a little s&p. Give it a good mix and you're done! A layer of grained mustard and some cress work wonders for the egg mayonnaise sandwiches.
Options:
If you don't want to eat 7 sandwiches that's ok, too! You can have a sandwich each and save the rest for lunch or dinner. The tuna mix works well with pasta. And both the tuna mix and the egg mayonnaise absolutely love to hang out with a bouquet of salad or a jacket potato.
Recipe by
Craftify My Love
at https://craftifymylove.com/2017/06/23/the-best-ever-sandwiches-youll-taste/