(Super) Spicy Pumpkin Soup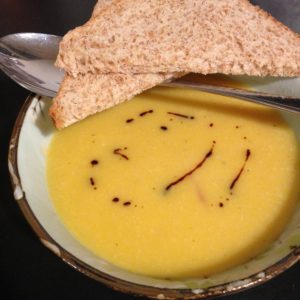 Author:
Habiba from Craftify My Love
1 any kind of pumpkin (washed and cut into small pieces - if you use Hokkaido you can even save some time and leave the skin on! I used butternut squash, though)
½ celery (not the sticks, but the root, peeled and cut into small pieces)
½ red onion (you know the drill by now)
1 thumb sized piece of ginger (don't go over board here like I did - that is, if you want to loose the "super" from the title)
1 liter of broth (I used vegetable broth)
1 tablespoon of sour cream (regular cream or cream cheese should do the trick, too. Use whatever is handy.)
Put all the ingredients BUT the cream into a pot and cook it for about 30 minutes or until the pumpkin is soft.
Purée it and add the sour cream.
If you want to be fancy you could decorate each serving with a blob of sour cream and a drizzle of - say - pumkin oil or creamy balsamic.
Recipe by
Craftify My Love
at https://craftifymylove.com/2016/12/09/super-spicy-pumpkin-soup/